Splinterlands - Chaos Has Arrived! First Impression, Earning Reveals, Dr. Blight Airdrops, & more!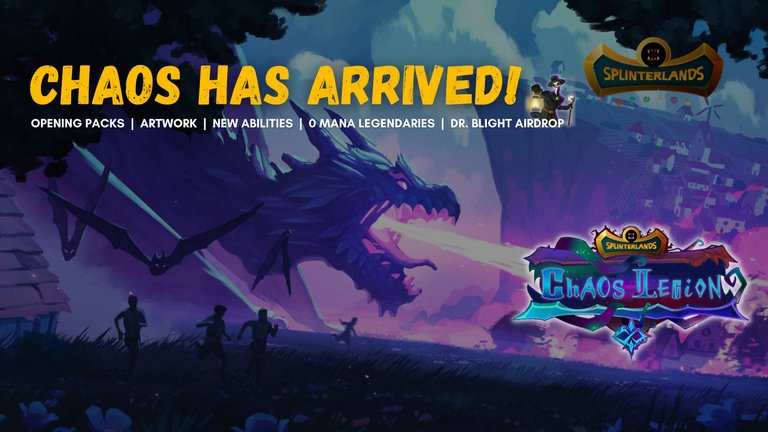 The day is finally here! I'm usually in bed by 11 pm, but here I was, writing this blog at 3:30 in the morning yesterday. Yes, the hype is real!
Chaos Legion has been one hell of a launch. A wild success so to speak. 1 million pre-sale packs sold in a month! - with this alone, you get the vibe.
The voucher system was definitely 'unexpected', and if you didn't have enough SPS tokens staked in-game, you must have been out of luck with the whole pre-sale thing. No hard feelings though, vouchers are being airdropped at a boosted speed for the next 30 days, and the SPS token is going for a steal (just under $0.35 at the time of writing). What are you waiting for?
If you're not sold on this whole voucher system yet, you can try your luck in the general sale on January 17, which would only cost $4/pack, no vouchers needed!
I myself received a total of about 100 vouchers by the end of the pre-sale. Of which, I bought 50 CL packs for a guaranteed Dr. Blight (how in the world could I've missed that). I wasn't around during the Untamed edition launch, so this was my first time opening any packs in Splinterlands!
Here are my stats for the 50 packs I opened.
176 commons (including 5 GFs)
61 rare (1 GF)
9 epics
4 legendaries (Including 1 GF & 2 0 manas)
I screen-recorded the entire thing just so I can capture the best moments and share them with you! Here's my best pack out of the 50 I opened. This one got me 2 epics and 1 GF Legendary Card!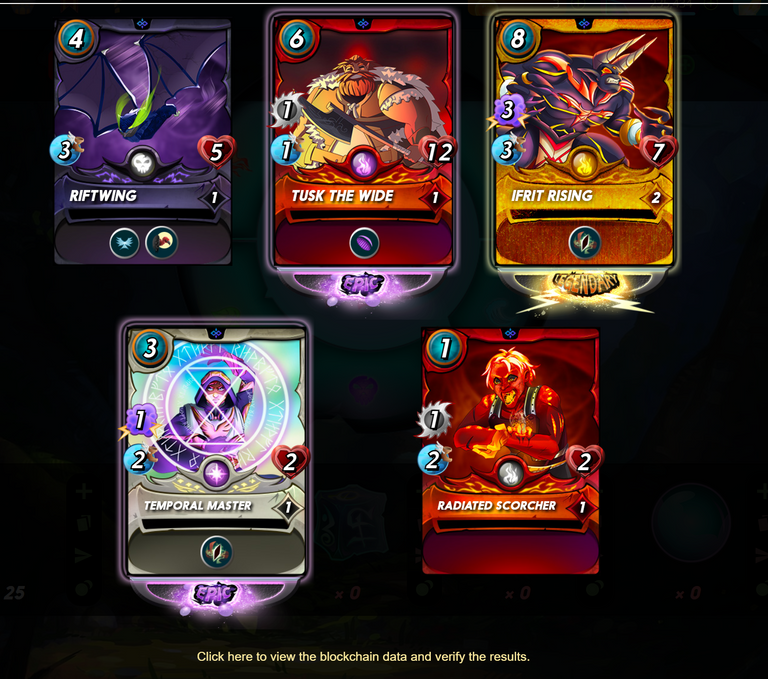 Total market value for all the cards out of these 50 CL packs - Around $1500 at the time of writing.
Here's my first impression of the entire launch, pack openings, and gameplay!
PACK OPENINGS
Opening packs itself was an amazing experience. Shoutout to @nateaguila and the entire creative team for the amazing visuals. Unfolding each pack, 1 card at a time was amazing. There is this bright light at the back of certain cards if they were epic/rare/legendaries if you hover over those, which was pretty cool!
---
NEW ABILITIES
This is some truly exceptional work. All these abilities are well designed and have countless elements to consider before creating a new one. In a nutshell, it's way harder than it seems. Yet, the team managed to add 3 more amazing abilities to the collection!

---
GAMEPLAY
Just like me, you all must have been dying to try out these cards! I personally didn't play much since yesterday (Still busy admiring these new cards and how rewarding this Edition has been so far. I played a few games though - seemed like everyone is still busy trying to figure out the best combinations and ways to incorporate these new cards into their existing decks.
Also, some very important updates there: To all the Alric and Water-Magic attack lovers, you might have noticed that Alric is no more there. Well, all beta cards were removed. You can still access them by renting/purchasing on the market but they are no longer part of the playable collection.
---
O MANA LEGENDARIES
Yeap, you read it right! 0 Mana - You can literally bring these to all your battles!
Fiends are a game-changer, definitely some of the most valuable cards in the future. They'd be even more efficient in battles if you upgrade them to equip them with some cool abilities!
Here are all the 0 mana legendaries:

---
THE HEAVY HITTER: CHAOS DRAGON
Chaos Legion welcomed yet another new addition for Splinterlands - 14 mana cost dragon - the highest mana cost card to date! What else? It is equipped with one of the new abilities (scattershot). It is currently trading for $55!


---
SPECIAL EDITION AIRDROP: DOCTOR BLIGHT
The long-awaited Dr. Blight is finally here! The very first out of the 14 airdrop cards. If you bought at least 1 pre-sale pack from the Splinterlands website (NOT on HIVE), you had a chance to get one (or more). Every 50 pre-sale packs purchased guaranteed a Dr. Blight.
If you look at the stats, you might think maybe it was too overhyped after all. Even if I agree to it to some degree, it is a limited edition card are there will be no more of these airdropped anymore! You can get them on the market, currently selling for about $160.
I bought 50 cards solely to get my hands on this dude, and guess what, I got 5 Dr. Blights!!!
Here's my first winning battle with Dr. Blight, if you're curious to see how it attacks in the battles.
Since I got 5 of these, I'd be glad to share a few with you guys. Would you like a giveaway for Dr. Blight sometime soon? Let me know in the comments down below!!

---
WRAPPING UP
Over 24 hours have passed since the start of the Chaos Legion Phase 2 sale, yet I still can't get over this entire release.
Unfolding every single pack: One of the parts about this whole thing was opening every single pack, one card at a time. The sound effects, graphics were on point!
Release went smooth as butter: This was a concern for not only the team but for us as players. With massive traffic this game has seen in the past months, Chaos Legion Sale could've gone sideways - maybe resulted in a sitewide crash or constant lags. But things couldn't have been any better. For the team and the players, it was business as usual. No crashes, no lags, no delays. Kudos to the Splinterlands Development Team for the successful Phase 2 CL Sale!
Rewards - Unparalleled Play2Earn Standards: Here's my breakdown of purchase-profits with these 50 pre-sale packs:
Total invested: $200 for 50 packs (excluding vouchers because they were literally 'free') + $45 for 1000 potions (500 alchemy and 500 legendary)
Return: Cards Total Market Price (at the time of writing): $1500 + 5X Dr. Blights priced at $170 each
Total Return: $2350
Profits: $2105
I've never seen a more fun, rewarding gaming experience in blockchain gaming than Splinterlands.
All in all, Chaos Legion has been a blast. The hype is still ongoing and looking at yesterday's rewards; I'm planning to buy yet another 50 packs in phase 2!
For everyone who's waiting on the general sale - one without the vouchers; Mark your calendars for January 17, and good luck!
---
---