Splinterlands - How to Win against the Water-Magic attacks (Works every time!)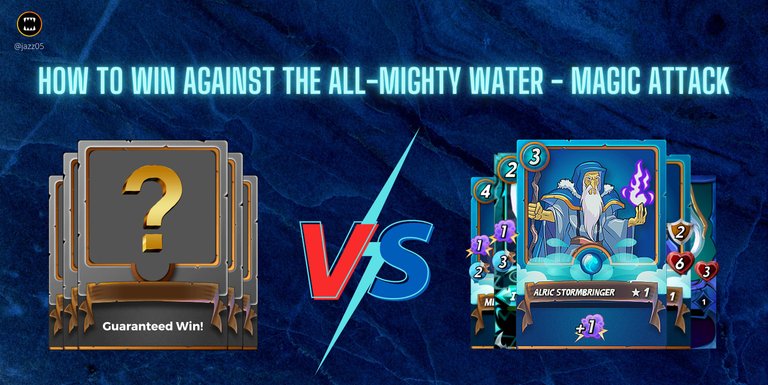 If you're reading this blog right now, you're tired of the frequent Water-Magic attacks you've been encountering lately. Tired of losing every other battle to these strong, one-sided attacks no matter how amazing and carefully curated your deck is. Trust me, I've been in your shoes not a long time ago, until I finally found a crack. One that made these battles a no-brainer with guaranteed wins EVERY TIME!
Water-magic attacks are very popular right now, especially in the bronze league. If you're struggling to move up on the league ladder due to this one annoying attack, you need a permanent fix, now more than ever!
Why wait any further, let's give you one!
But before jumping right in, here's a little something about Magic attackers for beginners👇

WHAT A TYPICAL WATER-MAGIC ATTACK LOOKS LIKE?

A usual water-magic attack consists of:
Alric Stormbringer - A '+1' Water Summoner
This summoner acts as a base for all water-magic attacks. It gives a +1 buff to all magic monsters on your opponent's attacking deck.

Spineback Turtle - A high-health, armored Monster:
A monster with solid health and some armor is usually placed at the first position. While your first attacker takes forever to bring their Spineback Turtle down, the remaining magic attackers on the enemy team eat you up before you even realize it.

Medusa - A magic monster
If these monsters were not deadly enough already, thanks to the '+1' water summoner, they do even more damage to your team.

Venari Wavesmith, A monster with 'protect' ability
This monster has lately been part of a lot of water-magic attacks against me and honestly, it makes this attack a lot stronger and deadlier. This card helps them cover up for the only weakness these magic monsters have - low health. Thanks to the 'protect' ability of this card, all friendly monsters get +2 armor.

Ice Pixie - Another magic monster
The deck ends with another magic monster, aiming to sneak in as many of them as possible. The more the magic monsters, the deadlier the attack becomes.
HOW TO SECURE YOUR VICTORY AGAINST THIS ATTACK
By now, you might be wondering if it's even possible to win against an attack like this. Well, it is entirely possible. In fact, since I started using this combination that I'm about to show you, I've won ALL my battles against Water-magic attacks!
Note: You'll score easy wins with this trick up to the Bronze league. But as you go higher, you'll encounter more legendary cards, and thus will have to improvise.

Bortus - A '-1' Water Summoner
You base your attack on weakening their added strength - With this water summoner, all enemy magic monsters get a '-1' attack, which means no more added summoner advantage.

Spineback Turtle, A high-health, armored Monster
This stays at your first spot for the very same reason your opponent does - To spare you some time so your remaining friendly monsters can finish the job while your opponent is trying to take down your first monster.

Djinn Oshannus - Our Ace of Spades
This legendary card is the key to your guaranteed win. Now that our '-1' magic summoner took away their '+1' attack, their magic monsters are back to their original attacking stats. Our Djinn Oshannus takes it away from them too, thanks to its void ability, it further reduces their magic attack damage down to 0, which means your Djinn becomes immune to magic attacks!

Sabre Shark, A Monster with sneak ability
While your Djinn Oshannus is taking care of enemy monsters on the frontline, your sneaky friend can save you some time by taking down monsters from behind.
Note: This is just a sample deck with 18 picked randomly as the total mana cost. But the usual make-up of these decks is similar across the board.
Surprised? Check this battle replay to see for yourself how winning against these attacks becomes a piece of cake with this battle strategy.
While this specific strategy mentioned above guarantees a win against these attacks, here are a few additional key abilities you can consider while going against a water-magic attack the next time.

BOTTOMLINE
If you saw the battle replay I shared above, you might've realized how easy it becomes to counter this attack, with Djinn Oshannus being the key player of the battle. If you don't own one yet, I can guarantee you, it'd be one of your best investments in-game. It is on for about $47 at the time of writing. If you're not comfortable spending that much in-game, you can easily rent one for somewhere between 10-20 DEC per day!
Note: Oftentimes, there are rules to a battle where you might not be allowed to use a water summoner or any legendary cards. In that case, try a combination of the abilities mentioned above to drastically increase your winning chances against an army of magic attackers!
Have you tried this strategy before? If not, what are your thoughts? Are there any other 'magic' tricks up your sleeves that help you succeed against these attacks?
If so, I'd love to hear about them in the comments section below!
Hope this article helped at least some of you to give a surprise blow to your opponent next time you face a Water-Magic attack.
Until next time brawlers, KEEP BRAWLING!
---
---