Splinterlands - The Llama-Kron Duo against each other!!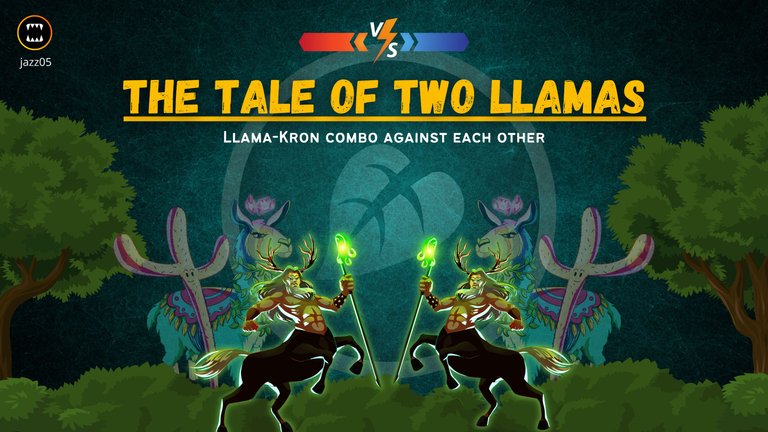 This #splinterlands season, I finally gathered the courage to start my battle journey to step up on the league ladder at the very start of the season. If you've done it before - you know how challenging it can be, battling against those top-tier players who're fast-forwarding to their desired leagues right after the season reset.
I knew the consequences - A lot of defeats. But to some degree, I was prepared. Although I own some decent legendary monsters including Kron, I still loaded up on some nicer rentals including the missing piece of the undefeatable duo - Scarred Llama Mage.
It was working wonders and I was getting a hang of it until I finally had to face it myself!
Here's mine and my enemy's battle lineup:

MY STRATEGY
I was already expecting a Llama Kron duo in the battle. How?
Well, because of the enemy's last five battles. He used the Earth Splinter, specifically the Llama Kron for 3 out of his last 5 battles.
Although, both of us relied on Kron for the last minute clash, I needed a slight advantage of any kind that makes my deck better than his. If you've battled against this duo in the past, you'd know most of them have no attacking strategy for taking out the middle order. i.e., they lack ranged attack monsters with snipe ability. This allowed me to bring in a tank heal monster who would stay protected and keep my Flesh golem alive. My Flesh Golem also had the heal ability, so I was confident he'd last relatively longer in the battle.
By creating a solid undefeatable position for my Flesh Golem, I aggressively progressed from the first spot, eliminating all his monsters in that order. Even with the Llama boost, his Kron alone didn't stand a chance!
ENEMY BLUNDERS
Didn't check my battle history! (Most likely)
I'm guessing my opponent didn't check my battle history because if he did, he would've known I'll bring the same duo, and thus would've tried something different to get that upper hand against my deck.
Bringing in Sand Worm
If he'd known I'd bring the same duo, he would have also realized that Sand Worm is useless with its sneak ability against Kron, who heals himself after every round. The same happened, and his back-end attack strategy went in vain.
No healing element other than Kron
Looking at his deck, it felt like he highly relied on Kron and his 'upgraded' abilities once he was left as the last standing monster. The rest of his lineup felt weak and didn't contribute much to the battle. A tank heal monster somewhere in the middle might've allowed his first monster to last longer.
Here's the full battle if you're interested.
---
To this day, I've faced a lot of Llama-Kron decks to finally find a few counters, which I'll share in my posts moving forward.
What is your go-to strategy against this deadly Earth Splinter duo? Let me know in the comments!
---
---