Splinterlands Weekly Challenge Highlight - Defender of Truth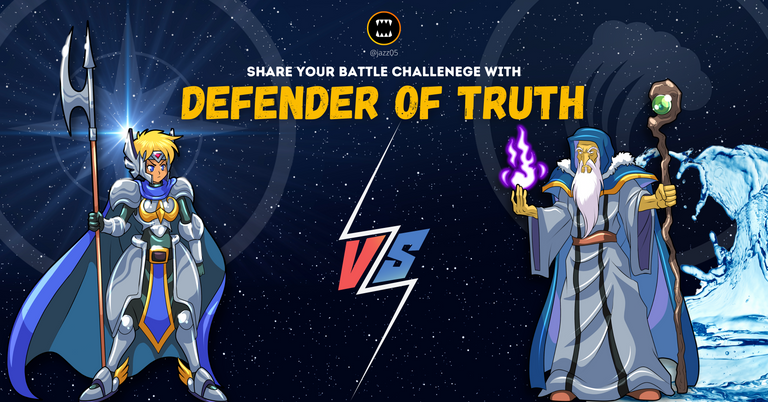 Another great week of Splinterlands battles brings yet another weekly challenge - this time a battle along with an epic Magic Monster summoned by the forces of Life - Defender of Truth!
WHAT I LOVE ABOUT DEFENDER OF TRUTH

Well, when a monster has the most powerful attack type, what's not to love? This life monster is very effective in low mana cap battles, thanks to its mana cost of just 4. It is not only equipped with a magic attack but also comes with 3 health points and armor. Definitely packs a punch for a cost of just 4!
MY BATTLE LINEUP
I was actually pretty impressed by this attack. Kralus being Kralus definitely helped, but the Divine healer held it strong, healing Kralus a little in each round until the end of the attack.

Kralus (Position 1):
To make the best use of its multiple attack types, and because this monster is by far the strongest in my battle lineup, putting this magical cat on the first spot was a no-brainer.
Defender of Truth (Position 2):
I wanted someone who can hold on for just a little longer on its own if the monster on the first spot dies. As mentioned earlier, I think this card is very effective based on its mana cost. Also, more magic attacks in the battle, the merrier!
Divine Healer (Position 3):
As I mentioned in my previous blog, positioning is the most crucial aspect of winning when it comes to a healer. With just 4 monsters on my team, it was tricky to conclude the best possible spot for Divine Healer. I had to go with number 3, creating a strong defense cover around her.
Pelacor Conjurer (Position 4):
The last position had to be the best spot for this card. The flying ability always helps against those deadly melee attackers with the sneak ability. Although I was disappointed that it doesn't have any attack, but what did I expect at a mere 2 mana cost?
I was up against - Yeah the same old water-magic attack! Even with no countermagic strategies in my head while planning this battle, I still managed to win! Here's the full battle if you're interested.
MY STRATEGY - DID IT WORK?
It absolutely did! I sure wasn't ready for a water-magic attack, but thanks to an amazing team effort - Kralus holding the front end, Defender of Truth hitting the enemy with that magic attack, and the Divine Healer healing Kralus a little after each round - I managed to pull a victory!
WRAPPING UP
With a card like Kralus, the mana cost is always an issue unless it is a 99 mana cap battle. My hands were tied and I have to accept - while my front lineup looked pretty solid, the back-end was very shaky. Two monsters with no attacking ability to defend themselves. I was lucky that my enemy came in with a water-magic attack, that straight out ignores the cards on the very end of the lineup.
All things said, a win is a win, is a WIN!
Hope you enjoyed my little attack summary with our very own Defender of Truth as part of the challenge. I look forward to all your battles!
QUICK REMINDER - THE TWO GIVEAWAYS
Both will end in a couple of days! Enter now if you haven't yet!
Until the next one brawlers, KEEP BRAWLING!!!
---
---