2022 Plans: Creating content, Writing a book, Supporting Hive
Intro
Today, I had a brief talk with a friend about me no longer being active on Social Media. Aside from my podcasts, I don't post any content on Facebook. I don't even promote the Facebook lives before we go online. The truth is, due to personal choices where and on what I spend my time, I've chosen to document over create and promote for quite some time now.
I've written about taking a Social Media break before and the reality is that there is a tremendous spin off of being visible online, which for me more often than not means getting distracted from things that I want to prioritize more. So, me not putting out content or interacting on social has little to do with not wanting it, but more the indirect consequences it leads to.
Also, consistently creating content is still heavily underrated. It takes a lot of time to create quality content and a lot of discipline to remain consistent. And once you are creating, there is another aspect which is often not talked about, which is remaining engaged with those who take time to consume what you create. It is a commitment, being a creator is actually a full time job. Which is kind of hard to commit to when you have multiple commitments with a higher ROI than being a creator.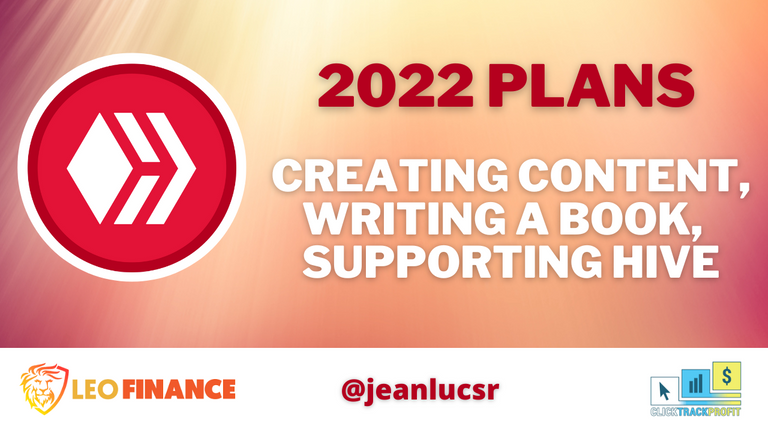 Creating content
Nevertheless, I want to invest more time into creating, especially in sharing information that I've consumed over the past 10 years, or ideas of which I feel that others will relate to as well. But creation for me, means creating content on all major platforms, from Facebook, Instagram, LinkedIn, Twitter, YouTube, TikTok and of course, Hive. Which means, I will need some help. Especially because the content on all platforms will be different. So, I'll be diversifying in the following way:
Facebook (facebook.com/jeanlucsr): Since it is still the largest platform, it will be the main channel where everything comes together, a little more mainstream oriented content will be needed.
LinkedIn (linkedin.com/in/jeanlucsr/): More business related content, our company INEFFABLE and the upcoming Social Media Conference Suriname 2022, as well as some insights into projects I'm working on.
Twitter (twitter.com/JeanlucSR): Fully focusing on Web 3 here. If you are not into crypto and NFTs, there is very little to see. If you are interested in Suriname, I have a Twitter list for that, If you are interested in creating or improving your online career, >> this community << might be of interest to you ;).
YouTube (youtube.com/c/JeanlucSr): My YouTube is fully dedicated to Sports in Suriname at the moment. It's pretty much niched down and the YouTube algorithm likes it, so I'm probably not changing anything in the near future. If you don't speak Dutch, you can fully disregard it.
TikTok (tiktok.com/@jeanlucsr): Short videos on projects that I'm currently doing or have done in the past which I have yet to share. For now, 3 times a week, might pick up in the future.
Hive: Hive related content on @hivechat, Splinterlands, NBA Topshot and NFT's and occasionally content towards the Freewrite and Alive Community. And these updates of course.
For Instagram, I haven't fully decided yet, but most likely, I'll be starting to post stories again, which will be primarily redistributed TikTok's.
Writing a book
Last Friday, my coach Brett hinted to me that a great way to create more accountability to finish my goals before my set deadlines was to share my plans, which might lead to more motivation to push through. So yes, it is official, I'm writing a book. The goal is to finish the rough draft by the end of August, pre-launch by the end of October and have it available for purchase by December 1st.
Now I can no longer back down 😂. And yes, I'll be providing updates on the book on a weekly basis from now on.
Supporting Hive
Aside from RT-ing some Hive related posts, playing @splinterlands and semi-helping @traciyork to make sure @hivechat runs weekly (over 100 weeks without missing a beat), I have been relatively quiet on Hive. I cashed out some Hive for the first time during the past bull run, with the idea to eventually buy it back Hive to get myself to Dolphin status. But here is the fun thing, my portfolio is more diversified and I'm still in the green, but I have yet to reach my buy back goals and Hive is still steady, trading at around $0.50. Which means, Hive is strong and not showing any signs of dropping back to between $0.10 and $0.20 at the moment. This also means that the peg for SIM in @dcitygame and DEC in Splinterlands is long gone and I won't be buying back HIVE with SIM and DEC in the near future either.
So, as I patiently wait a moment when I can buy more Hive, I can support Hive in different other ways, like:
Getting back to create content en bring value to the platform
Invest time into Hivechat to promote Hive
Actively promote Hive en share good Hive initiatives on Twitter
Onboard more members to Hive
As this post is an attempt to improve on 1, I will be using August to structure Hivechat (2) and introduce @epodcaster to our Hivechat channels, as she has joined the Hivechat team!!!
I'm still working out how I can best actively promote Hive (3), but have some ideas in mind which I will share in a future update.
And last but not least, I get to welcome a lot of new members to the Hive family:
@lucianodoest
@mitchel2rene
@marthasr
@kafie
@haojun.zhu
@yfabio.erl97
@angraciavanka
@djoecy99
@valensetro
@lookinggracious
@lydiannreso
and @sabmw
Welcome to Hive, make sure to connect with others and feel free to ask any questions to make the most out of your Hive experience.
This is my newly formed weekly update. During the week I'll be more active on @dbuzz (and Leofinance threads once they come out...'WEN?').
---
---