Hivechat 074 Recap: On Hive, Splinterlands, NFT Showroom & NBA TopShot + Winners!
This is a Hivechat recap post. If you are not familiar with Hivechat, you can read more about it >> here <<. Read other Hivechat recaps by @traciyork here and here.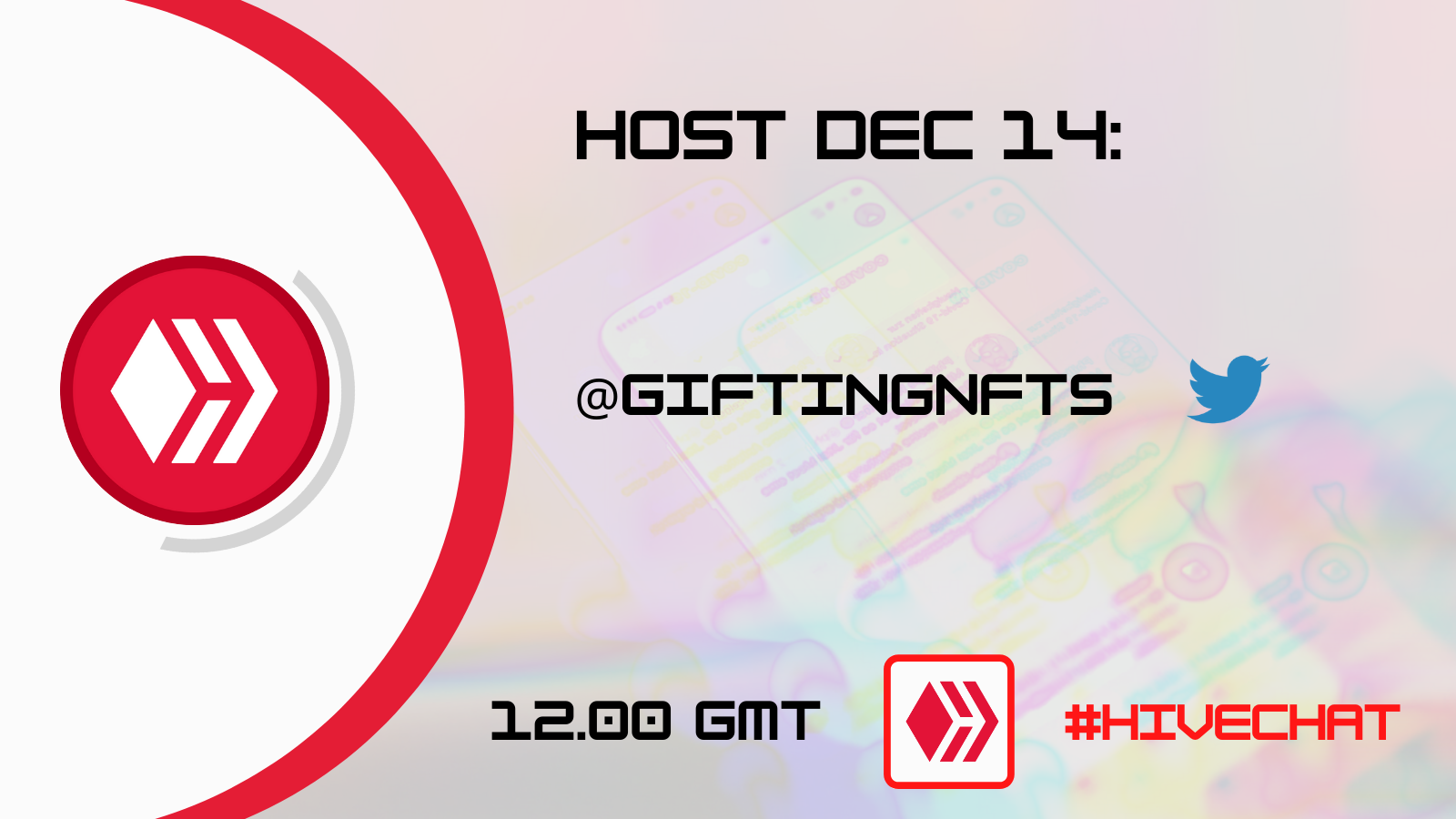 This past Tuesday, I had the opportunity to host @hivechat with the GiftingNFTs account. To make it a little more fun, I decided to combine several elements of past Hivechats, including polls and giveaways. Today, I'm sharing the results, as well as the winners of the different giveaways.
Question 1:
The first question has kind of already been discussed in yesterday's '10 Days of Christmas' NFT Giveaway post, but in short, there are a lot of people that look forward to Hive giveaways.
Starting this week's #Hivechat off with a question to get a little bit more familiar with the people joining in.⁰⁰

Q1.
For what kind of Giveaways are you following @GiftingNFTs?

⁰⁰Feel free to elaborate.

— NFTGiveaway (@GiftingNFTs) December 14, 2021
So, I'm actually going to up the ante and provide more Hive related NFTs and/or other prizes to the mix. If you have suggestions or want to donate prize, feel free to reach out. When donating a prize, a Twitter handle of your choice can be entered in the giveaway tweet as a 'must follow' in order to participate.
Question 2:
The second question was about how we view @hiveio ourselves and what makes it so great. The results were quite interesting.
Let's give away some $HIVE!⁰⁰
We're giving 10 HIVE to someone that RTs this post.

For those unfamiliar with @hiveblocks,
Learn more here: https://t.co/T39BKhK4IJ ⁰
Or join here: https://t.co/kV3Cgktvlx

For those familiar with #Hive:
#HiveChat Q2.
What makes Hive so great?

— NFTGiveaway (@GiftingNFTs) December 14, 2021
With over 45% Decentralized Ownership can up as the main reason voters think Hive is great. And I couldn't agree more. Hive's decentralized model has now been mentioned by Vitalik Buterin on several occasions and the many dapps and communities on the Hive ecosystem support that case. 'Earn by creating content' also scored over 35%, which is still more than 1 in 3 that value getting paid to create on Hive as its greatest asset.
10 HIVE Giveaway Winner
To make it more fun, I decided to give 10 HIVE to one random person who RT'd and the lucky winner is... Me... Just kidding. The RT picker actually did select me at first, but that of course makes no sense, so I did a quick redraw and the winner is:

Congrats on winning 10 HIVE Eliza! The Hive has been transferred to your account:


Question 3:
The third question was about the different @splinterland currencies and what people would value more:
1.000 Dark Energy Crystals (the official in-game token)
100 Splintertalk Tokens (the token you earn for talking about the game on splintertalk.io)
10 SPS (Splintershards, the officially list token of Splinterlands which is currently being airdropped to players)
1 HIVE (Well, for good measurement to how much the other tokens are valued).
Let's give away some $DEC!

We're giving 1.000 DEC to someone that RTs this post.

With 1+ Mln users @splinterlands is the biggest #PlayToEarn game on #Hive.

Feel free to join in > https://t.co/EV9b9yupOZ
#HiveChat Q3.
Would you rather have ..?

— NFTGiveaway (@GiftingNFTs) December 14, 2021
That the 1.000 DEC came out on top was no surprise. As we speak, 1.000 DEC is probably worth more than 100 SPT, 10 SPS and 1 HIVE combined. It was interesting however that even thought that is the case, the majority of the voters actually did not vote for the 1.000 DEC. There is believe among HIVE and SPS owners that 1 HIVE or 10 SPS could be more valuable than 1.000 DEC in the future.
1.000 DEC Giveaway Winner
As 1.000 DEC is currently the most valuable of the options, I decided giving it away would be a good idea as well. I did want to reward someone who follows both @hivechat and @splinterlands on Twitter, and the winner is:

That means you are the winner of the 1.000 DEC! Hope you can put it to good use. The DEC has been sent to your Hive-Engine account. You can transfer it to your in-game wallet or just leave it there, as @splinterlands also counts your Hive-Engine DEC balance towards the airdrop.

Question 4:
The Fourth question was a @nftshowroom related question as I wanted to know a little more about the reason why artists would post on Opensea or other NFT Art platforms compared to NFT Showroom.
Let's give away a @NftShowroom NFT!

We're giving a 'cub on the moon' to someone that RTs this post.
Link: https://t.co/xEH4XymHm8#HiveChat Q4.
If you where an artist or a NFT creator, what would be most important to you for deciding on which platform you'd mint your NFTs?

— NFTGiveaway (@GiftingNFTs) December 14, 2021
It was interesting to see Gas Fees weren't the most important reason to choose a platform, as both the potential reach and supporting blockchain scored a little higher. The good news is that as Hive continues to grow this could very well also result in more people leaving ETH and MATIC to mint their art on HIVE.
Cub to the Moon NFT Giveaway
To also support artists on @nftshowroom, I decided to giveaway a small NFT (had to buy an extra one, because I didn't want to give one which I owned XD..) for someone who might get it as their first NFT Showroom Art of their collection. There were a little less people who retweeted the tweet, so I had to use a name picker (so I could also manually remove ineligible accounts, like myself and the @hivechat account). And the winner is...

Congrats on adding some NFT Art to your NFT Showroom collection

Question 5:
The Fifth and final question was one that had me thinking for quite some time now. As a NBA TopShot collector (not the biggest, around top 4%), I have been asking myself how to integrate my love for NBA TopShot a little more with Hive. There have been some sporadic posts about NBA Topshot on Hive, but no real community. So, I had to ask the obvious question.
Many NFT Communities have their own Community on @hiveblocks.

Players can write about their experience and actually earn crypto while doing so. Two examples are @Gods_On_Chain and @AxieBuzz.#HiveChat Q5.
Should there be a @nbatopshot community on #Hive as well?

— NFTGiveaway (@GiftingNFTs) December 14, 2021
And with two-thirds of the voters giving approval and over 25% considering it a possibility... I decided to pull the trigger.
Meet the NBA TopShot Hive Community!
In the words of the @gvkanten, yes... I went there.
Lo and behold, the NBA TopShot Hive Community:
https://peakd.com/c/hive-169774/created
We now have an official community to post and talk about NBA TopShot on Hive :).
Thank you for reading!
That was the full recap of HiveChat 074. Thank you for reading and all the support. Please follow @hivechat and @traciyork for updates on the next Hivechat this coming Tuesday.
Posted Using LeoFinance Beta
---
---