It's time for a '10 DAYS OF CHRISTMAS: NFT GIVEAWAY!'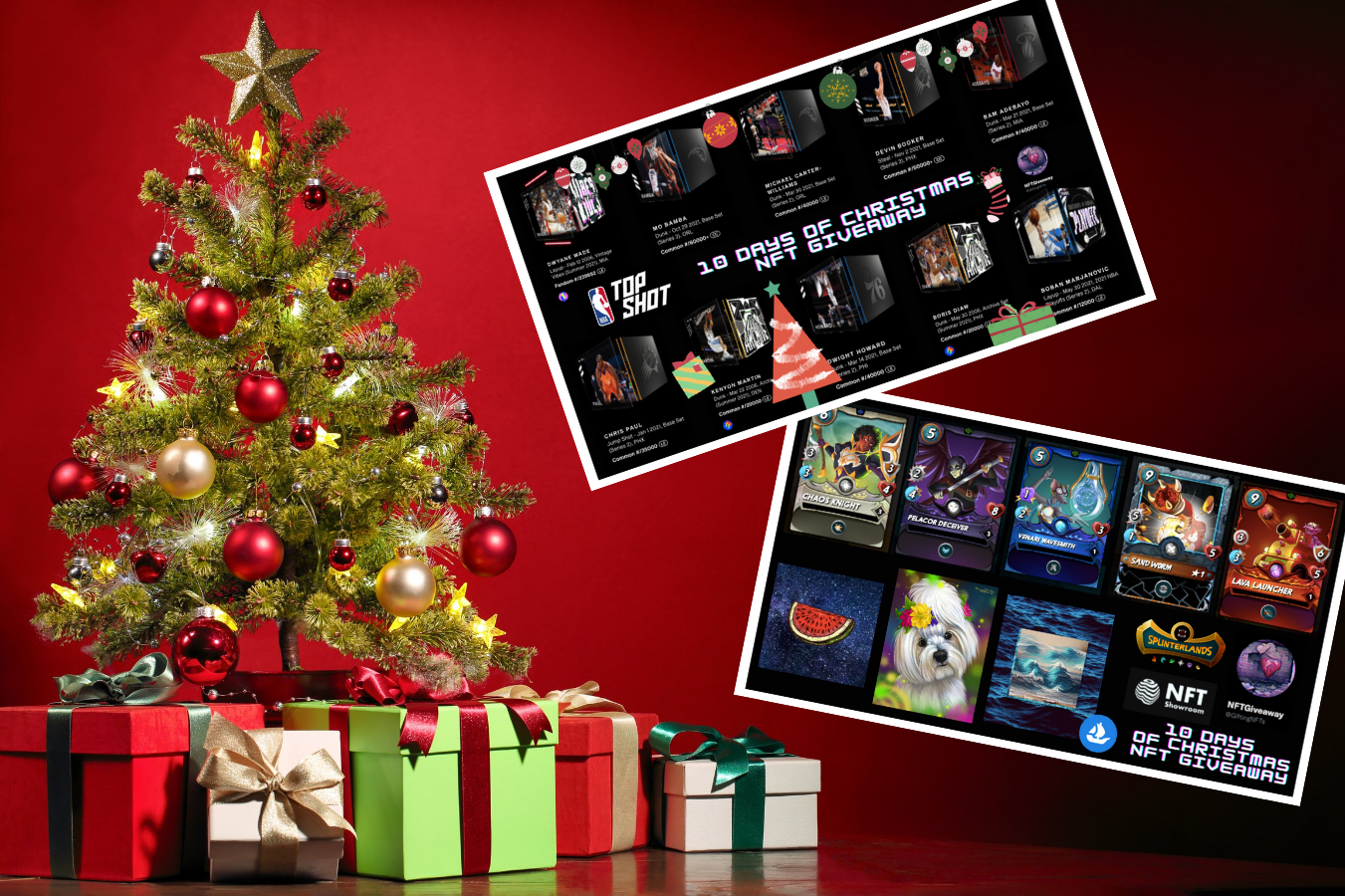 I started a NFT Giveaway Account
A couple of months ago I decided to do something fun. In order to give back, I made a NFT Giveaway Twitter account with the idea to give away NFTs. The idea was simple, whenever I had some NFTs to spare or just had some unexpected NFT luck, I'd give something away.
So far, the Twitter account has done quite well, with 500 followers in 2 months without any following strategy, aside from of course, giving away NFTs to people that follow the account.


But there is also something interesting. It also works as a good way to get people interested in different NFT projects, and people outside of Hive to get a little bit more familiar with the different Hive dapps and projects.
During @hivechat this week, I did a short poll and around 70% of the people that responded (it was a Hive related post, so the results are a little skewed) said they were joining for Hive related giveaways.


There is however als a part of the group that wants NBATopShots and OpenSea NFTs as well.
So enter '10 DAYS OF CHRISTMAS: NFT GIVEAWAY!'
10 Days of NFT Giveaways, including:
1 NBATopShot Moment A Day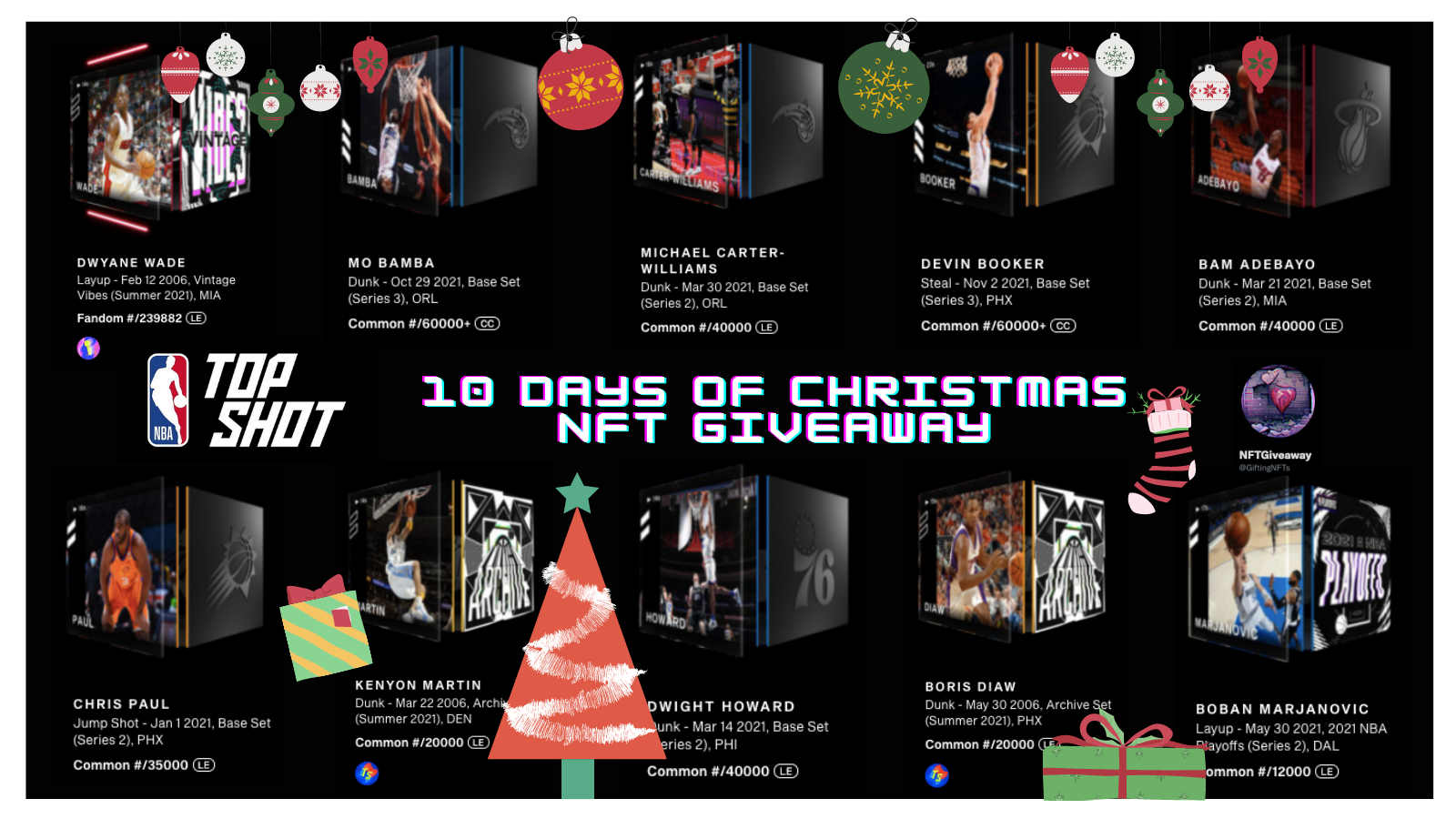 1x Dwyane Wade (Fandom)
1x Mo Bamba (60k, Series 3)
1x Michael Carter-Williams (40k, Series 2)
1x Devin Booker (60k, Series 3)
1x Bam Adebayo (40k, Series 2)
1x Chris Paul (35k, Series 2)
1x Kenyon Martin (20k, TSD)
1x Dwight Howard (40k, Series 2)
1x Boris Diaw (20k, TSD)
1x Boban Marjanovic (12k, Series 2)
1 Hive Related NFT a Day
Every day, there will be either a @splinterlands card or a @nftshowroom art NFT.
1x Chaos Knight
1x Pelacor Deceiver
1x Venari Wavesmith
1x Sand Worm
1x Lava Launcher
1x Watermelon (SPACE FOOD SBCU) by @shermanbrothers
4x Maltese by @elenasteem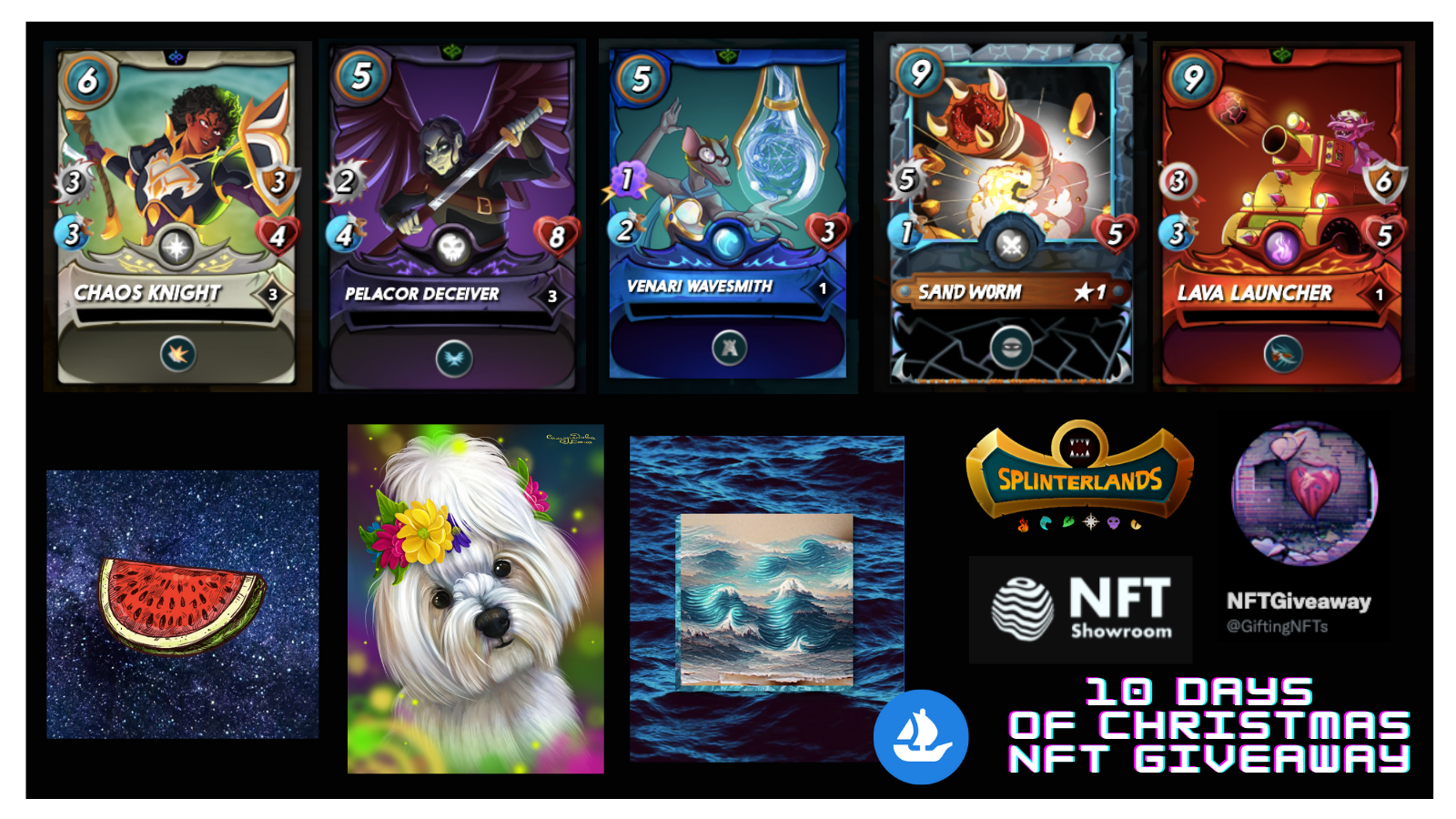 And to top it all of,
1 Opensea NFT a Day
This thanks to @jensenart, who is providing 10x Promowaves as part of his PromoNFTs project to create more awareness for @defendtheseas.
How will it work
From December 16 until December 25th, I will be giving away 1x NBA Topshot Moment, 1x OpenSea PromoNFT and 1x Splinterlands card or NFT Showroom NFT.
I'll try to be consistent and upload around 8 PM UTC/GMT and announce the winner 7 PM UTC/GMT the next day.
All giveaway posts will be tweeted for this account:
https://twitter.com/GiftingNFTs
And.. that's it.
Feel free to join in. The cost for participating is a follow, RT and comment a day.
Posted Using LeoFinance Beta
---
---