Splinterlands Weekly Challenge Battle! DRAGONS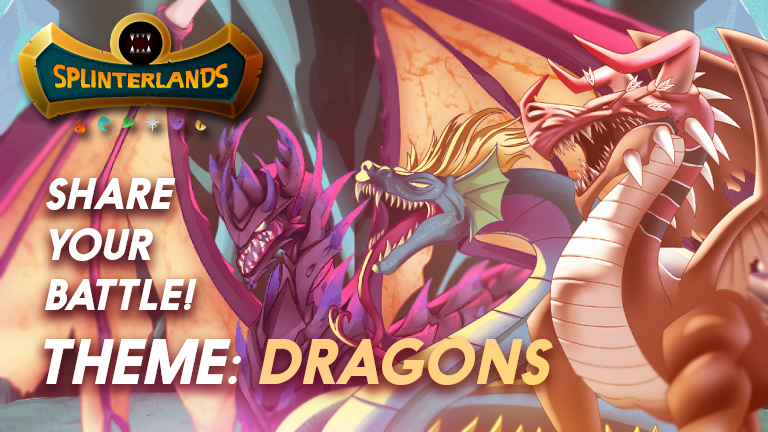 Every week there is a Splinterlands challenge to share a battle using a specific card and on this week's post it is a dragon splinter fight. I also encourage Splinterlands players to partake in the challenge because you get to try different strategies and earn some crypto in the process.
Rule set, Battle and Plan

The ruleset this time is earthquake and reverse speed. This means that any non-flying monsters will take damage at the end of the round and the order of attacks are reversed.. There is also 52 mana available and I am able to choose any splinter except for fire.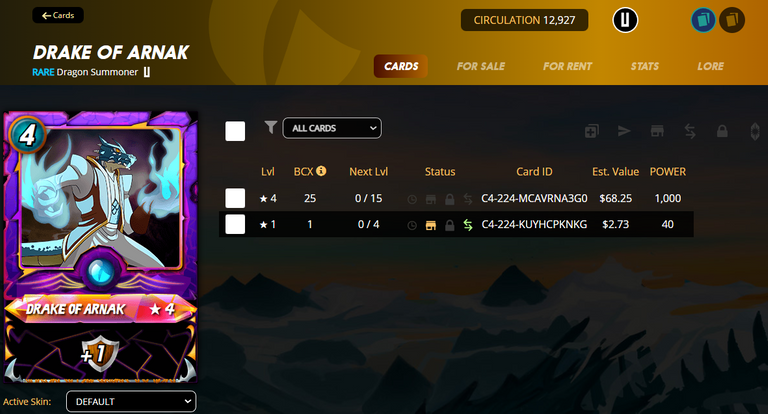 For this battle, I like dragon because I have more flying monsters on dragon and it works quite well. It's also the highest-level dragon summoner I have so I can play my cards to the highest abilities.
| Splinter | Mana Cost | Position | Reason |
| --- | --- | --- | --- |
| Drake of Arnak | 4 | Summoner | +1 armor |
| Uriel the Purifier | 11 | 1st | Tank |
| Luminous Eagle | 6 | 2nd | Reach and backup tank |
| Pelacor Conjurer | 2 | 3rd | Reflect magic |
| Adelade Brightwing | 7 | 4th | Repair |
| Chaos Dragon | 14 | 5th | Magic with blast |
| Zyvax Vuul | 8 | 6th | Ranged damage dealer |
| Total Mana: | 52 | | |
My plan is just to have a lineup full of flying monsters and I have Chaos Dragon towards the back to do some blast damage and I hope it deals enough damage with its scattershot. Besides this, I have two recharge monsters and these monsters attack once every two turns but deals 3x the damage. I have my first three monsters tank the hits and even reflect the magic damage if it gets there.
Round 1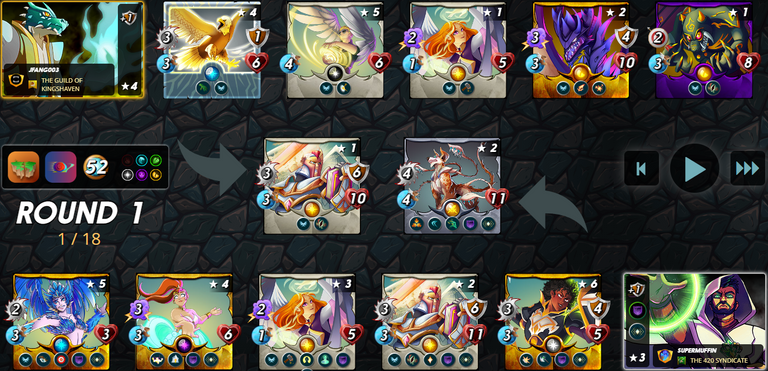 At the first glance of my opponent's lineup, I think it will be a dangerous fight and it will depend on whether or not I can take out the monsters towards the back. It does look like my first target is the taunt monsters for everything outside of my Chaos dragon.
Round 3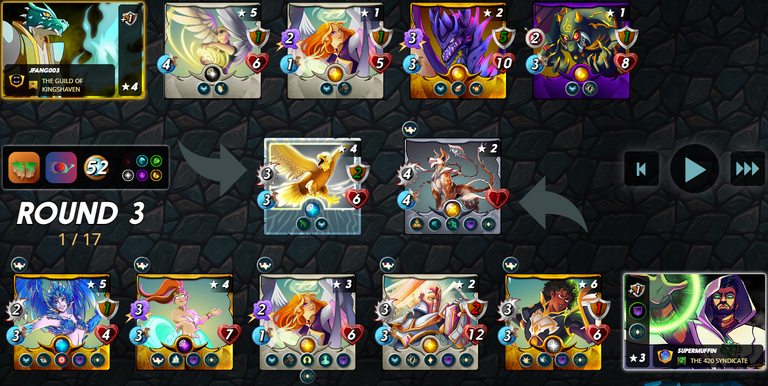 It's tough as I lost my main tank but I did get rid of his resurrect. It's going to be a tough fight but it's still possible for me to win depending on what Chaos Dragon does.
Round 4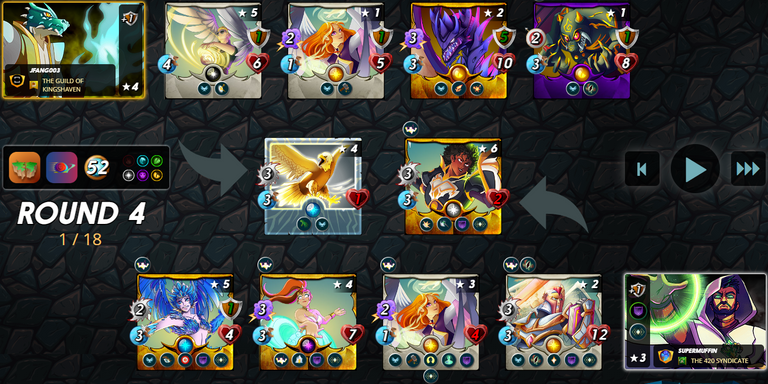 It's a tough fight and my lineup isn't holding up that well as my opponent still has quite a few tanks. It's not impossible for me to win but it's going to be a close match. I was hoping my Chaos Dragon would hit the back more.
Round 7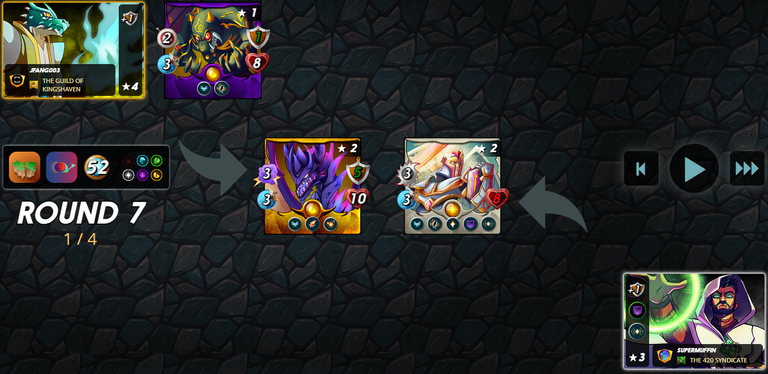 I decided to fast forward after seeing all the damage done and I managed to wipe out the backline using my Chaos Dragon. If I don't miss, I should be able to win this match without much issues because I should be able to deal more damage than my opponent can heal (recharge in back).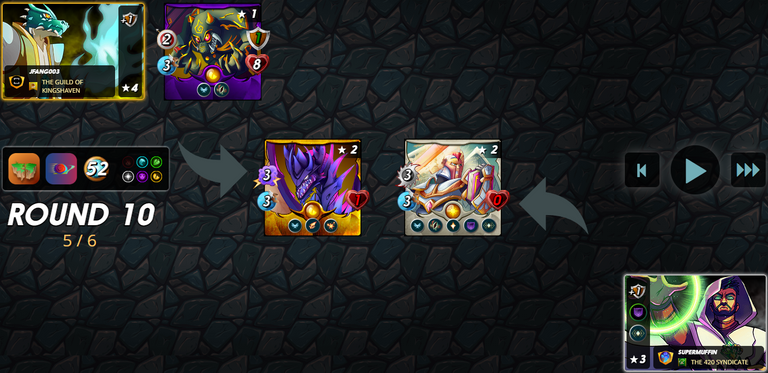 It was a really close match but I was able to beat it before he could kill my Chaos Dragon. This match was far closer than I would like.
Conclusion
The battle this time around went exactly but I wasn't expecting such a tough fight. The line-up did delay long enough for me to kill off that backline but it survived longer than I would like. I would say that my luck wasn't that great. However, a win is a win and I am happy about it. Having a full flying lineup worked quite well as I didn't take much damage from earthquake while my opponent had 3 monsters taking damage.
The +1 armor did help as my opponent did have a few melee monsters but I couldn't do much about the magic damage done to me. With the match so close, that +1 armor definitely made a difference. As for my opponent, I think he had a really strong line-up. His summoner gave him quite a bonus as I the armor was saving an extra hit and that resurrect also made that monster last 2 hits. The speed on both side was about the same but I think his lack of flying monsters might have made the difference to him losing.
You can see my entire match here.
What did you think of my match? Was there anything you would have done differently? I think it is quite interesting to see how different players use the same card.
---
---