Splinterlands Weekly Challenge Battle! SCAVO FIREBOLT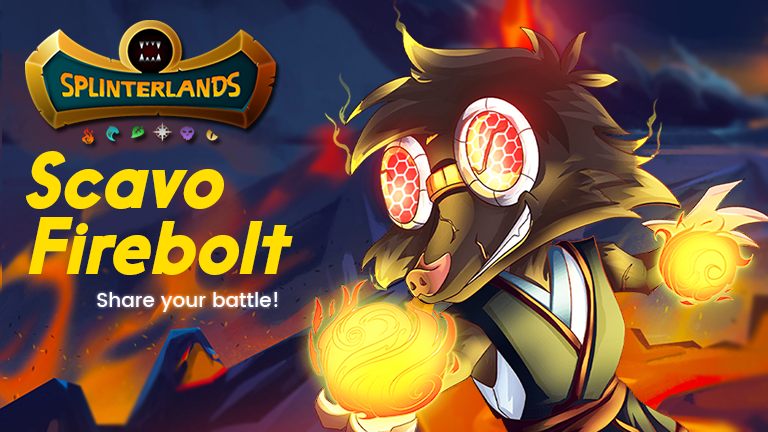 Every week there is a Splinterlands challenge to share a battle using a specific card and on this week's post it is the Scavo Firebolt card. I also encourage Splinterlands players to partake in the challenge because you get to try different strategies and earn some crypto in the process.
Featured Monster: Scavo Firebolt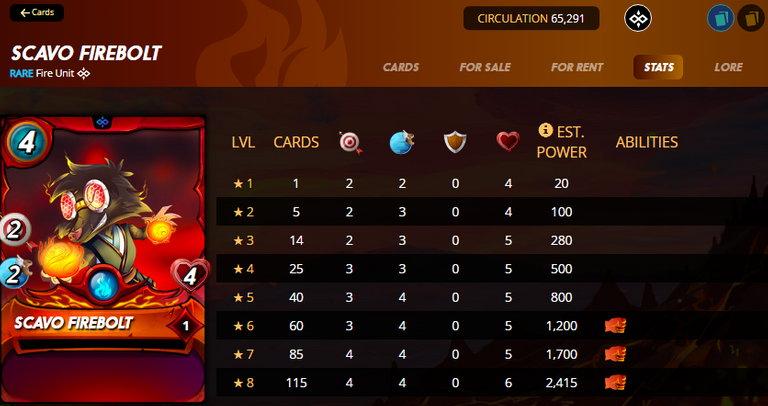 Scavo Firebolt is a fire splinter card that costs 4 mana. It starts with no skill and learns the knockout ability at level 6. Its stats are decent and its attacks deal decent damage at level 1.
I don't use this card very often because it has a mana cost of 4 and it has no ability. Currently, I have a level 1 version of this card to use and even the ability at level 6 is not really that great. I don't have any cards with the stun ability so I can't use this skill. This card is also part of the starter pack so everyone has access to a level 1 version of this card.
Rule set, Battle and Plan

The ruleset this time is close range and rise of the commons. The close range rule set makes it worthwhile to use ranged monsters and have them act as backup tanks and I can't use any epic or legendary cards for my monsters. Thankfully, it doesn't apply to summoners so I can still pick my favorite fire summoner. The splinters available is anything except for water and earth.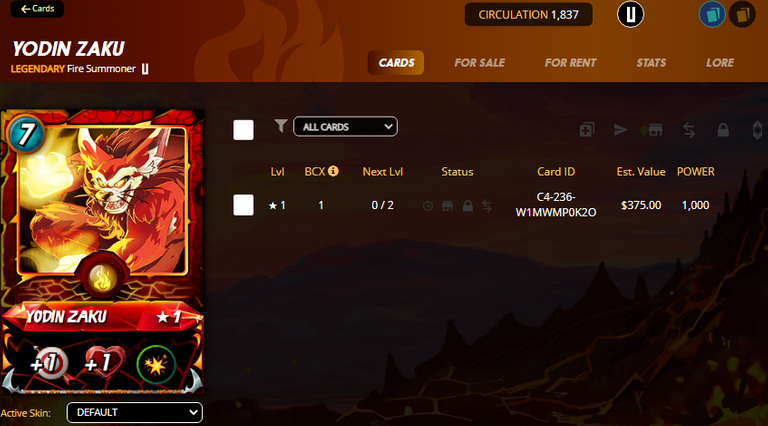 The summoner I choose to use this time is Yodin Zaku. It has +1 ranged attack, +1 health and the blast ability. Considering the close range rule set, it makes sense to maximize my damage with ranged monsters. All of these abilities will also increase my damage and increase the survivability of my cards.
| Splinter | Mana Cost | Position | Reason |
| --- | --- | --- | --- |
| Yodin Zaku | 7 | Summoner | Blast, +1 ranged attack and +1 health |
| Living Lava | 7 | 1st | Tank with shield ability |
| Furious Chicken | 0 | 2nd | Filler monster |
| Lava Spider | 3 | 3rd | Snipe and backup tank |
| Scavo Firebolt | 4 | 4th | Damage dealer and backup tank |
| Spark Pixies | 4 | 5th | Damage dealer |
| Goblin Fireballer | 2 | 6th | Damage dealer |
| Total Mana: | 27 | | |
My plan is just to have a tank in front to take hits and place as many ranged monsters as I can to deal damage. For my tank, I choose Living Lava for its shield ability. I decided to go a little riskier and pick the spark pixies card as an additional damage dealer due to its fast speed and flying ability. My Scavo Firebolt is a secondary tank in case my Lava Spider goes down. The reason for my lineup can be found in the table above.
Round 1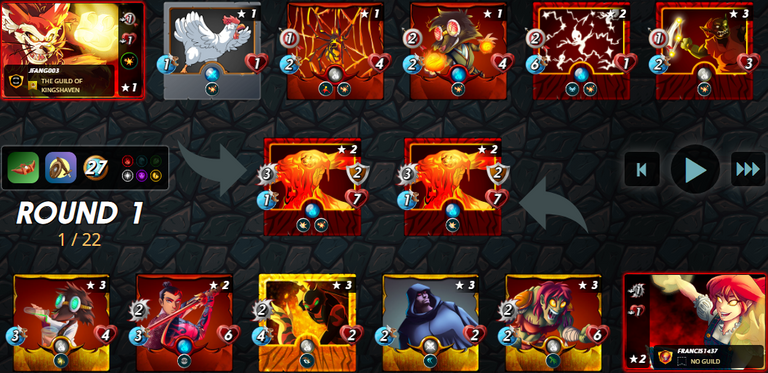 At the first glance of my opponent's lineup, I think this will be a tough fight. It will be a competition of speed to see whether or not I can kill his front-line fast enough or if my backline will die first.
Round 2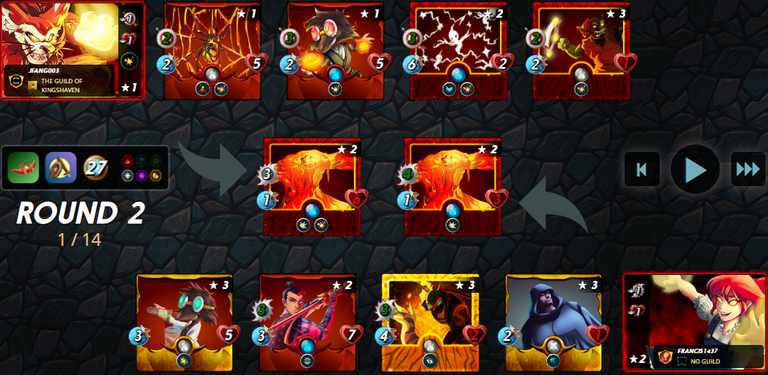 I lost the chicken and my fireballer is close to being dead. However, I was able to take out one monster and I will be able to take out my opponent's first 3 cards this turn if I don't miss.
Round 3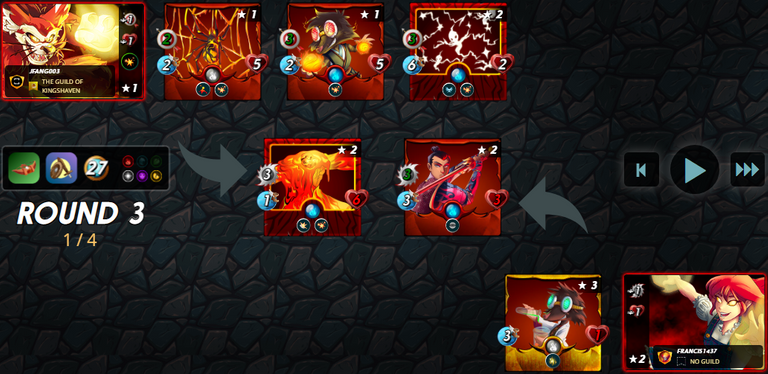 My spark pixie was able to dodge the incoming attack and my lineup is looking great. So I don't think there will be any issues winning this match.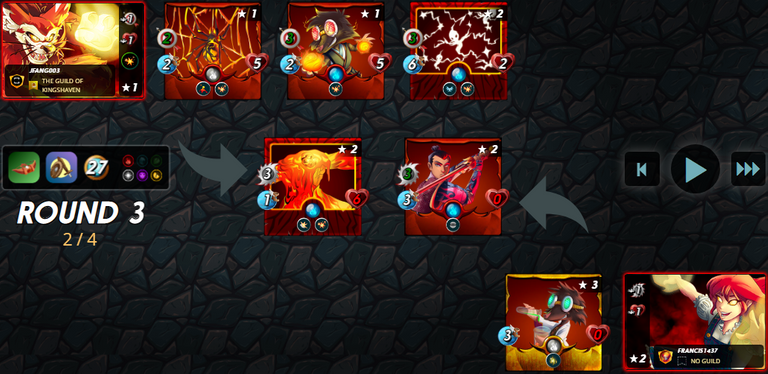 The spark pixie did not miss and I was able to wipe out both monsters due to the blast ability from Yodin Zaku.
Conclusion
The battle this time around didn't go exactly as I expected but it worked out well enough. I was not expecting him to target my backline so it was a rush to see who does more damage. I was lucky that the +1 health from Yodin allowed my Fireballer to live an extra round. This allowed me to deal more damage and take out his front line before my backline collapsed. It's too bad my Scavo Firebolt didn't play a role as a backup tank but it did help me in dealing damage and taking out some of the monsters with the blast ability.
As I said earlier, Yodin Zaku was one of the best summoners under the rule set for the match. I was able to make full use of the +1 ranged attack and ranged cards for the battle. The only thing lacking would be the speed of my cards but that is the best I could offer with my deck. As for my opponent, I feel that his lineup was good and the combination of his summoner and melee monsters can be quite destructive. However, I am confused as to why he had a Scavo Chemist in the back. It just doesn't seem like that great of an option.
You can see my entire match here.
What did you think of my match? Was there anything you would have done differently? I think it is quite interesting to see how different players use the same card.
---
---