🎁 4,000+ DEC Giveaway! 💎 Starlight Spectre Contest #2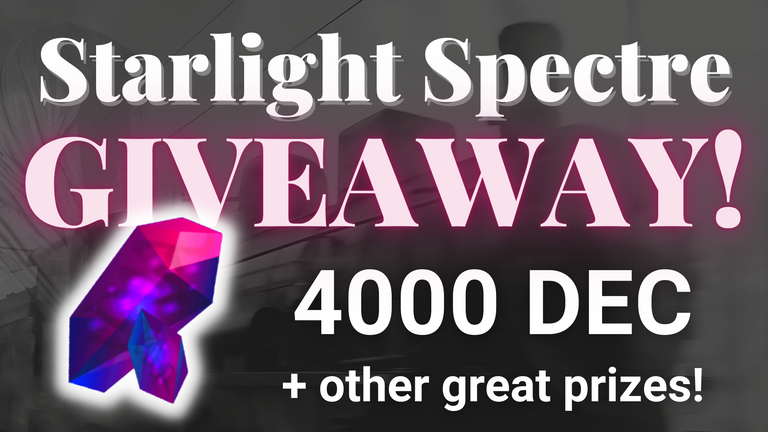 👻
I'm publishing a serial horror novella in the brand new Scholar and Scribe community! To celebrate and promote it: generous giveaways. This is giveaway #2 of 5.
The WINNERS from Giveaway #1 are listed at the end of this post.
🎁 PRIZES 🎁
This week, five winners will receive 800 DEC each.
You may also get some new SCHOLAR tokens 😉
If you win and you're a member of Scholar and Scribe, you'll also get an SBI sponsorship unit. Every unit of SBI gives you a chance for the SBI program to upvote your future Hive posts. The more units you have, the bigger the vote value. Learn more about Hive SBI here.
 


🍕 HOW TO ENTER 🍕
To enter, simply leave a comment in this post that quotes your favourite line from Starlight Spectre. This can be from any of the parts!
▶️ Here's a link to the start of the story.
📜 Here's a link to a list of all the story parts.
 
Winners will be announced in the next giveaway post. You must reply to that post to claim your prize (helps prevents bots and whatnot).
 

🤩 Grand prize drawing 🤩
Every entry here will also get you one entry into the Grand Prize drawing in May! We will be doing Starlight Spectre giveaways every week until then.
See full giveaway schedule here.

Rules and other things
Upvotes / reblogs on this post or the story posts are appreciated, but not necessary for entry. Note: The Scholar and Scribe community account will receive 25% beneficiary from this post's payout 🙂
Only one entry per account per giveaway
Deadline to enter = payout of this post
To be eligible for the SBI sponsorship, you must be subscribed to the Scholar and Scribe community here on Hive
Five winners will be chosen by random draw
Winners will be announced in the next giveaway post
To claim a prize, you will need to respond to the winner announcement post
You can see the schedule for future Starlight Spectre giveaways in my story index post. Generally, they will be every weekend until the story's finished.
🎁 Planned future prizes include: DEC, STARBITS, more PIZZA, more SBI, more SCHOLAR tokens
 

 
🎉 Giveaway #1 winners! 🎊
The following users win 35 $PIZZA and 5 SCHOLAR tokens each!
If they were subscribed to Scholar and Scribe at the time of drawing, they also receive a Hive SBI sponsorship.
@thinkrdotexe
@floki-skarsgaard
@twicejoy
@candnpg
@cachitooo
Every eligible user who entered also gets a ballot for the Grand Prize draw 😮 You can get a ballot for each Giveaway I do! So enter early and often :)
Grand Prize Ballot holders:
@JoniMarqu (1)
@yasky (1)
@cachitooo (1)
@h3m4n7 (1)
@relf87 (1)
@yeckingo1 (1)
@susurrodmisterio (1)
@twicejoy (1)
@thinkrdotexe (1)
@floki-skarsgaard (1)
@candnpg (1)
@agreste (1)

 


About the Scholar and Scribe Community
Scholar and Scribe is a new creative writing community founded in the forges of Hive's passionate Pizza Guild. It sets itself part from some of the other writing groups on Hive with its unique dual-token system.
[ Quick token guide • S+S 'Whitepaper' ]

Thank you for reading and participating! I own the license for all the images in this post, except for the Scholar and Scribe banner—the scroll and quill images were created by @trashyomen. If you have any questions about the giveaway feel free to ask here.
---
---