Week 219 | My Splinterlands Art Contest Entry | Mermaid Healer

HELLO!
How are you, guys? My entry for this week is a bit late compared to my other entries. December is the month I am probably the busiest because of the Christmas party here and there. I do hope that you are having a good time this holiday! I actually have to attend three Christmas parties! So I have to drop some things such as blogging for the mean time.
This week, I chose Mermaid Healer to draw in my style. Usually, I draw my entries in chibi style. This time, I am experimenting to do other styles. I am still not sure what style should I pursue so right now, I am just experimenting with different styles.
You can check out Splinterland's blog contest here.
---
Sketch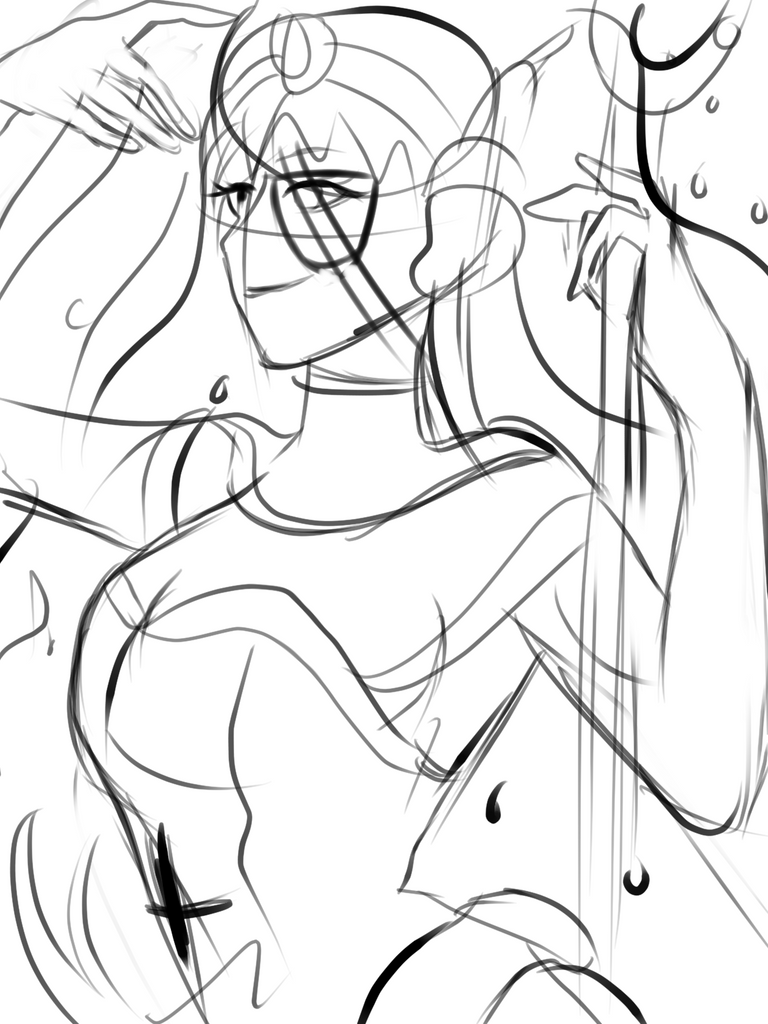 Before sketching, I researched on some poses on Google or Pinterest. Usually I type in "model poses" because it is easier for me in my part to look for poses. At this part, I just roughly sketched what will be the position of the character.
In this stage I planned for the character to be holding the staff on her left hand. But later on, there will be changes on the art itself.
I plan to add water around and froths for extra element.
---
Skin and clothing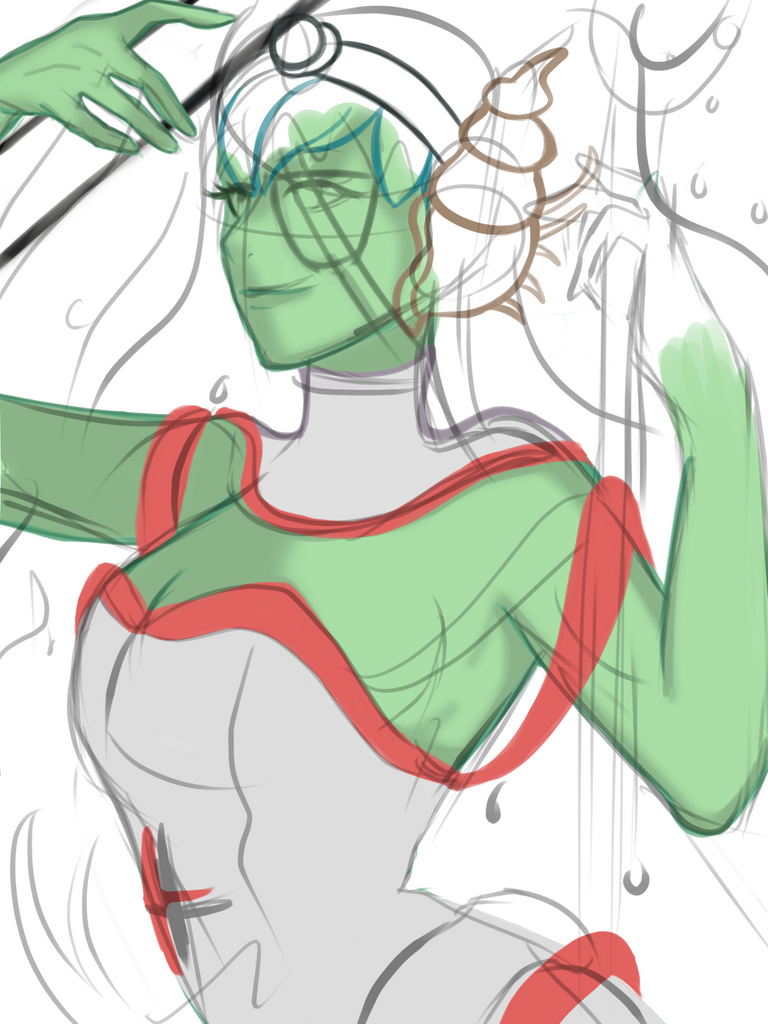 I first started with the skin. On this part, I did not make another layer for the shading part. The original character has white clothing but I chose the off-white color.
I did the line art for the shell, the headband, and the staff. See, I did not follow the sketch on the last process.
I was kind of having a hard time with the shading because this is not really my style. So I did a mix of soft shading and cell shading.
---
Water element, hair, and eye patch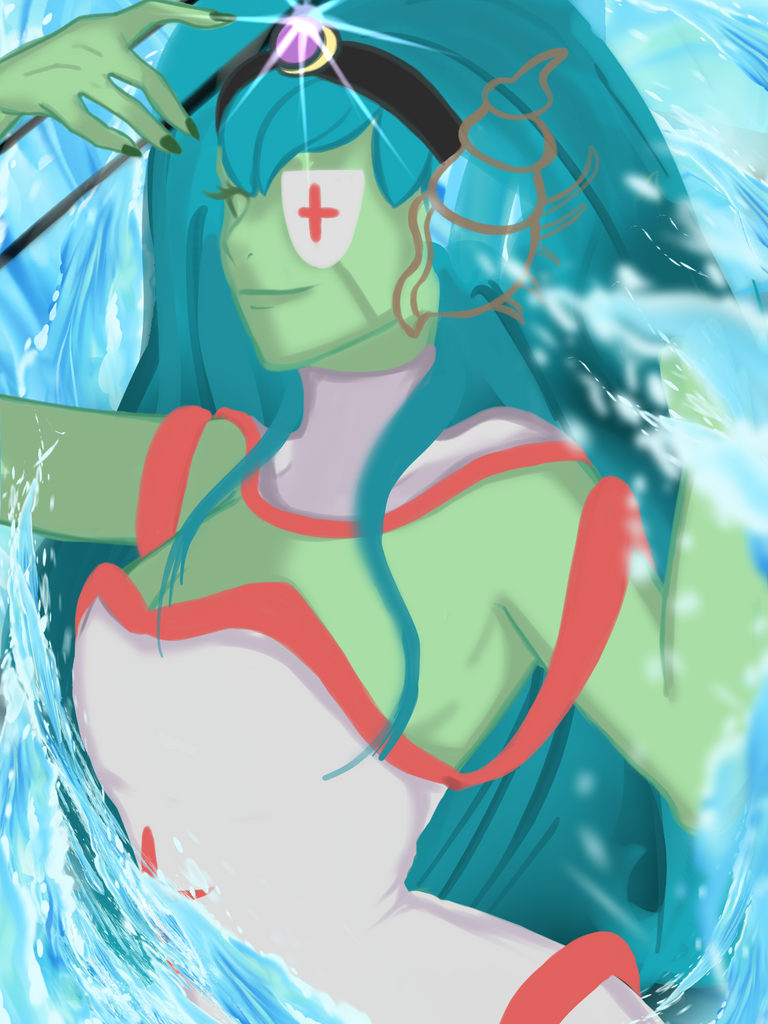 I kind of messed up the hair at this point because I am not sure of what brush should I use. As I said, I am experimenting on different styles. So I used a flat brush here and an airbrush. I then filled the flat colors for the headband and put nails on the hand.
I am always coloring back and forth the shadows on the skin because it seems like it is not right, lol. The eye patch is the same color as the cloth, and then put a red cross to it.
I downloaded a premade brush from Clip Studio Asset for the waves. I also go with the free ones because I am cheap, lol. There are many wave/water brushes, it is just this is my best option, haha!
---
Final Art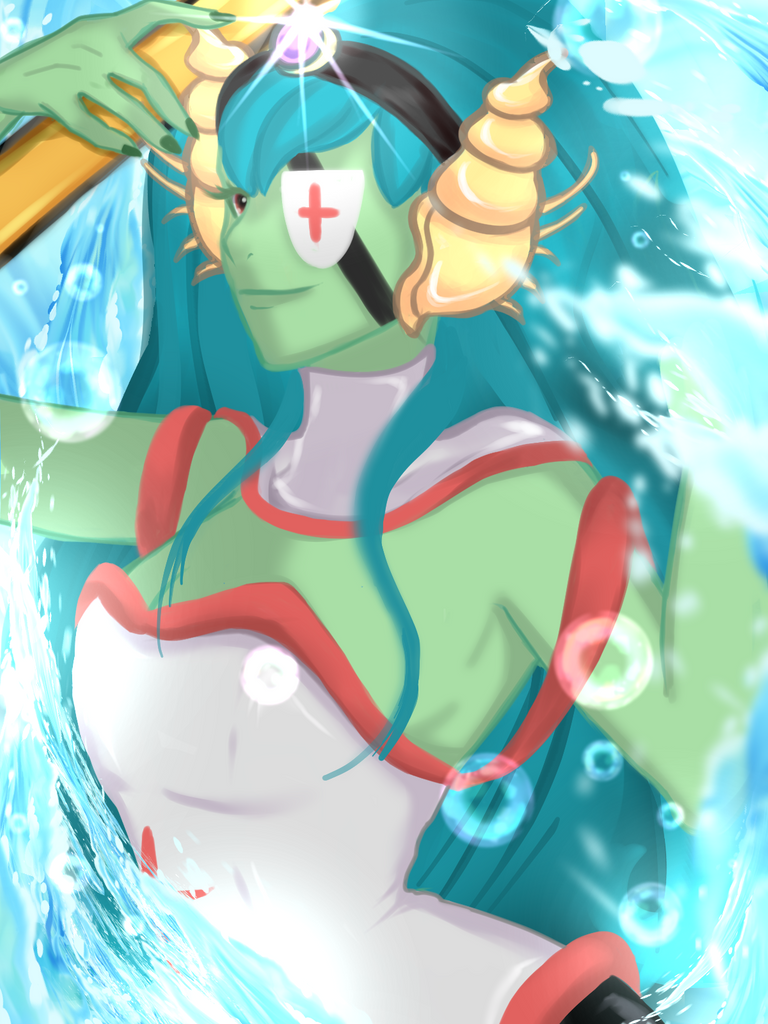 For the final touches, I added some froths and bubbles. I blurred out some of the shadows on the neck and arms. I had a hard time drawing the eyes, actually, haha! Eyes are hard to draw on my end because I think they are so organic, the same as the eyes. I also colored the staff, just color-picked from the original character.
I refined some of the lines on the hair, skin, and clothing.
Tadaaa~ done with Mermaid Healer in my new style! I am actually happy that I finished this because it is really hard for me to switch to a different style hehe. I do enjoy this art though I should practice more!
---
Software: Clip Studio Paint Pro
That is it for this art blog. I will see you at the next one!
📸 All photos are owned and taken by me, otherwise credited.
©️jijisaurart
Check out my Chibis on Hive collection on NFT Showroom
👾 NFT Showroom: https://nftshowroom.com/jijisaurart
🥰 Open for Chibi commissions!
---
---