Week 232 | My Splinterlands Art Contest Entry | Fire Spitter 🔥
Hello, Legendaries! 🐉
I hope y'all are doing well! 💫
"The comfort zone is nothing else but a graveyard for your dreams & ideas." -Anonymous
Okay, let me start this art blog with a quote. 🤣 In my journey of practicing my art skill, I have been pushing myself to do better, experiment, and try new ideas. This time, I am doing a full-blown dragon.
First, I am scared to do it because I do not have an idea of a dragon's anatomy let alone ever drew a dragon. 😆 So, no excuses, I have to try because I will never know the outcome. Staying in my comfort bubble is dangerous...
---
For this week, I chose Fire Spitter! 🥳 I chose the simple dragon first before leveling up to those complicated ones.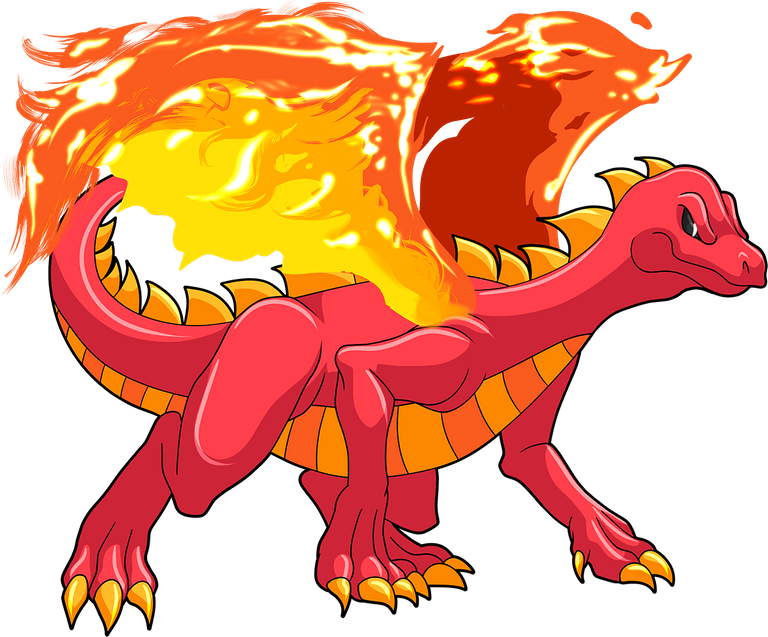 Check out the winners and the contest here.
---
Sketch and concept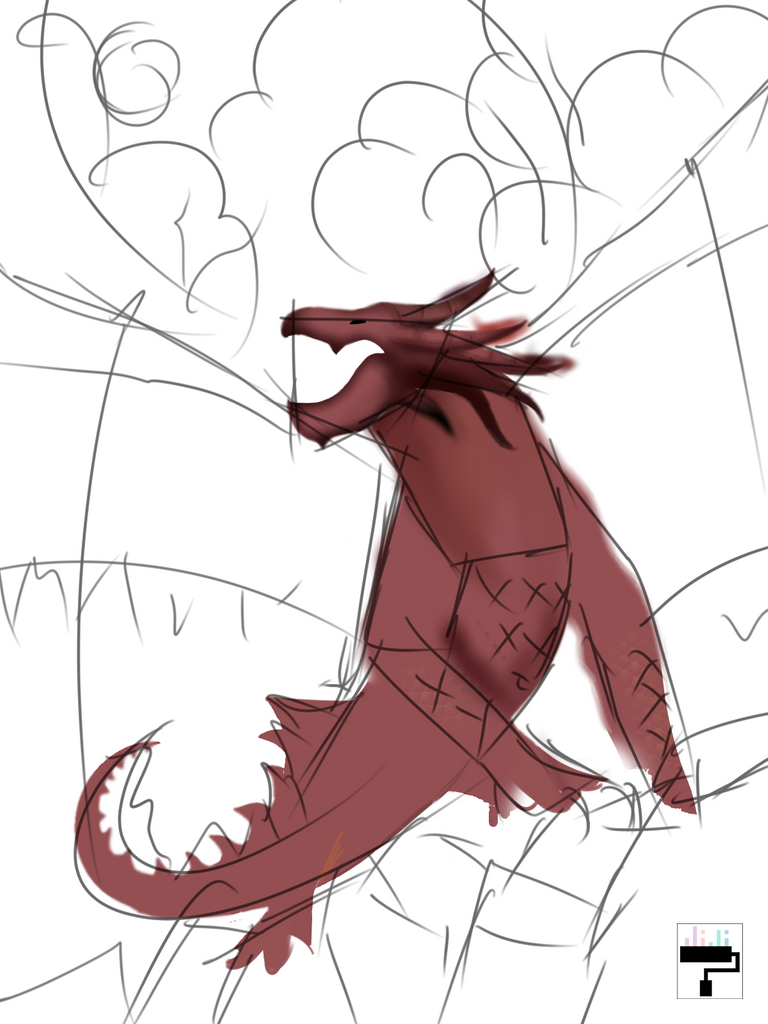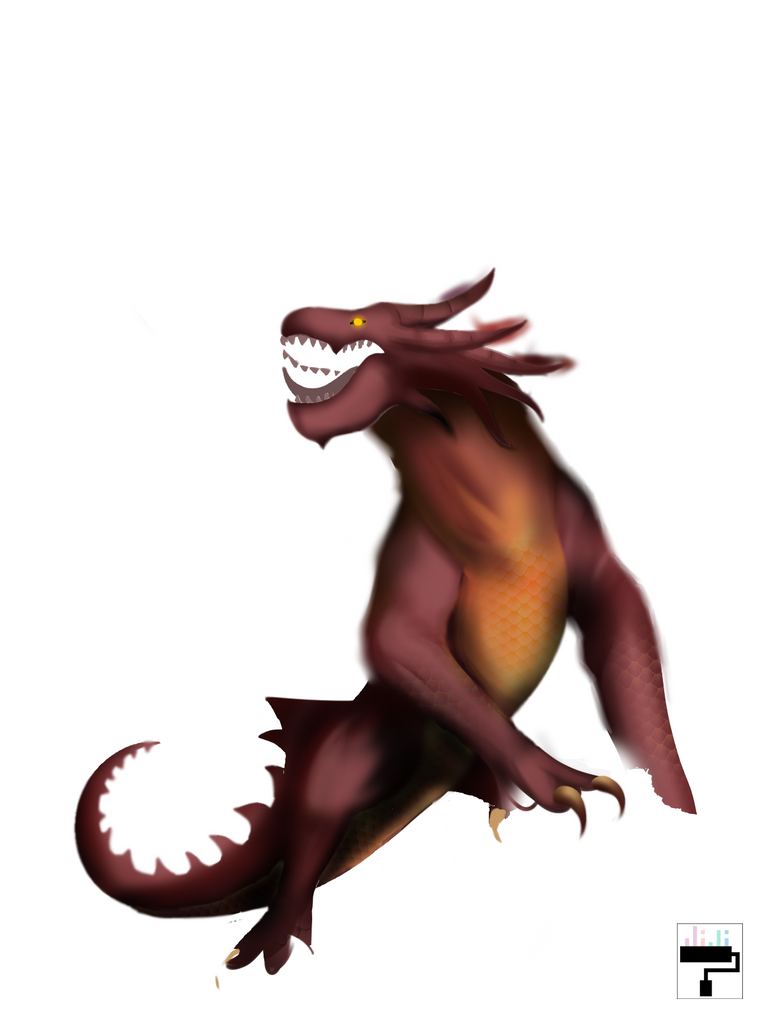 I have freaking zero knowledge of dragon! While sketching, I am just trusting my memories of Yu-Gi-Oh dragons, lol. I was thinking of the Blue Eyed White Dragon. So, Pinterest to the rescue. I just typed in "dragons". I skipped some because they were very detailed, and I will consume too much time. Finally, I found a reference that is not too complicated. 🥳
I sketched first my idea. The dragon will be on top of a rocky mountain. Kind of like piled rocks. And then, in the background will be a combination of black and purple clouds, plus lightning. The moon will be glowing glistening the clouds nearby.
I lowered the opacity and started coloring first the body base. In the original art, it is like a red-orange color. For my art, I want it to be dark red. on the middle of the body will be a combination of red and orange. I will skip the stripe for now... I add subtle scales on the chest and arms. I just downloaded a scale brush from the Asset store. Gosh, I spent 10 Clippy for this brush! It was worth it, though, and I might use it for future art, right? 🥳 After that, I created a new layer on top to airbrush the shadows.
Coloring and shading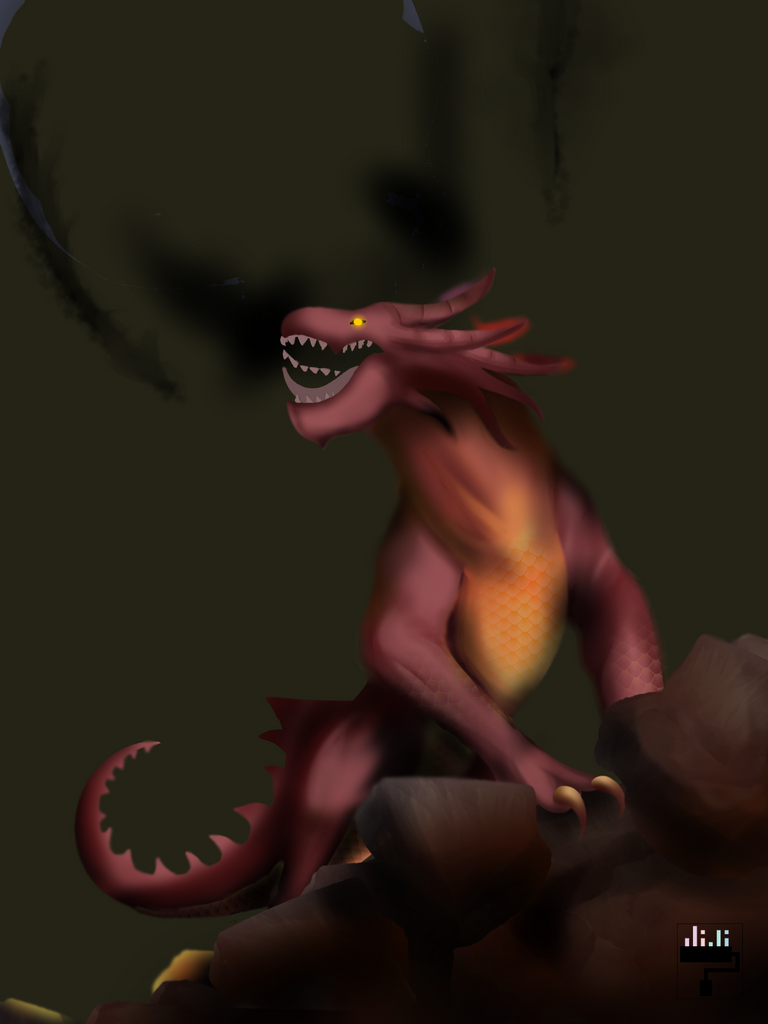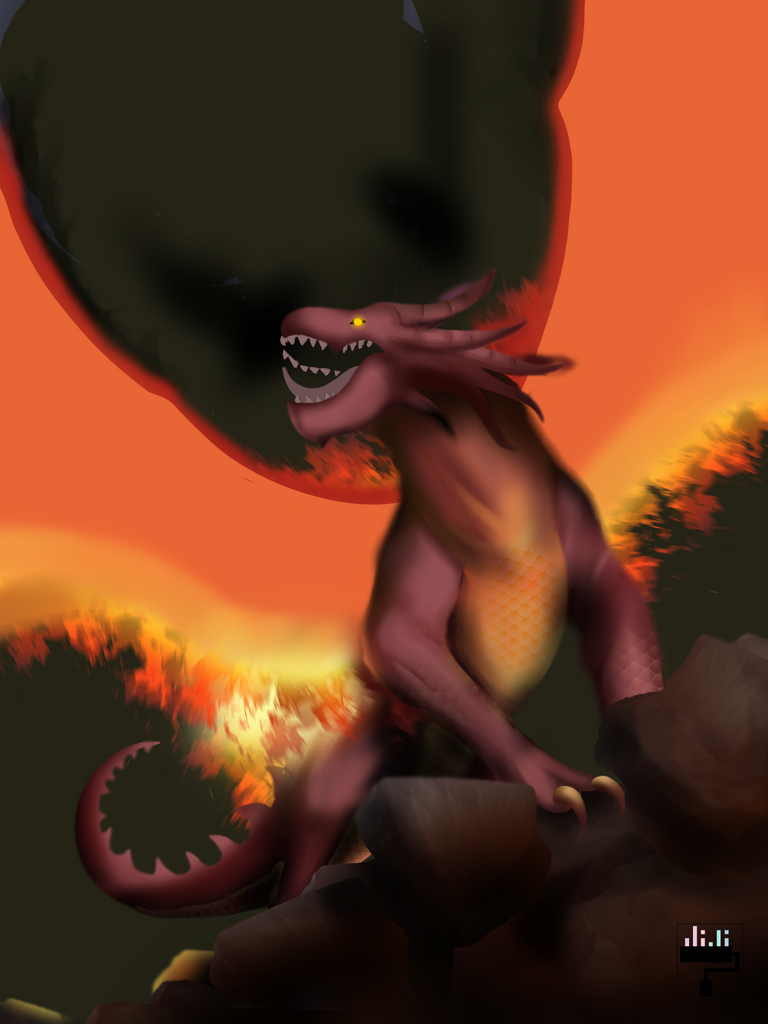 On this part, I already colored the background black (but not really black🤣). For the rocky mountain, I downloaded a rock brush, which again, cost me Clippy points. I spent 50 Clippy for the brush if I am correct. I just choose which is the cheapest, haha! Added another layer and airbrushed a combination of red and black.
The wings are my favorite part to make. I first use orange as the base and then make flares on the tip using a flare brush. I clipped an airbrushed yellow to form a gradient effect.
Details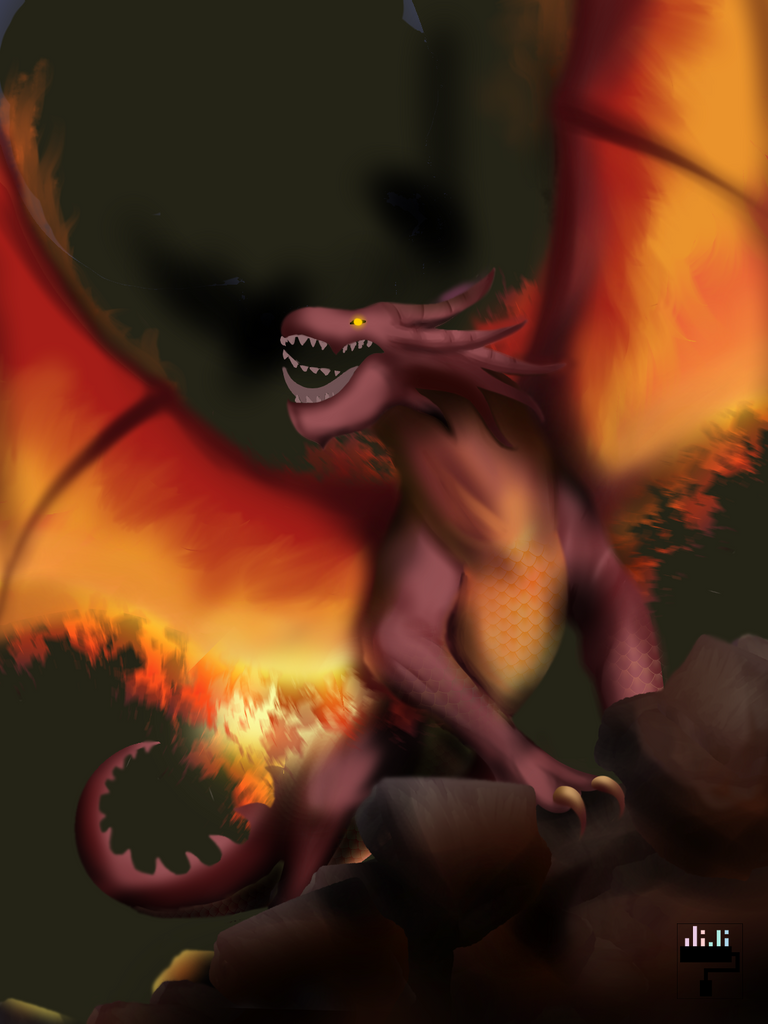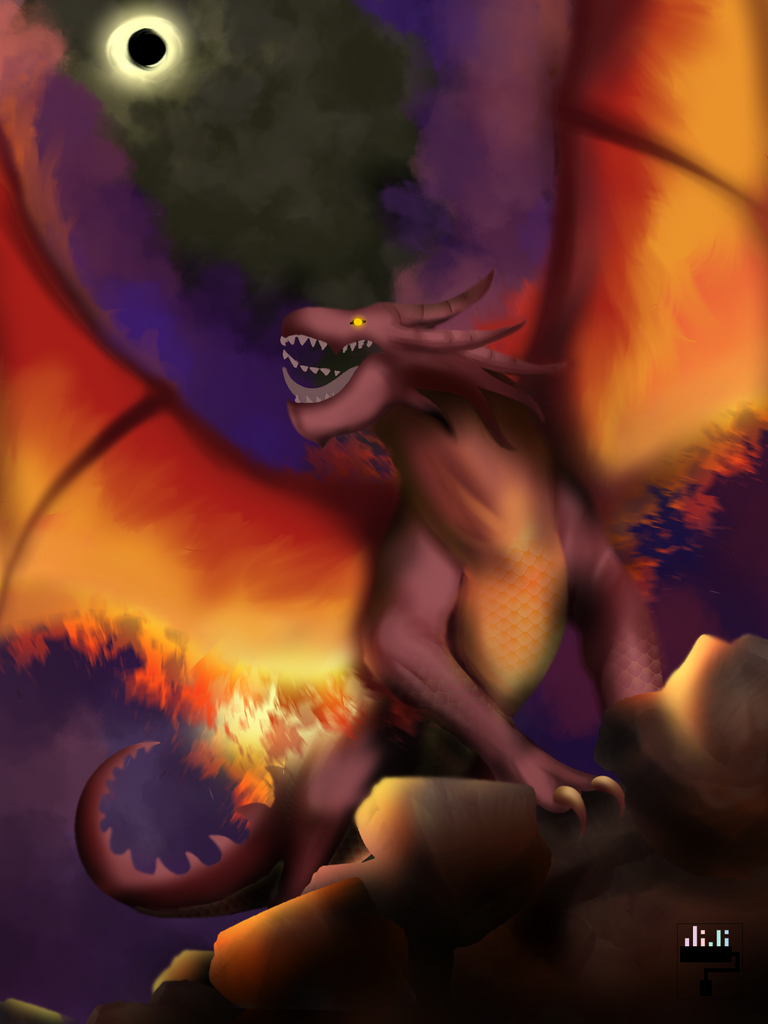 I added more definitions to the wings to make them appear like "wings". I used a soft brush on the edges. I blended the orange and yellow to mimic fire.
The easiest part of this art is the clouds thanks to the cloud brushes. I actually have 6 cloud brushes, but often use 2 or 3 max. I just have to adjust them and properly put them in places to be "clouds". The first layer is the purple clouds, from light to dark. The second layer is the white clouds closer to the moon.
To create the moon, I just use the shape tool circle, added a layer below, and set it to Add Glow. Used an airbrush and blur it out a bit. Tadaaa~ glowing moon!
Final Art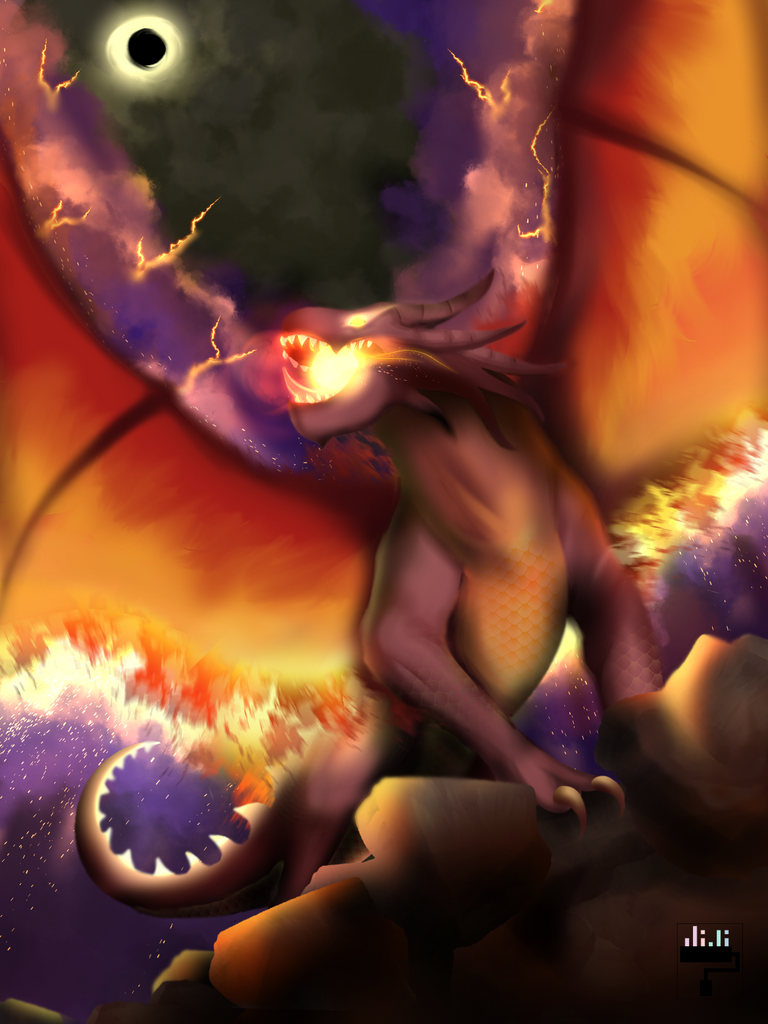 Since it is an elemental dragon, why not add some bolts of lightning for extra drama, haha! Added little sparks, you know, when you are like welding a metal? 🤣 Sorry, can't find my words, haha! I added more glow on the flares of the wings. Best part is creating the glow in the dragon's mouth and eyes. It makes the art complete for me. It is just an airbrush and a soft brush. I added glows too on the body parts where the light of the fire reaches. I made the lineart blurry this time, just an experiment, unlike the previous art that I make. A little checking here and there...
And tadaaa~ Fire Spitter in my art style is done!! 🔥💫
---
Thanks for reading~ 💖
Software: Clip Studio Paint Pro
That is it for this art blog. I will see you at the next one!
📸 All photos are owned and taken by me, otherwise credited.
©️jijisaurart
👾 NFT Showroom: nftshowroom.com/jijisaurart
🥰 Open for commissions!!!
All of my NFTs are 1/1 non-generative, hand-drawn art, 1 by 1 produced!
---
---