Here are the Winners of the THGaming Community Posting Competition!
Once again our Community Posting Challenge (Competition) was dominated by #Splinterlands posts, a firm favourite topic in the THGaming Community. In fact we ended up giving away the @risingstargame prize of 10 500 $STARBITS to a Splinterlands Post !
Here are the 5 Main Winners :
@kraaaaa - 10500x $STARBITS
@beffeater - 1x Chaos Legion Pack
5 x selected 'Runner Up' posts will receive 750 x $THGAMING each
Congratulations! All prizes will be transferred within 48 hours.
Read on to check out their Winning Posts...
---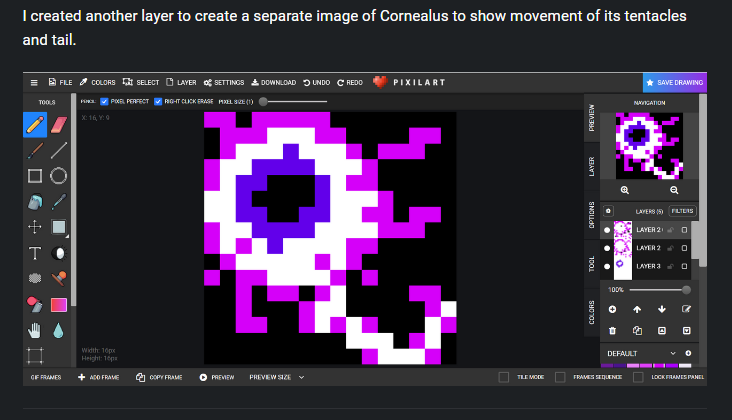 Hello everyone! Lester here! And I am participating in Splinterlands Fan Art Emote Contest! For my entry, I created a gif emote of Cornealus. I chose Cornealus because this monster card can be easily recognized even from afar, and I hope that my work is recognizable as Cornealus.
---
So after playing this free game i have been looking into the more profitable methods which include staking. Tournaments (which happen every 6 hours). This is where the most fun and money can be made in the game as it is a furry of 10 minutes to win and kill as many enemies as possible for the most roy you can get your hands on Skin wars and VP renting, And daily interest and skins being held. This is where i think the main ROI will be made, as just by holding skins you acquired or bought will give you a daily dose of ROY, And by holding just 60roy in your wallet will give you daily interest. BUt enjoy the video and in these dark times and hope you are all a little richer then youwere yesterday.
---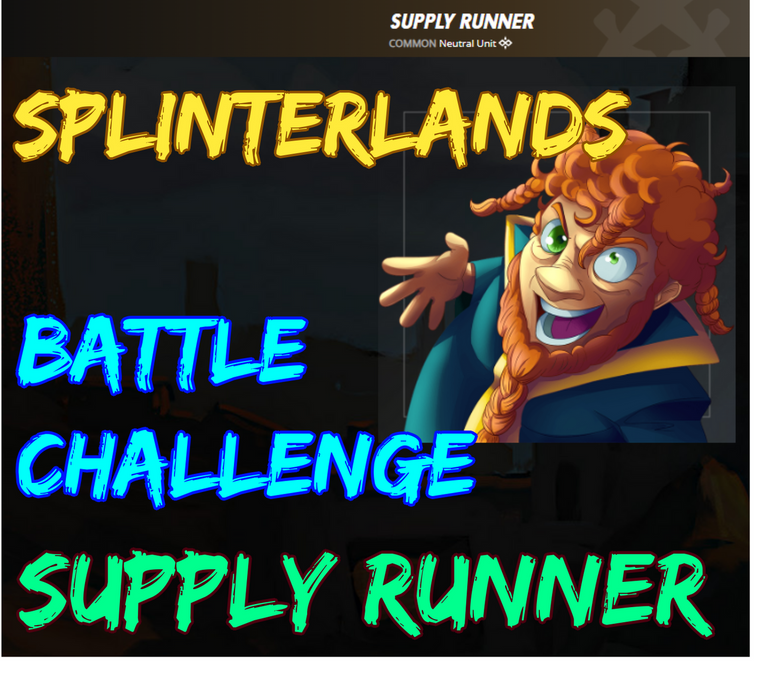 Before I begin sharing my battle experience I want to included the information of the card that I used the Stats and its uses and also what are the things I need to consider before using Supply Runner on the Battle. (All Cards Mentioned in this post has a embedded link that will take you to the Card Lore and Stats)
---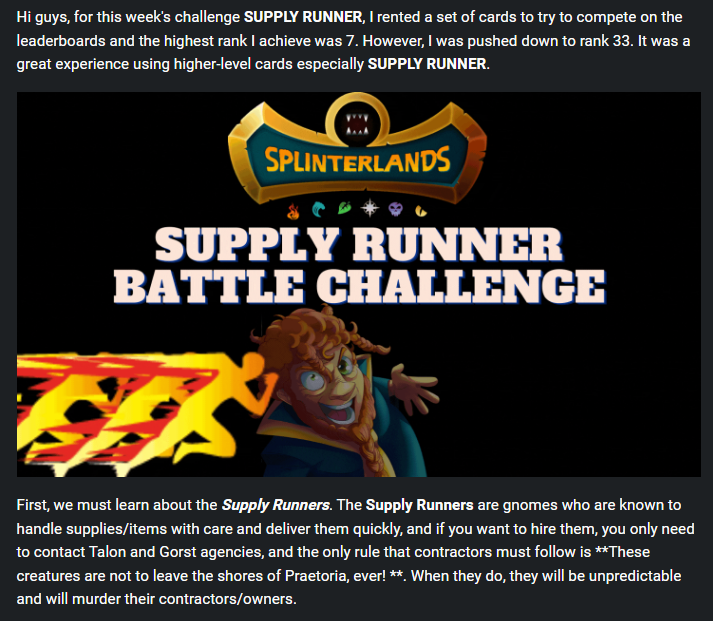 ---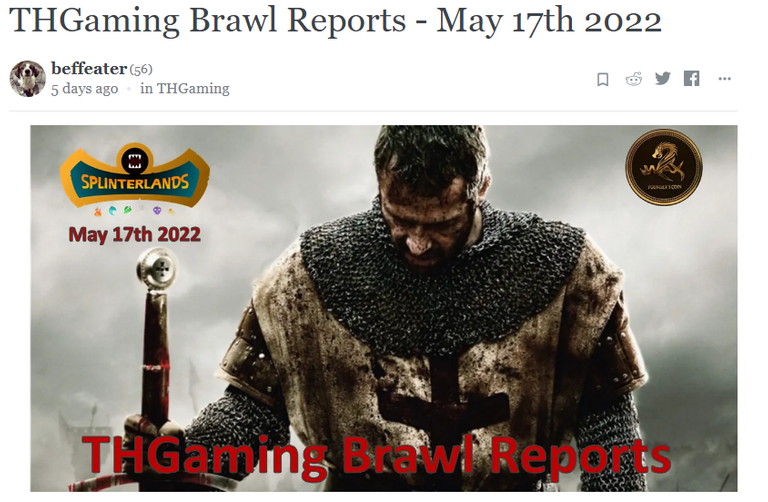 In this post, I will present the main highlights of our 2 top guilds. I am also bringing great battles of our best brawlers, including tactical analysis and tips that increase your WinRate % (as it will be very important for the nexts seasons due to changes to the reward system. For more information you can have a look to the great work done by @rosiew with the minutes of the Town Hall. They are a must to understand where this wonderful game is going!
---
Honorable Mentions (750 x $THGAMING tokens each)
The following 5 Posts by @lofone + @atbui89 + @lastczar1234 + @tinyputerboy + @saachi will receive 750 $THGAMING Tokens each.
https://peakd.com/hive-184309/@atbui89/weekly-battle-challenge--supply-runner
https://hive.blog/hive-184309/@tinyputerboy/share-your-battle-the-supply-runner-x2
https://ecency.com/hive-184309/@saachi/plinterland-s-battle-challenge-creating
https://peakd.com/hive-184309/@lofone/splinterlands-highlights-from-the-ladder-rc34vx
https://peakd.com/hive-184309/@lastczar1234/lastczar-log-34-death-life-water-fire-tasks

---
We will be running more THGaming Hive Community and Social Media Competitions this month. Keep a look out on our Social Media accounts for competition announcements.
If you would like to join or simply follow @THGaming and explore the #Metaverse with us, our Social Media links are below.
THE END
---
Official Social Media Links
🔸 Linktree Official - All Social Media links

Please Trade safely. Here is the $THGAMING Token on Tribaldex
Consider Delegating your Staked $THGAMING to our Recognized Curators : @thgaming @entrepidus @dynamicrypto @thg-curator @thgaming-curator
---
Post rewards will go towards powering up $HP and funding $THGAMING's ongoing development.
---
---