Need for Speed with this Sharky steed - 'Diemonshark' card analysis and which cards to use with it!
First thoughts on the Diemonshark
DIEMONSHARK is one of those Splinterlands Chaos Legion cards I never paid much attention to. While WATER is one of my favourite splinters (Card types) within the game, when it comes to front row tanks I more often than not select the SEA MONSTER which has HEAL, or DJINN OSHANNUS with his MAGIC resistant abilities.
However after receiving a few beatings by my opponents (usually due to it's high speed) Diemonshark has certainly become one of my favourite front row WATER tanks, although only in certain rulesets and when paired with a few cards which I will mention later in this post.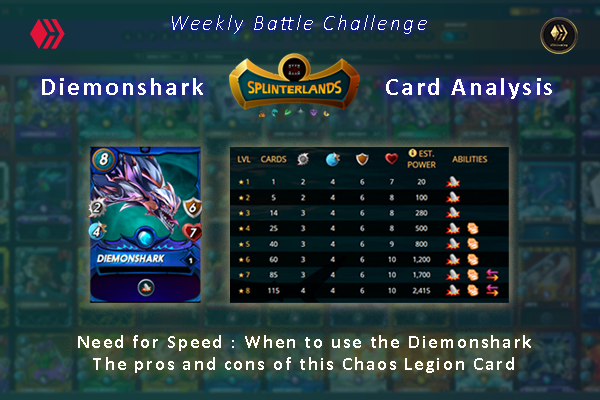 Diemonshark : Abilities and Price
The current price on the market (per BCX) is $0.42 or 672 $DEC. You can see a visual of the Card-Stats in the picture below, including at which level it receives increased abilities and stats. Strangely, the SPEED of the card does not get buffed (increased) at higher levels, however for new players it is a pretty strong card even at Level 1 or 2.
This is a must have card in Bronze and Silver Leagues and starts to become really competitive in Gold + Leagues once it has been levelled up to L4 or higher.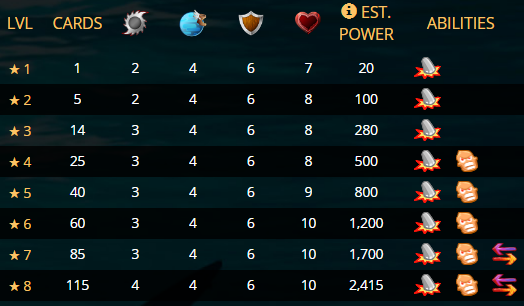 Card Abilities
Trample (Level 1+)
When a Monster with Trample hits and kills its target, it will perform another attack on the next Monster on the enemy Team.
Enrage (Level 4+)
Has increased Melee attack and Speed when damaged.
Retaliate (Level 7+)
When hit with a Melee attack, Monsters with Retaliate have a chance of attacking their attacker.

The Pros (advantages) of this card
The Trample ability means the Diemonshark will attack again if it kills an opponent, which can do serious damage especially if it is able to trigger multiple times.

High Shield of +6 at all levels, so it a great front row tank, particularly against Melee and Ranged attacks.

This card has a high speed of 4 so will often cause Melee and/or Ranged attacks to miss. This speed will be further increased by +1 when used with the summoner Kelya Frendul. I also like to pair the Diemonshark with the Neutral Card Creeping Ooze where possible, as this card has the SLOW ability and will further debuff the opponent's speed and increase the chance of misses against the Diemonshark.

It is quite rare on the market, meaning this Shark is a sought after card and should increase in value as time goes on. At time of writing there are NO MAX LEVEL Diemonsharks available to buy on the Splinterlands market.
The Cons (disadvantages) of this card
Low attack of 2 Melee, which only increases to 4 attack at Max level, means this card is not a heavy hitter in it's standard form.

While the Shark is fast, it's speed does not increase as the card is levelled up.

Relatively expensive compared to many other RARE Chaos Legion rare cards. Again this shows that it is a sought after playing card so perhaps this is actually a good thing?

It can get taken down by MAGIC very quickly so does not always do well against strong magic attacks.
Three Abilities to Rule them all
Splinterlands Cards will pair with well with multiple Rulesets and Abilities, however some Abilities seem to me 'made' for certain cards. I want to highlight why INSPIRE, VOID ARMOUR and OPPORTUNITY will work so well with the Diemonshark.

A full list of all Abilities can be found on >> The Gameplay Page <<
Inspire
Gives all friendly Monsters +1 Melee attack.
The Diemonshark does not have a particularly high attack damage, so INSPIRE will help to increase it's ability to smash the front row tank. In my featured battle (below) I used the Demented Shark to take advantage of this Ability and give the Diemonshark some much needed attack up front.
Void Armour
Magic attacks hit this Monster's armour before its Health.
Having high armour does little against a strong magic attack, as magic will miss armour and go straight for the Diemonshark's health. The VOID ARMOUR ability will make magic hit the Shield first, thus increasing the Diemonshark's staying power as a front row tank.
Opportunity
Monsters with the Opportunity ability may attack from any position and will target the enemy Monster with the lowest health.
Pairing the Diemonshark with the Demented Shark (INSPIRE ability) is great but the Demented Shark is only able to attack from the front row, being a Melee Monster card. The OPPORTUNITY Ruleset will give the Demented shark the ability to attack from any position in your lineup.
With his +1 Speed, +1 Armour and relatively cheap price; Kelya is the summoner I recommend when battling with the Diemonshark, especially if you are on a budget!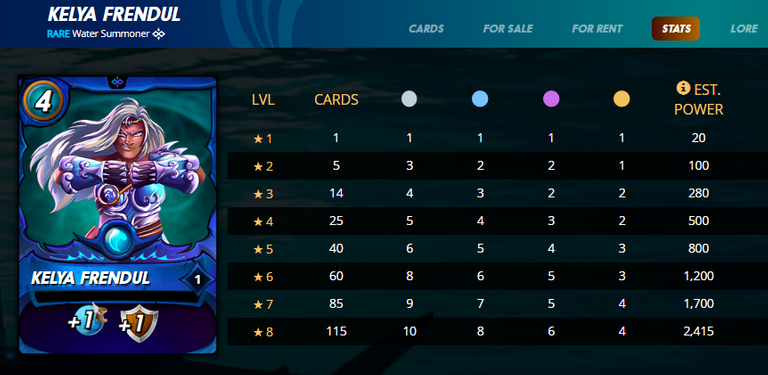 Kelya Frendul : Current price on the market (per BCX) is $3.18 or 5042 $DEC.
Featured Battle
It took me a few battles to find one that would truly play into the strengths of the Diemonshark, as well as the two cards that pair so well with it!
I love to use the Diemonshark in conjunction with the Demented Shark for it's INSPIRE ability as well as the incredibly powerful Deeplurker which has OPPORTUNITY and 3 Damage, even at level 1!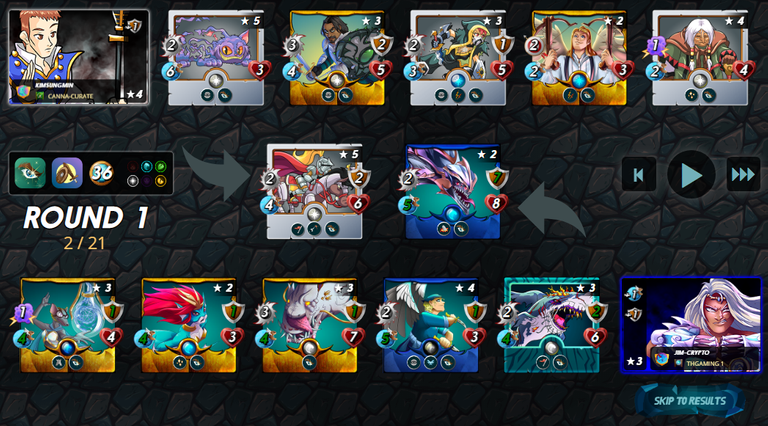 My opponent had a powerful LIFE lineup and it was not an easy victory, but SPEED and INSPIRE were ultimately able to win the battle for me. The OPPORTUNITY Ruleset of this battle also meant that the Demented Shark was able to attack from the 2nd position.
Here is the Battle Link for you to check out for yourself!
So remember, when there is a need for speed the Diemonshark is one of the fastest swimmers out there. But beware of strong MAGIC attacks which will melt it's health and turn this Shark into sushi.
I hope you enjoyed my card analysis. I am looking forward to next week's @splinterlands challenge!
---
Weekly Splinterlands Tournaments
While I've got you guys here I wanted to let you all know that @thgaming is collaborating with @crypto-zard and @beccss for a number of Splinterlands Tournaments this week! Deets below.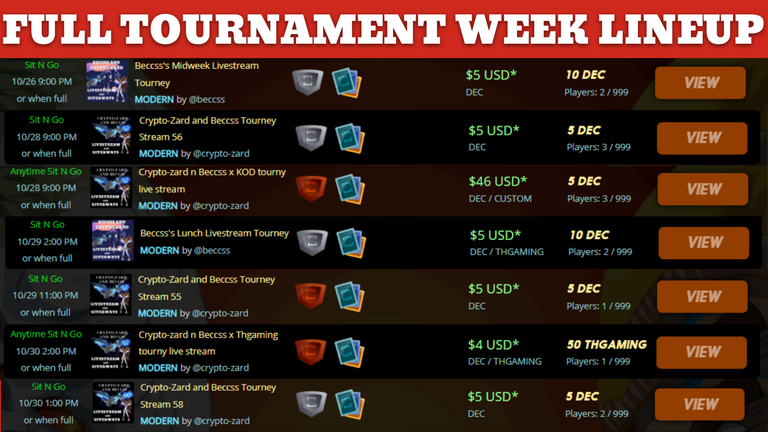 Here are links to three of these Events :
As you can see (in the picture above) we are hosting a lot of events this week so feel free to enter as many as you want.
THE END
If you would like to join @thgaming and explore the #metaverse with us, our Social Media links are below. The THGaming Discord is where the magic happens, but we support gamers on Twitter, Instagram and of course on many different #Hive Blogging platforms.
Thanks for joining me on my Gaming and Crypto journey. Trade safely, Game hard!
---
We are now curating #thgaming #pimp #lolz #cryptoshots #oneup & #pgm tagged Posts. Be sure to include those hashtags in your Gaming & Crypto Posts for continued upvotes!


---
---