Splinterland Brawl Report 30 December 2022 - My Best results in Tier 3 (so far) : 4 Wins 1 Loss. Join a THGaming Guild today!

THGaming Guilds - 2nd, 1st, 2nd
Our last Brawls of the Year (sorry it's a bit late) and I was able to perform pretty well in Tier 3, in fact this was my best performance yet since THGaming Brawlers levelled up our Brawl Arena to Tier 3. We are looking for active Brawlers in our Splinterlands Guilds so feel free to join us and win some $SPS. Also, if you'd like to see what @thgaming Guild has been up to, please have a look at the THGaming Hive Community, where our most important Posts are pinned at the top.
For our last Brawl of 2022 THGaming1 emerged as our highest placed Guild so congrats to those players! Below you can see the Guild performances and $SPS winnings.
THGAMING Guild Brawl Finishes and Rewards
🏆 THGaming Brawlers (2nd place) TIER 3 BRAWLS - The guild has won spoils of 69 Crowns in the latest brawl! Also, each fully participating member was awarded 3,450 Merits and 61.553 staked SPS..
🏆 THGaming 1 (1st place) TIER 1 BRAWLS - The guild has won spoils of 12 Crowns in the latest brawl! Also, each fully participating member was awarded 646 Merits and 15.252 staked SPS..
🏆 THGaming 2 (2nd place) TIER 1 BRAWLS - The guild has won spoils of 13 Crowns in the latest brawl! Also, each fully participating member was awarded 600 Merits and 12.129 staked SPS.
THGaming Brawlers have certainly shown that moving up into Tier 3 is well worth it! We have just promoted two of our TOP players @geas and @thebighigg up from our lower Guilds into the THGaming Brawlers, so these guys now know what it's like playing against some seriously tough opponents.
We currently have spaces free in ALL of our Guilds so feel free to request to join any of them. If you'd like priority access let me know in the comments and we'll see which of our Guilds best suits your playing style.
I'm sure most of you already know that @splinterlands has made Guild Brawls truly profitable and Guild Brawlers now win staked $SPS Tokens for Brawl participation. The amount of $SPS you earn is dependent on your Guild Tier (Arena level), Guild Participation (how many Freys are filled) and how well you actually finish in the Brawl each week.
Pwnage in Tier Three - 4 Wins 1 Loss!
➡️ 61.553 $SPS for 2nd place finish
THGaming Brawlers have moved up to Tier 3 Brawls after getting our Guild Arena up to level 5. The competition is a lot fiercer and we often find ourselves matched against Top 10 Guilds and some real 'Splinterlands Whales'.
My Goldfoil Brawl Performances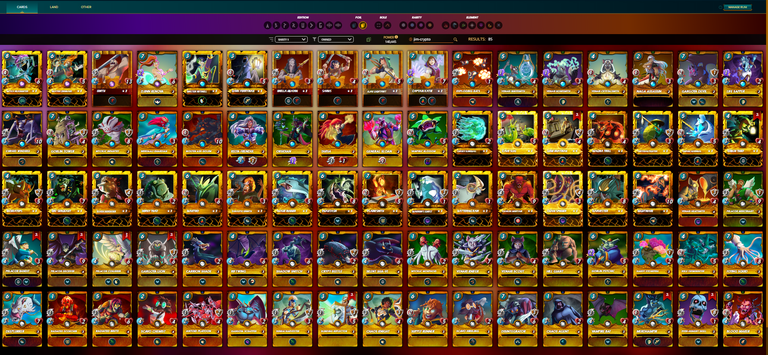 This week I was able to win 4 out of 5 Brawls. The competition is a LOT harder in Tier 3 and I'm up against accounts with levelled Gold Summoners and Monsters. In almost every battle I was 'outgunned by card levels' but still managed to get an 80% Win Rate.
Brawl Deets : I played BRAWL FREY 15 (Silver Level GOLD CARDS, all Series allowed). I currently own 85 Gold Cards including 5 Summoners (Water, Earth, Fire, Death, Life), however I rent a number of Cards for Gold Brawls, including a DRAGON Summoner. The Gold card rentals also add to my Card Power and allow me to be more competitive when playing Wild or Modern league matches.
Reviewing Three Brawl Battles
Most readers don't have time to go through overly detailed posts, so I will summarize three battles - 2 wins and 1 loss. If you have any questions feel free to ask them in the comments.
---
99 Mana - RULESET : Explosive Weaponry, Spreading Fury (enrage)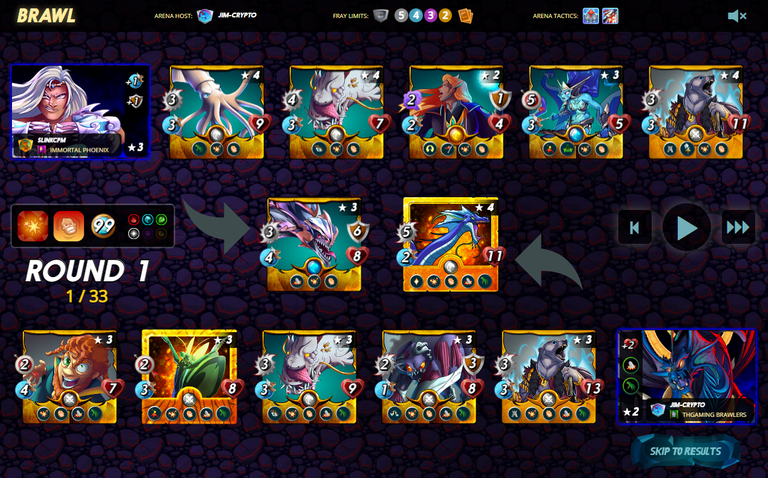 Everybody loves a 99 Mana Brawl, where you are able to choose high Mana cards and put your dream team together. Being a Goldfoil only battle it's a bit trickier to choose cards as I obviously don't have access to quite as many Monsters as I do in the regular foil versions...not to mention this is an 'Explosive Weaponry Ruleset' which are always interesting battles and often don't go more than a few rounds!
One of the Gold Summoners I rented for this Brawl was POSSIBILUS THE WISE, one of the cheapest Goldfoil Summoners available to rent. I also rented a Golfoil SEA MONSTER and ARKEMIS THE BEAR, which both came in very handy and helped to win this very close battle. My best performer this Brawl was definitely DEEPLURKER who was able to 'Trample' the opposition using POSSIBILUS' ability which almost singlehandedly won me this battle!
LESSON LEARNT : Legendary Summoners are pricey to rent (or buy) but are often the difference between winning and losing - in this case TRAMPLE + EXPLOSIVE WEAPONRY saved the day. By Round 2 I was sure I'd lost, but DEEPLURKER managed to take out 3 powerful backrow cards and once again showed what a powerful card this fish can be!
>> View Battle 4 Here (99 mana, 3 rounds) <<
---
12 Mana - RULESET : Silenced Summoners, Earthquake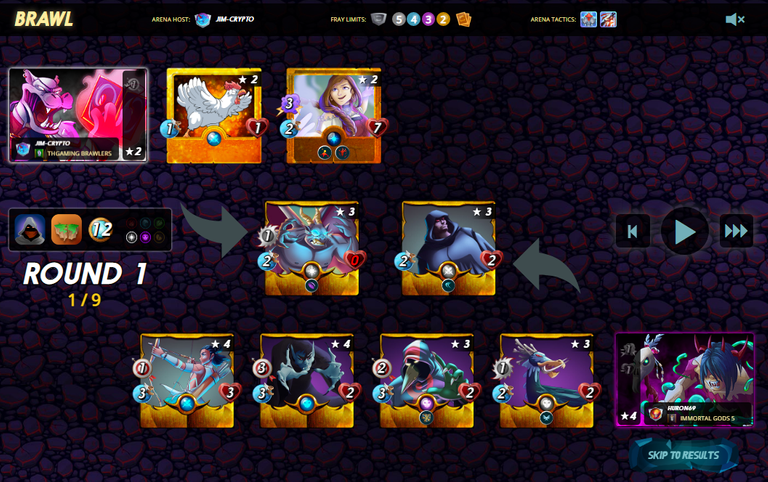 In this low mana battle I took a risk and used a firm favourite of mine, the Gladius Card CAPTAIN KATIE, which is also one of the few Goldfoil Gladius cards that I own. I can tell you it was an amazing day when I managed to pull Katie from a Gladius case!
'Silenced Summoners' means that Katie wouldn't take any buffs from the summoner and 'Earthquake' meant she would also take 2 damage every round, however she has high relatively health which would go up if I could manage to get her Bloodlust to trigger. Luckily my opponent decided to use a lot of low mana cards, only 1 of which had flight, so Earthquake wiped out his lineup by round 2, with Katie cleaning up the stragglers.
LESSON LEARNT : Captain Katie is a beast! My opponent should have used more cards with flight or higher life to outlast the Earthquake damage.
>> View Battle 2 Here (12 mana, 3 rounds) <<
---
42 Mana - RULESET : Explosive Weaponry, Amplify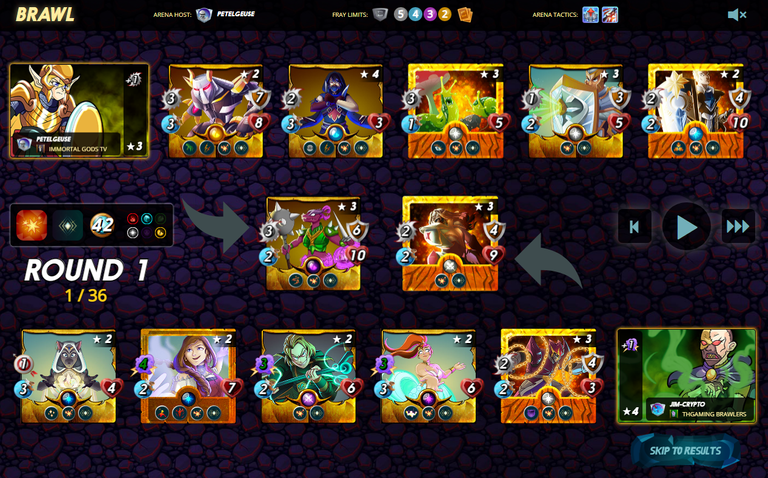 It's important to review your losses and figure out where you went wrong. I was severely outgunned in this battle and my opponent used SNEAK to great effect. Even with one of my favourite Gladius Cards CAPTAIN KATIE managing to trigger Bloodlust twice, the damage was too much for her, although if I'd had KATIE in the middle I might have managed to sneak a win (mind the pun).
My Opponent threw SHIELDBEARER at the back of their lineup which drew a lot of my fire and helped to secure their victory. Well played!
LESSON LEARNT : I often try to force CAPTAIN KATIE into Brawl battles as she is so powerful once her Bloodlust triggers, but with little protection she got taken down too quickly. Using a Goldfoil Monster that adds shield, such a ARKEMIS THE BEAR or TRUTHSPEAKER, would have protected my Monsters a lot more, so in future I will try to do this for EXPLOSIVE battles.
>> View Battle 5 Here (42 mana, 2 round) <<
HERE ARE ALL MY BATTLES THIS BRAWL :
Battle 2 (Win) - 21 Mana Opponent Fled
---
Join a THGaming Guild
As mentioned we do still have positions available in all of our Brawling Guilds (our top 3 guilds seen in the picture below). If you'd like to join a THG Splinterlands guild you can simply apply to join and we'll let you in. We have a Discord server Private Channel for our Guild members!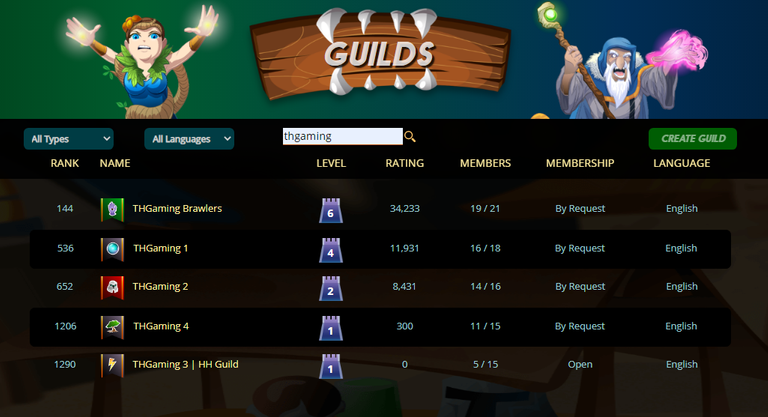 I hope you enjoyed this Brawl Report. Let me know in the comments what you think about @splinterlands Brawls, or any general Splinterlands strategy, and I'll be sure to upvote (tip) the best remarks.
Thanks for joining me in my Gaming and Crypto journey. As always...
Trade safely, Game hard.
THE END
---

Linktree Official - All Social Media links


$THGAMING on Tribaldex
---
---