SPLINTERLANDS : $10 in Season Rewards (video) and THGaming Brawl Report (1st again!)
THGaming Brawlers Win again
It's been a while since I've done a brawl report, mostly because @THGaming Guild is super busy with the $MINTHAGG Miners Presale and a few other things. My time has been spent on quite a number of different guild activities.
However I believe it is important for me to keep playing games like @Splinterlands, so that I am always able to 'get a feel' for the gaming crypto markets and best play2earn strategies for the gamers within #THGaming and our buzzing community. I have a footprint in 11 Metaverse (blockchain games) some of which I play daily. Anyway...
Onto the Brawl Report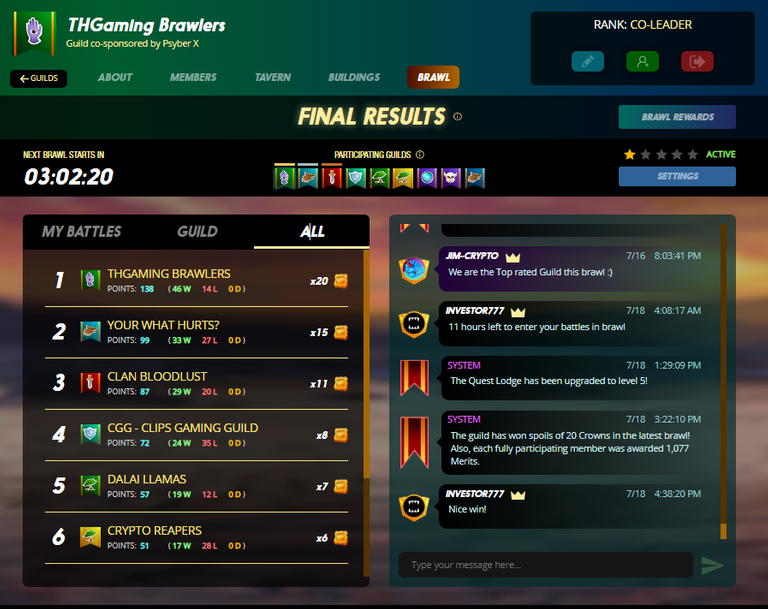 Once again THGaming Brawlers emerged as the victors in this week's brawl!
This guild was co-sponsored by @psyberx and is lead by @dynamicrypto
Our Top 5 Brawl Players this week were (W/L) : @MARIAJAIMIE (6/1) - @SERGE100 (5/2) - @DENBOXIEVAL29 (4/0) - @JIM-CRYPTO (4/0) - @EUGENE1 (4/1)
I played BRAWL FREY 11 (Bronze Level GOLD CARDS, all Series allowed). Due to 'Opponent Fled' results (this often happens when playing Gold Card only brawls) I only have 2 battles to report on.
I currently own 69 Gold Cards including 5 Summoners (W, W, E, F, D), however I rent a number of Cards for Gold Brawls, including LIFE and DRAGON Summoners. The Gold card rentals also add to my Card Power and allow me to be more competitive when playing Wild or Modern league matches.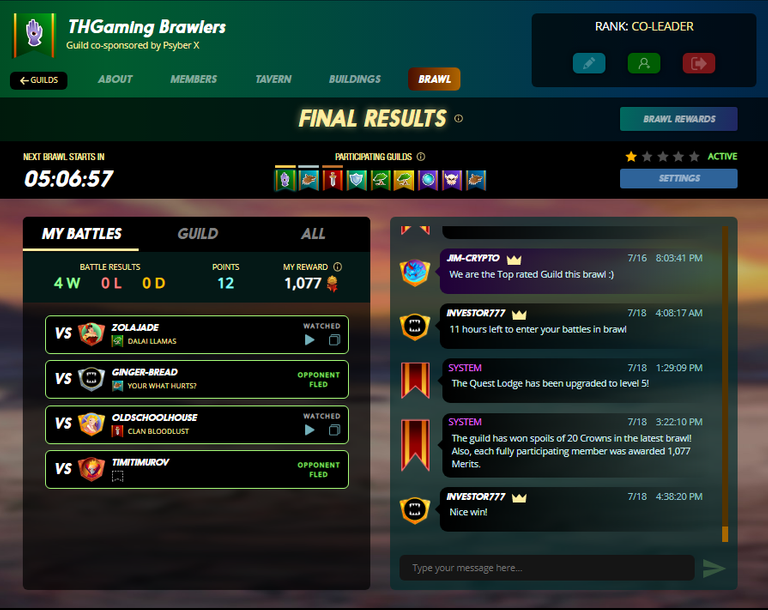 Rulesets : 'SNEAK' & 'ENRAGE'
Summoner (rented) - Gold, Earth, MYLOR CROWLING (R)
Earth Rentals - Gold UNICORN MUSTANG (R) + Gold MYCELIC INFANTRY (R)
Neutral Rentals - Gold PRISMATIC ENERGY (R)
STRATEGY : I have really enjoyed renting Mylor Crowling for Gold Brawls. His thorn damage can really wipe out an opponent's MELEE attackers. Because of the SNEAK BATTLE RULESET, I knew that there was a good chance my opponent would use MELEE attackers (as SNEAK would make them usable from any position in his line-up) which is why I put Mycelic Infantry at the back to absorb the MELEE Attack with his SHIELD ABILITY.
2ND LINE OF DEFENCE : Unicorn Mustang was placed in the 2nd Position in case a strong Magic attack was able to breach PRISMATIC ENERGY'S defenses...but my front line held up, healed continually by the slightly overpowered Goblin Psychic.
I was able to win this battle without losing a single one of my monsters.
⭐️⭐️⭐️ Star Performer : Gold PRISMATIC ENERGY (R) was able to use his REFLECT ABILITY to clean up the opponent's MAGIC attackers. This card is a must have for Gold Brawls or Tournaments.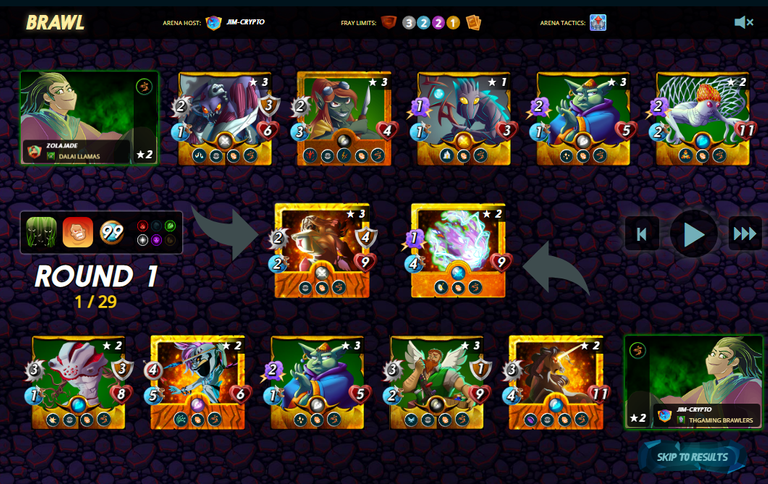 ---
Rulesets - 'UP CLOSE' & 'ENRAGE'
Summoner (rented) - Gold, Earth, MYLOR CROWLING (R)
Earth Rentals - Gold MYCELIC INFANTRY (R)
Neutral Rentals - URAEUS (E) + XENITH MONK (R)
STRATEGY : Due to the 'Melee only' Ruleset it made sense for me again to use Mylor as the summoner, as ALL MELEE ATTACKS from my opponent would be reflected by the THORNS ABILITY. My opponent made the mistake of choosing the Fire Summoner Tarsa, to increase his attack power, which added to his demise. Although the battle was pretty close in the end.
⭐️⭐️⭐️ Star Performer : Gold MYCELIC INFANTRY (R) whose SHIELD ABILITY once again absorbed a lot of frontline damage and was instrumental in this victory.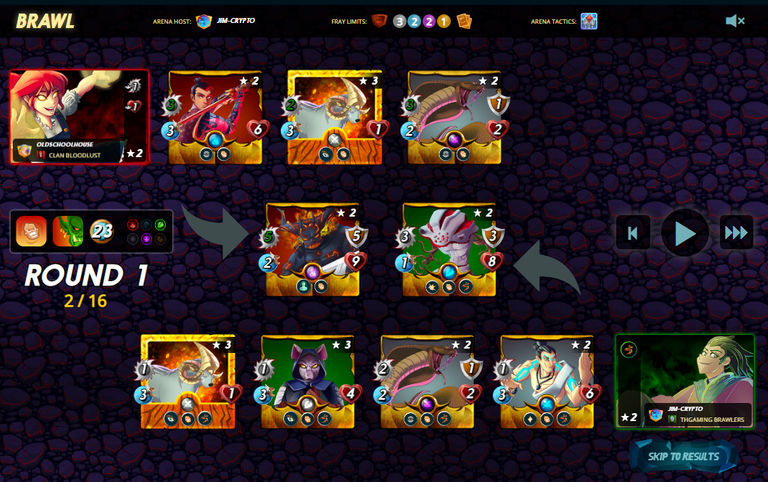 ---
GOLD 1 Season Rewards (15th July 2022)
Cards: $0.943 (17)
Potions: $0.215 (8)
Packs: $7.177 (3)
DEC: $1.589 (9)
TOTAL: $9.924 (37)
Chest Tier: Diamond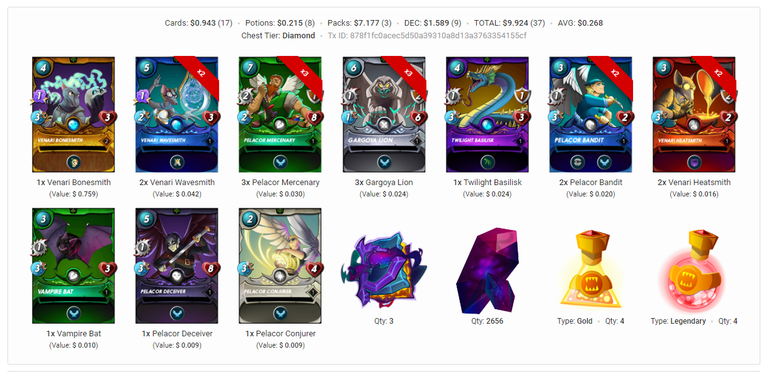 An interesting season to be sure. The 37 Diamond level chests I opened yielded almost $10 in rewards, much higher than last season! I am still getting the hang of the new Modern and Wild league split in the game, however what is most notable in Splinterlands right now is that skilled players are doing very well and bots are getting destroyed. Which is how it should be in all gaming environments.
You can watch my Reward Pack Opening in the video below :
---
Did you know that @THGaming has partnered with @cryptoshots.nft game on Hive?
A major announcement will follow very soon, but we wanted to get the word out at @dygycon 10, so we made a little 'Partnership video'. Hope you enjoy it!
You can watch it on @threespeak below or on Youtube.


Test out the Game @ https://www.crypto-shots.com
---
Thanks for joining me in my Gaming and Crypto journey. As always...
Trade safely, Game hard.
THE END
---
Upvoted ✅ $THGAMING $PIMP !PGM !LOLZ
We are now curating #THGAMING #PIMP #LOLZ & #PGM tagged Posts. Be sure to include those Hashtags in your Gaming & Crypto Posts for continued upvotes!



Linktree Official - All Social Media links


$THGAMING on Tribaldex
---
---