THGaming Splinterlands Brawl Reports. 'THGaming 2' Guild wins AGAIN! Buying a Goldfoil General Sloan Summoner for Brawls!

THGaming Guilds - 1st, 2nd, 6th
This was a much tougher week of brawling for my main deck as I have now moved up to THGaming Brawlers and Tier 3 brawl battles. Feel free to check out My last Tier 1 Brawl Report Here from 9 days ago. Also, if you'd like to see what @thgaming Guild has been up to please have a look at the THGaming Hive Community, where our most important Posts are pinned at the top.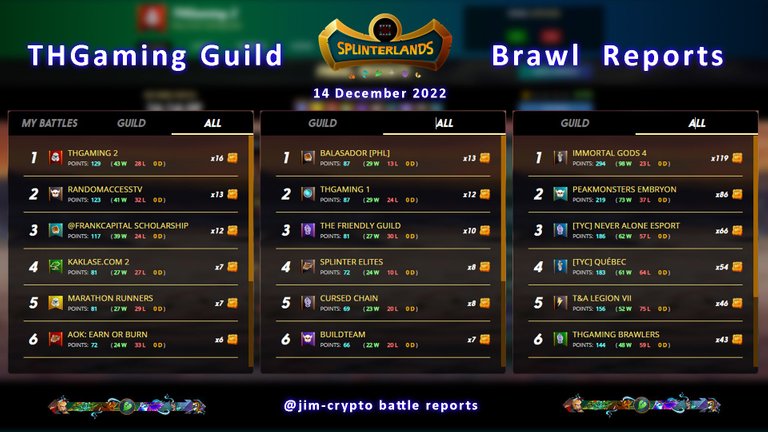 For the 4th week in a row THGaming2 emerged as our highest placed Guild in this week's brawl, ahead of THGaming1 and THGaming Brawlers. Below you can see the Guild performances and $SPS winnings.
THGAMING Guild Brawl Finishes and Rewards
🏆 THGaming Brawlers (6th place) TIER 3 BRAWLS - The guild has won spoils of 43 Crowns in the latest brawl! Also, each fully participating member was awarded 2,150 Merits and 41.693 staked SPS.
🏆 THGaming 1 (2nd place) TIER 1 BRAWLS - The guild has won spoils of 14 Crowns in the latest brawl! Also, each fully participating member was awarded 754 Merits and 11.688 staked SPS.
🏆 THGaming 2 (1st place) TIER 1 BRAWLS - The guild has won spoils of 16 Crowns in the latest brawl! Also, each fully participating member was awarded 738 Merits and 11.571 staked SPS.
THGaming Brawlers have certainly shown that moving up into Tier 3 is well worth it! We have just promoted two of our TOP players up from our lower Guilds into the THGaming Brawlers, so these guys will soon know what it's like playing against some seriously tough opponents. Good luck @geas and @thebighigg!
We currently have spaces free in ALL of our Guilds so feel free to request to join any of them. If you'd like priority access let me know in the comments and we'll see which of our Guilds best suits your playing style.
I'm sure most of you already know that @splinterlands has made Guild Brawls truly profitable and Guild Brawlers now win staked $SPS Tokens for Brawl participation. The amount of $SPS you earn is dependent on your Guild Tier (Arena level), Guild Participation (how many Freys are filled) and how well you actually finish in the Brawl each week.
Feeling like a noob again - Tier 3 Brawl Battles are no joke!
➡️ 41.6 $SPS for 6th place finish
THGaming Brawlers have moved up to Tier 3 Brawls after getting our Guild Arena up to level 5 last month. The competition is a lot fiercer and we often find ourselves matched against Top 10 Guilds and some real 'Splinterlands Whales'.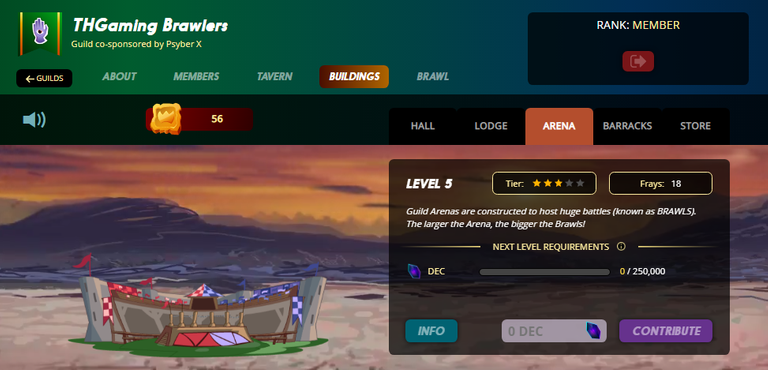 [Above] Level 5 Arena = Tier 3 Brawls, and heavily increased $SPS Rewards for Brawl events each week.
My Goldfoil Brawl Performances
I'm not too disappointed with only winning 3 out of 7 battles this Brawl. The competition is a LOT harder in Tier 3 and I'm up against accounts with levelled Gold Summoners and Monsters. In every battle I was 'outgunned by card levels' but still managed to get a few wins.
Brawl Deets : I played BRAWL FREY 15 (Silver Level GOLD CARDS, all Series allowed). I currently own 85 Gold Cards including 5 Summoners (Water, Earth, Fire, Death, Life), however I rent a number of Cards for Gold Brawls, including a DRAGON Summoner. The Gold card rentals also add to my Card Power and allow me to be more competitive when playing Wild or Modern league matches.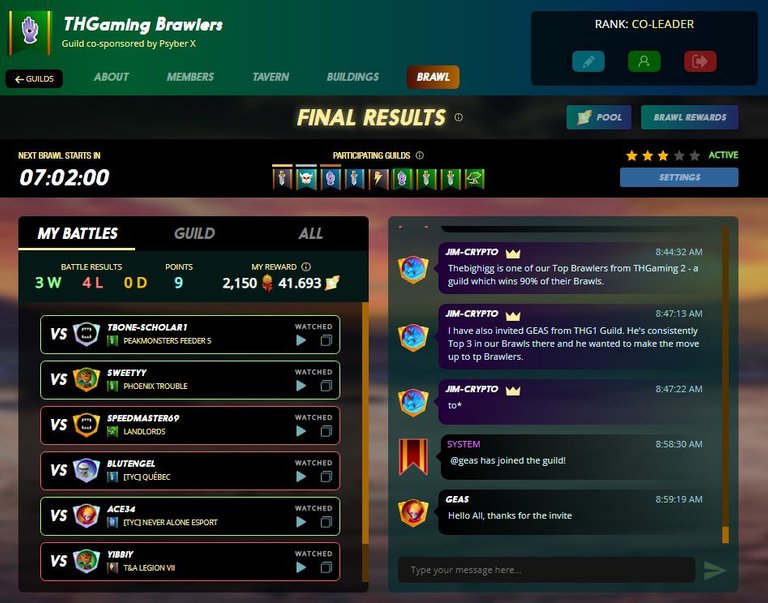 Reviewing Three Brawl Battles
Most readers don't have time to go through overly detailed posts, so I will summarize three battles - 2 wins and 1 loss. If you have any questions feel free to ask them in the comments.
---
12 Mana - RULESET : Unprotected (No Shields)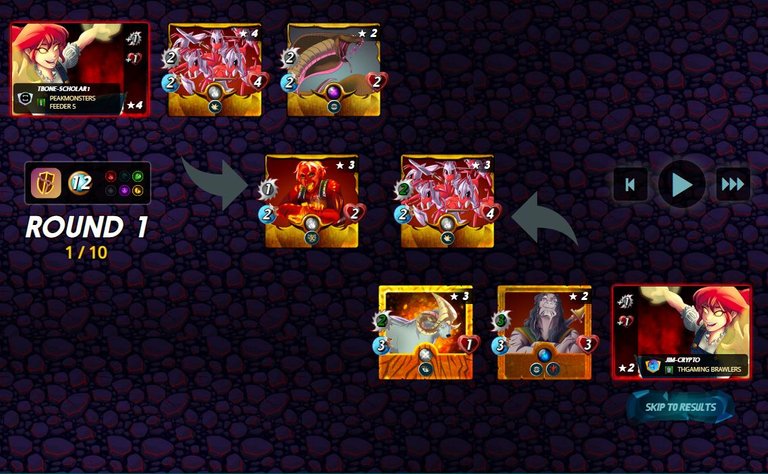 This was a low mana battle of only 12, meaning card choice was very important. I own quite a few low mana Goldfoil FIRE splinter cards that can attack from a distance, as well as a Gold Orella Abadon - the 2 mana Fire Splinter Gladius card with 2 Melee Damage as well as the Abilities : Sneak and Bloodlust.
My Goldfoil Summoner Tarsa gave all of my Melee attack cards + 1 damage, and all cards + 1 life. My opponent chose a similar lineup but could not match up against the might of Orella : once his BLOODLUST Ability triggered the game was over!
LESSON LEARNT : For low mana battles, it's usually best to choose many low mana cards with a Summoner like Tarsa who gives them all a much needed Life and Attack boost!
---
22 Mana - RULESET : Fire and Regret (Return Fire), Rise of the Commons (No Epic or Legendary cards)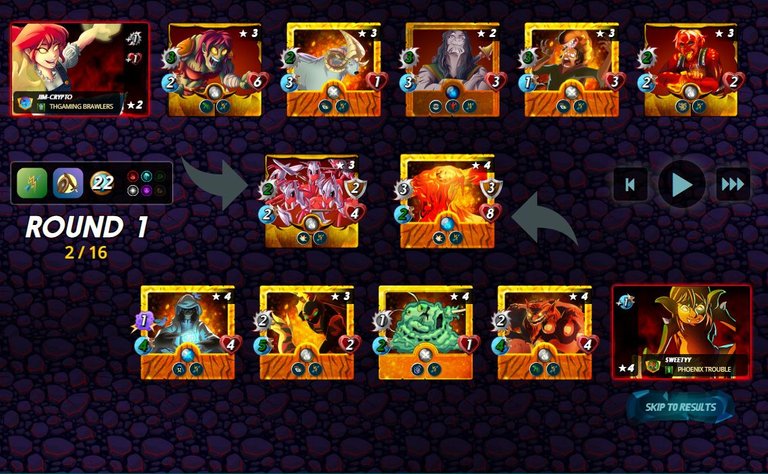 Again Orella Abadon was my star performer and I put him right in the middle of my lineup to protect him from any SNEAK monsters in my opponent's lineup. Antoid Platoon is a fantastic Low Mana tank to use in the front, with his SHIELD ability reducing Melee and Ranged damage attacks. Unsurprisingly I used my Goldfoil Summoner 'Tarsa', which is becoming a favourite Summoner of mine in low mana brawls!
LESSON LEARNT : A much closer battle this time around and just two misses would have likely cost me the game. Luckily Orella managed to get two kills and when BLOODLUST triggered twice he once again became an unstoppable beast. Brute force beat Speed in this battle.
---
34 Mana - RULESET : Armored Up (+2 Armor), Rise of the Commons (No Epic or Legendary cards)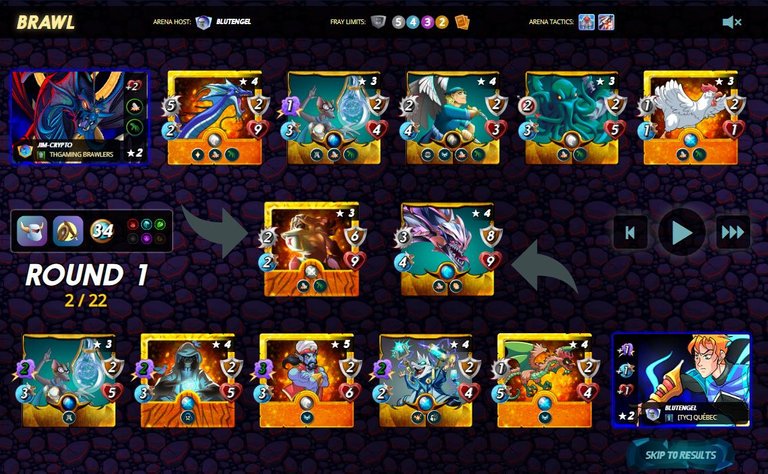 It's important to review your losses and figure out where you went wrong. I was undone by SPEED in this battle (4 missed attacks) and also my opponent used MAGIC to great affect against the ARMORED UP Ruleset. His Cards were also higher levels than mine and amazingly he was using a Goldfoil Level 2 Valnamor, a Legendary Beta Summoner which sells for $15k on the market.
LESSON LEARNT : I rented a Goldfoil 'Possibilus The Wise' and felt compelled to use this card in the brawl battle, but should have considered that a strong MAGIC attack was coming. For me to have won this battle : A Lvl 5 Bortus Summoner would have nerfed his Magic attacks, and a Lvl 5 Prismatic Energy up front (with VOID and MAGIC REFLECT) could have caused his Magic Monsters to destroy themselves. It's impossible to 100% know what your opponent will do BEFORE the battle, but learning from your mistakes will turn you into a better player for future brawls!
HERE ARE MY OTHER BATTLES THIS BRAWL :
---
I Bought a Goldfoil General Sloan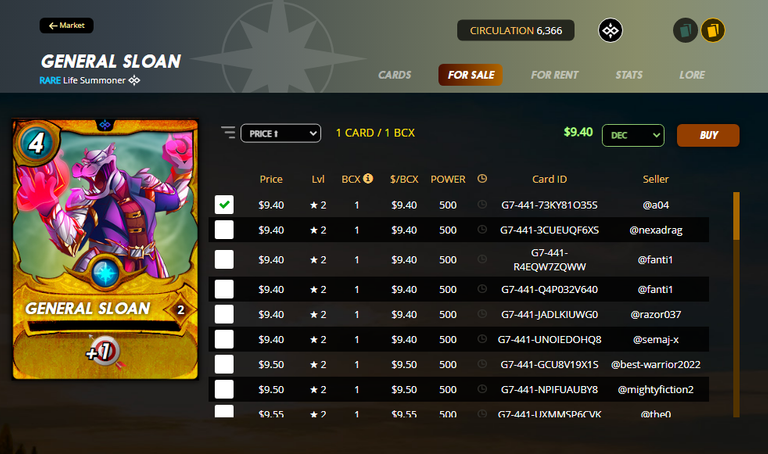 As I mentioned in my previous #BrawlReports I have never owned a Goldfoil LIFE summoner, until now! General Sloan is usually the Gold Summoner I rent for brawls simply because his rental prices are cheap. Although I don't often use LIFE Splinter in my brawls, occasionally the Rulesets make life a must-pick, as you can see in >> This Battle << from 2 weeks ago.
Well this week I noticed that a Goldfoil Sloan has dropped below $10 on the in-game market, so I decided to take the plunge a buy one. I had a bit of $HBD (Hive backed dollar) lying around so did a few swaps in Liquidity Pools (LPs), my preferred way to trade. I swapped SWAP.HBD to SWAP.HIVE and then swapped that $SWAP.HIVE for $DEC, all trades done using LP's.
I am not advising people to go out and buy Gold Summoners, but as I am a weekly Brawler in Goldfoil Freys it's less risky for me as I am already renting him every week. I believe that Card Prices are likely to drop further, as there are still many unsold Chaos Legion and Riftwatchers packs, not to mention the terrible 'Crypto Winter' currently plaguing our beloved gaming and trading economies 😕
NOTE - Since purchasing my Gold General Sloan the price has dropped further and he can now be bought for about $8.00. As this is a card I will be using every week I'm not too concerned. Nobody can read the future!
Buying 4 General Sloans to level up my Regular Foil
From an ROI Perspective it is far better to buy regular Summoners and level them up. I'd only recommend buying Goldfoil Summoners if you're playing Gold Freys in your weekly Brawls, or looking for a long term investment (in the game) as Gold Cards are far less numerous than regular foil cards in Splinterlands and tend to increase and hold price a lot better. Seeing as I only needed 4 General Sloan cards to level him up, I bought these cards on the market and levelled up my regular Sloan to Level 3. One day I do believe that this card will be worth 10 x the current value.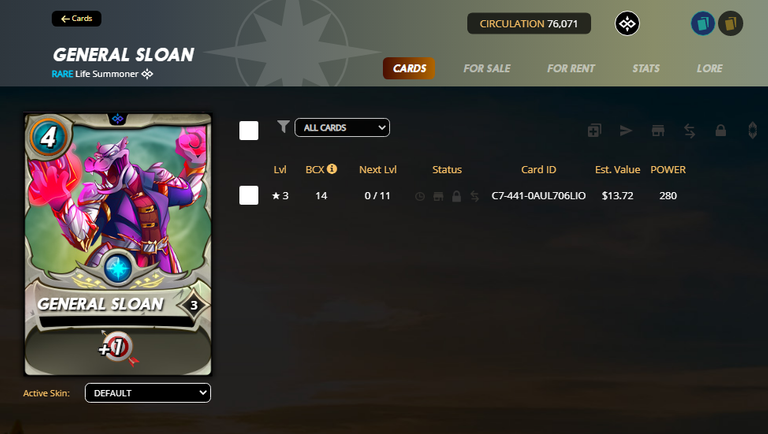 I hope you enjoyed this Brawl Report. Let me know in the comments what you think about @splinterlands Brawls, or any general Splinterlands strategy, and I'll be sure to upvote (tip) the best remarks.
Thanks for joining me in my Gaming and Crypto journey. As always...
Trade safely, Game hard.
THE END
---

Linktree Official - All Social Media links


$THGAMING on Tribaldex
---
---