$Bitcoin and $Hive Price Prediction & Tech Analysis - 27 November 2021 - #leofinance
Hello to all the crypto traders and enthusiasts out there. As always I am a self taught trader and not qualified to give financial advice: please trade safely and research every investment thoroughly before putting even $1 in. I've seen people lose a lot of money. Don't be one of them!
$Bitcoin Price Prediction & Tech Analysis - 27 November 2021
As usual I have put the relevant information into some nice colourful graphs. Green lines mean Support, red lines mean Resistance, with ELLIOT LINES showing possible graph directions ( A - B - C )

---
After a serious Bull Run in which #Bitcoin hit an all time high of $69k to the USDollar (8th November 2021) we have seen a Bitcoin correction to around $54k at the time of this analysis. We have some proper support at $47000 which may be a good buy-in point for anyone wanting to build their #Bitcoin HODL bag. The earliest I would look to take profits is $74k when we should start to see heavy selling resistance.
---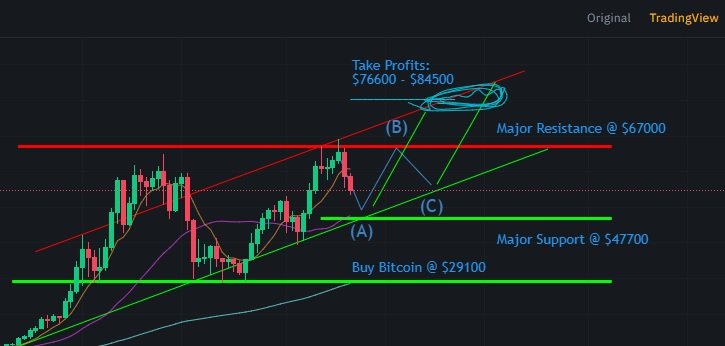 $HIVE Price Prediction & Tech Analysis - 27 November 2021
The $Hive Graph [below] is a wild stallion at the moment, exciting to look at but difficult to tame. With so much 'Price Discovery' going on, $Hive as I'm sure you know has been ALL TIME HIGHING this week, it becomes difficult to predict where the best places are to buy and sell. I am using ascending parallel lines to try and ascertain predictable buy/sell points. Although I am certainly not an expert on $Hive or any graph so please don't take what I say too literally. These buy / sell points are indications only.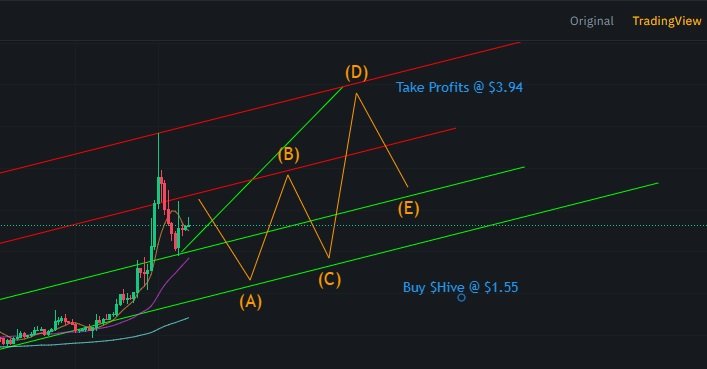 How can we support the #Hivechain ?
I am NOT telling people not to take profits (some people make a living from trading cryptocurrencies and NFT's online) however for the future of $Hive it is imperative that trendsetting users like us #HODL as much $Hive as we can, staking it towards HP & Liquidity Pools while actively engaging in the different Hive social platforms e.g #Splintertalk #Leofinance #Oneup #proofofbrain #nftshowroom etc.
Now that $Hive is about to push into the Top 100 Cryptocurrencies in the world (by marketcap at least) we need to beware of trading whales coming in and manipulating the market.
By ignoring the official price of Hive and continuing to use the #hivechain no matter the #bitcoin / #hive value on world exchanges, you will be helping to create true #autonomy on Hivechain and lessen the grip that Bitcoin still has over our ever buzzing Hive.
Trade wisely, Game hard & good luck on the #Blockchain, see you in the #Metaverse
THE END
---
#nft #crytocurrency #gaming @captainquack22 @jbtc19warrior @oneup #splintertalk #leofinance #cubdefi #oneup #hiveblogshare #Genesis #ICO #GovernanceToken #play2earn #poshtoken #playtoearn #HiveEngine #socialtokens @cubdefi
All votes on this post will be converted into $HP + #HiveEngine Tokens and will be kept within THE VARIOUS #hivechain exchanges 🚀
Official Social Media Links :
---
---