🎴 Xthings Cards : Last day to buy Pre-release Card Packs on the Waxchain - @oneup #oneup #splintertalk #waxchain #THGaming
My $35 Xthings card pack investment has already gone 16x...
and my Xthings Cards on the Wax chain are now worth close to $600. This profit includes $50 worth of XCoin airdropped to me last month. The game devs have worked out a way (on the Waxchain) to auto airdrop Xcoin to Xthings Digital Asset Holders.
The Airdrop Ends Today: https://neftyblocks.com/c/xthingscards/drops/73326
My Xthings Assets ⬇️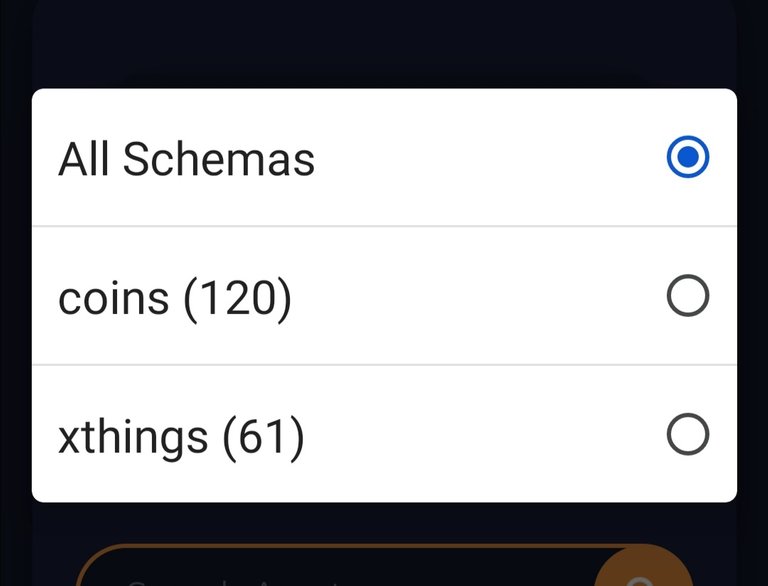 ---
Platforms to buy / sell / create #wax NFTs : http://www.Atomichub.io & http://neftyblocks.com
A Wax Cloud Wallet is needed to purchase NFTs on the Waxchain. You can sign up using a Google login, no login keys necessary.
---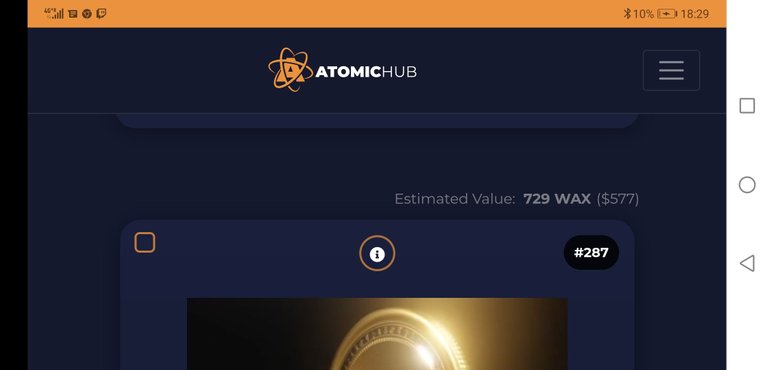 I am in contact with the Xthings Game Developers
This Canadian team assures me that an alpha version of the game will be released soon, probably this year. Below you can see what the Xthings Cards look like in your waxchain account ⬇️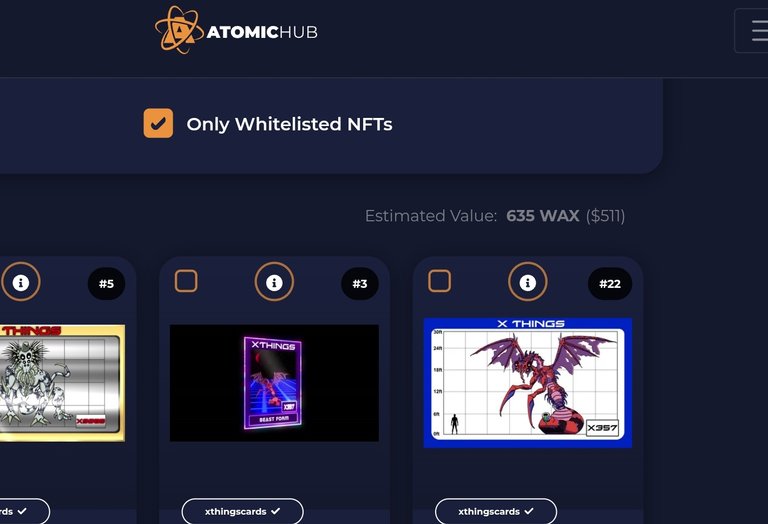 More information Https://xthings.cards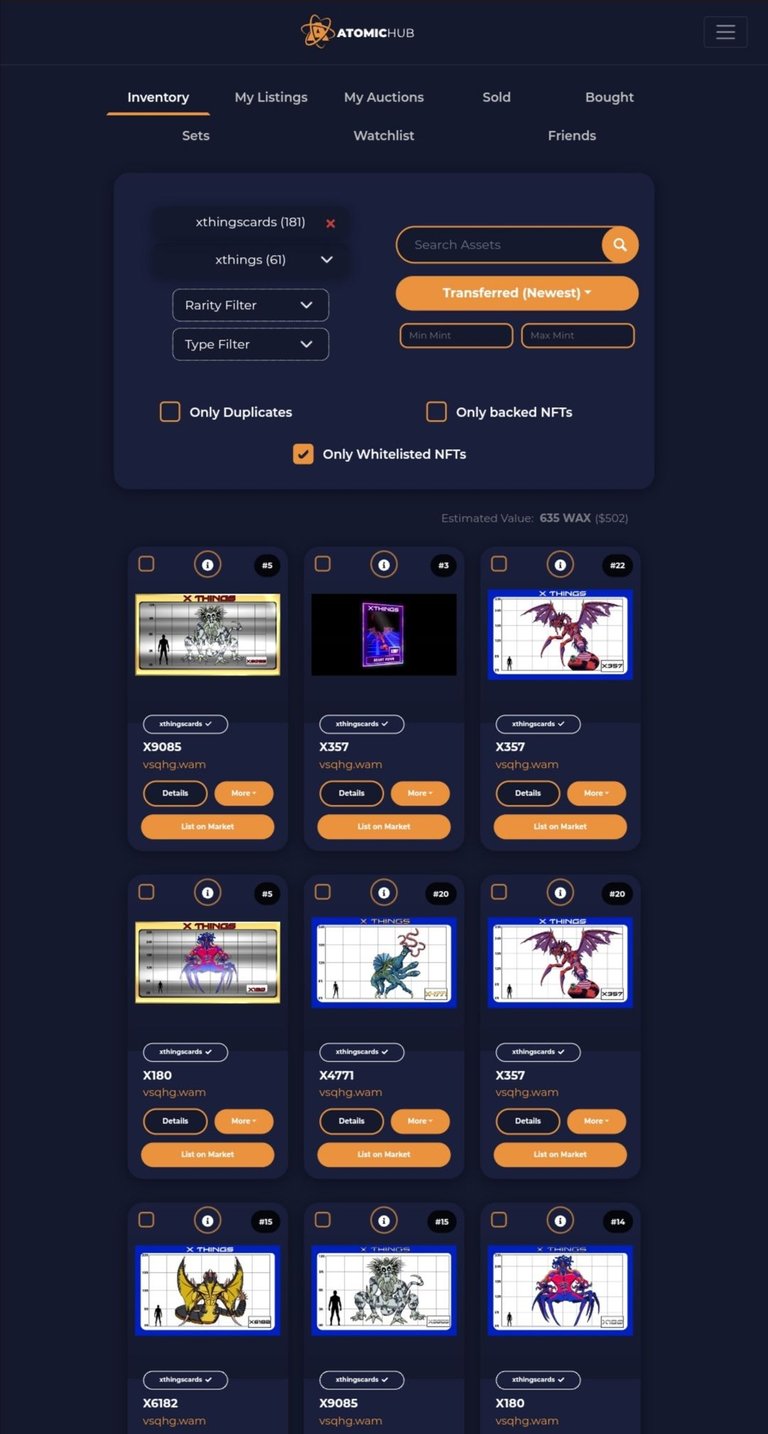 My Xthings Post from 1 month ago ⬇️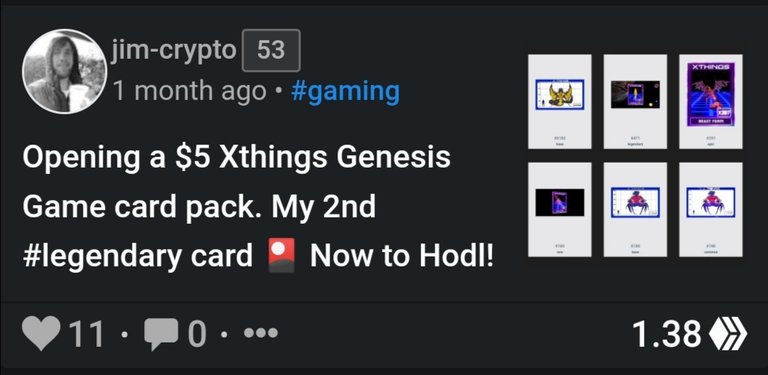 #Xthings is definitely my most speculative game investment... https://peakd.com/gaming/@jim-crypto/opening-a-dollar5-xthings-genesis-game-card-pack-my-2nd-legendary-card-now-to-hodl
If you have any money in Wax I highly recommend getting some Xthings packs. The game is not even in the Alpha stage yet, but they have just announced a partnership with Immersys.io which is bringing gaming to the Waxchain in a BIG way!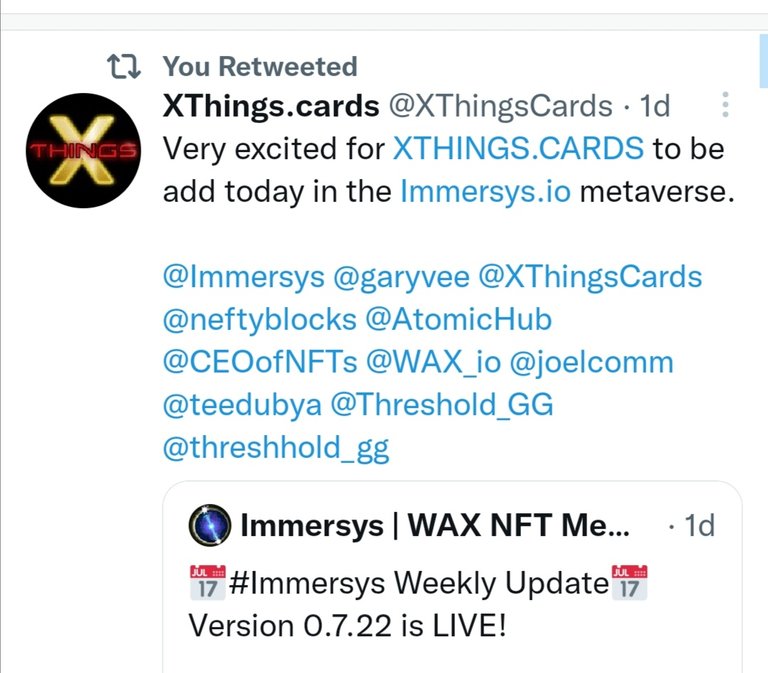 Trade wisely, Game hard & good luck on the #Blockchain, see you in the #Metaverse
THE END
---
---
---
#nft #crytocurrency #gaming @jbtc19warrior @arcange @darkflame @oneup #splintertalk #leofinance @leofinance #cubdefi #oneup #hiveblogshare @hiveblogshare #Genesis #ICO #GovernanceToken #play2earn @poshtoken #poshtoken @BesFriend @synist3r #playtoearn @cryptohustler101 @ultm8xgaming #HiveEngine #socialtokens @cubdefi
All votes on this post will be converted into $HP + #HiveEngine Tokens and will be kept within THE VARIOUS #hivechain exchanges 🚀
Official Social Media Links :
---
---