I have now staked over 15,000 SPS+! Woooh!
Well I am a man of my word. XD
Exactly 28 days ago, I've said on one of my blog post that I will continue to stake ALL my future airdrop points. And that's what I exactly did even though honestly I was veryyyyyy veryyyy veryyyyyyy tempted to cash some out especially after SPS reached the $0.5+ USD mark.
But I harden my resolve and continued staking, staking and staking that now I have a Staked SPS of 15,385 (from only 6k SPS last month) or with the current market value at $0.660 USD, a staked worth of approximated ~$10,000 USD+. Crazy!!! And that's ALL coming just from the airdrop. WOWWW right?!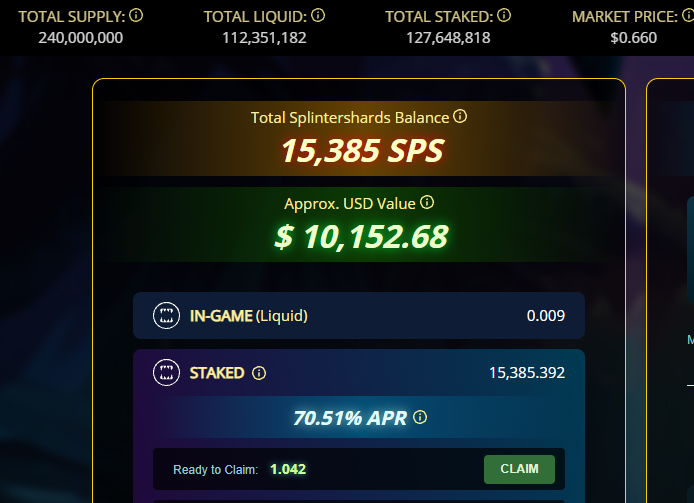 One thing I noticed though (and what I have already expected) is that the SPS Airdrop points I am getting now is way less compared to the first SPS airdrop month (I did cash ALL my SPS on the first month and just started staking on the second airdrop month).
On the first airdrop month, I used to get a good 440 SPS daily from ALL my Splinterlands accounts but now I am only getting around 350 SPS daily. Added with the 28 SPS reward from Staking, I am staking an additional ~380 SPS daily. Well done me! XD
---
Also, there's this sweet little tool in Peakmonsters that lets you see one's airdrop stats PLUS other accounts.
And so just out of pure curiosity, I tried to see what is the TOTAL Airdrop points of ALL my accounts and was again surprised to see the result.
It seems that if I put ALL my Splinterlands assets on my main account, I will have a Collection Power of 2,269,745.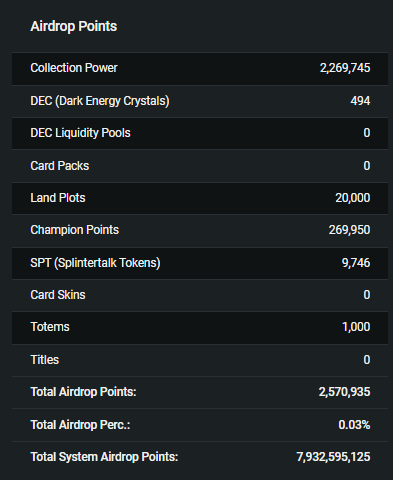 According to the Collection Power RichList (https://peakmonsters.com/richlist), that would have put me in Rank #162 as the richest Splinterland account in terms of Collection Power.
Crazy! Never have I ever imagine I have this much Collection Power just laying around. XD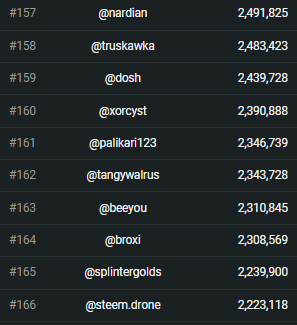 Well no one really cares that much about how much Collection Power one has but most would care about how much Airdrop in USD I am getting in ALL my accounts.
Apparently, with the current prices at $0.66, I am getting around $234.377 daily or $7,301.309 USD monthly. WOWWWW!

Part of me thinks though that it would most likely drop in value after the pre-sale, but considering that I have all this gotten from the Airdrop, I am not really losing anything so I'll just continue to stake stake stake stake regardless of price (while probably cashing out some once in a while for my other online games xD).
---
---