I have now staked over 6,000+ SPS and will be staking more! What I did with my SPS Airdrop from last month!
WOWW! I just realized today that I have now staked around 6,367 SPS or with the current value of SPS, an approximate value of around $1,500 USD. Just wowww!

When I started playing SteemMonsters (now Splinterlands) 3 years ago, it was partially just for fun and mostly to have something to talk about on my blog posts back then. I never once expected that I would actually become a crypto millionaire just by playing Splinterlands.
Well I don't really have $1 million dollars worth of crypto but if I convert my current Splinterlands main account to our local currency then I'll have around Php 2.7 Million. Insaneee right?! And it was just from me casually BUT RELIGIOUSLY playing this game for over 3 years now. XD

Not to mention that I also have some alt accounts which might not be as high in value as my main one but still has thousands of dollars worth of cards in total on it.
---
Well okay, enough bragging now cause I for one don't even think I can sell my entire card collection at the estimated value above (heh) but what I want to share on this post is what I did with my SPS Airdrop which have been going now for 47 days already.
I have been very open here in Steem/HIVE with what I do with my crypto investments, mostly because it was 100% THANKS to Steem then HIVE that I managed to increase my assets this much.
This might surprise some people but I have never once ever used real money on crypto. I literally started from $0 and earn some through blogging to which the extra earnings I earn from here I buy some cards/packs on Splinterlands.
And from those little cards/packs I bought and accumulated over the course of ~3 years, I have somehow managed to accumulate 1 MILLION CP on my main account or close to 2 Million CP if I include my other alts. Heh! I think every old player has alts.

It gives me 200 SPS daily on my main or around 400 SPS in total including my other alts.

I think I've already said it last month on one of my blog post that I will be cashing out ALL my SPS for the first month and that's what I did, I cashed it all and have started putting it on other things so that's the start of me finally starting to diversify my crypto assets outside Hive. XD
If you guys are curious, the majority when to AXIE as my irl friends asked me for a scholarship and although I said I won't be taking any scholarships as I find it a hassle keeping them always in check if they follow all the AXIE rules to avoid a ban, well I did take them as scholars as I think they are not that greedy for money as to try to break any rules. XD
A big part also went to MOBOX/MBOX, it's another NFT Game that is in BSC. Although I have many times called this game a very whale~centric one and said how much I hated this game (I still don't like the game even to this day btw), I still invested some of $$$ on their crate.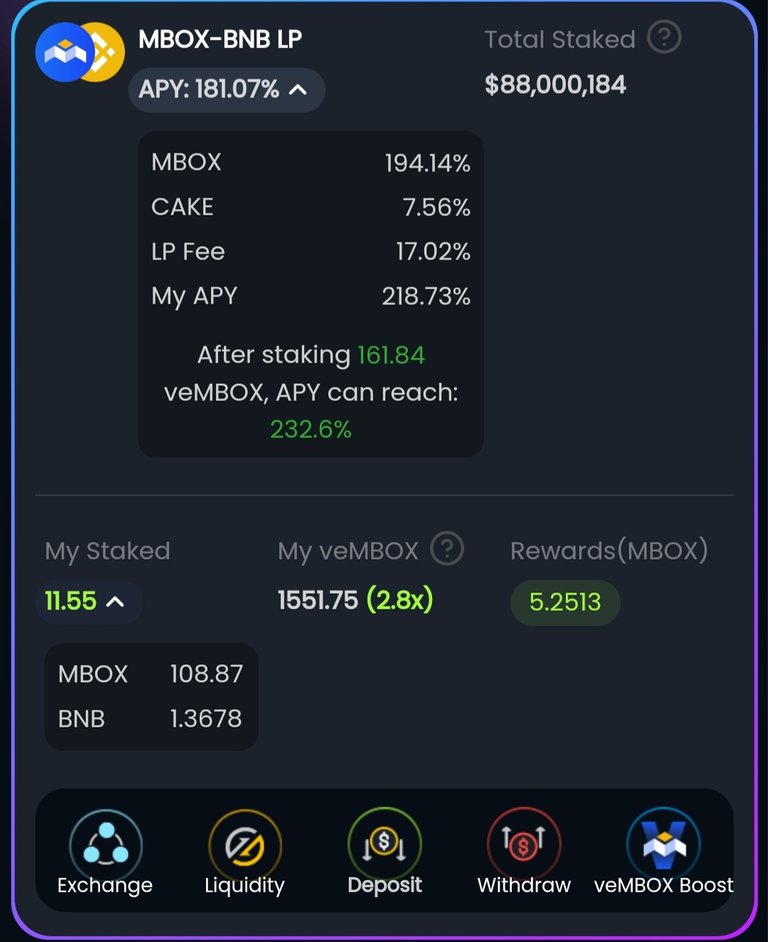 Right now, I think I am getting around 1.3 MBOX a day, with MBOX currently at the time of writing at $5 so around $6.5 USD daily which I think is not that bad.
I have also started staking on that CAKE thing on PANCAKESWAP which I have been meaning to try out since I discovered this kind of things.
So yeah, that's where my 1 month of SPS Airdrop went to.
Starting at the 31st day of when the Airdrop first started, I HAVE STAKED ALL MY SPS and will continue to do so (I think) for the remaining of the airdrop.
What I am hoping now is for my SPS Stake to be enough to buy 100 or even 500 Chaos Legion packs once it's available in the pre-sale.
---
---