Splinterlands Weekly Battle Challenge With Aimless Ruleset
Welcome to another exciting week of the Splinterlands Weekly Battle Challenge! Each week, players of Splinterlands come together to compete in the latest battle challenge, testing their strategic skills and battling prowess against other skilled opponents.
In this challenge, players are given a specific set of rules and restrictions that they must follow to create a winning deck. With careful planning and smart decision-making, players can overcome any obstacle and emerge victorious in the battle arena. Whether you're a seasoned veteran or a newcomer to the game, the Splinterlands Weekly Battle Challenge is the perfect opportunity to hone your skills and rise to the top of the leaderboard.
Here I am with my battle. I will share my battle with my explanation and also elaborate on my battle rounds. Hope it will help you to learn something.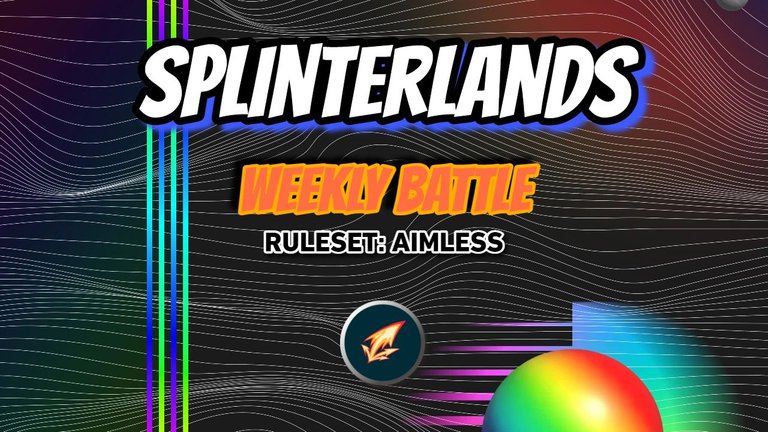 My Team
---
SUMMONER: DARIA DRAGON SCALE
---
Daria DragonScal is an Epic Dragon Monster. It is able to increase melee attacks. Only Life Summoner and Dragon Summoner were available in this battle. I thought I could win if I battled a dragon summoner with a monster with the sneak ability. Also, I used Dragon Summoner because I didn't have a higher-level Life Summoner.
---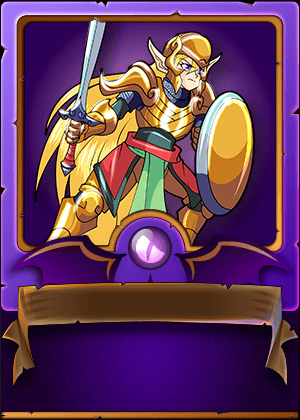 ---
---
---
FIRST MONSTER: SILVERSHIELD PALADIN
---
Since the aimless rule was in the battle rule, I think the opponent will give more importance to magic and ranged attacks. And to reflect the magic attack, I took Silvershield Paladin into the team. Besides, I used Silvershield Paladin's Shield, which can reduce the damage of melee and ranged attacks.
Here, we can see that Silvershield Paladin is an excellent choice against melee, ranged and even the magic attack
---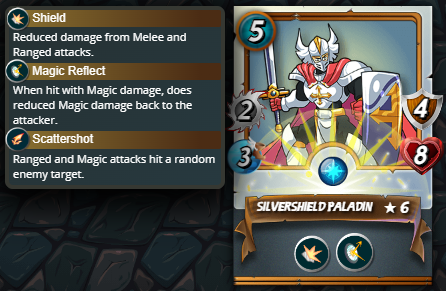 ---
SECOND MONSTER: MANTICORE
---
Manticore is a dragon monster with reachability. I used Minticore's reachability and Thorns' ability as well. At only four mana cost, this is a great card. Its melee attack and reachability are effective in any battle.
---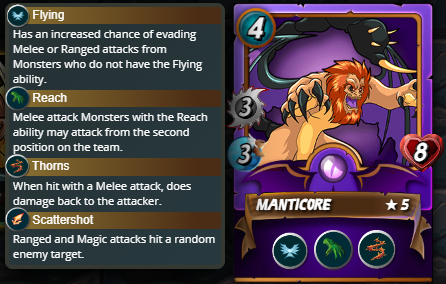 ---
THIRD MONSTER: SILVERSHIELD ASSASSIN
---
Any double-striking card is my favourite. They always perform well in any battle. The Silvershield Assassin has Double strike, Sneak and Poison abilities. All three abilities are advantageous. I used level 6 Silvershield Assassin.
Poison can reduce health points even if a monster has Armor.
---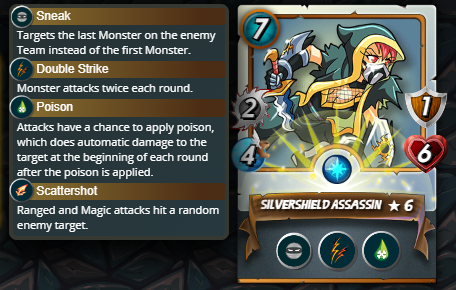 ---
FOURTH MONSTER: DHAMPIR INFILTRATOR
---
Dhampir Infiltrator is another Double Striker. It can attack twice per round. Besides, the Dhampir I use also has Cripple abilities. Its Sneak ability can change the outcome of any battle.
Dhampir Infiltrator's Cripple ability per attack enemy will lose one health. It means it reduces health by melee attack & cripple ability.
---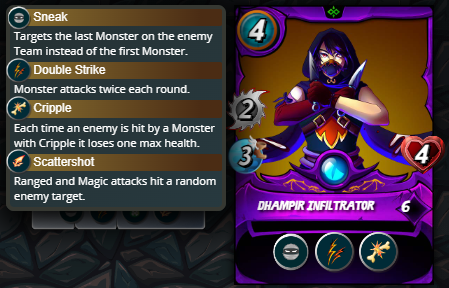 ---
FIFTH MONSTER: VENARI CRYSTAL SMITH
---
I like Venari Crystalsmith's tank heal ability, as it heals the health of my first-position monster every round. It also had Dispel ability which clears all the positive effects of the enemy.
Tank Heal is an awesome ability. It just increases some of the health points of the first monster.
---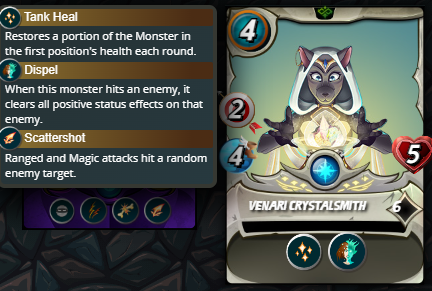 ---
SIXTH MONSTER: NAGA ASSASSIN
---
Naga Assassin is a card costing only two mana. The main reason for its inclusion in the group is its high speed and cheapness. It has a backfire ability.
Back Fire ability in a high-speed card is just awesome.
---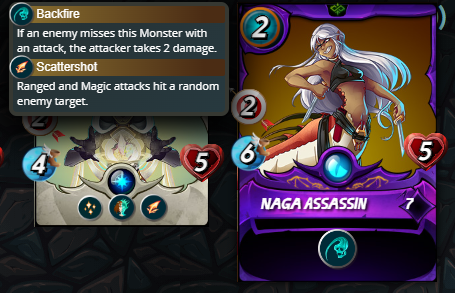 ---
The Battle Video
Conclusion
This is one of the shortest battles I've played. Lasted only two rounds. The opponent could not stand in front of my lineup. Basically, the speed of my monsters was higher than the monsters of the opposing team. Since the speed is high, my monsters get a chance to attack first. My team's monsters played a great role in this battle.
That's All For This Battle Post. I Hope You All Like This & Please Express Your Opinion To Improve My Post Quality. Thank You all.
---
---