Chaos Legion opening and card first impressions (Low budget friendly content!)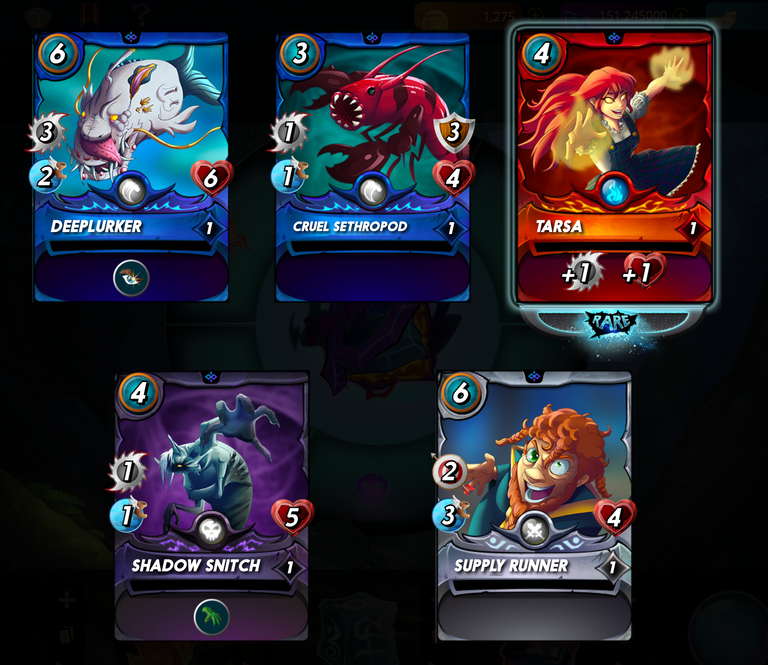 EXCITEMENT! I may have gone full tilt and opened the measly 4 packs I purchased so I am taking my time to savour the cards and enjoy playing with them and seeing how they work.
Bear in mind all comments are through the eyes of a low-budget player just looking to eke out a bit of a competitive advantage. There are no high-flying cards in here at all. I have spent to-date about 10USD on cards before opening these packs so you can assume this is being paired with the core starer cards.
Opening my first pack, I was very happy to see a summoner pop up. This is my first time having a new summoner so I audibly cheered just a little. It was mostly in relief as the other four cards look pretty uninspiring.
Let's get them out of the way. Perhaps there is some use for the Deeplurker & Cruel Sethropod as a water tank. Sethropod sits as a nice option one mana cheaper than Spineback Turtle if you are just short of being able to deploy a tank. Shadow Snitch might be a workable tanky second row option in a mid range fight but I didn't find any inspiration to play him over other options in reality. Supply Runner is straight up getting high on his own supply and seems all but worthless.
Which brings us to Tarsa! Boy is she great and worth every inch of the extra mana she costs to play. The +1 health just buys you an extra hit here and there giving a bit of life to those punchy low health fire staples, and turning Goblin Shaman into an absolute beast. I am really enjoying pairing her with some of the forgotten cards of the fire stable. Any 2 health card that might usually die turn 1 suddenly now has a bit of utility. Speedy attackers get that extra boost from the +1 attack. It just opens the door to trying out the cards that get looked over in about any of the standard low-level decks you see day-to-day on Splinterlands.
I have paired her with a few other chaos legion red cards and the synergy is excellent. However, I wanted to keep this review for fellow noobs who won't be guaranteed to have those cars but might wish to pick up a Tarsa.
On the downside, she still loses to magic water just about every time but that is no different from before Chaos Legion. Any regular dark deck cancels her out but this usually leads to a win for you in any case. I rarely used her up again Nature/Life deck as she remains a pretty poor choice for any high mana battle due to the lack of decent big cards in the starter fire deck (sorry, Lava Monster).
In most low/mid-low mana battles she was tonnes of fun and pretty successful (except against water). I'd say after the heat dies down (no pun intended) Tarsa will be a worthy spend for anybody looking to play fire teams and it is no surprise she is trading at a premium early in the post-Chaos Legion economy.
But what do I know?
A few battles with Tarsa:
Fight 1
I hope you find the review helpful and would love to chat tactics in the comments!
---
---