LEO: CRYPTO IS THE FUTURE.
Hi Hivians!
It has been about three days I haven't been active on this platform because I decided to go on a retreat to redirect my plans for the year 2023 and I certainly believe this year, I will come out strong with all goals achieved.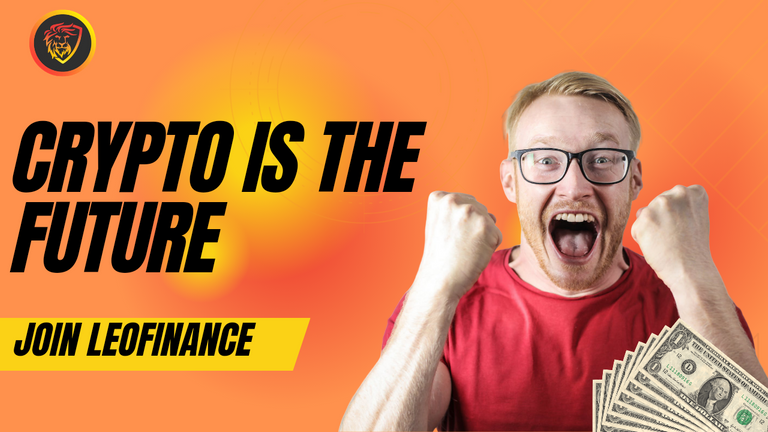 Today's Discussion:
Crypto, is without any doubt the biggest poverty alleviation technique in these present days.
This is something most people doubt even till this very moment. But the truth is, sooner or later, everyone will come to the acceptance that: CRYPTO IS THE FUTURE.

Well, to my story, I had so many friends as at that time venturing into staking coins, trading pairs and the rest. I didn't really understand, the more reason I wasn't committed, then.
Though, it is a game that can make or mar your mental health, yet, the financial freedom came.
These guys within a short period of time left the "streets".
I realized how much time I had lost while being skeptical about the fortune, right before me.
After wasting two years, I made up my mind: "This is what I'm going to do and there's no backing out".
The motto for whoever sails in the financial market, be it crypto, forex, stock, etc., Is FINANCIAL FREEDOM.
Lol, they say money can't buy happiness but I can boldly tell you that money can buy happiness, if and only if the source of income is genuine and pure.
I started the classes and got to know that there is nothing more beautiful than putting your mind into something and achieving it.

I may be an amateur, I may not be perfect, but I will still preach the gospel of technology to whoever cares to listen, because the future I'm seeing through this is so bright and I hope everyone else sees this positive side today and decide to take the risk.
Always remember, nothing good comes easily.
On this light, I introduce to us the best crypto token to invest and trade - #Leo and #Hive. #Leo token is a second layer token of #Hive; the assets behind these two tokens have contributed a lot in making them solid in the crypto marketplace.
To share a tip:
LeoFinance is a blockchain-based Web3 community that builds innovative applications on the Hive, BSC, ETH, and Polygon blockchains. Our flagship application: LeoFinance.io allows users and creators to engage and share content on the blockchain while earning cryptocurrency rewards.
THANK YOU FOR READING
NOTE: The above picture was designed with canva.
Posted Using LeoFinance Beta
---
---