MY FIRST WIN ON SPLINTERLANDS GAME AND HOW TO PLAY AS A NEWBIE
Today has been a huge accomplishment of aim or purpose to me after successfully winning a battle in the #Splinterlands game. This success came out of lots and lots of trials, research, conversations with top #Splinterland players, personal study of each card, etc. I wish to share my new experiences and growth in the game as I did in my previous post.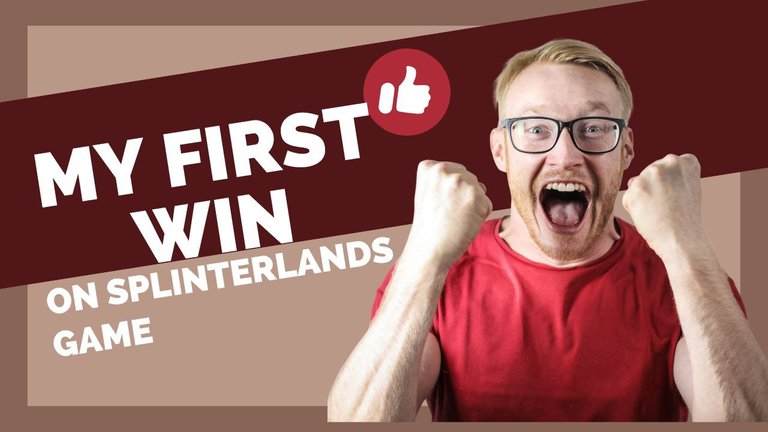 Designed with canva
---
Before then, one may wonder what Splinterlands is all about:
Splinterlands is a free-to-play card game that could be played with a browser or on your mobile phone. The uniqueness of the game is that it is a play2earn game, meaning that every card that you obtain in the game be it in NFTs or a non-fungible token is yours and could be sold in the marketplace to gain money. All items collected value for exchange; you can either sell your cards or rent them out, then you get paid with the in-game currency called the Dark Energy Crystal (DEC). This DEC is worth being in the marketplace too.source
MY JOURNEY:
Out of curiosity and determination to know the game, I made a post on my first gaming experience in the #Splinterlands community and shared it on Twitter. On the web2 platform, I stumbled upon one of the users who liked my tweet; reading its profile the person happened to be a #Splinterlands player. Immediately, I followed up and sent a message asking to know more about how the game could be played. Fortunately, out of love, he advised I should watch YouTube videos on how it is played. Having adhered to his instruction, I took out time to watch a series of #Splinterlands YouTube videos. I felt discouraged that after watching, I kept losing. Though the videos helped in understanding certain things which I will share as we go further, what stirred me was when I played with my opponent till ROUND 18, meaning I gave my opponent a really tough time even though I had lost it. I began to take notes of some cards my opponent selects and the ability of these cards. Another thing I learned was that the positioning of the cards determines was effective that player would be.
MY GAMING EXPERIENCE:
So, with the guide of the YouTube videos, I deeply understood what different numbers and symbols on a card represent. Though I am still growing, I feel with this brief explanation in addition to my previous post, a newbie can start making wins on battles: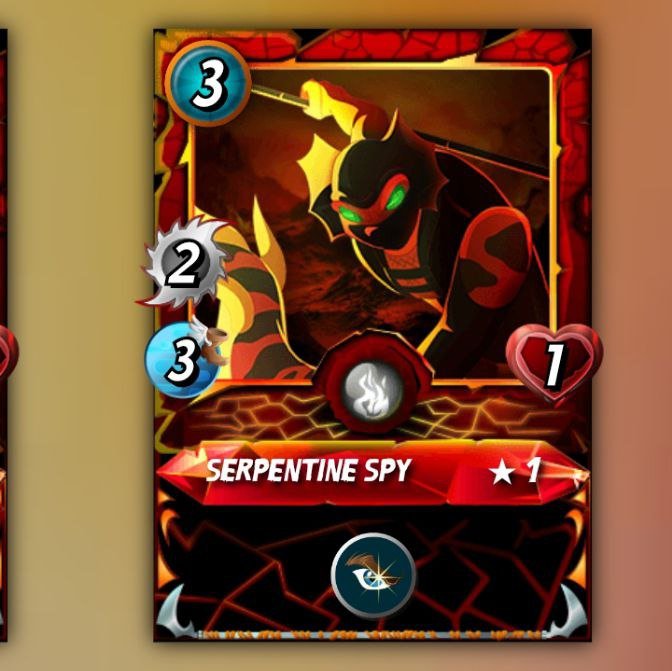 screenshot
Using the above card as an example,
At the top left, the number represents how much mana the card costs. So, in every battle, you have a limited amount of mana. So that you don't go beyond or below, the number guides you to know the number of players to add.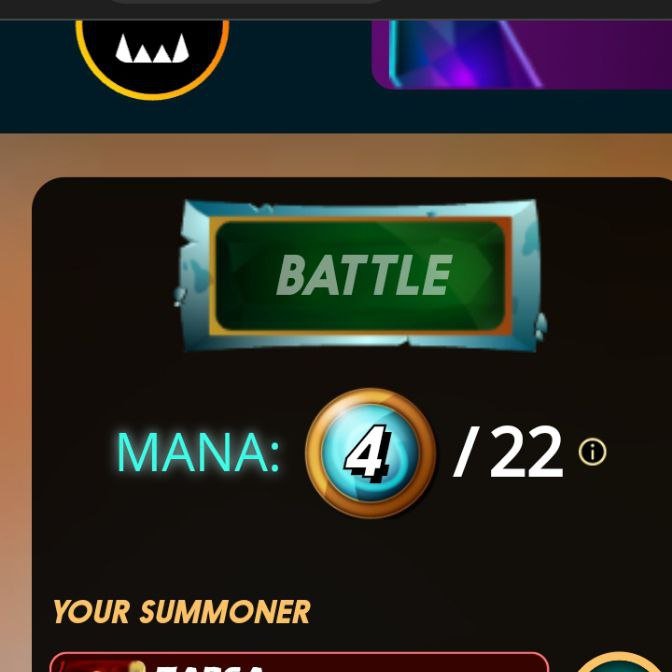 screenshot
Below, you see a blade with a number on the inside: this means that the player can only attack when the position in front and the number inside signifies the number of damages it can cause.
Below the blade, there is a blue bubble with a number inside it signifies how fast the card could be. The higher the number, the higher the speed of the card when it attacks.
At the right, there is a red heart icon with a number inside it signifies the number of damages the card can take before it dies.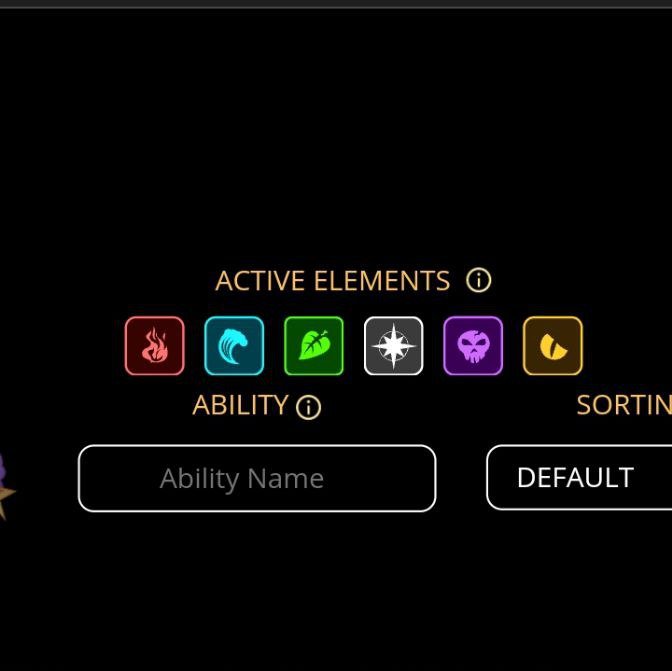 screenshot
Furthermore, I learned different splinters signify different elements: fire, water, earth, etc. The cards you would choose depending on the summoner you pick; meaning, if you pick a fire card as a summoner, you will end up choosing fire cards and neutral cards, likewise blue card as a summoner, you will choose water cards and neutral cards, etc.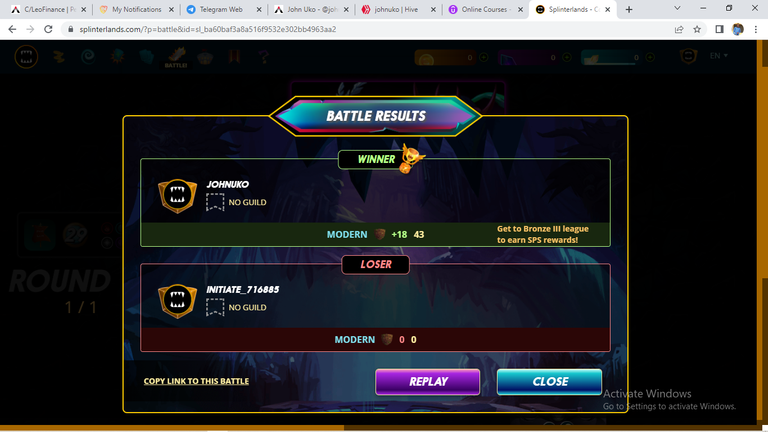 screenshot
With this little idea, I was able to scale through and win twice. From time to time, I hope to share my signs of progress in the play2earn game. It is an exciting one I must say. For those who wish to know the contributors to my successes: @cpol and @thranax, I am very grateful friends! I hope to be of help too for the incoming newbies. Feel free to drop your questions in the comment box, and if you wish to join the game you can click on my referral link.
Here is my growth: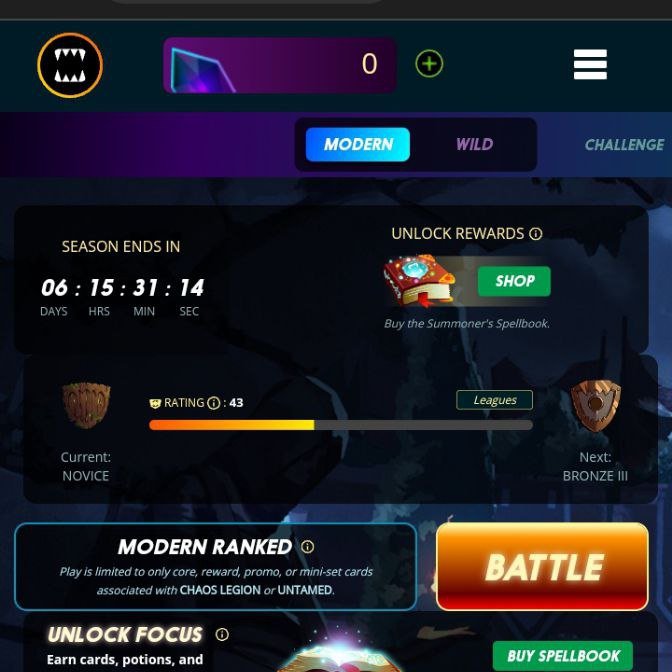 screenshot
THANK YOU FOR READING
---
---