Splinterlands - Home of passive incomes

Hello Hivians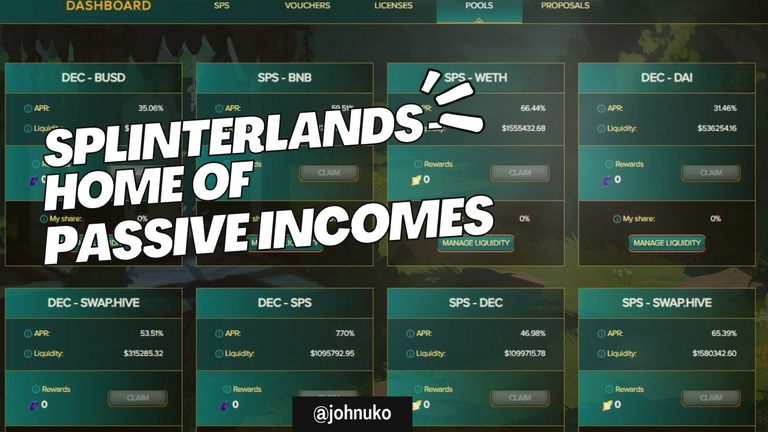 I am here today again to intimate on some latest developments you may have not known on the splinterlands game. Hive will never cease to amaze you with creative developments that helps to catch good fun and then cash from the bank too.
Two weeks ago, I made my first post in the Splinterlands community. It was my first log into the Splinterlands game and a worthwhile one at that. Seeing how inclusive the gaming dapp on hive could be only points to the creativity manna of the developers. Splinterlands is built for an array of users from gaming novice to professionals.
A new user like myself who has not really been into blockchain games do have a level ground to start - learning from others and sharing my learning experience, yet I still earn. This tells that web 3 is not as sophisticated as it is perceived by web 2 users. You know when you mention crypto, blockchain and related terms, it sounds like rocket science to some web 2 addicts. I was there.
Passive Income options on Splinterlands
The emphasis of this post is to share with my audience the several passive income sources in the Splinterlands game. They could be more. I will just tell you the ones I am aware of. Like the gaming options, Splinterlands has a level playground for all classes of investors. Don't get naïve to start. You have a place even if you're just landing Hive blockchain today.
1. Buy and HODL $SPS and other Splinterlands assets
The splinterlands game is aggressively growing. Trust me, if you buy $SPS $DEC or other splinterlands asset, the value will grow in the future. You don't risk anything, just keep the asset in your hive wallet or splinterlands wallet and sell when a convenient price is reached.
2. Stake $SPS
SPS is the governance token used in the entire splinterlands ecosystem. When you stake it, you qualify to vote on proposals. That is only as added advantage. On the primary , staking SPS earns you smaller units of SPS tokens on daily basis on an average APY of 28%. Just stake and come back to claim your rewards.
3 Add Liquidity to Splinterlands pools.
The image below is a screenshot of the pool page in the splinterlands game. It is a page for investors. There, you are expected to click on any of the pair of splinterlands asset and add liquidity to the pools to help traders swap the tokens easily.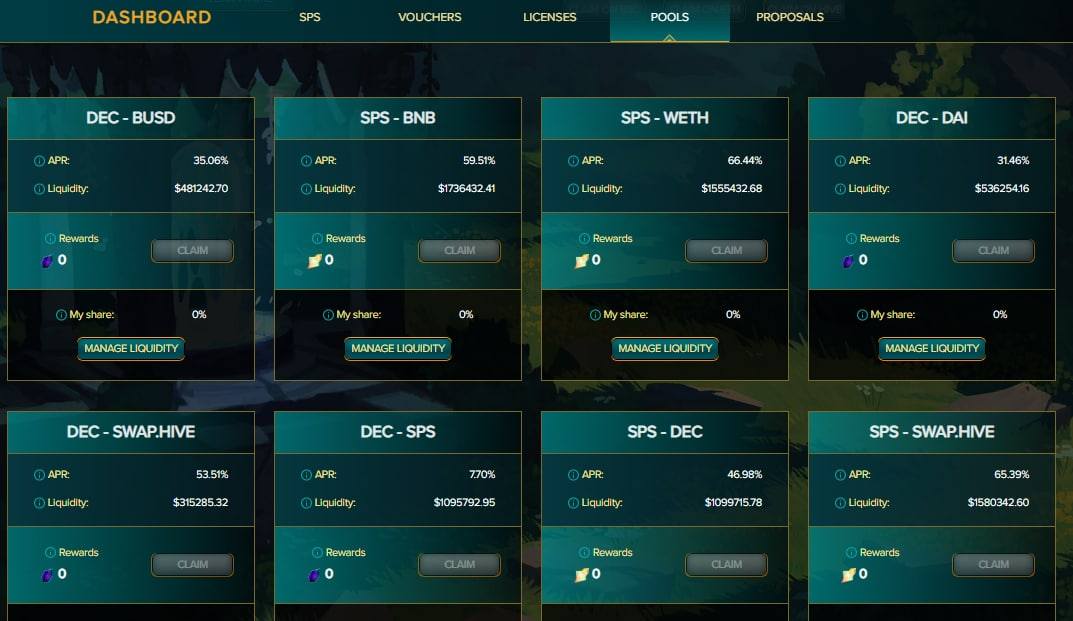 Just that and you earn rewards. The returns for doing that are big. See the screenshots and see that some are as high as 65% APY. After adding to the pool, just go to sleep and only come back to claim your rewards.
4. Buy Game packs
There are several NFT packs that splinterlands game are offering. Chaos Legion, Riftwatchers, Tower Defence, Lands and others to come in the future. All you need to do is buy the packs, open and keep them. The value on the cards would rise as the game progress and you may sell them as valued NFTs.
5. Rent your cards
Splnterlands cards are used in splinterlands battles. Just open your packs and get lucky that they are high valued cards with good player abilities. You can rent the cards on the market and earn DEC pr SPS as rewards while an active player uses the card to battle. Yu can revoke is when you wan to renew your rental conditiions.
The Five passive income options on splinterlands are what you do not want to miss. Get involved and smile.
When will you start up your investment to earn passive income on Splinterlands?
NOTE: All pictures are designed by me or screenshots captured from the splinterlands website.
THANK YOU FOR READING ❤️
---
---