#MyHiveGoals - 7 Days Of Awesome!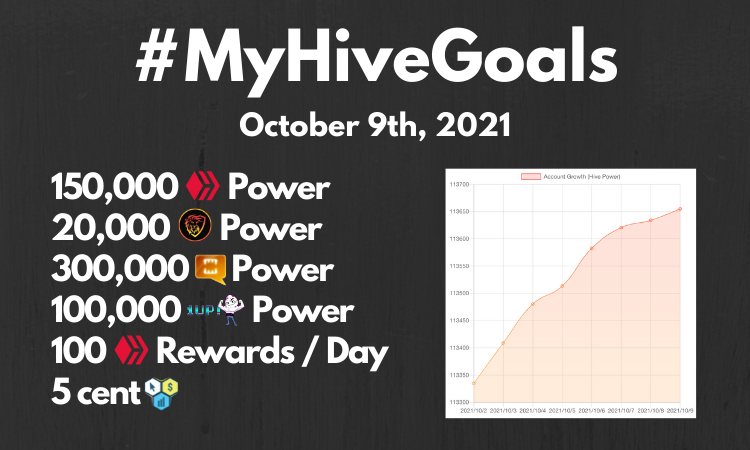 And here we gooooo...
It was 'Pump Week' here on Hive and I have to admit, I took some liquid SWAP Hive I had and cashed some out. Heck, we pumped to $1.54 which was almost double where it was just a few hours before...But here's what I didn't do...
And won't be for quite some time...Heck, if ever!
No powering down for this guy!
My strategy allows me to earn liquid Hive and HBD (as well as multiple Hive Engine tokens) and stay powered up. In fact, my Hive Power contributes to this growth and ability to one day....Live off the blockchain with the liquid rewards I earn.
Even for our witness server (clicktrackprofit) because we are rewarded in Hive Power for confirming blocks, both @blainjones and I decided...We'd just continue to grow that Hive Power too and pay for things...With liquid rewards.
Pretty cool huh?
Now you can see, why #MyHiveGoals is so important to my journey....It's starting to take shape :)
150,000 Hive Power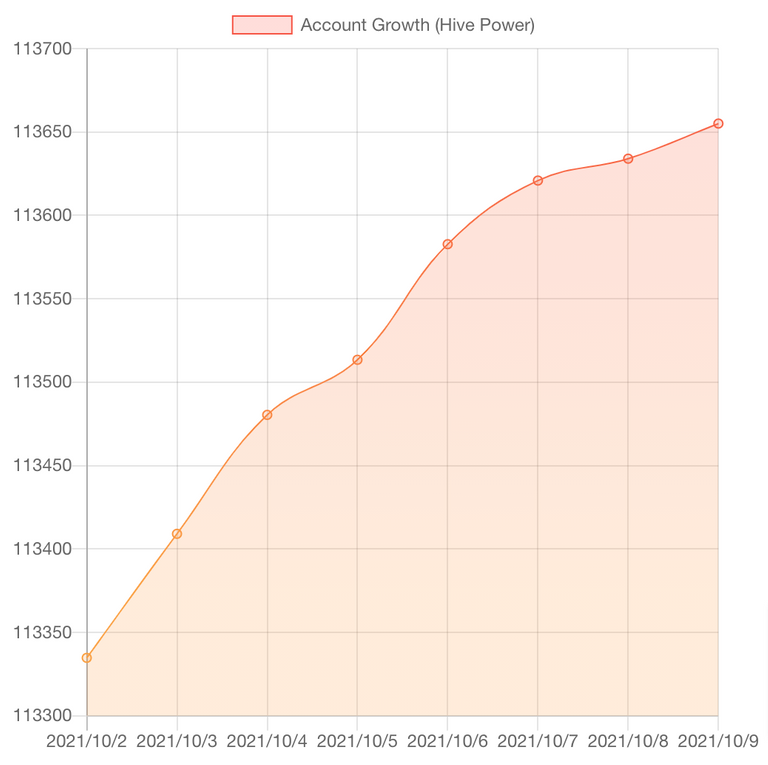 Ahhhhh look at the sexy graph!!!!
I love it, and think it's one of the best parts about being invested in Hive Power...And oh yeah, with the announcement from @spknetwork this week, I think it's a pretty good idea for me to keep this stuff stacking ;)
150,000 - 113,655.10 = 36,344.90 left to go
I've got a few more months left to hit my target...It's going to be a tough hill to climb but let's see where we get to :)
20,000 LEO, 300,000 SPT & 100,000 ONEUP

A real good week on LEO!
With all the news coming from this platform and community, it might get harder to accumulate these tokens. Thankfully, LEO Fi is doing it's thing ;)
20,000 - 16,205.383 = 3,794.617 left to go
Leo Finance Mobile and #ProjectBlank are on the horizon!!!

Oh boy oh boy!
Now the Splintertalk.io front end has been down for a few days (along with a lot of Hive Engine front ends) but that hasn't stopped yours truly from creating or curating one one of my favorite tribes on the blockchain.
300,000 - 272,985.29 = 27,014.71 left to go
Yeah we might end up hitting 300k next week LOL
But hey, I'm all for accumulating more SPT and going for 400k before the end of the year...Or maybe even 500k????

And yes, the secret is out of the bag!
The ONEUP token was launched last week and so far, the reception has been amazing.
Fair disclaimer, I was an original investor into this project as well as the manager / creator of it's 'comment curation' project called @engage1up
But no matter what, I'm on a mission to accumulate this token because if you haven't been paying attention...Gaming on the blockchain and NFTs are a kind of big deal ;)
100,000 - 33,333 = 66,667 left to go
We'll see how this accumulation goal goes, as I've been curating a TON of content (and comments) for the tribe over the past week!!
Dollar Cost Average Into Hive Engine Projects
25 INDEX
1 BRO
2 UTOPIS
And after this week's buys I'm at....
10522 @he-index
879.81 @brofund
483.66 @utopis
I also realized that I could stake UTOPIS and each from it as well LOL I'm getting an extra 10% from doing that...WIN WIN!!!
I've also got 153 shares in the @hive.pizza Diesel Pool, and accumulating all thee juicy tokens in the process...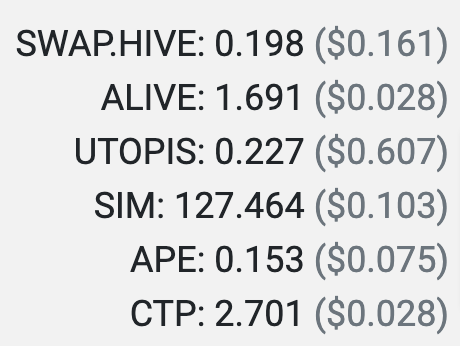 100 Hive Per Day In Rewards
And here's what it all comes down to...
49.84 Rewards from Creating
17.28 Rewards from Curating
0.861 Rewards from @dlease
14 Rewards from Misc.
Total rewards = 81.98 per day
Inching closer and closer to that goal of mine!
5 Cent CTP Token
Let's take a look at the price of the CTP Token...

Hey...We're up :)
Never going to complain about that!!!!
---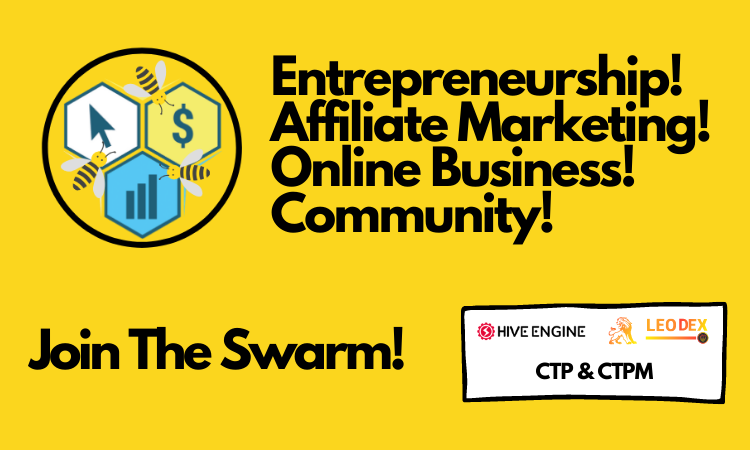 Vote for our Witness Node (clicktrackprofit) On..
Hive:
https://peakd.com/me/witnesses
https://wallet.hive.blog/~witnesses
Hive-Engine:
https://tribaldex.com/witnesses (clicktrackprofit)
---
---