#MyHiveGoals - One Week Closer!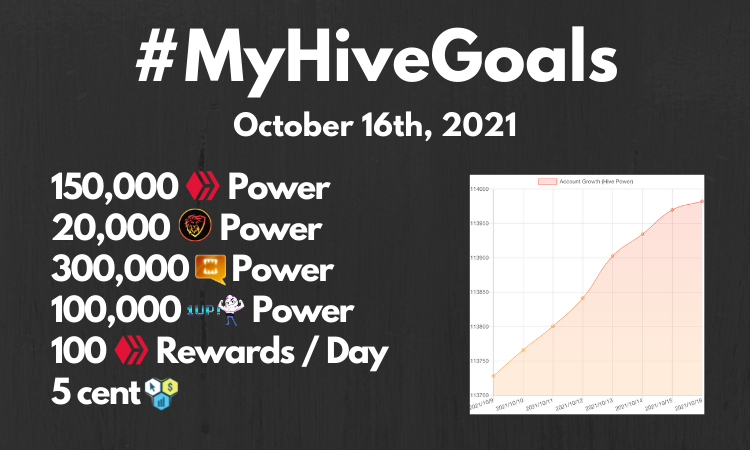 Here we go :)
Another week of accumulation and the the excitement is on level 10 right now for the entire #Splinterlands community too. We're only hours away from the launch of VOUCHER which brings us to the pre-sale of the highly anticipated Chaos Legion card packs.
My plan?
Stack SPT!!!!
I wrote a post about it on my gaming account yesterday, on how it's been a priority for me over the past few months. And I'm not slowly down!!!
Let's roll up the sleeves and see how 'Mission: Accumulation' has gone over the past 7 days:
150,000 Hive Power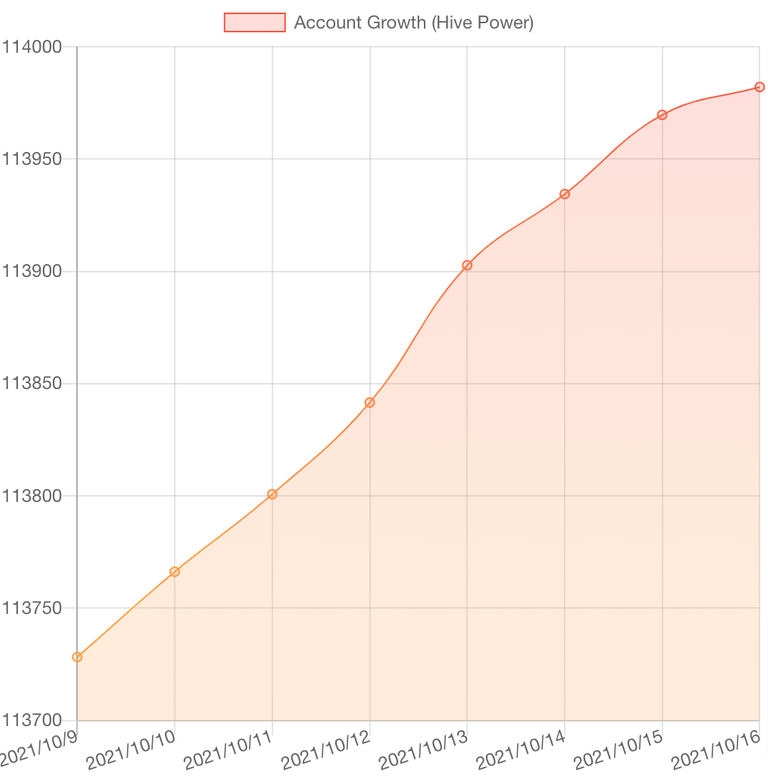 I love these graphs!!
Stacking that Hive Power has become an addiction in itself lol
150,000 - 113,891.96 = 36,018.04 left to go
Like the title of the post reads...One week closer to the end of the year. I ay not hit 150k, but wow, I'll be closer than I was last week :)
20,000 LEO, 300,000 SPT & 100,000 ONEUP

A great week on LEO, got some great rewards for creating and powered it all up!
20,000 - 16,493.72 = 3,506.28 left to go
I undelegated 1500 LEO that didn't show up in the totals, but the numbers are accurate!

Yeah so...Like I mentioned in the intro...I'm slightly addicted to SPT lol
300,000 - 296,620.59 = 3,379.41 left to go
Safe to say, we'll have to adjust those goals next week ;)

It's been almost 2 weeks since 1UP launched and there's some pretty big excitement in the tribe!
100,000 - 37,133.96 = 62,866.04 left to go
Slowly chipping away and trying by best to curate as much content as I can :)
Dollar Cost Average Into Hive Engine Projects
25 INDEX
1 BRO
2 UTOPIS
And after this week's buys I'm at....
10664 @he-index
881.261 @brofund
487.21 @utopis
A couple of these sweet little gems are even netting me some VOUCHER tokens over the next month.
Have I mentioned yet, how much I love these projects??
No changes for my @hive.pizza Diesel Pool, but hope to add more positions this week!
100 Hive Per Day In Rewards
And here's what it all comes down to...
40.09 Rewards from Creating
17.27 Rewards from Curating
0.861 Rewards from @dlease
13 Rewards from Misc.
Total rewards = 71.22 per day
A little less than last week, but I'm never going to complain :)
Mission:Accumulation is full steam ahead!
5 Cent CTP Token
Let's take a look at the price of the CTP Token...

A smidge above last week ;)
Let's see what the next week brings the little tribe that could!
---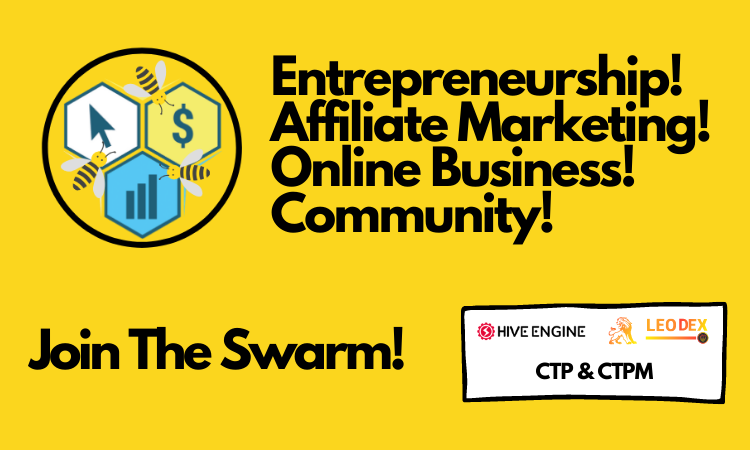 Vote for our Witness Node (clicktrackprofit) On..
Hive:
https://peakd.com/me/witnesses
https://wallet.hive.blog/~witnesses
Hive-Engine:
https://tribaldex.com/witnesses (clicktrackprofit)
---
---