#MyHiveGoals - They Haven't Changed!!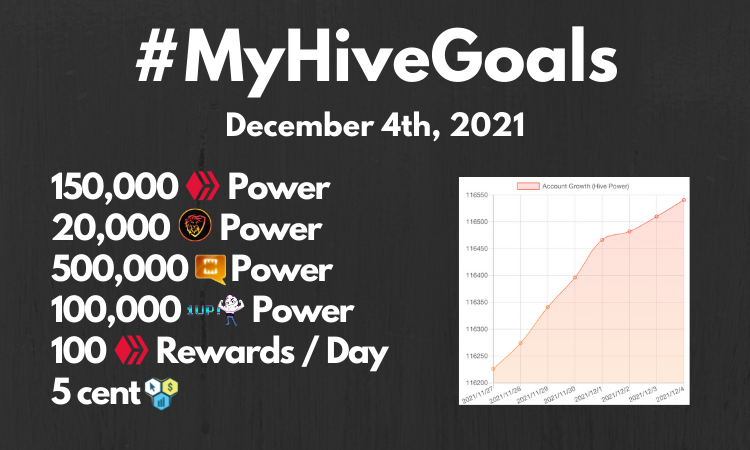 On December 7th, I'll be celebrating my 4th year on the blockchain.
And back when I started creating here I made a commitment to show up, every day and put in the work. A lot of people seem to agree with this approach, yet we see time and time again...The effort is there to start, but rarely seen through...
Mostly because, people are still attached to price. When Hive goes south or has a red day, they look for greener pastures. And when it's green and booming, there is less Hive to go around.
In my limited investing knowledge, one thing that did make sense to me was dollar cost averaging. So on the blockchain, I 'effort cost average'.
No matter what the price...I show up. Is it the best approach to this stuff? Who knows...But 4 years later, I have not regretted one day of effort!
Let's see how we did this week...
150,000 Hive Power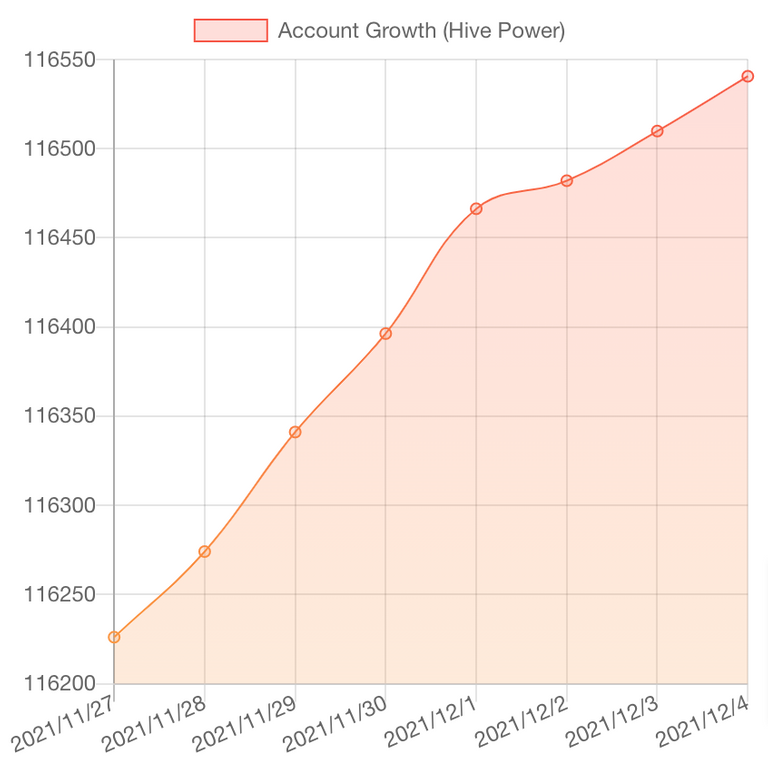 Last week we had Hive Power Up Day, which I took part in but again I consider Hive Power Up...Every Day ;)
Nice accumulation for content and curation last week for sure and we're getting closer to our goals...
150,000 - 116,540.61 = 33,459.39 left to go
Unless I hit the jackpot, I don't think we'll hit 150,000 in 3 weeks from now...Still I'll be a LOT closer than I was a year ago today!
20,000 LEO, 500,000 SPT & 100,000 ONEUP

A great week on LEO as well! This looks like a goal I may be able to tick off the list by the end of the year, but I really need to step up...
20,000 - 18,789.25 = 1210.75 left to go
Slow and steady!! It's working!

Under 100,000 left to go and I've just been trying to get as much SPT as I can...
500,000 - 410,289.28 = 89,710.72 left to go
This has been such an awesome journey so far and it's exciting to think, this time last year I had about....0 SPT lol

I got a little cocky on my 1UP journey...I thought I'd be a lot closer to 100k but looks like it'll take some time to hit my goal.
100,000 - 52,000.33 = 47,999.67 left to go
Still stacking and very excited for the future of this project!!
Dollar Cost Average Into Hive Engine Projects
6 INDEX
1 BRO
1 UTOPIS
And after this week's buys I'm at....
11,700 @he-index
889.79 @brofund
505.95 @utopis
As you can see, I've had to slow down my dollar cost averaging into the project, not the amount of fiat I put into them, but because the price of Hive is higher...This is the downside of DCA...You can't get as much as you once did lol
100 Hive Per Day In Rewards
And here comes the downside of Hive pumping in price lol
The amount of Hive we generate from our daily efforts, will go down as Hive increases...Not to worry, I just wanna get as much as I can every day :)
48.93 Rewards from Creating
17.78 Rewards from Curating
14 Rewards from Misc.
Total rewards = 80.71 per day
I have to admit..That's a shock!!! I had no idea I would have been up this week. I'll take it :)
5 Cent CTP Token
Let's take a look at the price of the CTP Token...

That's crazy!!! We even hit 5 cents this past week but we're just shy of 4 cents right now. Can we hit the CTP goal by the end of the year and keep it there???
---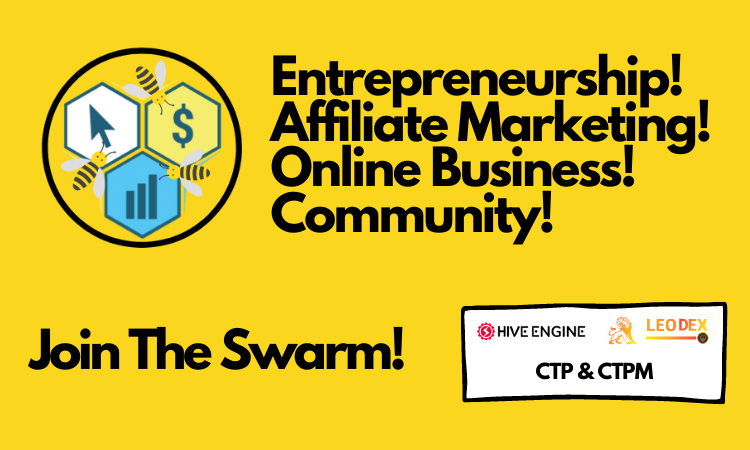 Save BIG on all your Swap.Hive / Hive needs with HivePay:
Vote for our Witness Node (clicktrackprofit) On..
Hive:
https://peakd.com/me/witnesses
https://wallet.hive.blog/~witnesses
Hive-Engine:
https://tribaldex.com/witnesses (clicktrackprofit)
---
---