Social Media Challenge ING/ESÑ
INGLES
Receive a cordial greeting to all users of the hive platform and fellow community of this wonderful game called splinterlands, this community is with a purpose that users publicly share their work done by each one on specific topics and topics of your taste on what is about the game we all love that we play so much, this community of games and challenges of weekly battles is very wonderful I hope that the visitors of the other communities like our posts made by the valuable writers of the community and my person, if you like and you are interested in the community further down the post I will leave a link where you can create an account of the game of splinterlands so that as well as we enjoy it as much you have the opportunity to participate in this project.
If you are not yet registered on the splinterlands platform I invite you to open an account just by pressing HERE to enjoy the greatest entertainment and the best battles, show your tactics reaching the best position in the game seasons of the splinterlands platform.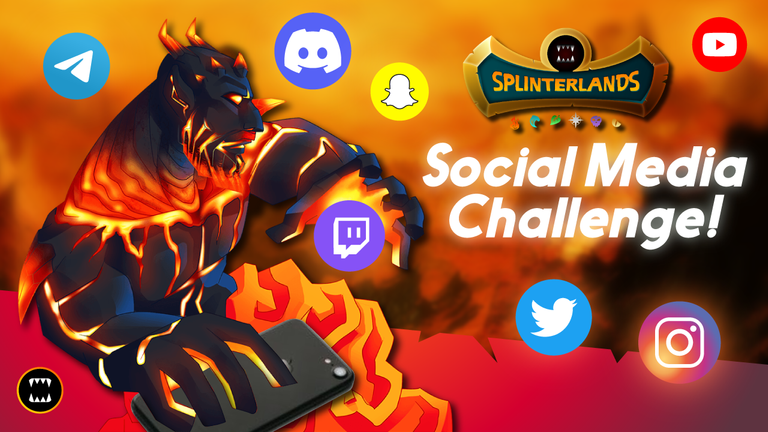 All these battle themes and themes to share on social networks are implemented by @splinterlands, I really admire your work as you can proceed all this for our development of high quality content, I hope you enjoy this week with our quality content made by my colleagues and myself, I invite you to visit us every week so you have the honor to visualize the themes that are implemented in the community taking into account the project of this game full of challenges. Adventure and surprises.
Approximately I will be sharing with you the data and all the features of what will be the social media Challenge post that I will share this week for the reading of the community and all the platform first hand of HIVE.
So proceeding this post with nothing more to tell you, just wishing you luck to all my colleagues, let's proceed to kick off today's post.
This week that passed was of many surprises in the game platform, the best of this week was how it proceeded some changes or in other terms updates in the game platform, changes that more than one user will now have to get used to because it is something new for all participants of this game, I loved his style of presentation of modern and wild mode, although it is something very confusing, but as time goes by one will get used and it will be like everything was before all the recent updates in the game.


What did I like about this update


From this update this week I liked how it is about two ways the one that you can use only cards from the old editions and the other how they separate the new edition for a better mechanism in the game, but considering the last update of this game, which was the part of the daily rewards the change of the weekly challenges the challenges to perform, now is something more comfortable for the users thanks to what when you were getting a daily Focus of each element was something like difficult for the people who rent cards because they don't have their own, They rented their equipment for a single day (which can no longer be done by the update), now you can take into account that users who do not have their own cards and rent them can rent their various teams of different splinters to battle in the daily Focus taking into account that it is a Focus of Antibody that would be using tanks and cards that return the melee attacks is used with any splinter of the game.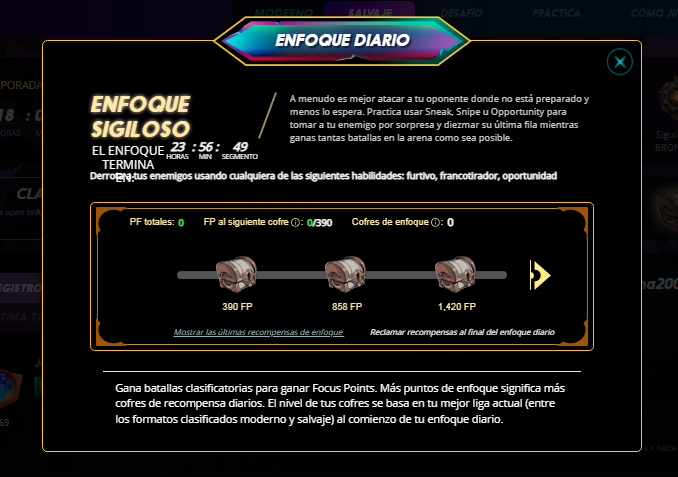 How do the updates to this game look like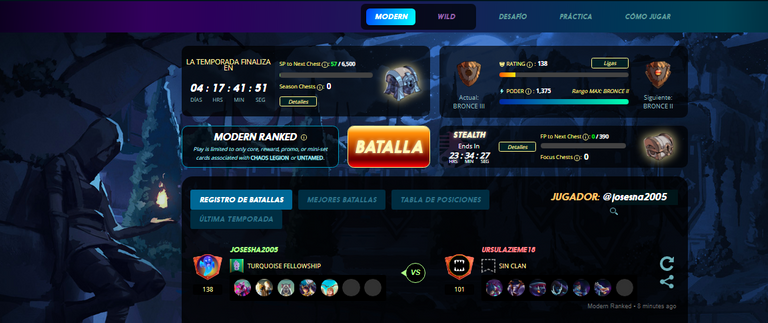 Now the game has a more striking presentation of the game, it is really very good all the changes of the game, now more than ever there is a little effort to get used to the new image and mechanism of the game, although for the new users it will be confusing because they are new things that they will observe in the procedure.


Show battle in played mode?

Battle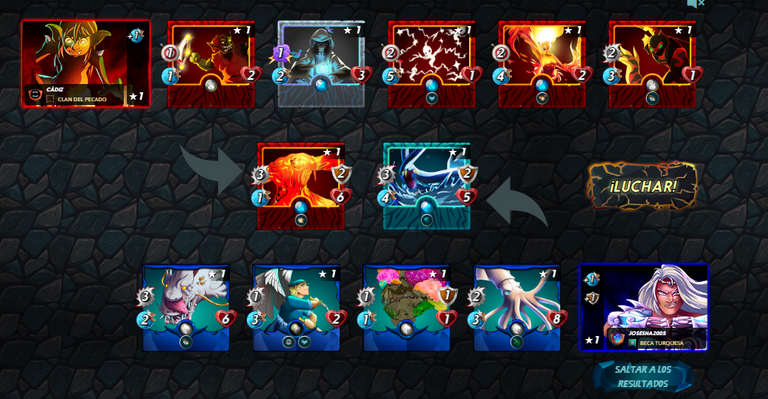 Result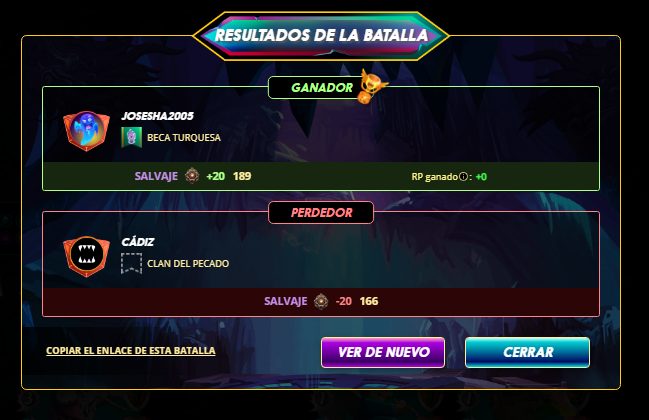 Battle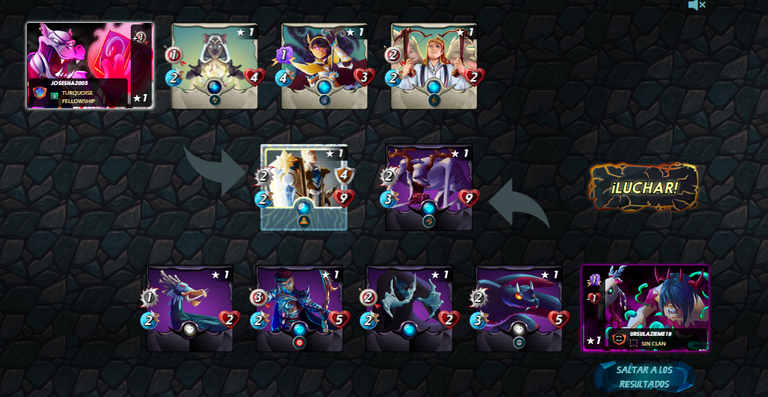 Result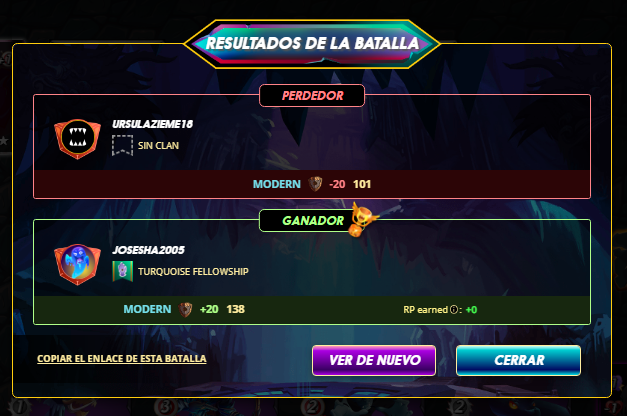 Recommendations to new users

If you are new and do not know how to use or how to use the updates of the game I recommend you to know it little by little use it with your language for less confusion and read the post made by my colleagues on these topics of how the development of the updates is carried, I hope very soon you get used to all this, it is very easy with the course of time will get used to have the necessary amount of learning on these issues, without further ado I wish you luck in what is the beginning of this world of games and challenges and post developments for the various communities of the HIVE platform.


Conclusion

Coming to the conclusion of this social media post of this week, we can come to the conclusion with a little learning, this post was made with the purpose of expressing some opinions of the new updates of this game and leave a recommendation for the new users of the platform, truly these are things that we need to do for the support of the new users for the platform, just as they were also us when we started.


We have reached the end of this pot I hope you like it a lot, this week was full of surprises in the game platform, this week I set out to run a social media post different from all the others I was talking about battles and I was recommended through a comment to try to proceed with other topics different from those who had been doing lately since my great start on the platform, thank you very much for taking the time to read my post I hope you like it I hope you like the quality, if you want or think I can improve something I hope you can comment on the post, if help and recommendations on the platform are very useful in my monitoring and growth in the Hive platform, thank you very much to all who support me in my post be attentive to this week with new content made, I hope all my colleagues can make their content without any problems this week, I say goodbye I wish you luck to all.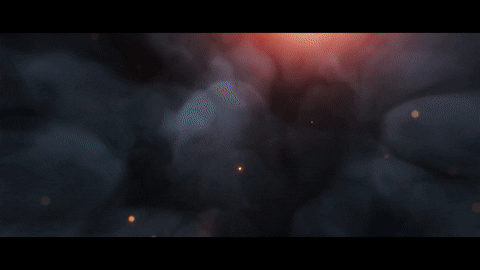 Images extracted from the set of splinterlands
Text separator created in canva


ESPAÑOL
Reciban un cordial saludo a todos los usuarios de la plataforma de hive y compañeros de la comunidad de este juego maravillosos llamado splinterlands, está comunidad está con un fin de que los usuarios compartan públicamente sus trabajos realizados de cada quien sobre temas específicos y temas de su gusto sobre lo que se trata el juego de todos adoramos que tanto jugamos, está comunidad de juegos y retos de batallas semanales es muy maravillosa espero que a los visitantes de las otras comunidades les gusten nuestros post realizados por los escritores valiosos de la comunidad y mi persona, si te gusta y te llama la atención la comunidad más adelante del post les dejaré un link donde podrán crear una cuenta del juego de splinterlands para que así como lo disfrutamos nosotros tanto ustedes tengan la oportunidad de participar en este proyecto.
Si aún no te registras en la plataforma de splinterlands te invito a que abras una cuenta solo presionando AQUI para que disfrutes del mayor entretenimiento y las mejores batallas, demuestra tus tácticas alcanzando el mejor puesto en las temporadas de juego de la plataforma de splinterlands.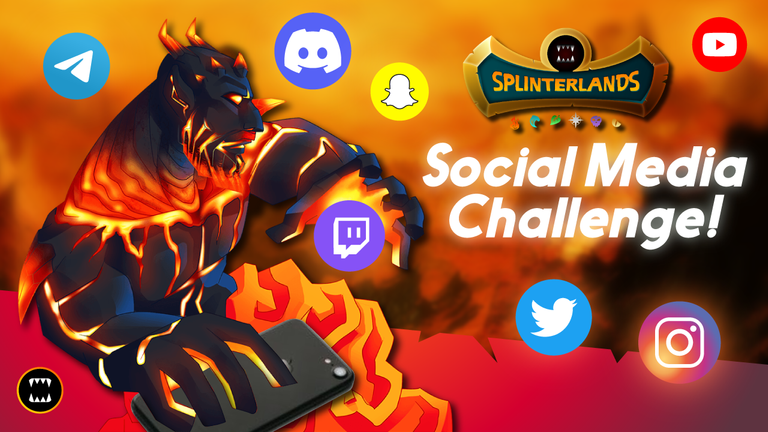 Todos estos temas de batallas y temas para compartir en redes sociales son implementados por @splinterlands, de verdad admiro su trabajo como puede proceder todo esto para nuestro desarrollo de contenidos de alta calidad, espero disfruten esta semana con nuestros contenidos de calidad realizados por mis compañeros y mi persona, los invito a que nos visiten cada semana para así tengan el honor de visualizar los temas que se implementan en la comunidad teniendo en cuenta el proyecto de este juego lleno de retos. Aventura y sorpresas.
Aproximadamente les estaré compartiendo los datos y todas las características de lo que será el post de social media Challenge que compartiré esta semana para la lectura de la comunidad y toda la plataforma de primera mano de HIVE.
Así procediendo este post sin más nada que decirles, solo deseándoles suertes a todos mis compañeros, procedamos a darle inicio a este post del día de hoy.
Esta semana que pasó fue de muchas sorpresas en la plataforma del juego, lo mejor de esta semana fue como se procedió unos cambios o en otros términos actualizaciones en la plataforma del juego, cambios que más de un usuario ahora se tendrán que acostumbrar porque es algo nuevo para todos los participantes de este juego, me encantó su estilo de presentación de modo modern y wild, aunque es algo mucho confuso, pero al pasar el tiempo uno se acostumbrara y será como todo era antes de todas las actualizaciones recientes en el juego.


¿Qué me gustó de esta actualización?


De esta actualización de esta semana me gustó cómo se trata de dos modos el que se pueden usar solo cartas de las antiguas ediciones y la otra de como se separan la nueva edición para un mejor mecanismo en el juego, pero teniendo en cuenta la última actualización de este juego, que fue la parte de las recompensas diarias el cambio de los retos semanales los retos a realizar, ahora es algo más cómodo para los usuarios gracias a qué cuando se obtenía un Focus diario de cada elemento era algo como difícil para las personas que alquilan cartas por no tener las propias, alquilaban sus equipos para una solo día (cosa que ya no se puede realizar por la actualización), ahora se puede tener en cuenta los usuarios que no tienen cartas propias y transcurren a alquilarlas pueden alquilar sus diversos equipos de diferentes astillas para así batallar en los Focus diarios teniendo en cuenta que sea un Focus de Anticuerpo que sería usar tanques y cartas que devuelven los ataques cuerpo a cuerpo sea utilizada con cualquier astilla del juego.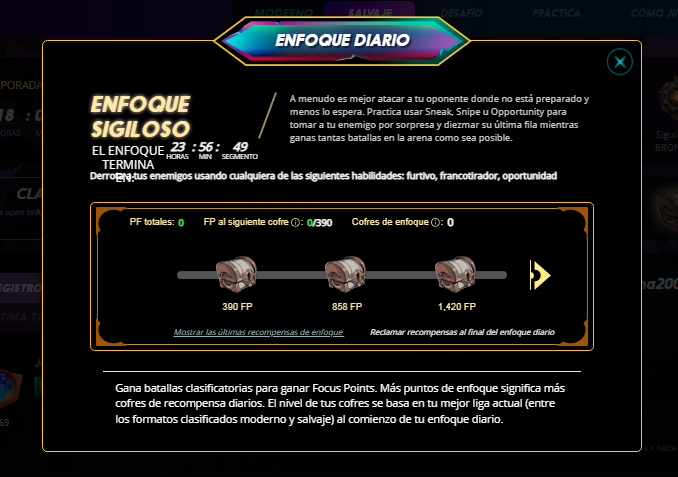 ¿Cómo lucen las actualizaciones de este juego.?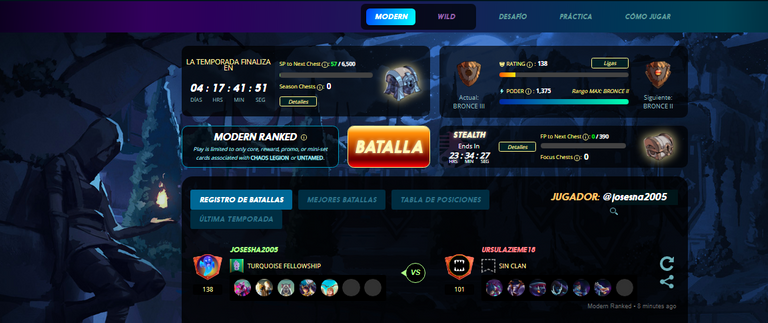 Ahora el juego tiene una presentación del juego ahora más llamativa, de verdad que es muy bueno todos los cambios del juego, ahora más que nunca ahí que tener un pequeño esfuerzo para así acostumbrarse a la nueva imagen y mecanismo del juego, aunque para los nuevos usuarios va a ser algo confuso porque son cosas nuevas que observarán en el procedimiento.


¿Muestra de batalla en el modo jugado?

Batalla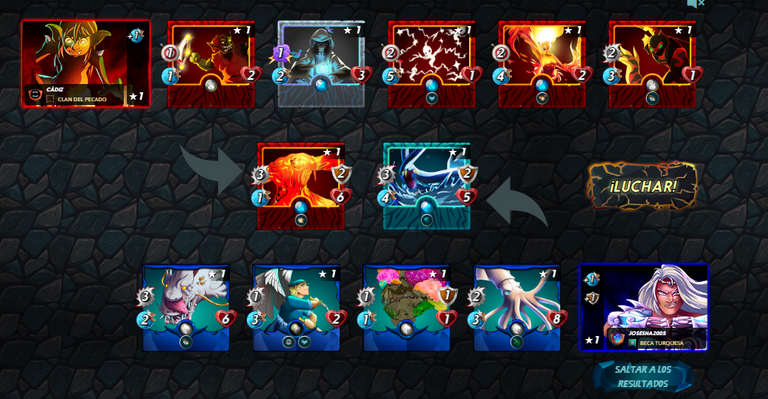 Resultado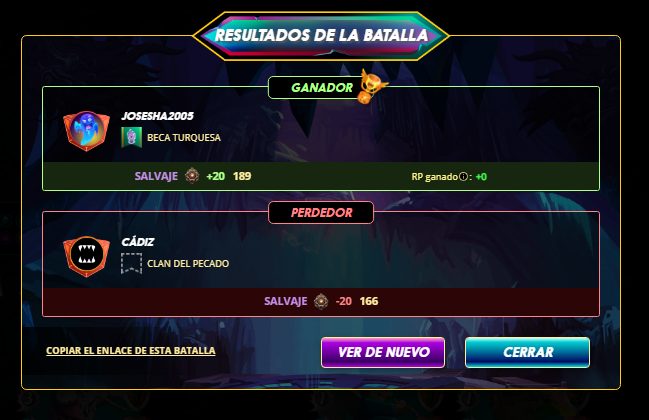 Batalla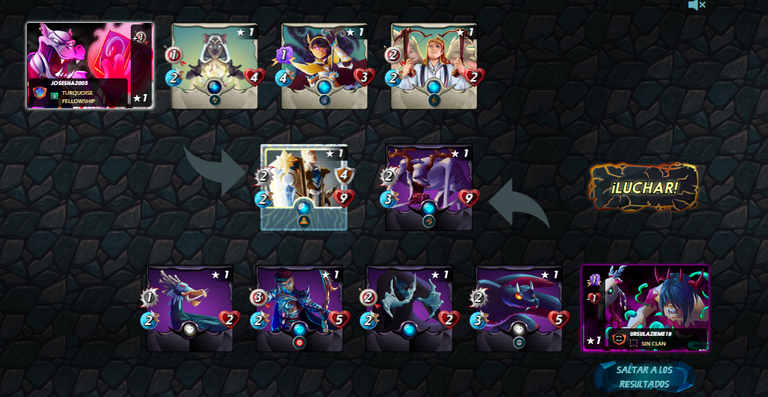 Resultado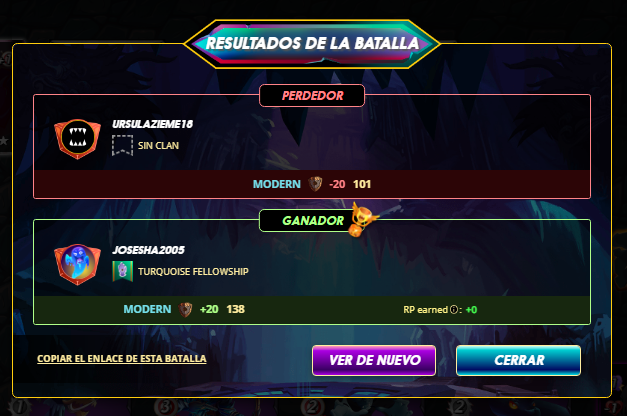 Recomendaciones a los nuevos usuarios

Si eres nuevo y no sabes cómo utilizar o como se utilizan las actualizaciones del juego les remiendo que lo conozcan poco a poco lo utilicen con su idioma para menos confusión y lean los post realizados por mis compañeros sobre estos temas de como se lleva el desarrollo de las actualizaciones, espero muy pronto se acostumbren a todo esto, es muy fácil con el transcurso del tiempo se acostumbraran hasta tener la cantidad necesaria de aprendizaje en estos temas, sin más nada que decir les deseo suerte en lo que es el inicio de este mundo de juegos y retos y desarrollos de post para las diversas comunidades de la plataforma de HIVE.


Conclusión

Llegando a la conclusión de este post de social media de esta semana, podemos llegar a la conclusión con un poco de aprendizaje, este post fue realizado con la finalidad de expresar algunas opiniones de las nuevas actualizaciones de este juego y dejar una recomendación para los nuevos usuarios de la plataforma, de verdad que son cosas que necesitamos hacer para el apoyo de los nuevos usuarios para la plataforma, así como ellos también fueron nosotros cuando empezamos.


Hemos llegado al final de este pots espero les guste mucho, está semana fue llena de sorpresas en la plataforma del juego, está semana me propuse a ejecutar un post de social media diferente a todos los demás que venía hablando sobre batallas y me recomendaron a través de un comentario que tratara de proceder otros temas diferentes a los que ya venía hecho últimamente desde mi gran inicio en la plataforma, muchas gracias por dedicarle un tiempo a leer mi post espero sea de su agrado les guste la calidad, si desean o piensan que le puedo mejorar algo espero me lo puedan comentar en el post, si ayuda y recomendaciones en la plataforma son muy útiles en mi seguimiento y crecimiento en la plataforma de Hive, muchas gracias a todos los que me apoyan en mis post estén atentos para esta Semana con los nuevos contenidos realizados, espero a todos mis compañeros puedan realizar sus contenidos sin ningún problema está semana, me despido les deseo suerte a todos.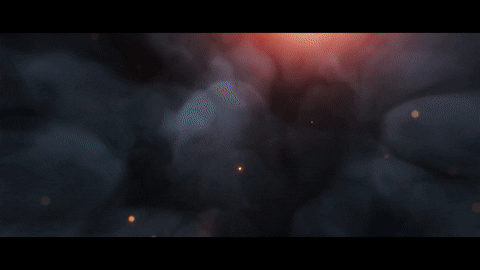 Imágenes extraídas del juego de splinterlands
Separador de texto creado en canva


---
---