BIG NEWS FOR THE SPLINTERLANDS ECOSYSTEM - ALPHA FROM AGGROED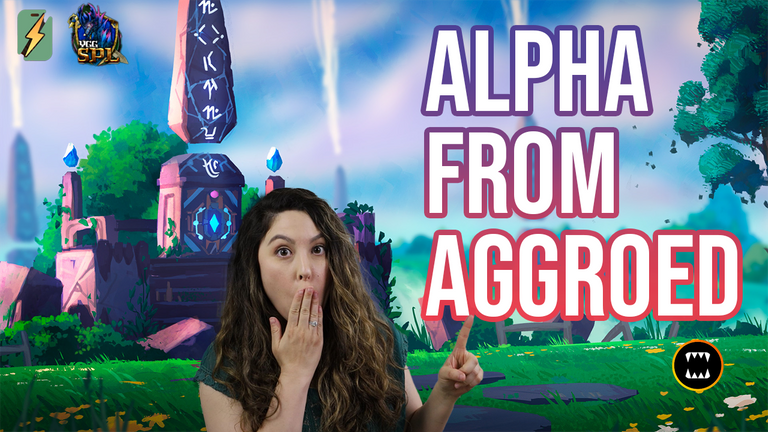 Browsing the Splinterlands Discord's Maverick Chat can be a TON of fun, especially when the CEO and Co-founder Aggroed is on and chatting with us! Find out in this video what ALPHA news he dropped!
Aggroed - Splinterland's CEO - made an appearance in the Splinterlands discord's Maverick chat the night of August 24th and again the morning August 25th to reveal some FUN alpha news! If you didn't get a chance to catch it, that's what I'm here for! Let me give you the quick run-down and then some speculative thoughts on what he might have meant!
Aggroed said that there is basically new product coming into the token ecosystem every two weeks for the next couple months. Here's the TL-DR:
We should expect Node License SPS rewards to start within the next two weeks, and as early as next week
We should expect to see Riftwatchers presale sometime in Mid September
We should expect to see the release of a tower defense PRESALE in September
We should expect information on Genesis League Soccer whitepaper and SPS-related airdrops in October
We should be excited for an "UNDISCLOSED" Project!
OK - let's break these down one by one, with some added speculation from myself!
FIRST is Node licenses! Node licenses are currently giving a 59% APR based on voucher prices and number of nodes sold, but will soon be adding SPS rewards. In the official Splinterlands PEAK-D post, we know that there will be 3,375,000 SPS tokens allocated to the license holders per month. Divide that among the 3200 licenses sold is 34 SPS per node per day! With the prices at the time of this writing, that's an additional 43%, bringing licenses to over 100% APR! If you're looking for more licenses, now's the time to buy!


SECOND is Riftwatchers! We already know that Riftwatchers will have 3 million total packs at $5 each payable only in SPS. We also know that vouchers will be required at least during the presale, if not more! There's definitely going to be some demand for SPS and vouchers in the near term here!

THIRD is the new Tower Defense game - we know that Splinterlands NFTs or our cards will somehow be used to enhance the game. Aggroed ALSO hinted at the need for one of the Splinterlands tokens being useful! I have two thoughts here. The first is that vouchers will be a key part of the game. I can see it being used to upgrade towers and/or provide special powers! Aggroed mentioned a presale coming up, which I did NOT expect! I'm betting that presale of chests to open for randomize towers will be using SPS as the purchasing token!



FOURTH is Genesis league soccer - no crazy speculation here, but I think we'll be receiving airdrops of Genesis League Soccer assets or currency based on staked SPS - it'll be similar to getting airdropped vouchers for staking!
LASTLY is this "undisclosed project". First thought was something related to the Warner Music partnership, but Aggroed said nope! Next thought was the casino announced previously, but again Aggroed said nope! So what next? Is it another promo card similar to Waka? I wouldn't think so only because we're getting a promo card for Splinterfest. My guess is as good as any! Maybe comic book series? Maybe a board game because they've mentioned that before? Maybe another partnership to continue branching the Splinterlands gaming ecosystem?


All this to say is I AM EXCITED! I had made a previous video on being bullish on SPS, but honestly I'm bullish on the Splinterlands team as a whole!
That's all I have for today fam! If you enjoyed this video, I would appreciate a quick like and a subscribe to my YouTube Channel! Until next week!
Follow me on my Play to Earn Crypto and NFT gaming journey by liking the video and subscribing to JosiePlaysCrypto! I am also on Splintertalk, PeakD, and 3Speak as JosieB. Love you fam!
#Splinterlands
#Play2Earn
#YGG-SPL
Patreon Support: https://www.patreon.com/JosiePlaysCrypto
Splinterlands Affiliate Link: https://splinterlands.com/?ref=josieb
---
---