Epic Comeback Brawl fights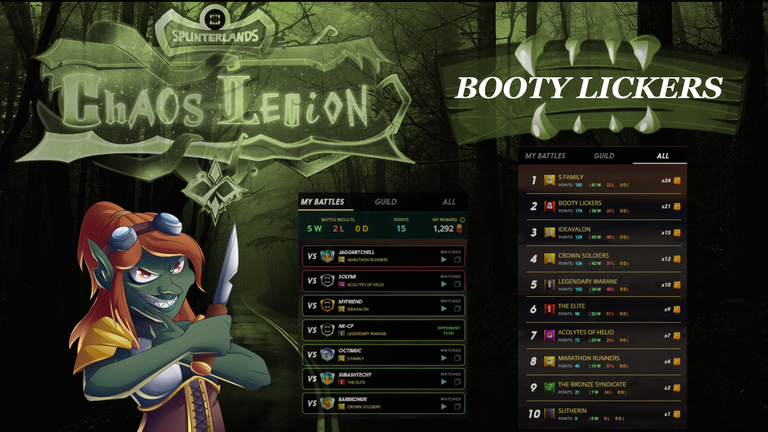 Time to share our latest guild brawl result and post-match analysis in selected brawl matches.

Guild Rankings
Our guild managed to won 2nd place behind S FAMILY guild with only 3 wins away to tied. With a level 4 Store (60% additional merit bonus), we received 1,292 Merits each and our guild got 21 Crowns.
@jellyandbeeans and @olaf.gui were both undefeated on this brawl. While @papar and @kraaaaa almost undefeated as well.
Featured Battle
Utilizing Blast effect
https://splinterlands.com?p=battle&id=sm_zfOQ2UXuxhFEdcLnYnW2&ref=jpleron

With the Explosive Weaponry and Stampede, my favorite monster will always be Desert Dragon. Explosive Weaponry provides the Blast ability to all monsters, dealing damage to monsters adjacent to your target. While Stampede allows you to trigger the Trample ability multiple times as long as your able to kill your target monster. Since Desert Dragon has the Piercing ability, this means that the extra damage after reducing the enemy's armor will directly hit the enemy's health. There's a huge chance that Desert Dragon can kill the target with low health and trigger the Trample ability. And since it also has the Blast ability, it will damage the adjacent enemy monster reducing its health which makes it easier to kill on the next attack. Unfortunately, what we expect did not happen since enemy uses a Sea Monster which has high health, and also uses Venator Kinjo with Reflection Shield to deflect the blast damage.
In the Blast rule, the most effective way to counter it is to use monsters with Reflection Shield. Venator Kinjo from Neutrals or Tide Biter from Water can be a good option. I selected Tide Biter since it has Reach ability allowing it to attack even at second position.
Then to further utilize the Blast ability, we can use monsters which can attack twice with the help of Double Strike ability. This was the main reason why I chose Dragon Splinter in order to have access to Dhampir Infiltrator which has both Sneak and Double Strike ability.
My opponents strategy was also great in the sense that he has Sea Monster as the tank with high health, high damage, and self heal. At the 2nd position was Venator Kinjo with Reflection Shield to counter the Blast effect. And then Crustacean King to provide additional heal to Sea Monster. Followed by Uraeus with Sneak attack and Furious Chicken as decoy to absorb Sneak attacks. On my side, I also have Chaos Agent and Torrent Fiend on the back for the same purpose which is to absorb Sneak attacks. Unfortunately, my Dhampir Infiltrator eliminated both Uraeus and Furious Chicken at round 1 without giving Uraeus chance to attack. It was a close match and it just happened that the speed reduction provided by Quix the Devious helps me to launched my attack first.
---
Quadruple Sneak
https://splinterlands.com?p=battle&id=sm_qBPQ82blk0P6LtR5GOuu&ref=jpleron

With the Even Steven ruleset, we were limited to choose only from the monsters with even mana cost and since the battle also has 15 mana cap, it's hard to create a good line-up. Aside from Even Steven, there was also Aim True ruleset which allows for a 100% hit rate, removing the evasion chance provided by abilities like Dodge, Flying, Blind or even just the evasion from speed reduction.
I opted to use two monsters with very similar abilities. Dhampir Infiltrator (Dragon) and Katrelba Gobson (Earth - Gladius) have both the Sneak and Double Strike ability. And they both have 2 melee damage, so a total of 8 damage per round from this two monsters already. And since Katrelba Gobson is a Gladius card, it has by default Bloodlust ability. The ability which can increase monster's stat after killing an enemy monster.
Without the help from a zero mana monster, Fungus Fiend, deployed at the front, I might probably lost it since Sea Monster can eliminate Dhampir Infiltrator in round 1. But low health monsters like Fungus Fiend are sometimes a double edge when fighting in brawl matches as they can give Gladius cards an easy way to stack up the Bloodlust effect. So as much as possible, before putting some zero monster to your empty slot, you may need to think twice before doing it in a brawl match.
---
High Mana battle
https://splinterlands.com?p=battle&id=sm_gJMxv7ETxDFpoOlY8tIj&ref=jpleron

Since this is a high mana battle, I opted to go for Dragon splinter since they have monsters with insane mana requirement compare to other Splinters. And since we don't have healing abilities, I opted to go in one of my favorite combo Legionnaire Alvar + River Helondale. This combo with Void Armor and Resurrect is really good against magic monsters.
---
Epic Comeback
https://splinterlands.com?p=battle&id=sm_4NheZobwxZiuTW93mZql&ref=jpleron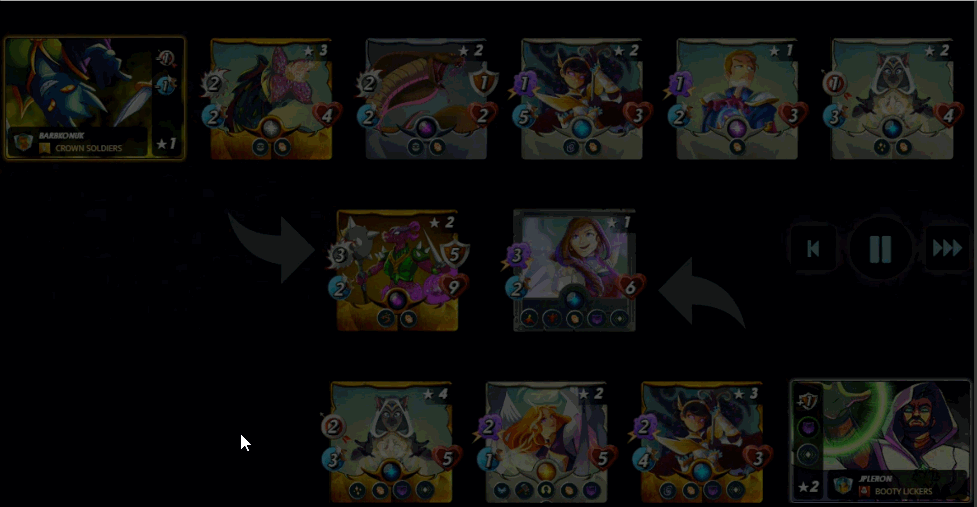 After my Captain Katie was killed in round 1, I already clicked the skipped button since I accepted the result already. But when it return to brawl homepage, it registered as a win. A little shock and surprise, I replay the battle only to find out that I was very lucky.
After Adelade Brightwing resurrected Captain Katie, Venari Crystalsmith manages to heal Captain Katie to give some additional health. And then on the next round, Captian Katie eliminated enemy's Djinn Chwala and triggers Bloodlust ability. It gives Captain Katie additional health and armor, and the added speed and damage helped Captain Katie to dealt a killing blow in the next round. The Resurrect and Captain Katie triggering the Bloodlust effect once was the turning point of that match.
---
This is the end of my post-analysis for the latest brawl fights. I skipped the two matches that I lost but if you still want to check it out, here is the link below:

If you want to know more about the game, you can visit their website at https://splinterlands.com?ref=jpleron
Splinterlands is a digital, collectible card game built on blockchain technology. It is similar in concept to games like Magic the Gathering and Hearthstone where you build up a collection of cards, which all have various different stats and abilities, and use them to battle other players in skill-based matches. By using blockchain technology, players can buy, sell, and trade their digital assets freely just as if they were physical cards, and all transactions are recorded publicly and immutably.
Use my referral link to register and I will give you some cards to help you start your own Splinterland journey.
---
---