SPLINTERLANDS | Why do I need to participate in guild brawl? | Advantage of having Gladius cards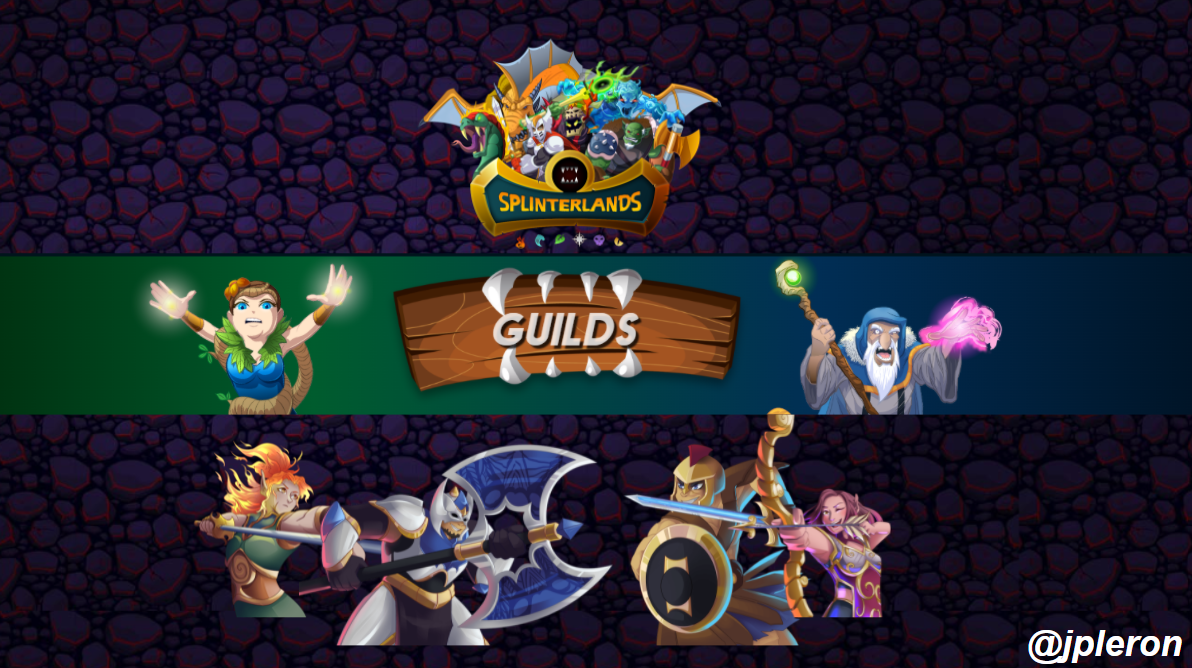 Hey guys, I'll start with a bit of an introduction to myself. I started playing Splinterlands last October of 2021. At first, I don't have any idea how important it is to be part of a guild in Splinterlands. I started browsing guilds which are open to everyone and I got so lucky to be able to join a guild with wonderful guildmates and the best guild leader.
There are a lot of benefits in joining guilds. From earning more DEC in ranked battles, to having discount at shops, participating in guild brawls and collecting special cards only available in guild shops.
Today, we will be focusing more on the guild brawls and Gladius cards.
Let's jump to the topic why do you need to participate in guild brawl


First of all, you need to be in a guild in order to participate. Second, your guild's arena must be at level 1 in order for your guild to participate in brawls.

Of course, in order to fully utilize the benefits of participating in brawls, your guild's store level must be at level 1 as well in order to receive merits. And store level 2 to purchase the Gladius card packs.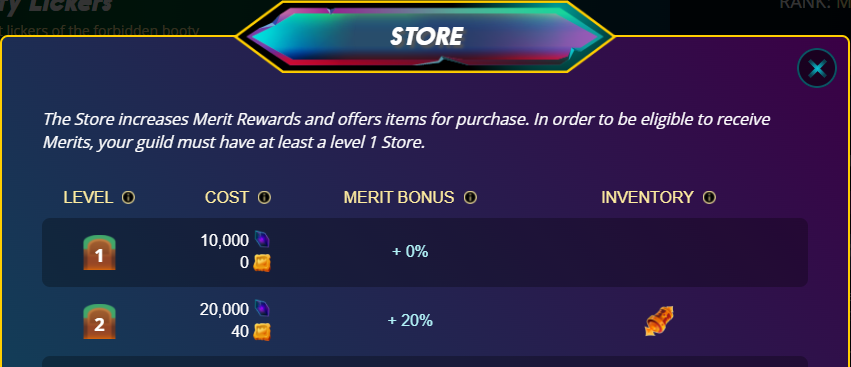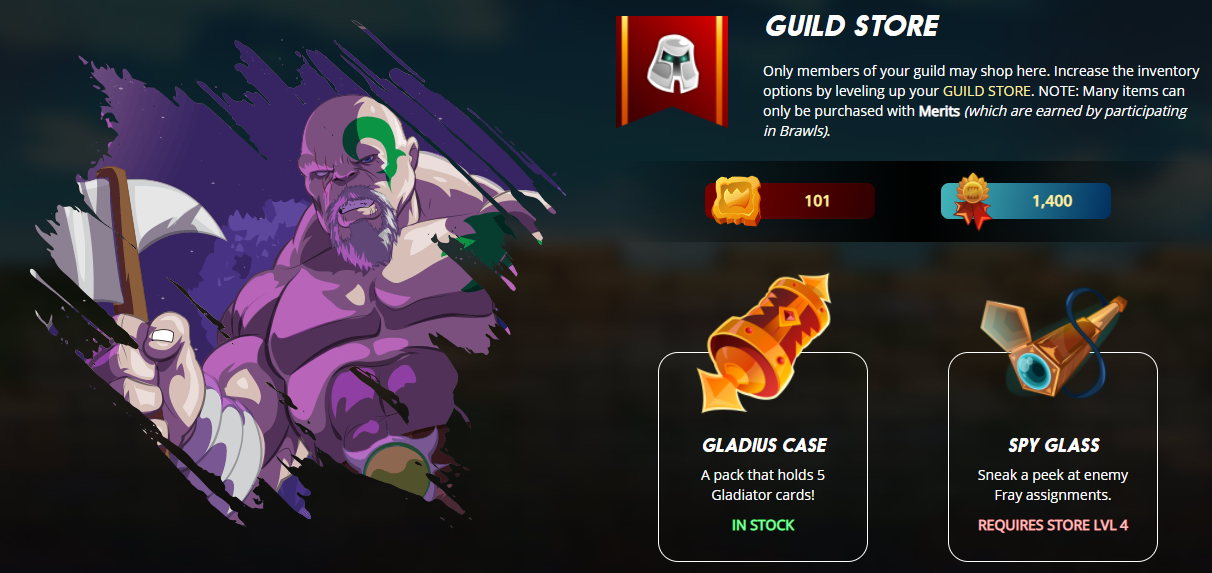 You need 2,000 merits in order to puchase a Gladius case. Each Gladius case will give you 5 Gladius cards.
So what is the benefit of having Gladius cards?
The power from each Gladius cards counts toward your overall collection power.
It helps you to achieve the power level requirement for each league tier (ex. 1,000 power to achieve Bronze 3 to recieve DEC rewards). The collection power also counts to your SPS Airdrop points. And if incase you needed DEC, you can always burn your Galdius card to receive equivalent DEC (although I won't recommended it).
You can also use your Gladius cards in brawl battles (well, Gladius cards are created specially for this purpose). All Gladius cards have the Bloodlust ability. Bloodlust gives the monster +1 to all stats when they are able to kill a monster. Only Gladius cards have this ability prior to release of Chaos Legion's Grum Flameblade.
Tip1: It is better to create your deck focusing with the Gladius card you will be using instead of putting Gladius cards as filler to your team. Also, only one Gladius cards can be use in each battle, so you need to pick the right one.
Tip2: When your opponent have Gladius cards and they can use it on brawl battle, try to avoid putting monsters will low HP like Furious Chicken to avoid opponent's Gladius cards from getting stacks for Bloodlust.
Using Gladius cards also comes with a price. You need to level up your Guild's Barrack in order to use Gladius cards. This is a priority if your Guild focus on brawl battles. Atleast level 2 in order to use Gladius upto Bronze level cap, level 5 for upto Silver cup, level 7 for upto Gold cap, and level 10 for max level cap frays.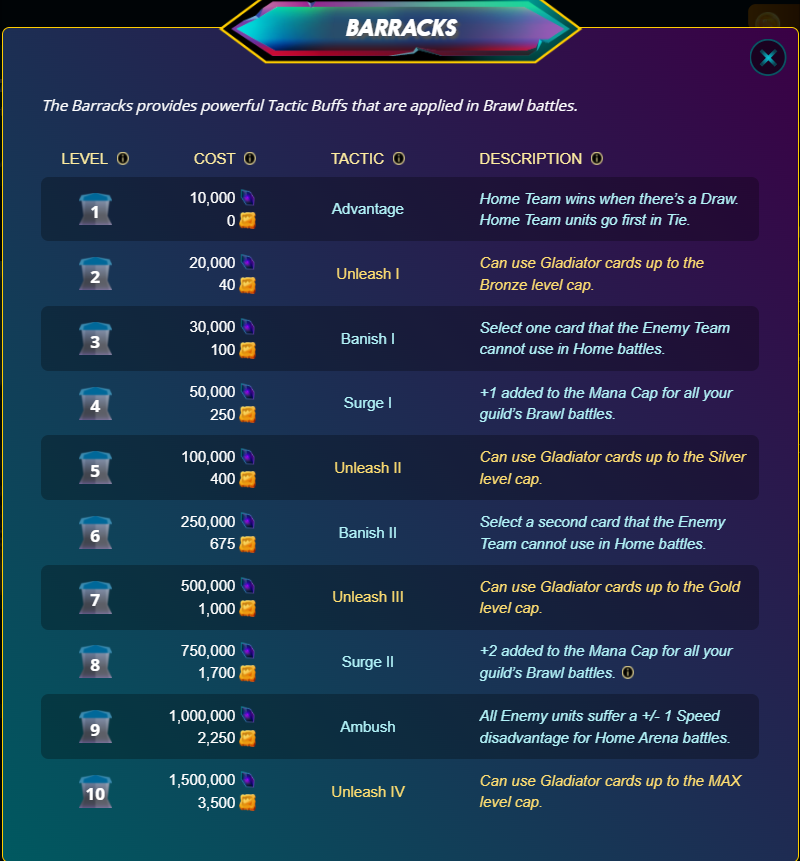 My Gladius Collections:
I have bought a total of 3 Gladius case since I started joining brawl battles. I don't have any gold foils yet but I do have a legendary one with 1000 power.


And here's the rest of my collection.


I had used it in my last brawl battle and it was OP. With the right combination of cards, it will definitely destroy your enemy. Unfortunately, I haven't saved my brawl battles but I promised to share my next brawl battles using gladius cards in my next post.
Oh, and if you want to know how much collection power my Gladius cards have in total (and any cards in particular), you can go to peakmonsters.com
A total of 1,610 CP for 15 cards.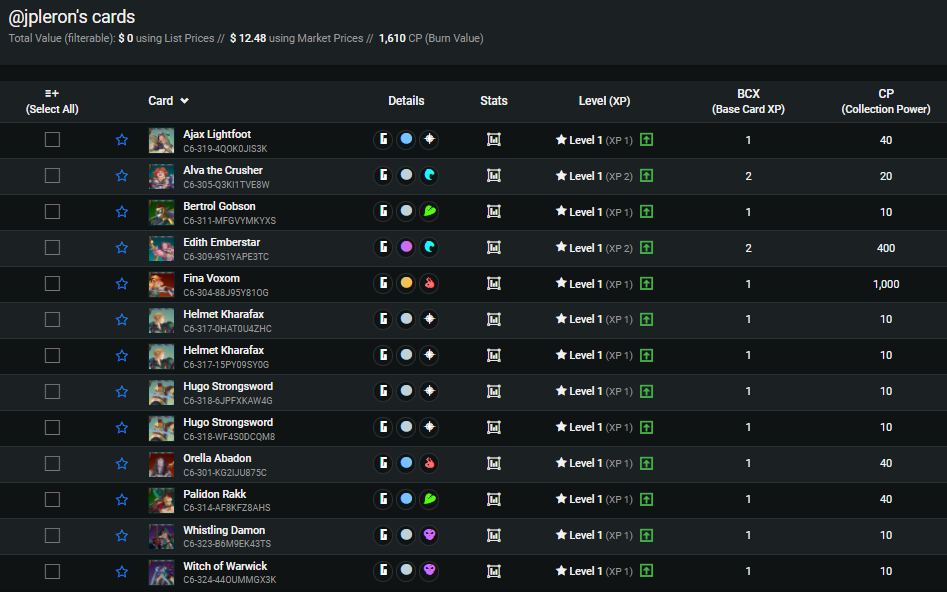 P.S: If you are looking for an active guild and can take higher frays with gold card requirements, comment down your ign. We are still full at the moment, but incase there will be vacancy, we can check your profile.


If you want to know more about the game, you can visit their website at https://splinterlands.com?ref=jpleron
Splinterlands is a digital, collectible card game built on blockchain technology. It is similar in concept to games like Magic the Gathering and Hearthstone where you build up a collection of cards, which all have various different stats and abilities, and use them to battle other players in skill-based matches. By using blockchain technology, players can buy, sell, and trade their digital assets freely just as if they were physical cards, and all transactions are recorded publicly and immutably.
Use my referral link to register and I will give you some cards to help you start your own Splinterland journey.
---
---