Splinterlands "Share Your Battle Challenge" with "Portal Spinner".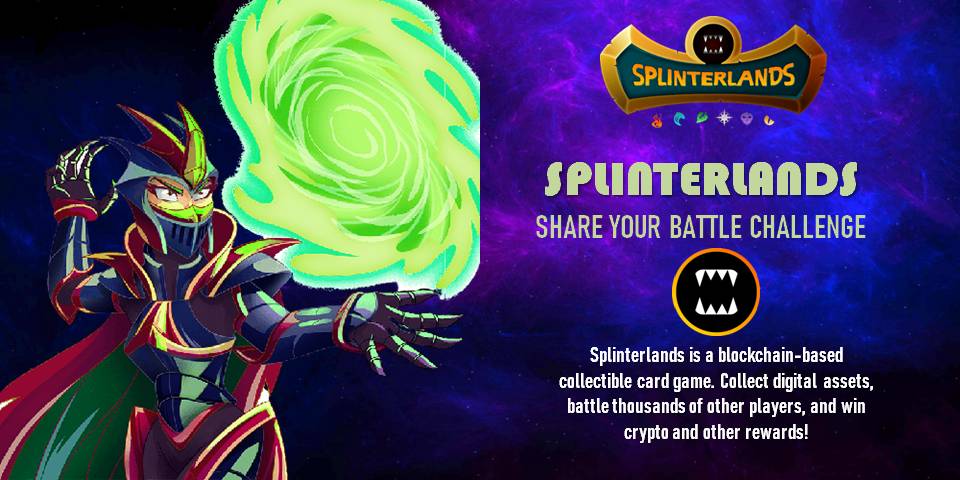 Splinterlands hosts a challenge named "Share Your Battle Challenge" where I have to share a battle about a specific theme given by Splinterlands and have to share the blog on other social media. Create amazing Splinterlands content on the HIVE blockchain. It should obviously be Splinterlands content. They want to reward our Splinterlands community. Make it look good and share it on other social media. Then share both the link of your hive content and your social media share post to the
@Splinterlands
Social Media Challenge contest post and they will curate your content. I am sharing the battles I did with "Portal Spinner".
Portal Spinner is a rare Life monster and a Chaos Legion monster. It costs 5 mana. It is also a ranged monster. I like this monster because of its high range damage, speed, and armors. It also has some abilities. At level one, it has 2 range damage, 2 speed, 1 armor, and 3 health. It has Scattershot ability at level one and Snare ability at level five. Portal Spinner is one of my favorite monsters and I sometimes use this monster when I play with life splinter and when the battle mana cap is high because it has a high mana cost. I love this monster just because of its high range damage, speed and ability.


Here are the battles. :)

Gameplay and Strategy
Link to the gameplay
In this battle, the combat rule was Standard and mana cap was 19. My summoner was Drake of Arnaak because it increases one armor to all the friendly units. I chose Life splinter and then chose Chaos Knight with its Shield ability at the first place. Then at the second place, I chose Time Mage with Slow ability. At the third place I chose Portal Spinner with Scattershot ability.
The opponent chose Thaddius Brood as summoner and at the first place he chose Cursed Windeku with its Thorns ability. At the second place he chose Carrion Shade. At the third place, he chose Death Elemental with the Snipe ability. At the fourth place, he chose Life Sapper with Life Leech ability. At the fifth place, he chose Xenith Archer.


This was our strategy and between the both strategies, I managed to win this battle and my strategy won.


Battle Result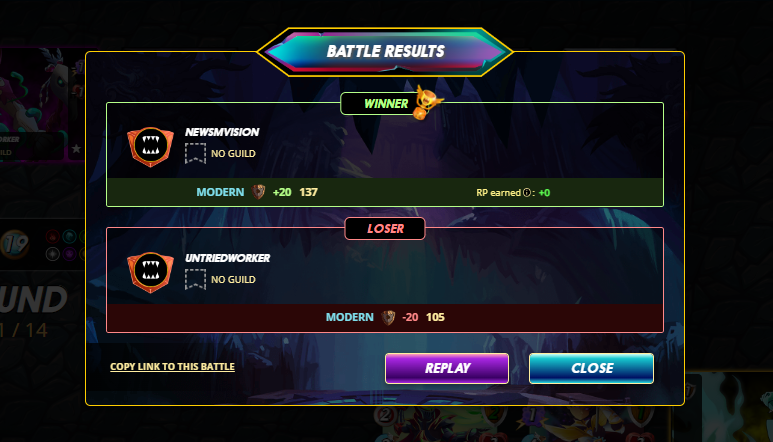 This was our strategy and between the both strategies, I managed to win this battle and my strategy won.
My strategy worked and I won this battle.
I like Portal Spinner because of its quite good damage, speed and armor but its mana cost is quite high.
---
---
Splinterlands is a blockchain-based collectible card game. Collect digital assets, battle thousands of other players, and win crypto and other rewards! Splinterlands is a decentralized, digital collectible trading card game built on blockchain technology. I have been with this Splinterlands more than three years and I have learned a lot playing this game. I have learned so many strategies on how to win battles. Follow my blog to know my strategies as I will now share my strategies regularly. If you are a new comer and want to join Splinterlands, here is my referral link. Come, join and play with us and start earning digital assets by playing this amazing game. You can also trade cards here. You can find here NFTs also.
My referral Link
---
---
THANK YOU
---
---