There they are.... My 111 Chaos Legion Packs

Just 5 days ago i was writing this post about that I was having way too much FOMO for the Chaos Legion card release that I had decided for myself that I was going to buy the 100 packs.

Once you have the idea in your mind there is no way to get it out right? And I know it was all ridiculously expensive and it all may not be worth it, but you just don't really know.

And most important of all... Apparently playing cards is my hobby and having a hobby is allowed to cost you something right?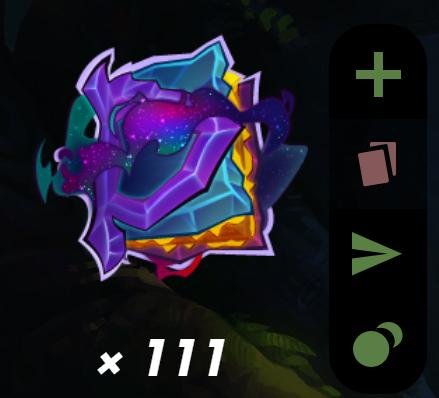 And the funny thing actually is...
It didn't really cost me anything. Sure it took me a lot of HIVE, but this was all HIVE made from blogging and from gaming. So what it actually costed as just my time, and that was time with gaming and writing, aka hobby. You see... I don't feel guilty at all.
But I feel a lot better now I have the cards in my pocket waiting to be opened. Currently the market is having a bit more of a troubled time and Splinterlands assets have proved to remain quite stable in dark days I found over the last couple of months.
So even if the price of HIVE would drop, these packs most likely still will remain in good value.




The road towards the 100 packs
So what I did was I took all of my liquid HIVE that I owned (ouch, but on the other hand, it was meant to use in these kinds of ways for a rainy day), and took a very good chunk of my SPS holding which I had collected from staking 2000 SPS and sold them for HIVE. I also used a lot of earnings from playing Rising Star and bought no cards there this week, but transferred them to hive-engine which I think more playing are doing since the price of Starbits is dropping like a waterfall.
I also took all of my DEC earnings and played some additional rounds of Splinterlands to get some more HIVE from this.

The biggest move on actually doing this was the mental move. It is just a lot of cash honestly. When I looked at the recent transactions I bought VOUCHER at price of 21.9, 22.0 and 22.3 Hive per voucher.
Yes that is more than 2000 HIVE just for these vouchers alone and then I also payed 669 SPS for the packs itself. All of this is a tremendous amount of $$ in the end which hopefully will pay off, and otherwise it was just a fun experience.


How do you import vouchers from Hive-engine into Splinterlands?


This was a question for me honestly, and I had to ask around and look around in Discord for the answer, so here is a little help for you.
As you have your vouchers in hive-engine you need to import them into Splinterlands to actually use them. You have to go to you 'Inventory' section for this and I had never seen this before.




When you go to you cards section in the left upper corner of your page then you get the overview of your cards assets. Then all the way to the right side there is a little switch called inventory next to the element section.
Flip the switch to the right part and then you can find your inventory. Scroll down to where you find your voucher assets and use 'transfer'. here you can choose to transfer to a different player or transfer in from hive-engine.
So now you know...It's not that difficult, but with these amounts of cash you don't want to be fumbling around.
Probably the price of voucher with drop a little bit more in the next days before going up again, but on the other hand..Already owning these packs will give me some additional SPS as well which will be neat.
I'm looking forward to the opening bonanza in 3 weeks!
---
---