This goldfoil legendary card solved my DEC rental issue for a good one
Since I have been using Splex.gg for my Splinterlands rentals the dynamic of my stack changed quite a bit actually. In the beginning it was a lot of finding out what was the right balance in playing and renting out for me, but now that seems to be a lot better after a while of finetuning here and there.
For the people who arent familiar with Splex, this is a bot form or rental account which automatically looks for the best price to rent out your cards in Splinterlands.







As you can see the daily rewards of DEC for renting out a bit more than 100K DEC power really is a good deal. Splex takes 10% of your earnings, it feels more than fair since I am doing nothing to receive this at the moment.
But what I had kind of forgotten is that when you DEC power reduces you are also not able to play all levels anymore. If you are a big player this isn't really a problem, but when you are a Gold player like I am (a bit of diamond here and there) that means you get kicked out of your league and you are stuck in the lower leagues all of a sudden. And then the question rises, where is the balance on where you want to play versus the reward ratio when you also take your rental earnings into consideration.
And then this happened....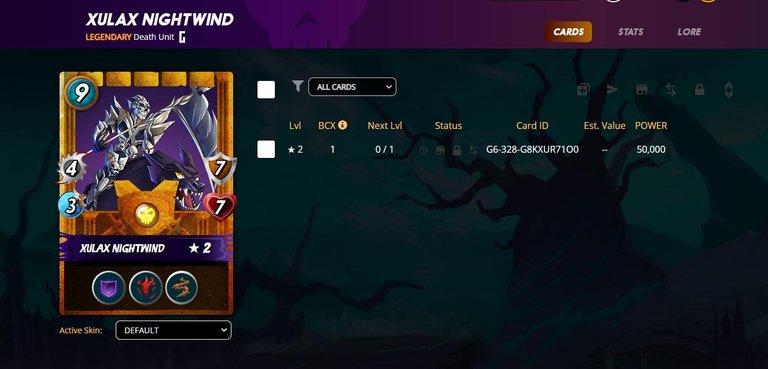 In the most recent brawl I played with my team Immortal Gods 2 we again for some merit rewards as we always do and I decided to buy to packs of gladius cards again. Gladius cards can not be put on the market, they are stuck to your account.
In the opening of my gladius packs this hero came out

Wow a Goildfoil legendary brawl card. Aint that something else?
And what is actually the good thing at the moment. These Gladius cards can not be rented out because they are tied to your account, and that means this Xulax Nighwind all of a sudden gives me and additional 50.000 DEC power to play with. That means levelling up in the leagues again and still getting to keep my rentals going.
But now I realize there are only 27 of these cards on the market and actually it is an extremely rare card, I start to wonder more and more what the usecase of the Gladius cards will be.
Because ofcourse I will use it in a brawl, this is truly an awesome brutal card to play with. But I am curious about the bigger picture regarding these Gladius cards and how this baby will benefit me more in the end ;)
Would it be worth to sell my whole account for this card? Which is the same as my blogging account? That is a big hassle for one thing.
Thoughts please!
And do try out these rental services like Splex.gg and don't let your cards idle while you are away. This renting out if giving me another Riftwatchers pack every two days.
Let your stuff work for you!
---
---