SPLINTERLANDS: SHARE YOUR BATTLE WEEKLY CHALLENGE! (ft. MYCELIC SLIPSPAWN)
How is it going, folks? @kaylerfaye here and I hope this blog finds you well. Today's blog will be another entry to the "Share Your Battle Weekly Challenge! brought to us by @splinterlands, this time featuring the MYCELIC SLIPSPAWN. I'll start by sharing the lore of the card with you then we will talk about its stats, and showcase some battles. I'm also going to give some strategies on the rulesets in play during the matches. So why don't we dive right in to know more about this card let's go!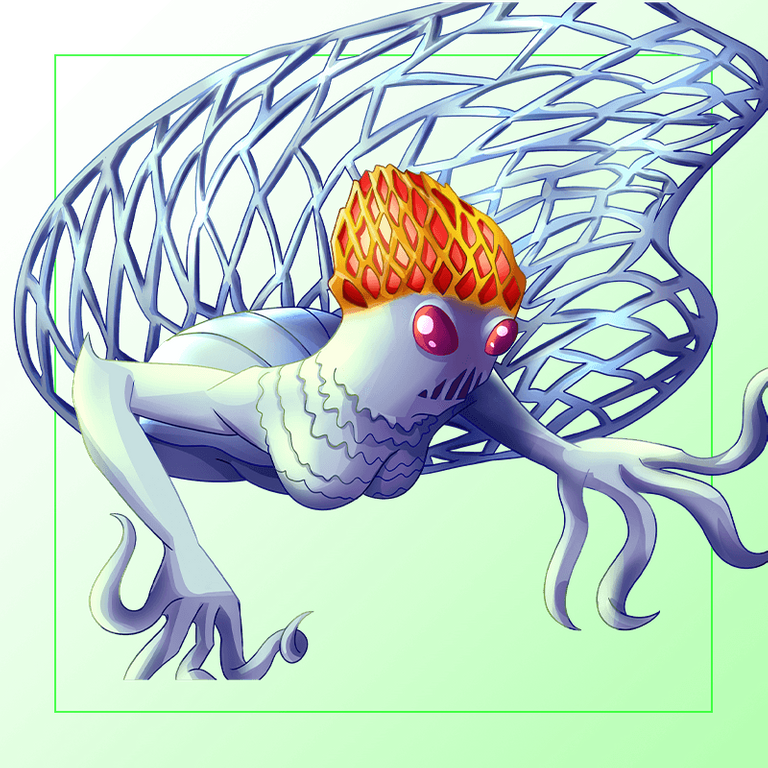 Mycelic Slipspawn was first found on the edges of the swamps of Praetoria, in areas where the fetid waters meet with the forests and jungles. It is highly toxic and grows to a substantial size. Death is uncommon for those who touch its fibrous body however, the side effects of its toxins can cause a long list of illnesses and diseases, leaving its victims severely debilitated.
             When the chaos portal opened and the creeping plague infected the land, the Slipspawn struggled to endure, being completely intolerant to the deadly pandemic. But then Queen Mycelia came, she touched the Slipspawn as she passed it by and it drank from her power, enduring energy that ran deep and defiantly cast the pestilence of the chaos taint aside. The Slipspawn pulled its roots free from the ground and eagerly danced across the leafy forest floor after her, desperate to follow its savior and stand by her in the times to come.
---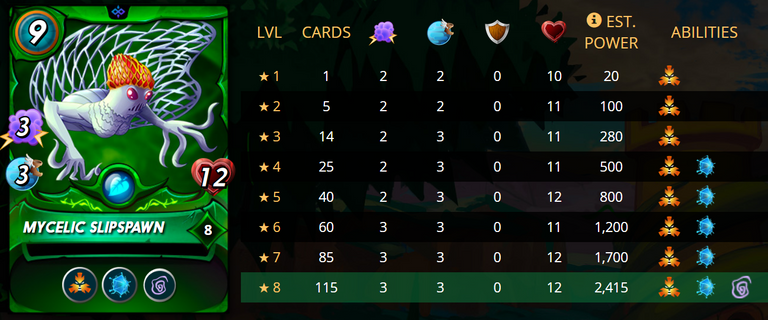 Taunt
Forces opponent monsters to target the card possessing this ability (if they are able to). Except for monsters with Scattershot ability
---

Forcefield
This Monster takes only 1 damage from attacks with power 5+
---

Slow
Reduces the Speed of all enemy Monsters by 1. (Multiple Slow on your side of the field stack.)
---
Mycelic Slipspawn is a 9-mana Rare Tier Card that was added to the Earth deck after the release of Chaos Legion Edition. It is a taunting tank with 2 Magic-attack, 2 Speed, & 10 HP at level 1 making it very useful even in the bronze league. When moving up to Silver it would be advisable to have her at level 4 because she unlocks the ability Forcefield which further boosts her tankiness. In Gold, she gets extra magic damage at level 6 and when maxed, she unlocks a utility ability Slow. Now let's watch some battles to showcase this card.

Battles Break Down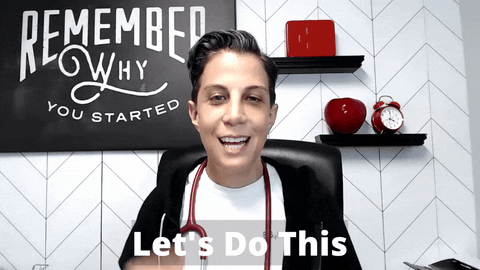 BATTLE #001
Rulesets In-play

Lost Legendaries
Legendary Monsters may not be used in battles.
---
RULESET TIPS
There are no special tricks for this ruleset.
---
             Mycelic Slipspawn synergize well with the new Chaos Legion Summoner Obsidian. Obsidian buffs +1 Magic attack which benefits Mycelic Slipspawn. Not only it taunts and tank but also contributes to the overall damage output of the team. Thanks to her, Unicorn Mustang would've taken 20 damage at most which I doubt he can survive.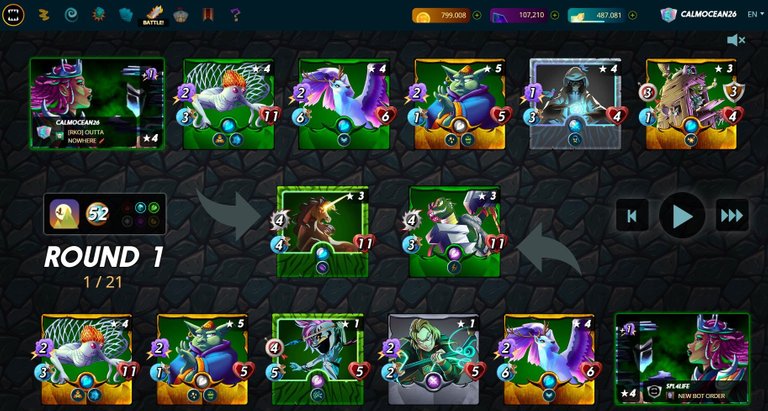 ---
BATTLE #002
Rulesets In-play

Healed Out
All healing abilities are removed from Monsters and Summoners.)
---
RULESET TIPS
You can skip monsters and summoners having Affliction.
The ability Life Leech is not impacted by this ruleset.
---

Melee Mayhem
Melee attack Monsters can attack from any position.
---
RULESET TIPS
If you have melee monsters in the back-line with Sneak or Opportunity, those abilities take precedence.
Select a summoner that increases melee attack or a summoner that reduces melee attack of enemies plus a tank with high HP & Shield.
Abilities such as Thorns , Inspire , Blast , Retaliate , Double Stike , & Protect work very well in this ruleset.
---
             One of my rules of thumb when special rulesets that allows certain monsters to attack from anywhere such us, Equal Opportunity , Super Sneak , Melee Mayhem & Target Practice is in-play is to use Taunt monster like Mycelic Slipspawn and combo it with Scattershot monsters whenever possible. So that while Slipspawn is busy redirecting all attacks to her, Scattershot monsters wreck havoc randomly since the ability goes around Taunt in case my opponent uses it too. Hoping to do enough damage before Slipspawn dies.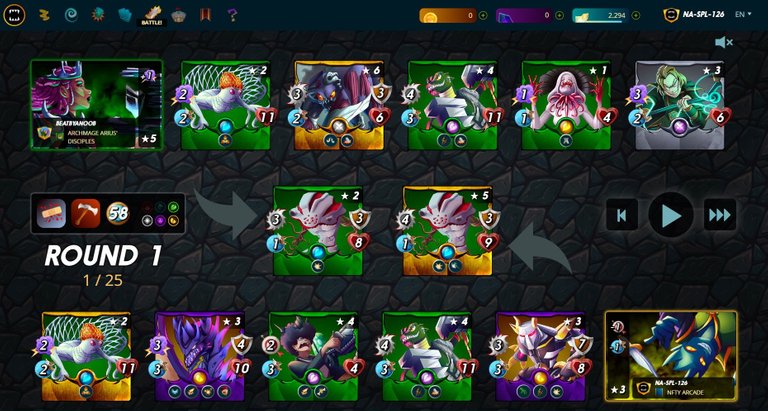 ---
BATTLE #003
Rulesets In-play

Weak Magic
Magic attacks hit Armor before reducing Health.
---
RULESET TIPS
Abilities such as Protect , Repair , & Rust are useful in this ruleset.
Keep a tank with Shield ability to help mitigate incoming damage.
Use attack debuff abilities as you see fit to reduce your opponent's damage output;

Demoralize - Reduces the Melee attack of all enemy Monsters by 1 (Multiple Demoralize on your side of the field stack.)
Headwinds - Reduces the Ranged attack of all enemy Monsters by 1 (Multiple Headwinds on your side of the field stack.)
Silence - Reduces the Magic Attack of all enemy Monsters by 1 (Multiple Silence on your side of the field stack.)
---

Healed Out
All healing abilities are removed from Monsters and Summoners.)
---
RULESET TIPS
PLEASE REFER TO BATTLE #002
---
             Although Magic-attack has a disadvantage in this ruleset. I still decided to use Mycelic Slipspawn here for her Forcefield ability. That is because I saw my opponent use monsters with 5+ damage output in his match history and so I assume he will fit in a few of them given the mana pool. But I was surprised because he set up a bronze-level lineup.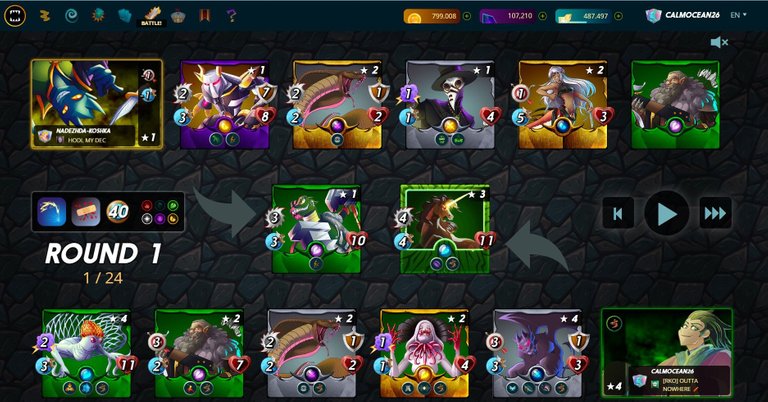 ---
BATTLE #004
Rulesets In-play

Reverse Speed
Monsters with the lowest Speed attack first and have the highest chance of evading attacks.
---
RULESET TIPS
Try to pick monsters with 1 speed because they have the best chance of evading Melee and Ranged attacks.
Beware of monsters with Enrage and Last Stand, these abilities increase speed when triggered.
Make sure to avoid Speeding yourself up with the ability Swiftness or slowing down your opponent with the ability Slow.
---

Earthquacke
Non-flying Monsters take 2 Melee damage at the end of each round.
---
RULESET TIPS
Use monsters with Flying or Heal, but if you are unable to choose such monsters, use monsters that have high HP and high damage.
Put up some armored monsters if unable to use the Flying ability. The damage from the earthquake ruleset is considered melee damage therefore, armor takes the hit first before your monster's HP.
Place your self-healing unit at the back so that it stays healthy even when the Earthquake has done enough damage to both sides.
The Summoner Brighton Bloom directly counters this ruleset.
---
            I took advantage of the Reversed Speed ruleset here and decided to used 1 Speed monsters. Since the Earthquake ruleset is in play I expected my opponent to use High mana flying monsters, which makes using Mycelic Infantry the best front tank because of his Giant Slayer ability. However, he is vulnerable to magic damage. To solve that, I placed Mycelic Slipspawn in the last position to redirect my opponent's attack. That way Infantry would survive a Lil bit longer while dealing damage.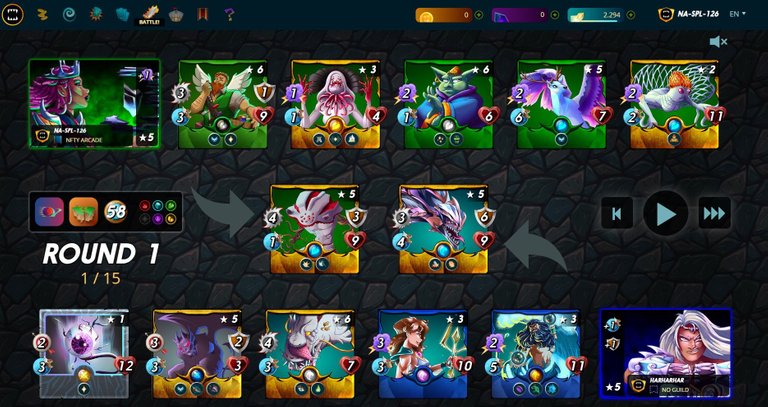 ---
BATTLE #005
Rulesets In-play

Spreading Fury
All Monsters have the Enrage ability. Enrage monsters will have increased Melee attack and Speed when damaged. Values are multiplied by 1.5 (rounded up)
---
RULESET TIPS
Melee monsters benefit a lot in this ruleset. Try using monsters that have Sneak & Opportunity abilities. If their enrage gets activated, these monsters will deal tons of damage to your opponent's backline.
Placing a melee monster with Retaliate ability at the last position is a good counter-measure in general in this ruleset. When an enraged monster's retaliate ability triggers, it can potentially 1HitKO the attacker back.
Play around using the Piercing ability too as it will allow your enraged melee monster to pierce thru armor.
---

Holy Protection
All monsters get the Divine Shield ability. The first time the Monster takes damage from a monster it is ignored. It works in Earthquake but NOT on the Noxious Fumes ruleset.
---
RULESET TIPS
Take note, monsters that normally have this ability do not get it twice.
The trick to winning in this ruleset is to fill all 6 slots of your lineup and use monsters with Blast and Double Strike.
Try to use a monster or summoner that has the Resurrect ability to use this ruleset at its maximum potential. Monsters resurrected within this ruleset get Holy Protection reset upon revival.
---
            
My fire deck in this Scholarship account is not that strong and since there were only 2 Splinters available, I went for the Earth deck coz I'm more comfortable using it than fire. Watch how long Mycelic Slipspawn tanked damage before she got taken down.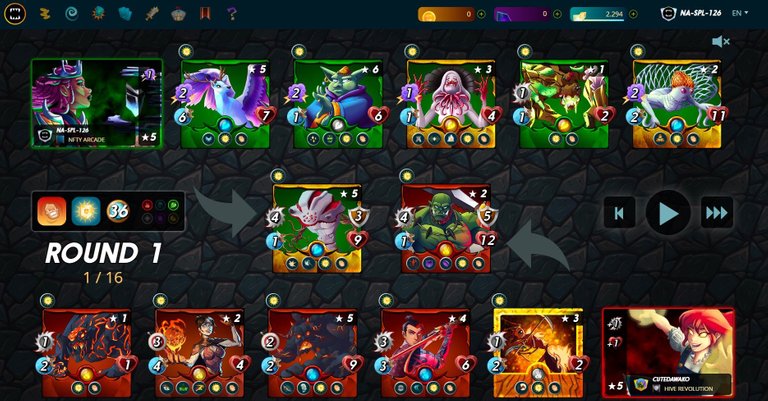 CONCLUSION
             Mycelic Slipspawn is one of the monsters that made Taunt Meta so popular again. Mycelic Slipspawn is a Magic-attack type monster meaning she can hit you from anywhere unlike the OG taunt monsters that were all melee. So the addition of Mycelic Slipspawn & Wave Brood is meta redefining. That made them a staple in high-mana cap battles which is so annoying to deal with if you're on the receiving end.

            I think the devs notice that and released a new ability last year called SCATTERSHOT to potentially counter taunt. But it doesn't seem to be as effective as they thought would be. So in order to nerf Taunt meta once and for all, the devs are about to unleash a new ability called FURY along with the release of Rift Watcher Edition. I'm curious to see how this new ability shifts things out. Will it finally put taunt meta in check? We will find out. Maybe I'll try to create separate content for that but until then let's enjoy Mycelic Slipspawn's dominance.

Scattershot
Range & magic monster that has this ability hit a random enemy target until it gets to the 1st position. Monsters with this ability cannot be taunted.
---

Fury
Monster with this ability deals double damage against targets with the Taunt ability

             There you have it guys, my entry for this week's challenge. As always, if I missed out on something or you have some thoughts or suggestions you wanna share kindly do comment it down below or simply comment "Up" just to let me know that people read this. Also, if you find this article helpful or entertaining, a like & follow would be awesome. Upvotes will also be very much appreciated 😍😘. May God bless us all. Thank you and I'll catch you on the next one.

             Are you new to Splinterlands? You can use any of my referral links below to register for the game. I would gladly send some DEC to my referrals to help you get started.

https://splinterlands.com?ref=calmocean26

https://splinterlands.com?ref=kaylerfaye

https://splinterlands.com?ref=jamwhiz
CREDITS
Every Splinterlands-related element in this blog
Text Divider
Thumbnail Background
---
---