Share My Battle - Legionnaire Alvar [EN - ES]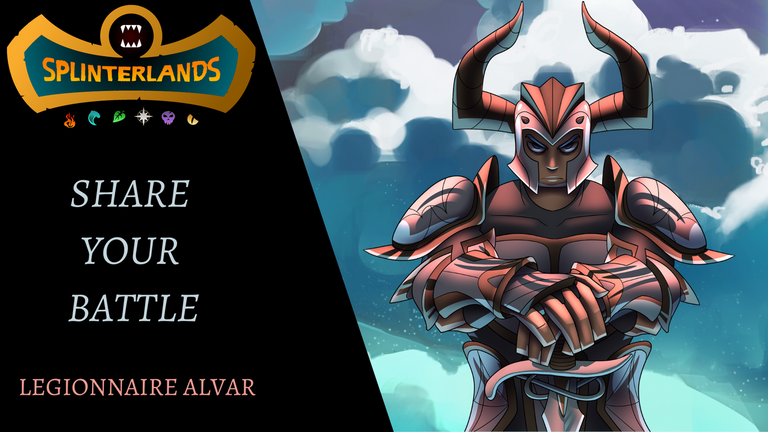 Hello friends, this card has really impressed me, maybe that's why it is a legendary Legionnaire, it consumes 9 mana but it is totally worth it, I will play until I can find a game in which I can use this fabulous strong card in all senses. Best tank I've seen so far.
Hola amigos esta tarjeta me ha impresionado de verdad, tal vez por eso es una legendaria Legionnaire consume 9 mana pero vale la pena en su totalidad, jugare hasta que pueda encontrar una partida en la cual pueda usar esta fabulosa tarjeta fuerte en todos los sentidos el mejor tanque que he visto hasta el momento.
This lore is 100% great, it shows that they dedicated their time to such a wonderful warrior, I share a part
"The Chaos Legionnaires are ruthless warriors and the Chaos Legion's elite fighting force. Alvar Veralyn was conscripted into their ranks at a young age after his family was slain and his world conquered by the Chaos Legion. The harsh conditioning that all conscripts receive nearly broke the child, but in the end, his old, easy way of life was subsumed by the desire for battle and conquest. Alvar dedicated himself to his training, intent on reshaping his mind and his body until he had no equal on the battlefield. Eventually, he rose to the rank of General and now stands as leader of the Chaos Legionnaires.
Alvar is a most imposing sight on the battlefield. His armor is imbued to withstand the strongest of magical attacks, and even the mightiest of foes is no match for his massive, two-handed sword, which some say was forged in the Realm of Nightmare."
Este lore es genial al 100% se nota que le dedicaron su tiempo a tan maravilloso guerrero comparto una parte

"Los Legionarios del Caos son guerreros despiadados y la fuerza de combate de élite de la Legión del Caos. Alvar Veralyn fue reclutado en sus filas a una edad temprana después de que su familia fuera asesinada y su mundo conquistado por la Legión del Caos. El duro condicionamiento que reciben todos los reclutas estuvo a punto de quebrar al niño, pero al final, su antigua y fácil forma de vida quedó subsumida por el deseo de batalla y conquista. Alvar se dedicó a su entrenamiento, con la intención de remodelar su mente y su cuerpo hasta que no tuviera igual en el campo de batalla. Eventualmente, ascendió al rango de General y ahora se erige como líder de los Legionarios del Caos.

Alvar es una vista más imponente en el campo de batalla. Su armadura está imbuida para resistir los ataques mágicos más fuertes, e incluso los enemigos más poderosos no pueden competir con su enorme espada de dos manos, que algunos dicen que fue forjada en el Reino de Nightmare".
now to battle
Alignment.
As a summoner I chose the dragon, it gives +1 defense to your allies. It has always seemed like a good option to me when you have allies without a shield.
First Position: legionnaire alvar good attack good speed strong defense medium life has the ability void armor that makes monsters with magic attack first have to remove the shield before they can go to life points it is a great attack although I am still testing the strategies to see with which allies it is more effective, but it definitely goes in the first position.
Second Position: remember that in the bronze league there is not much mana available, so I had to choose fungus fiend as a sacrifice to last longer in battle since you don't need mana to use it, this allows allies with magic or ranged that They are at the end have one more round to attack.
Third Position: mycelic morphoid is the same as fungus fiend except that to use it you need 1 mana. Sometimes this strategy works and more when I use the ones that have the opportunity ability.
Fourth Position: khimer princess is the same as mycelic morphoid only that it can attack from a distance and with magic it is very effective against tanks with shield ability, thorns, or high shields.
Fifth Position: goblin psychic always the furthest from the first positions although sometimes I don't know where to place it because of those with opportunity or sneak ability, but you always have to take care of the monsters that provide the heal or tank heal ability so it is very precious This card for me was intended to keep the tank alive longer.
Sixth Position: It's always good to put a monster with ranged last because they can't attack melee with the little mana I have left. I chose a naga assassin, she has good speed, I like that about her, the one who hits first can hit can win the match.
Ahora a la batalla

Alineacion.

Como invocador elegi al dragon regala +1 de defensa a tus aliados siempre me ha parecido buena opcion cuando tienes aliados sin escudo.

Primera Posición: legionnaire alvar buen atauqe buena velocidad fuerte defensa mediana vida tiene la habilidad void armor que hace que los monster's con ataque de magia primero tengan que eliminar el escudo antes de poder ir a los puntos de vidas es un gran ataque aunque aun estoy probano las estrategias para ver con que aliados es mas efectivo, pero definitivamente va en la primera posición.

Segunda Posición: recuerden que en liga de bronce no hay mucho mana a disposición, asi que tuve que elegir fungus fiend como un sacrificio para aguantar mas en la batalla ya que no necesitas mana para usarlo, esto permite que los aliados con magia o ranged que estan al final tengan una ronda mas para atacar.

Tercera Posición: mycelic morphoid es igual que fungus fiend solo que para usarlo se necesita 1 de mana a veces esta estrategia funciona y mas cuando uso los que tienen la habilidad de opportunity.

Cuarta Posición: khimer princess es igual que mycelic morphoid solo que ya este puede atacar a distancia y con magia es muy efectivo contra tanques de con habilidad shield, thorns, o escudos altos.

Quinta Posición: goblin psychic siempre lo mas lejos de las primeras posiciones aunque a veces no se donde colocarlo por los que tienen habilidad opportunity o sneak, pero siempre hay que cuidar a los monster que proporcionan la habilidad heal o tank heal asi que es muy preciada esta tarjeta para mi la intencion era que se mantuviera mas tiempo vivo el tanque.

Sexta Posición: Siempre es bueno colocar al ultimo un monster con ranged debido a que no pueden atacar cuerpo a cuerpo con el poco mana que me queda elegi a naga assassin tiene buena velocidad eso me gusta de ella el que pega de primero puede golpea puede ganar la partida.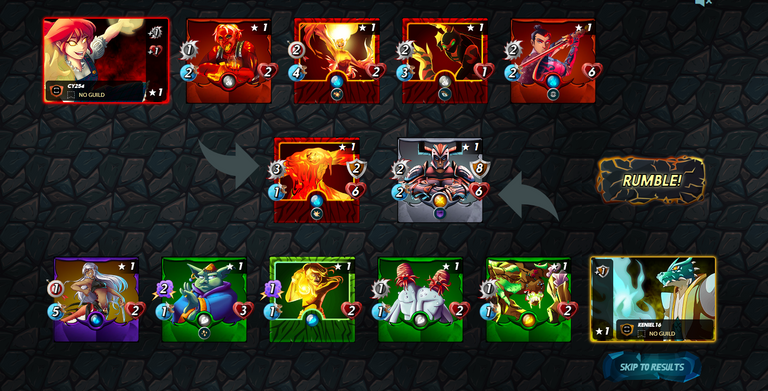 Here is the link to see the complete battle:
Aqui el enlace para ver la batalla completa:
https://splinterlands.com/?p=battle&id=sl_9810f2a40a1b70447a4bb2348dd9d26c
My strategy was improvised around Legionnaire alvar, I tried several times to play but with so much mana that the monster consumes, it was difficult to make an adequate strategy, but I would change the tank heal for the repair ability because this tank has more shield than life and they will always hit the shield before life so it makes sense.
Mi estrategia fue improvisada entorno a Legionnaire alvar, probe varias veces jugar pero con tanto mana que consume el monster, fue dificil hacer una estrategia adecuada, pero cambiaria el tank heal por la habilidad repair porque este tanque tiene mas escudo que vida y siempre golpearan el escudo antes de la vida asi que tiene sentido.
Statistics
The statistics I see that everything is interesting, it is also for a higher league with so much use of mana the giant killer ability does double damage to those who have mana of 10 and up, demoralize reduces the attack of all monster enemies and deathblow does double of damage if there is only one monster on the enemy team, if you manage to raise this card to the maximum level that you only need 11 cards is brutal for the big leagues.
Estadisticas

Las estadisticas veo que todo es interesante ademas es para una liga mayor con tanto uso de mana la habilidad giant killer hace doble de daño a los que tienen mana de 10 en adelante, demoralize reduce el ataque de todos los enemigos monster y deathblow hace el doble de daño si en el equipo enemigo solo existe un solo monster, si esta tarjeta logras subir al nivel maximo que solo necesitas 11 tarjetas es brutal para las grandes ligas.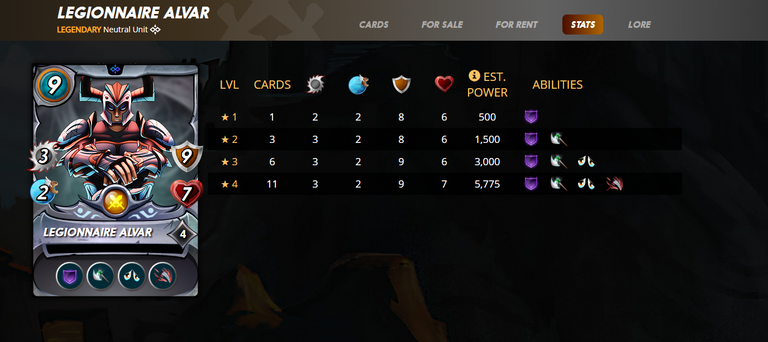 Market
Currently it's worth $3.90, although I didn't plan to buy it to play, it's great as I said but it exists at my level.
Mercado

Actualmente vale 3,90$ aunque no estaba en mis planes la compre para jugar, es genial como dije pero en mi nivel existe.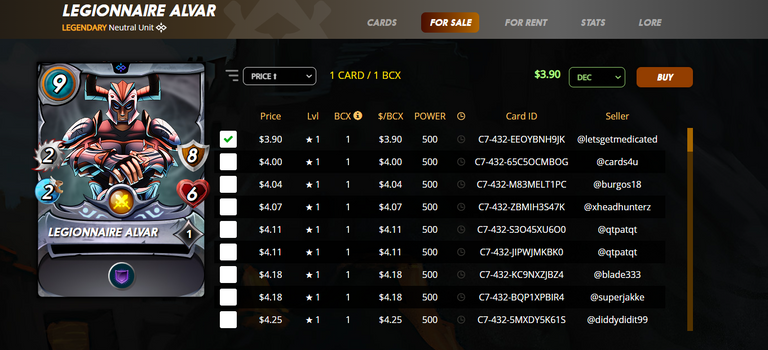 Translated with www.DeepL.com/Translator (free version)

Link:SPLINTERLANDS
---
---