KGL's All-In-One #BrawlReport, PIZZA 1 Donation Drive, and More 🥈 Brawl Ending 10/20/2021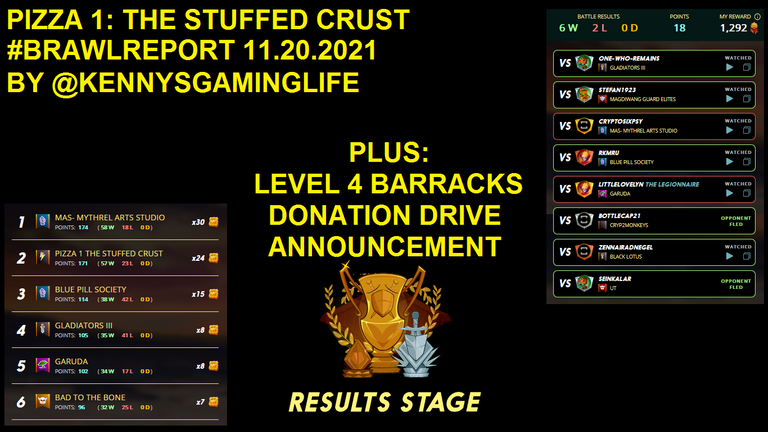 Another week, another brawl, another top 3 placement for the @Hive.Pizza guild!
I've got a whole lot more than usual in store for you today, folks! Besides the standard brawl breakdown that I give, I've got some rewards to give out from the brawls, and we're starting a donation drive to get our Barracks to level 4.
This is a great chance for members of PIZZA 1 to support their guild, and get some Chaos Legion packs.

Overall Performance
Well this was a first. I entered all of my teams a bit earlier than usual (12 hours before finish in this case), and not a single one of my opponents had entered theirs yet. It was really anticlimactic for me, as I was going through.

I endeavored through, without the fun of watching a single battle out of the 8 teams that I entered, and had to wait until the next morning when I woke up to actually see my results, or the guild's as a whole.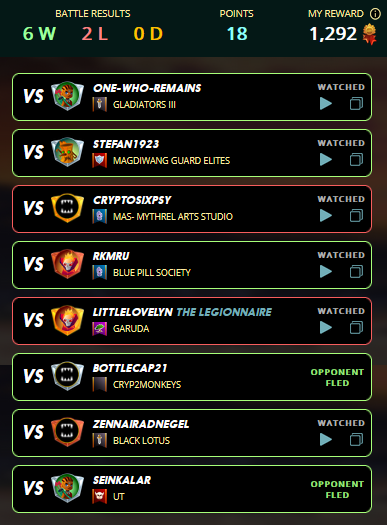 As always, I was swinging for un-defeated, but I'll settle for 7-2. My only losses were to the representative of the 1st place guild, and the guild that had one of the best W:L records, but not enough players to get the points they needed to win the brawl.
The real question is, would I have done better or worse if I hadn't sprung for a bunch of rentals?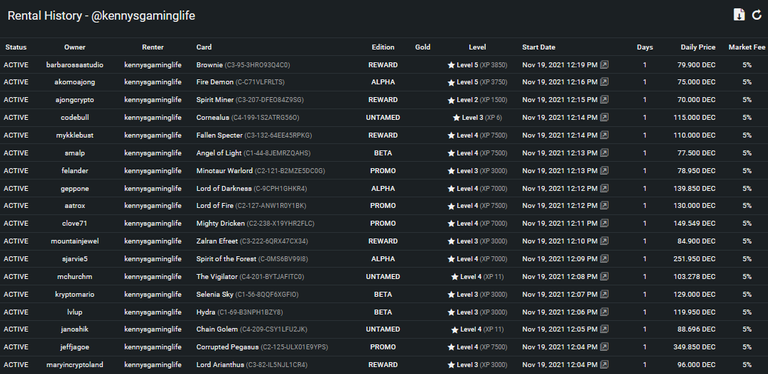 Battle #1 - WIN
Any time I see the Holy Shield rule-set, Yodin Zaku always jumps into my mind as the first option, and in this case I was excited to go a little magic heavy as well. Of course... my opponent had all level 1, mostly starter, cards... so it was a pretty one-sided battle.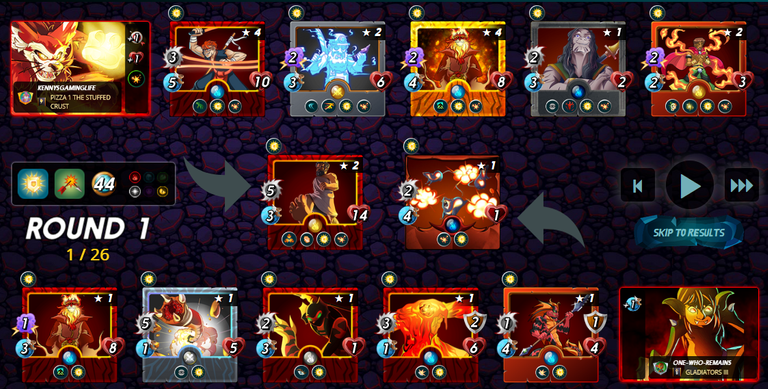 Battle #2 - WIN
I went far too top-heavy on this battle, because Equalizer is most beneficial with smaller monsters. That, combined with my opponents use of Mylor Crowling for his thorns, seemed like it was going to get the W there at first, but having my front tank with self heal, in addition to a healer in back, made all the difference. Their sneak monsters also wasted multiple turns attacking my chicken, and that certainly helped.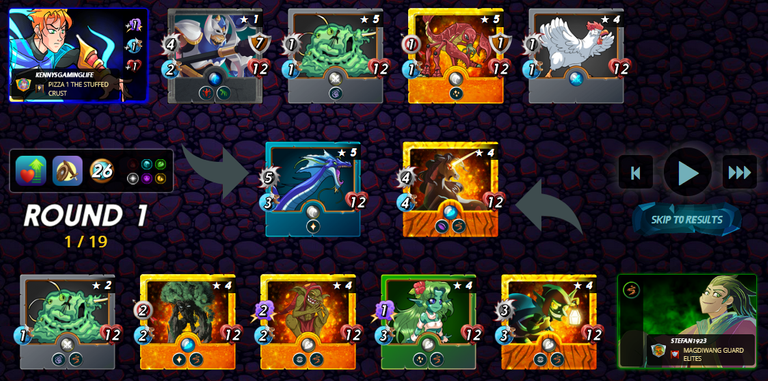 Battle #3 - LOSS
Well, on this poison round, my monster with Immunity was nowhere near as good as theirs.. and unfortunately that same ability stops Mimosa's affliction from mattering. It looked like it was going to be close there for a minute, but it never was.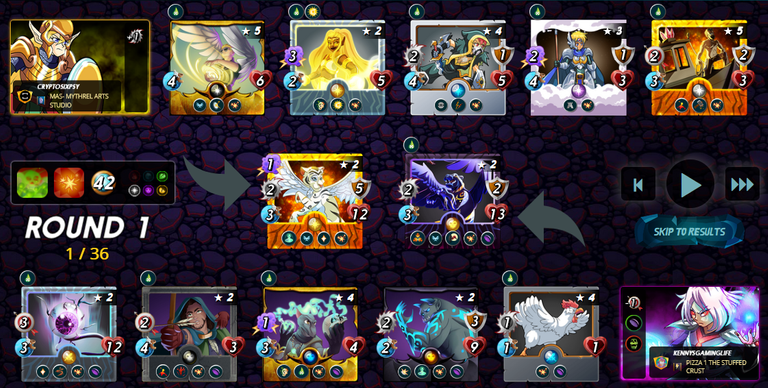 Battle #4 - WIN
This was my match against someone from BPS, and the combination of Poison and No Healing certainly made for an interesting challenge. I decided to turn down their monsters as much as possible, eat them up quickly with Blast, and it worked out well. The bonus Cleanse from that Zalran Efreet that I rented was a wonderful addition.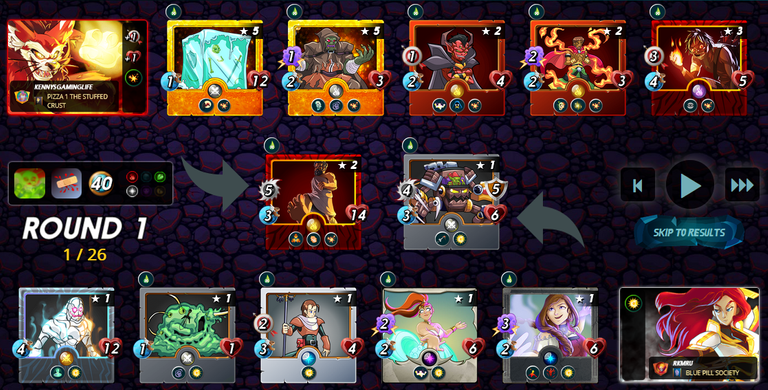 Battle #5 - LOSS
Lots of Blast in this brawl... I was feeling really good about this one at first, but then my Shieldbearer died way too fast, and everything was over at that point. Maybe if that No Neutrals had instead been allowing ranged to attack from the front, then I may have had a chance. at the end there, with my Kitty + Gladiator.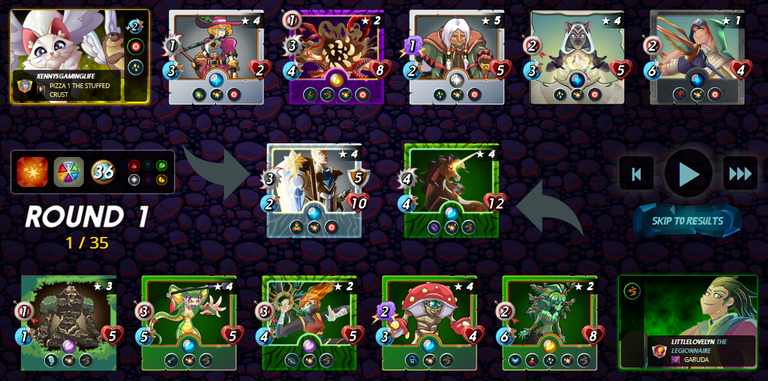 Battle #6 - WIN
My opponent must have looked me up, or already known who I am, because they fled in terror.

Battle #7 - WIN
First off, I have to say that it feels great every time I play Valnamor, and my opponent has an Alric... That instant advantage is usually pretty telling. In this case, my opponent also had only level 1, mostly starter, cards... so it wasn't much of a battle. Kraken + Healer might've been able to do it by themselves, and the full team just cleaned house.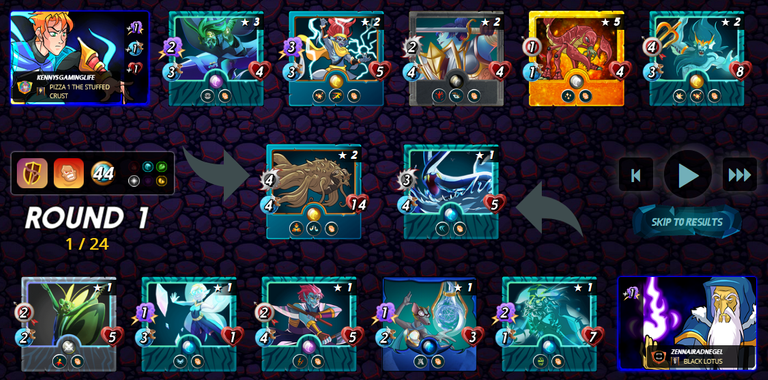 Battle #8 - WIN
My opponent must have looked me up, or already known who I am, because they fled in terror.

Overall - Recap
Second place; not bad.
57 wins, to First place's 58; also not bad.
23 losses, to First place's 18; ouch.
They had less battles than us.
We only had one person with a negative W:L record (3:4), and only because it was their first time in an Untamed-Only fray.
They gave us a pretty round whooping.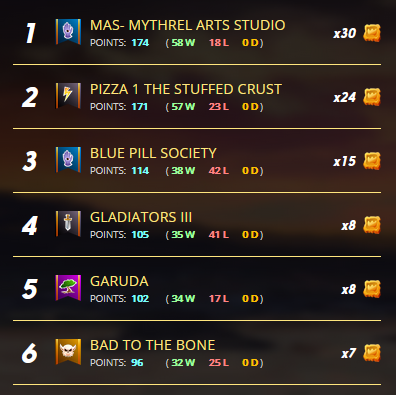 We just keep grinding, keep getting better, keep coming up with more ways to incentivize & reward excellent play from everyone, and we keep ending in the top 3.
With this upgrade we're about to get... things are going to be getting a bit spicier on this #PIZZA!
Scroll down to see what I mean.

Rewards for a Guild Bounty
In a couple of previous brawls, the #BluePillSociety has kicked our butts pretty badly, so this time I offered a bounty for everyone who bested their opponent from BPS this time around.

At the end of the day, I ended up sending these rewards to @kuzuri27, @mcgilli, @irregular-n, @failingforward, @sentipl, and @cooperclub. Great job y'all!

PIZZA 1 Donation Drive - Level 4 Barracks
This most recent placement brings our guild's Crown total to 231, just one brawl shy of enough to level our Barracks up to level 4. Since I've paid out of pocket for almost every upgrade the guild has gotten since I joined (to the tune of well over a quarter million DEC), I'd like to see the rest of the guild step up this time.
What we're going to do is have a 2-part Donation Drive to get the remaining 34,467 DEC.
First up is the competitive portion: Whoever donates the most between now and the end of our next brawls will receive 5 packs of Chaos Legion. If there are two members who are close for the top slot, I will give them each 4 packs.
Next up is the cooperative portion: If the guild donates the full amount to get to that 50k and level up the Barracks, then I will give all of our members a Chaos Legion pack - separate from the victory prizes.
Tagging up the team: @cooperclub @failingforward @fireguardian @funnel @irregular-n @kuzuri27 @mcgilli @nyxlabs @rappinregardless @sentipl @thecryptonnecter @torrey.blog @trenloco @shauner @dibblers.dabs @thebeardflex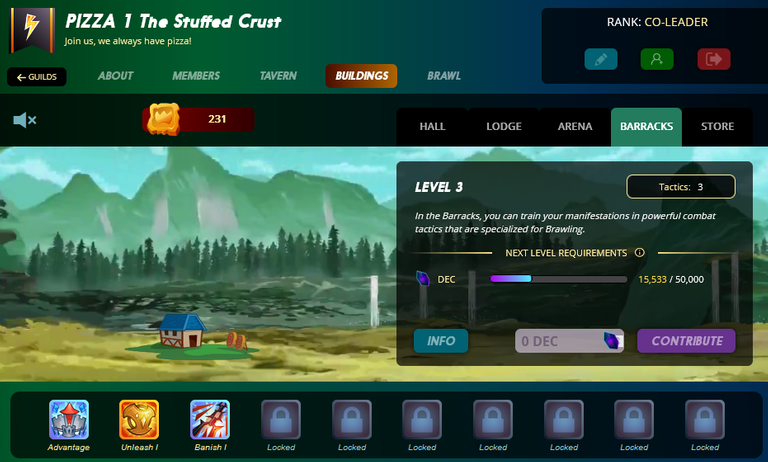 Why level the Barracks?
The next level of Barracks gives us a pretty great advantage over our opponents from here on out: +1 mana in all of our brawl battles!!

To the non-player reading this, a difference of 1 mana in battles may not seem like much, but it definitely is. Being able to fit in that monster that you were always just 1 shy of... it's a powerful thing. When I first read this ability, I thought it was only for Home battles at first, like 2 of the 3 other Advantages we've unlocked so far. This is SOOOO much better.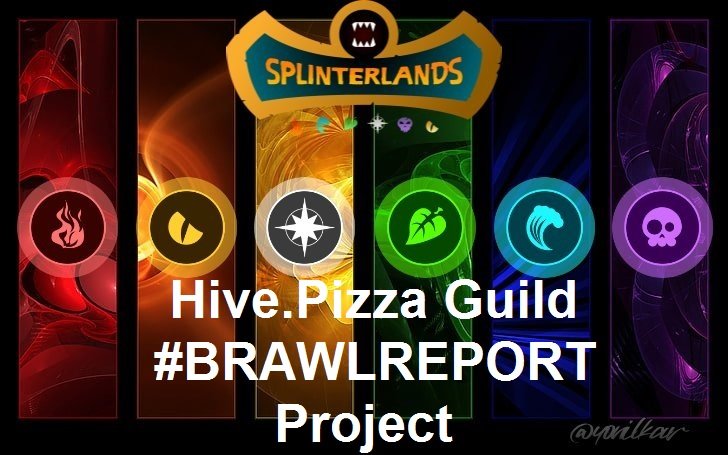 A while back, I invited/asked members of the #HivePizza guild to publish a #BrawlReport, breaking down their highs & lows, where they need help, questions they have, strategies they love, and so on. The idea is to help us all reflect a bit, learn a bit, share a bit, earn a bit, and connect a bit.
Since then, members of a few other guilds have begun publishing a #BrawlReport, as well as many members of PIZZA1 and PIZZA2. If you want to write one, either as individuals, or one for your whole guild, I'm happy to send some curation love your way!

Other Brawl Reports
Here are some other brawl reports that have been shared for this most recent Brawl cycle:

Not sure what Splinterlands is? Check out my post breaking down the game, hop over to the main website and sign up, and/or take a look at the official game feed: @splinterlands
---
---
When opening packs, always remember to have 5x the number of packs you are opening, both Alchemy & Legendary Potions... And remember to buy them with credits when DEC is spiking in price.

---
---