🥇 PIZZA 1 Back in First Place! 🥇 KGL's #HivePizza #BrawlReport - Brawl Ending 10/15/2021 🥇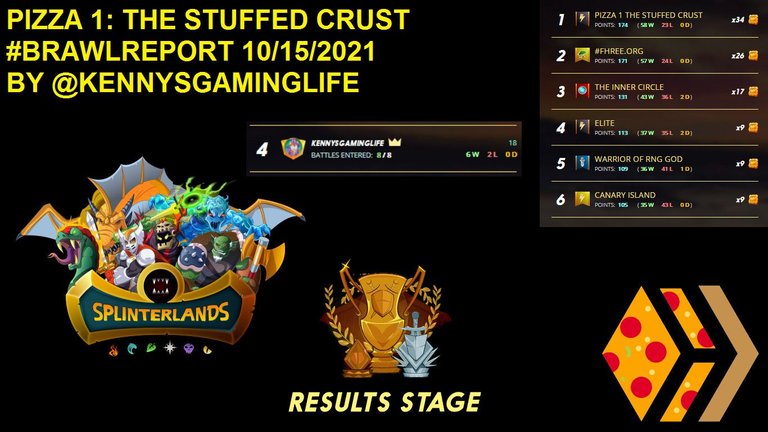 Hello again beautiful humans!
Another week, another brawl... and in this case another ranked season ended.
This time around, between delegating out to friends, family, and guildmates, and renting out some extra GF cards... I ended up screwing myself over on the brawl a bit.
Some of my spiciest cards, like Valnamor and Crypt Mancer were in crazy long cooldowns. DOH!
I spent a little bit on rentals, and still managed to pull through with a very positive W:L ratio (without a single enemy fleeing), and the guild locked in a victory overall!

Overall Performance
That's more like it! I got the same number of losses as the last brawl, and twice as many wins :-)
Overall I feel like I played pretty well, though it was almost midnight, and I had eaten two or three ganja cookies.
It seems like the lack of my own cards due to EoS issues was about balanced out by the 2000 DEC I spent on rentals to lock in my team.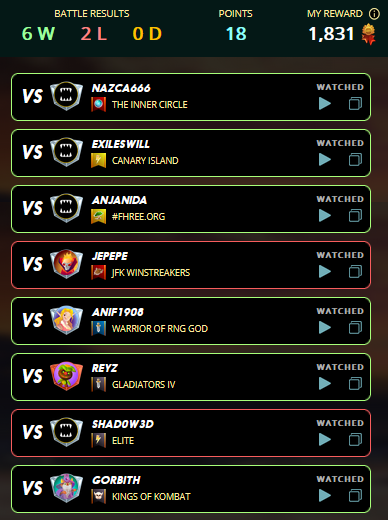 One thing I feel really good about here is that I did manage to defeat the member of the closely ranked team (FHREE) in my fray - which was definitely my most important match.
Just in case you didn't already know, I actually play my brawls in a different order than it shows, because I usually do all my home first, or all my away first, and Id don't particularly track which one I play when, unless it stands out for some reason.

Battle #1 - WIN
Magic hits shields, knock out (kinda useless in Silver), and unlimited points? Let's go with the Recurring Taunter, one of my favorite lineups. Combine the Shieldbearer with Darius and/or Chanseus and some healers and/or DPS, and watch your enemy's team wither away. You'll also notice a major level difference in our cards.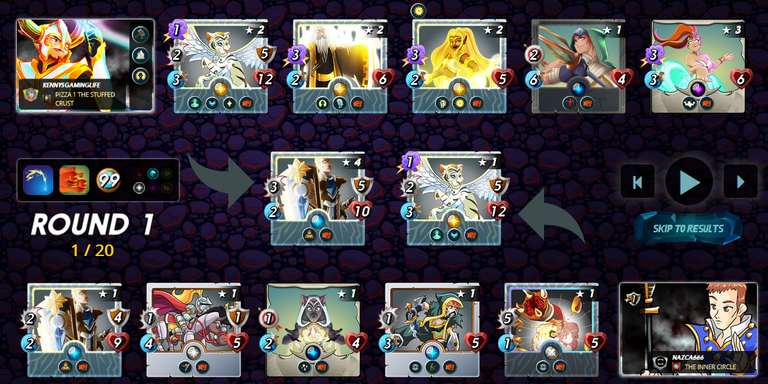 Battle #2 - WIN
What's the answer to Divine Shield? Yodin Zaku, of course! He's the answer to a whole lot of things, what can I say. Blast is just so dang good, especially with something like Life Leech on the Zalran Efreet. In this one, you'll notice one of those Gladiators putting in some work too :-)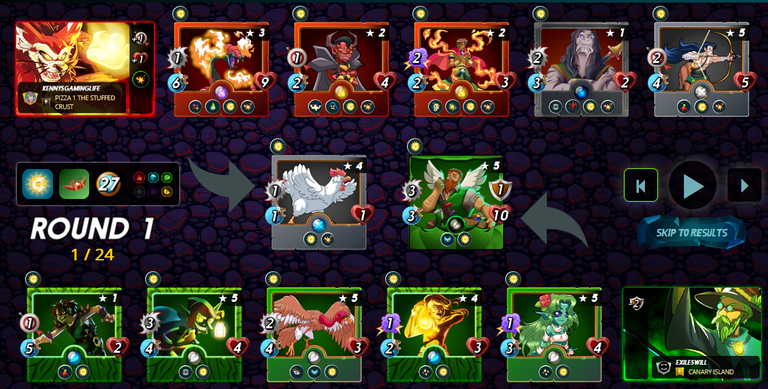 Battle #3 - WIN
This was the aforementioned battle against a member of the FHREE guild, who we beat out for 1st place by just 1 win. They had a great team lined up, with that Arianthus, the Bonesmith (one of my favorites) and a really spicy Gladiator archer I haven't seen. Unfortunately for them, Yodin Zaku > Owster... and luckily of my 2 magic users, one had life leech as well, so it was a wash.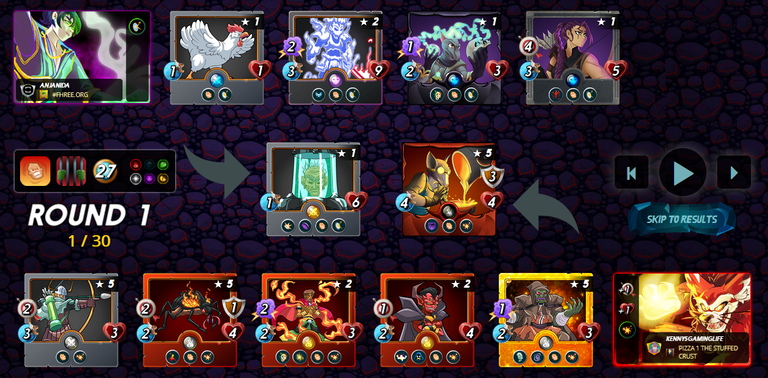 Battle #4 - LOSS
I lost this battle to my own dang Chicken!!! I ran a team specifically centered around that Shieldbearer again... but at the last minute I noticed I wasn't using the chicken. Argh! No way to know how it would have ended, but I know it would have been a much better showing from my team.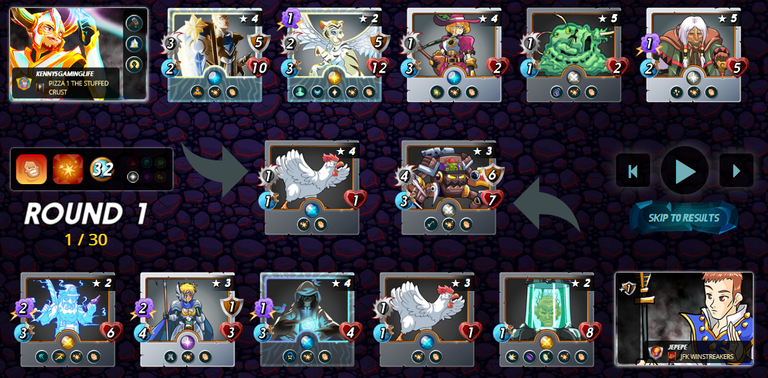 Battle #5 - WIN
Hey look, it's Yodin Zaku again. Haha. He's just TOO good, especially for certain rule-sets... Nothing too unexpected here... I had blast, and I was able to control all of his attackers with Magnor, so it didn't last long. really unfortunate that my Gladiator did effectively nothing :-P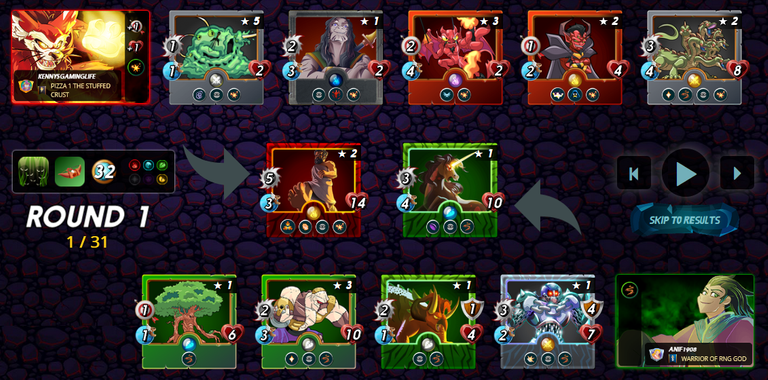 Battle #6 - WIN
This was my favorite battle of the whole day, simply because I got to use my first big Gladiator pull: Quora Towershead. She's basically like Kron... but kinda better actually. I ran her with the Llama and a chicken, and she devoured the enemy team.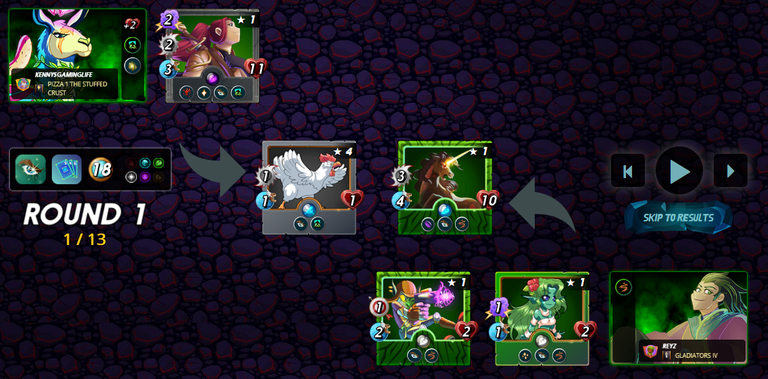 Battle #7 - LOSS
On this one I figured I was in pretty good shape as long as they didn't have a big trampler or someone with shield and/or void... Come to think of it, it was a pretty weak team. Probably my worst performance of the day. Silvershield Assassin easily ate my team.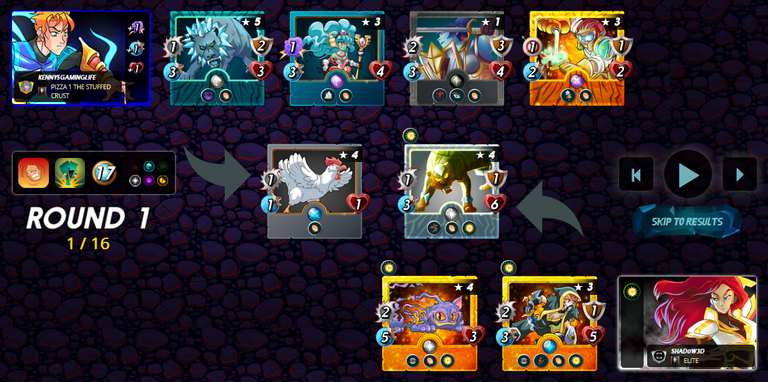 Battle #8 - WIN
This one may look a bit familiar, eh? It is almost the exact team that I faced earlier in the post... except this time it was a life equalizer, and I took FULL advantage of that, as well as just going hog wild with Magnor and Yodin Zaku.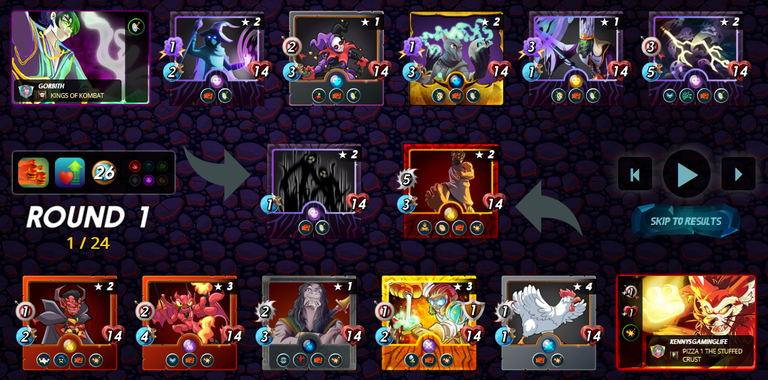 Overall - Recap
This was one of those big-brawl days, where brawls almost completely overlap with the end of the Ranked Season - which usually means a whole lot more rented cards, and a whole lot more competition overall.
This was another extremely close brawl, and this time the @Hive.Pizza team managed to come out on top, taking home 1st place! By one win!!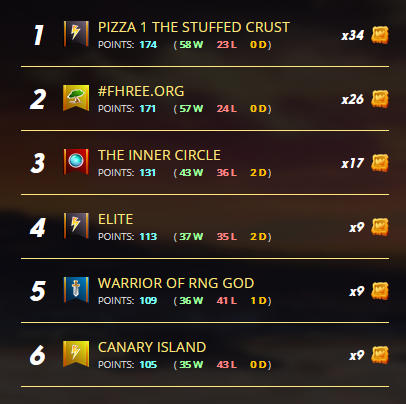 The folks from #FHREE were at the top spot on the leaderboard. We sat around 3rd or 4th through most of that, but we have a lot of people who don't enter their teams until the end of the brawls... So as we got closer to the end, we inched our way to the top.
Finally, we found ourselves tied for 1st with them, but we had 1 single battle left, for @funnel. It inspired a whole post actually: What A Brawl! - PIZZAs hit First Place Again and Everybody Goes Wild
This particular 1st got us all over 1800 merits (almost a whole pack!) and continued us on a long grind for Crowns to level up our buildings :-)

A Note on Gladiators
Wow... just wow. Gladiators are awesome!
Though a couple battles in there featured a Gladiator card either horrifically under-performing (7 speed skipping multiple attack rounds, not reverse-speed, in a legal attack position...)
And I guess at least one time that my Gladiator was among the first to die.
But at the same time, I literally won a game with just a summoner, a chicken, and a Gladiator card... so yeah. They crush it!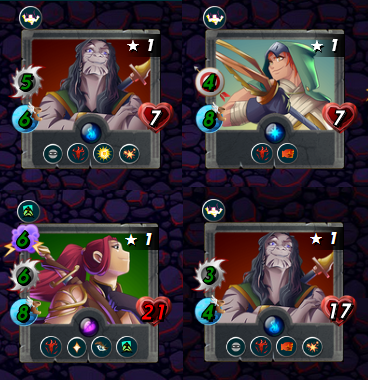 These are images of a few of my Gladiators who survived until the end of battle. That Quora especially, just so dang good! I really like Katrelba Gobson as well, but she unfortunately didn't make a showing this week.
With a few changes we're making to our brawl line-up, it looks like the members of PIZZA 1: The Stuffed Crust should be getting almost enough Merits for a full Gladius pack with every brawl moving forward :-)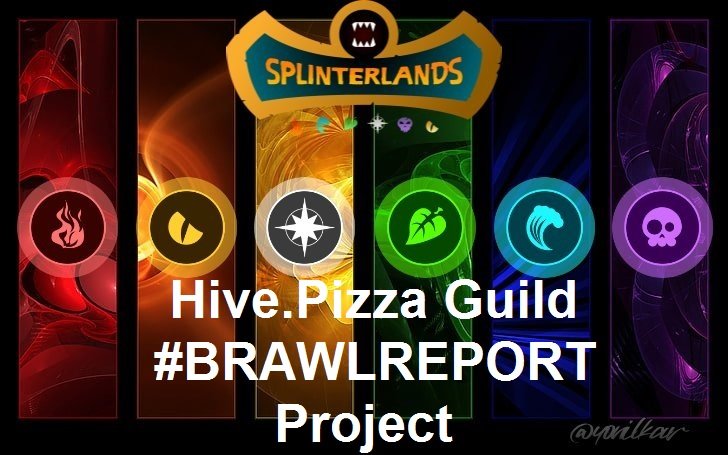 A while back, I invited/asked members of the #HivePizza guild to publish a #BrawlReport, breaking down their highs & lows, where they need help, questions they have, strategies they love, and so on. The idea is to help us all reflect a bit, learn a bit, share a bit, earn a bit, and connect a bit.
Since then, members of a few other guilds have begun publishing a #BrawlReport, as well as many members of PIZZA1 and PIZZA2. If you want to write one, either as individuals, or one for your whole guild, I'm happy to send some curation love your way!

Other Brawl Reports
Here are some other brawl reports that have been shared for this most recent Brawl cycle:

Not sure what Splinterlands is? Check out my post breaking down the game, hop over to the main website and sign up, and/or take a look at the official game feed: @splinterlands
---
---
When opening packs, always remember to have 5x the number of packs you are opening, both Alchemy & Legendary Potions... And remember to buy them with credits when DEC is spiking in price.

---
---