PIZZA Hits Level 4 Barracks, My Recent Card Buys, Gladius Pulls... and Is That a Neutral With Taunt?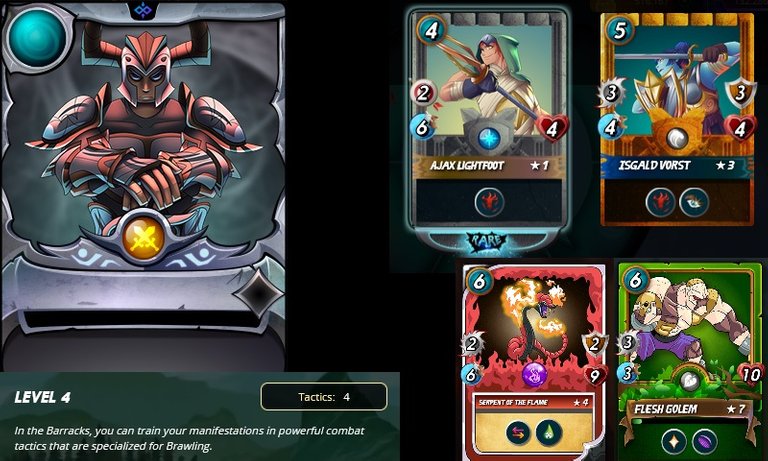 ---
Hello beautiful humans!
Welcome to my gaming update post for the last week or so... I haven't been posting much, and I missed the last post-brawl day so I couldn't do a #BrawlReport (Hey @splinterlands, storing brawl data more than 24 hours would be great!!)
So, today I'm here to just share some of the updates over the last week, look at some things, and remind y'all that I love ya :-)

First Up - Level 4 Barracks
You may have seen my post announcing a big donation drive for the @Hive.Pizza guild to level up our Barracks... or you may have seen the post just 2 days later, celebrating our completion of the donation drive.
After that brawl ended, we were able to actually do the level up!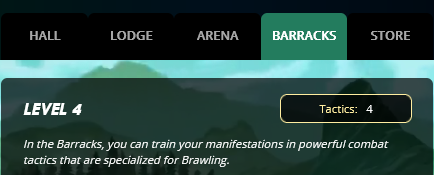 If you don't know a guild would want to drop DEC on leveling up their Barracks... I'd recommend you check out the announcement post for the Barracks, or at least this chart of the upgrades it offers.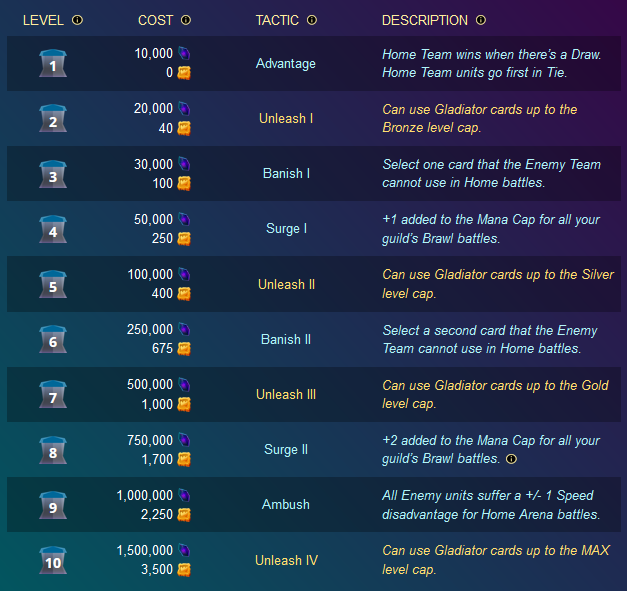 We'll most likely be just sitting at level 4 for now, since it's going to be a long time until we need a higher level cap for our gladiators. Next up on our docket are another level for the Store, and most likely then the Arena.

Is that a Neutral with Taunt?
In the last Splinterlands Town Hall, we got some more sneak peeks at cards from the upcoming Chaos Legion set... quite a few actually. If you want to stop and go look at them, feel free.
The card that most caught my attention (though a lot of that art is amazing), is this Neutral Legendary, that we know from Twitter is called Legionnaire Alvar.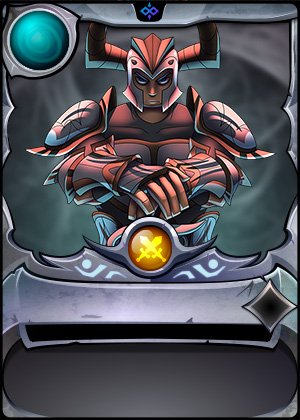 So, this guy looks pretty tank-y, he's a legendary, and he's neutral.
My prediction is, this is our long awaited Neutral with Taunt.
If you didn't know, Earth, Neutral, and Dragon are the three splinters that don't have a card with Taunt... yet, that is.
Also, if you didn't know, Taunt is easily in the top 3 most powerful abilities in Splinterlands.

Swooping Some Deals
As you may or may not know, the beginning portion of a new ranked season always leads to some crazy price fluctuations on cards. This season, we also had the end of pre-sale, insane $HIVE price movement, and much more... which leaves a lot of great deals on the table for those looking.
Here's the first one I picked up last week: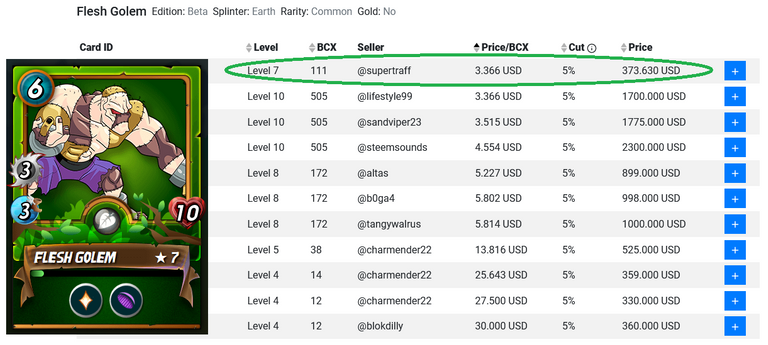 Notice how that Level 7 is the cheapest per BCX? So much so that the card itself is the cheapest available until you get all the way down to a level 4...
This was not the only card with crazy pricing like that, that I picked up recently. It is the only one I got the monstermarket.io screenshot of though :-P
Many thanks to @diamonddreamer for scouring the market, and letting me know about the ones you don't want to scoop yourself!
Here are the other 3 big ones I scooped up at deals of 50% or less than market price..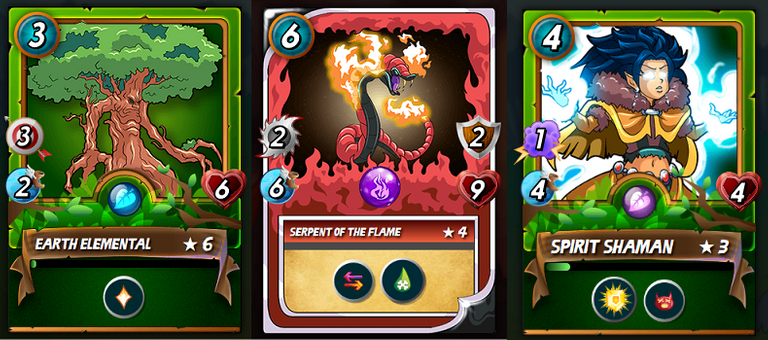 Cutting Down My Play Time
For the last two brawl cycles, I've been putting all my collection up for rent for 2-3 days between the brawls themselves.
This gives me $300+ in extra rental income by the next brawl, and then I have 2 dailies saved up to knock out at once, and of course brawls always end right near the end of Ranked Season - so I still have my cards back to get my 200+ rewards chests.
This time around, I really didn't play any of my alt accounts either, leaving most of them in the bracket that they fell to after last season (half the rewards, 1% of the work)
We'll see how it goes as things keep moving forward... I will probably start playing a bit more when CL hits... but really I'm waiting for that shift to Modern and Wild formats.

Heard of SBT?
As most of you are aware, it's a full-time job just keeping up with all the projects happening on the Hive blockchain alone - never mind crypto as a whole.
Today I'm sharing a new, small project with you...
This project is called Splinterlands Battle Tokens, and it was launched by @itzninjafool, as a way to "tip" or otherwise reward players that you felt you had a good battle with.
The coin has just started being printed, and ninja's offering them out to folks who leave a comment or DM, in order to get the flow started.

That's right folks, two of the coolest gaming-focused projects on Hive are joining together, for a Liquidity Pool!
I'm currently about 10% of this particular pool, and it sure has some spicy returns!
Here's the full announcement post
The hilarious thing about this one is that I left a comment for @flauwy, tagging @thebeardflex, about doing just this - 1 day before they announced it.

Sometimes being a future-seer really is fun :-)

My First GF Gladiator!!
This most recent round of brawls got me enough merits for another Gladius pack (we get like 0.9 of a pack per brawl right now), and it was a pretty exciting one...
I pulled my first Gold Foil Gladiator!!
And it's even one that I use quite often, Isgald!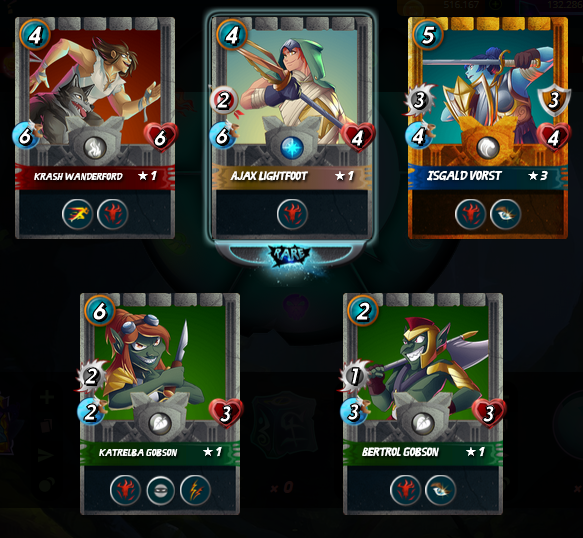 Not sure what Splinterlands is? Check out my post breaking down the game, hop over to the main website and sign up, and/or take a look at the official game feed: @splinterlands

---
---