❓ New Reward Cards + Quest Potion, Day 2 of 11 ❓ Why All The OLD Reward Cards?! ❓ 500 DEC Up for Grabs! ❓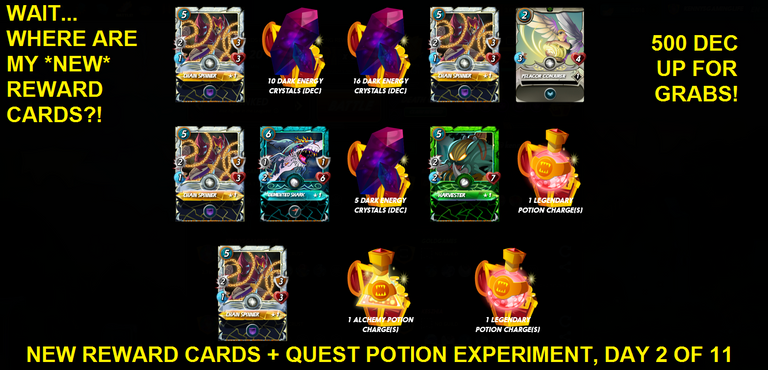 Welcome to Kenny's
New Rewards + Quest Potion
Experiment and Giveaway
Day 2 of 11
Well this was a really disappointing one. In this daily, and in my season rewards, I got almost exclusively OLD reward cards. The terrible common ones at that. Today's pull was a loss of about 60% versus the cost of the quest potion, and my season rewards were basically nothing but potions and old commons as well.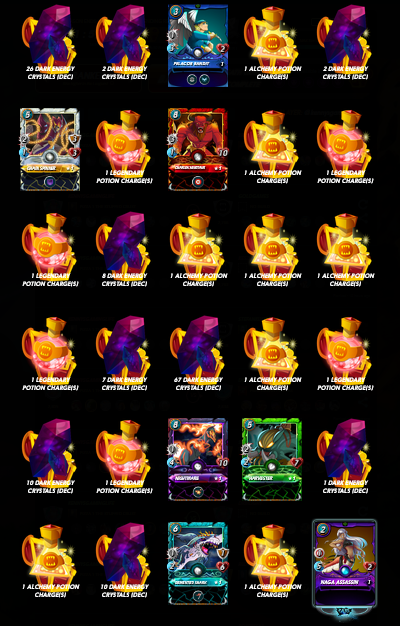 I had this idea to delegate out a bunch of cards and drop down to Silver I this season for the DEC rewards, but the 5am season reset (versus the middle of the day every other season) stopped me from doing that... so I got like $3 in season rewards. Woo hoo.
Be sure to follow me on Hive, 3speak, and/or Odysee (the blockchain video platform with that pays you) so you don't miss anything!
Without further ado, let's crack packs!

This first embed is @3speak, and there's an Odysee embed at the bottom of the post.

The Experiment
As many of you know, the quest potions recently went from costing 750 credits or 750 DEC, to only being available for DEC, leading to a 5-7x in the price of the potions. That, combined with the end of the print run for the last rewards cards definitely stopped a lot of us from buying potions.
So, I just bought 11 Quest Potions, for 7200 DEC. With DEC sitting at $0.0055, that makes for a total of $39.60, or $3.60 per QP.
Day 1 Rewards: $13.93
Day 2 Rewards:
1 Alchemy Potions = $0.04
2 Legendary Potions = $0.08
31 DEC = $0.17
Pelacor Conjurer = $0.20
4x Chain Spinner = $0.76
Demented Shark = $0.16
Harvester = $0.12
Total value for Day 2 = $1.53
Loss vs cost of Quest Potion: -$2.07

Of course, this is also based on those current prices for the cards, which may very well come down as more of them hit the market, based on the discount I get in the shop from the upgrades that the @Hive.Pizza Guild has, and the current cost of DEC... so it's all sort of meaningless, and mostly just based on your luck anyway :-P
I was also thinking about the whole situation a bit yesterday, and it seems like Quest Potions are far more valuable for those who are in Silver or Bronze brackets, as they only get 1-4 reward chests normally. That means a Quest Potion is at least doubling their pulls.

Last Episode's Winners
In the last episode, I offered up 50 $PIZZA tokens, and all people had to do was share their plan for Chaos Legions.
The RNG picked all 5 winners this time around:
Thanks for entering everyone!

Today's Giveaway
For today's giveaway, we're going to keep it a little smaller and real simple.
Leave a comment, with your favorite of the new reward cards.
One random entry will receive 500 $DEC.
Good luck!

(Unsupported https://odysee.com/$/embed/daily-quest-potion-2-of-11/3c4491785074f64b31864ae15d101353bd79f750?r=8MJrRfYG58iLQ7X6RgwpMqJyFHadhMsa)

---
---

---
---