WARNING: Don't Get Ripped Off on Chaos Legion Packs on Hive-Engine (Or Vouchers)

Alright folks, it's important that we have a talk, because ever since the Chaos Legion pre-sale began, it has become quite clear that there's a lot of folks who don't understand exactly what's happening, how the airdrops work, how the pre-sale works, etc.
Or they can't do basic mathematics, I guess that could be it too :-P
Let's start off looking at the prices for vouchers & CL packs on the market right now:


What are Vouchers & Packs?
The first clear confusion here is that people aren't realizing how the pre-sale works, how to get the promo cards, and work towards the other bonuses... so let's break that down really quick.
To buy a pre-sale pack of CL in the shop costs $4 + 1 voucher ($3.60 if paying SPS)
Each pre-sale pack purchased comes with a few bonuses/perks/prizes:
Each pack gives a 2% chance for Dr. Blight, 1 guaranteed per 50 packs

Each Dr. Blight has a 2% chance of being gold, 1 guaranteed GF per 1000 packs

If you buy 1000 packs, you get the Legionnaire title (worth 100k AP)
The top 6 pre-sale buyers get to create their own legendary summoners
But there's an important detail that I think most people missed:
Only pre-sale packs purchased in-game count for any of it.

Let's really let that one sink in for a minute.
Again, any packs that you purchase on the secondary market DO NOT count for any airdrops, promo cards, titles, or anything else to do with the pre-sale.
People are paying $11-12 for a $3.60 pack, with no bonuses, that they still can't open until the regular sale happens.
That's right, buying these pre-sale packs on the secondary market gives you 300 airdrop points, and a pack you can open in a month or two, and NOTHING ELSE.

Why $11 Packs?
Anyone who has been around for Splinterlands packs in the past knows that the packs are always cheaper on Hive-Engine than they are in the shop, because all the bonuses are lost. Then, once they sell out in the shop, the prices on the secondary market start to go up.
In this case, there are just so many noobs chomping at the bit for packs, who haven't seen how this works before, and who just see a pack for cheaper than a voucher, and they're getting ripped off for a lot of money.
Now, we all know how crypto, investing, and gaming work... lots of people rip themselves off and/or screw themselves over... But it's still nice to try to throw out warnings now and then.
There's currently 100,000 vouchers released, of the 1,000,000 coming out this month... but there's still 15,000,000 packs total... 150x the supply we see now... and as we just discussed the "pre-sale" part doesn't matter if you're buying them on the market.
Sounds like the perfect scenario for a massive price crash to me.

Why $20 Vouchers
This one is even funnier than the over-priced packs... because it's kind of a feedback loop.
There are just so many people who want to buy, and have no idea at all what they're doing, that it's making a mess of the economics.
Right now, if I take one of my vouchers, I can:
Sell it on the market for $20, or
Spend $3.60 to get a pack, then sell the pack for $12 and keep the airdrops
That means you can make $9.40 per voucher air-dropped, AND stack packs towards the promo, airdrop cards, and/or a title.
If the CL packs were down at $3-4 like they should be (and will be soon), then it forces the vouchers way down too...

What I'm doing
Well, I've been getting over 11 vouchers per day from the airdrop...
The first night, I sold 11 of first 13 vouchers to hit the market...
The second night, I sold all 11 at about $2 more each...
The third night, I sold them all at that same price...
Now I've got all that Hive put right back into buy orders for cheaper vouchers...
But I'll get enough vouchers over the next 27 days to get the Level 3 Dr. Blight that I need anyway...
So worst case scenario I just made any extra $700 for those first three days :-)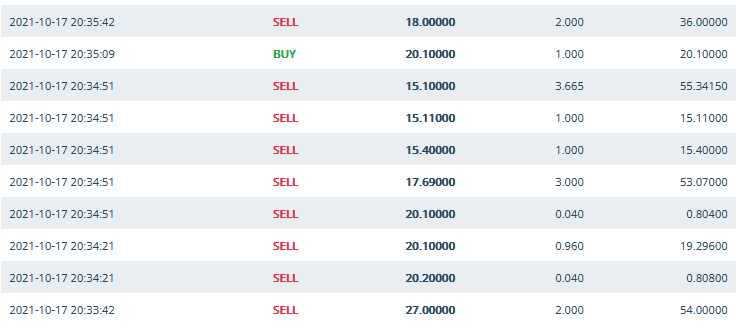 The Funniest Part
Let's take a look at that image from the very top again, because you may have missed something...

So far, we were just talking about the packs & vouchers, but did you notice the real silly part?
The vouchers and packs are both priced far higher than expected, and yet...
SPS (the ONLY way to get vouchers) is down $0.15 (16.66%) from when the first vouchers airdropped...
And DEC (the best way to get free SPS) is down $0.002 (13.33%) in that same time frame...
That makes a ton of sense right? The new airdropped thing is more valuable than anticipated, so the prices of the tokens used to earn it drop a bunch...
The only thing that makes sense is that folks are dumping their DEC & SPS to buy vouchers/packs... but if you have much of either coin, then you're probably sitting fine on vouchers.

I guess we I really shouldn't be surprised by anything at this point, between the explosion of crypto and the fact that half the world is taking experimental gene modifications because they're worried about the 2019-2020 flu season... It sure seems like 2012 might have been the end, and now we're in the post-credits bloopers.

---
---