For Those Unfamiliar - A Deeper Dive into Splinterlands Guilds: Guild Brawls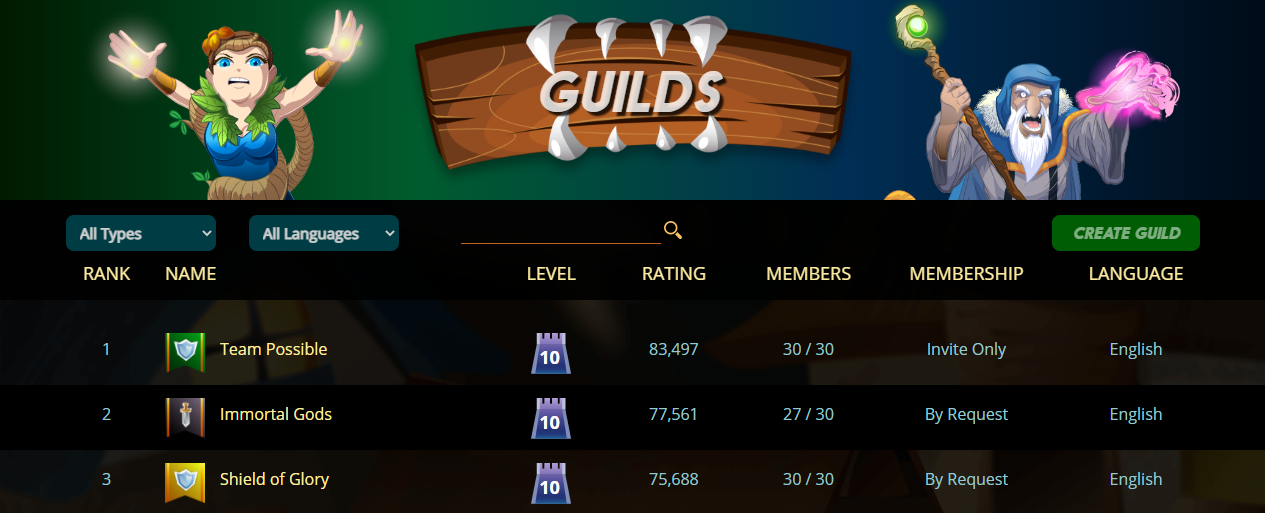 Photo Source
Introduction
Recently I finally took the plunge and applied for and was accepted into a Splinterlands Guild (Goat Monsters). So far I have been as active as possible and am truly enjoying my Guild experience. However, my Guild has just begun 'Brawling' and does not, as yet, have a Level 1 Guild Store.
Given the current status of my Guild, I began looking into 'Guild Brawls' and the 'Guild Store'. Clearly, at least to me, both of these components are necessary to have a vibrant, active and successful Guild. However, to achieve success with these components, it is first necessary to have willing and active Guild Members.
So, for the purposes of this blog, let's take a few moments and discuss the key factors surrounding 'Guild Brawls'. (Please note: Guild Stores will be investigated in a separate blog prepared by this author).
Guild Brawls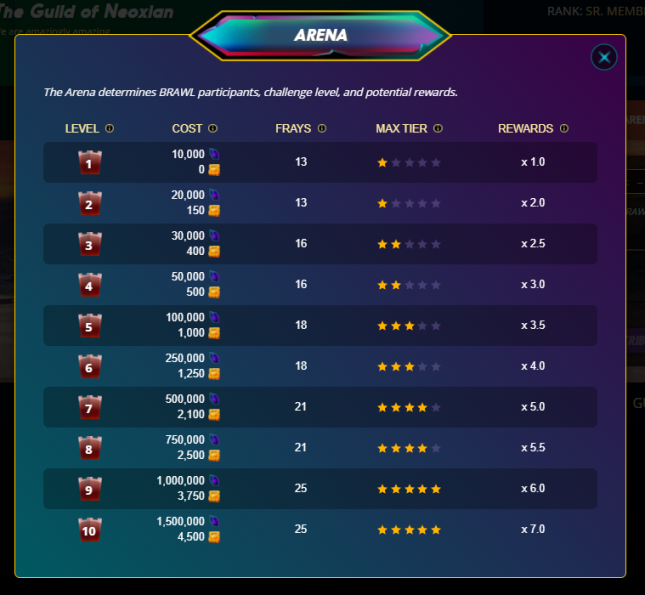 Photo Source
In order for your Guild to participate in Brawls, it must first have a Level 1 Arena. The level 1 Arena currently costs 10,000 DEC which is paid for by a collection of contributions from Guild Members
All Guild Brawls take place in the Arena where ten guilds are randomly matched by tier. Tiers consist of ten levels with each Guild starting out at Level 1. Guilds move up the ladder of Arena Tier Levels by accumulating 'crowns' and Guild Members contributing increasing amounts of DEC for each level. "Crowns are the cooperative Guild currency that are earned for victories in Brawls" [Splinterlands. Crowns. (Accessed April 1, 2022)]. Crowns are spent by the Guild as a collective with the item purchased being for the benefit of the entire Guild.
Turning now to Brawls specifically: "Brawls are large-scale tournaments in which Guilds fight together against other Guild, competing to earn Crowns and racing to level their Arenas" [Splinterlands Brawls. (Accessed April 1, 2022).
The Arena is where all the action takes place.
In tier 1, each Brawl consists of 13 Frays and each Fray is comprised of at least one member from each competing Guild. At tier 1, only 13 participants per Guild are permitted to participate, so if your Guild is full and is active, it should have no problem filling all 13 Frays. Accordingly, it is likely that some Guild Members are precluded from participation in a specific Brawl.
In looking at the Frays, most of the Frays will be set to the Bronze League (as their points and ratings are easier to satisfy the League requirements). Likewise, the Bronze League Frays mostly consist of 8 individual battles. Entry into a Fray by an individual Guild Member is based on that Member's League Ranking and total points. If the Members League Ranking and total points meet the criteria for the Fray, that Member is assigned the Fray.
As alluded to above, by participating in a brawl for Level 1 Arena battles only Crowns are awarded for Guild participation in accordance with the following schedule: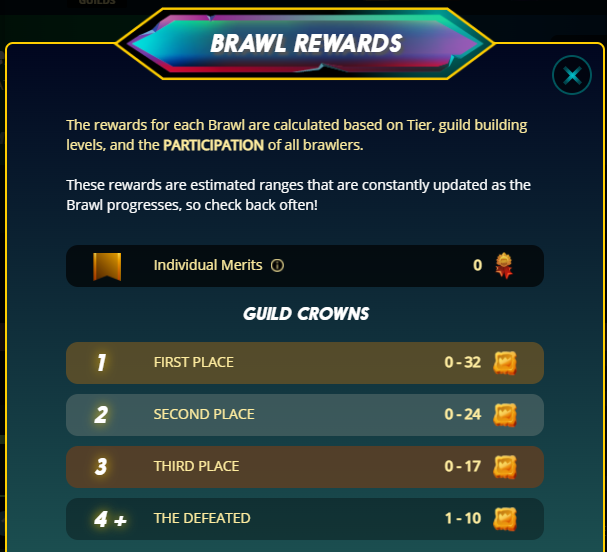 Photo Source
These are the crowns your Guild earns collectively to now be able to purchase Spy Glasses. It is my understanding that as the Game progresses and evolves, more items will be made available in the Guild Store.
How Does an Individual Guild Member Participate and Join a Fray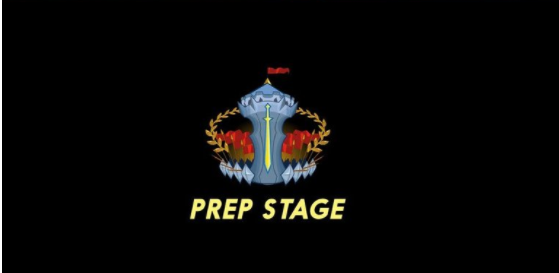 Photo Search
Guild Members enter Frays during the 'Prep Stage' of the Brawl. This 'Prep Stage' is where the active players have 48 hours to fill the 13 available Frays.
To enter a specific Fray, the Guild Member must open the Guild's 'Brawl Tab'. Once in that Tab, simply choose the Fray you wish to join and click on the button marked 'Enter Fray'. Yes folks, it's that easy - you have entered your chosen Fray.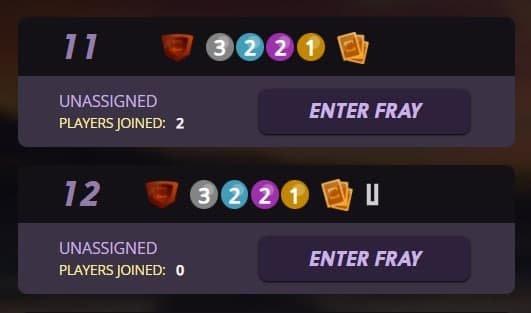 Photo Source
Upon the expiration of the 48 hour 'Prep Stage', the 'Combat Stage' commences. This 'Combat Stage' is another 48 hour period wherein the assigned Guild Member picks the summoner and monsters to be played in each of the Frays battles. Each battle within the Fray has it's own specific rules and mana caps. Once both you and your designated opponent have set the necessary lineups, you can view the battle and it's results.
Once the 'Combat Stage' is complete, your Guild receives its reward of 'Crowns' (see above). Likewise, if your Guild has a Level 2 Store, each individual Guild Member is awarded the 'Merits' earned.
"Merits are a non-transferable guild currency used to buy items in the Guild Store. Everyone who participates in a Brawl will receive Merits when the Brawl ends" [@cryptomancer. Splinterlands Guild Store - a place to spend your Brawl Rewards!. (Accessed April 1, 2022)]. Every Guild Member that participates in the Brawl receives the same amount of Merits. The potential amount of merits to be earned by your Guild changes and that amount is updated throughout the Brawl. Guild Members may see the projected merit awards by clicking the 'Brawl Rewards' button found in the 'Guild Brawl Tab'.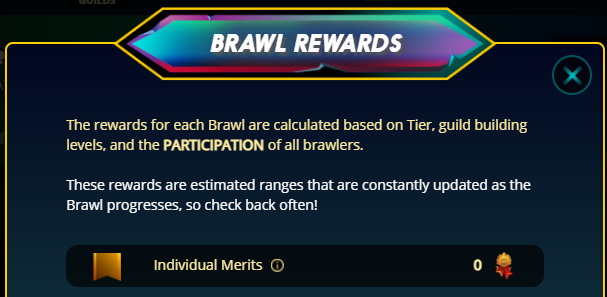 Photo Source
Final Thoughts
Being a member of a Guild is yet another way to enjoy the play of the game that is Splinterlands. It provides a teamwork framework toward adding a new dimension of fun, advancement and earnings to your Splinterlands experience. If you haven't considered joining a Guild, please do - active members are always being sought out.
Enjoy!
---
---