Is Hive Worth $1 Billion Dollars?
Is Hive worth $1 Billion Dollars? Does it deserve to have a market cap that high? What about Hive signals that it is undervalued and that a future valuation could be this high from a fundamental perspective?
Today, HIVE is $0.42. The current market cap is $156 million.
At the peak of the bull market, we were at $3.41 ~$1.25 Billion market cap.
Is Hive Worth $1 Billion Dollars?
Remove all the noise of crypto bull and bear cycles. From a fundamental, technological and adoption point of view, is Hive worth $1,000,000,000?
This all started with a Discord conversation in the LeoFinance Discord Server. We always talk about crypto and all sorts of topics surrounding investing, etc. We often (pretty much daily) are having discussions about HIVE and the Hive ecosystem. We all have various viewpoints and bets on the ecosystem.
There's a wide-range of people in the LeoFinance Discord. From arbitrage bot operators, to top #10 paid authors on Hive to dApp owners, etc. It creates this really cool melting pot of ideas and Alpha to generate returns by trading around the intimiate knowledge that we all bring to the table.
/end my shameless plug to join the LeoFinance Discord Server and get active in there.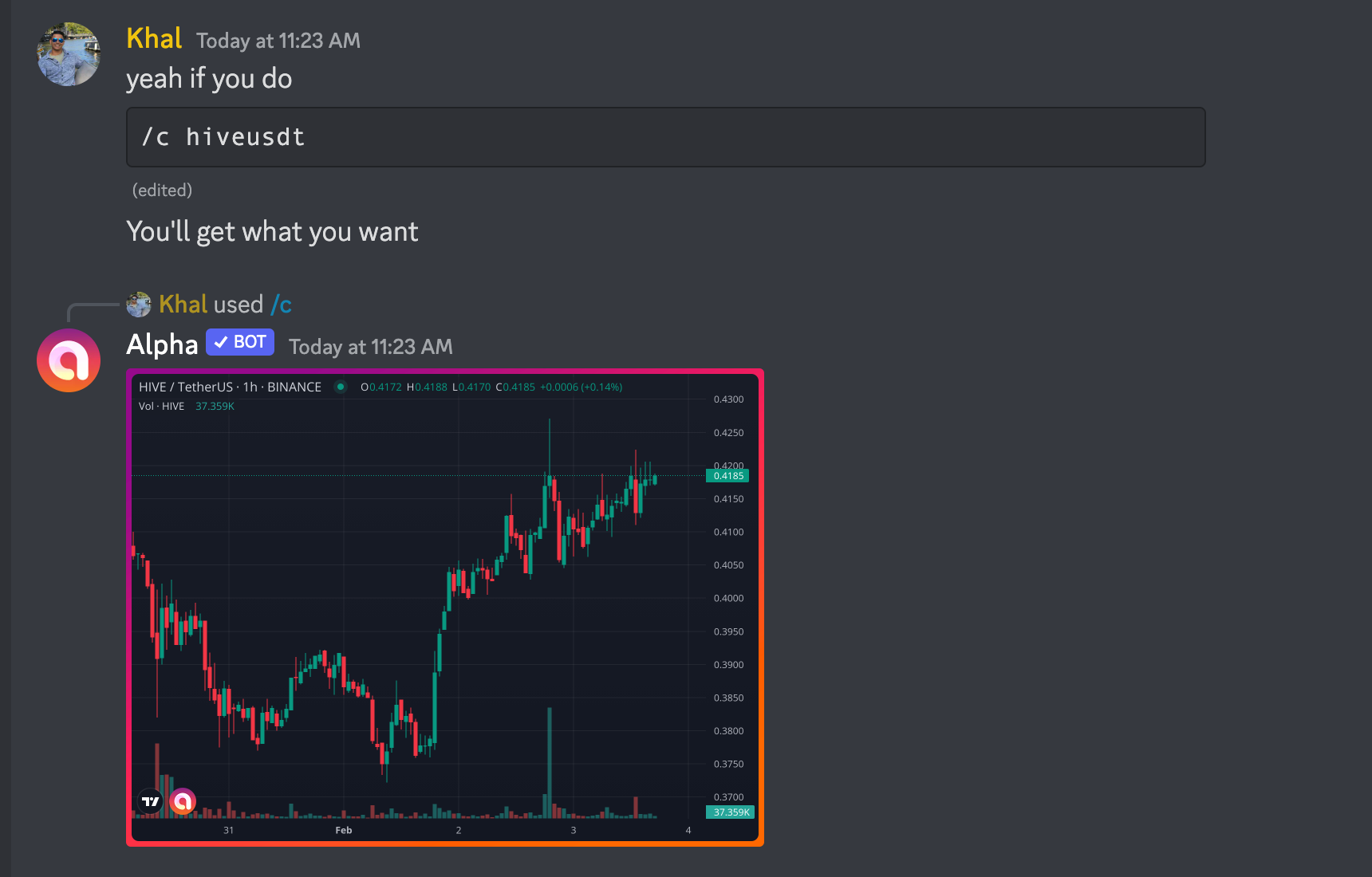 Today, we added the Alpha bot which allows you to pull up all sorts of charts and information about crypto and stocks (and yes, Hive is on there!). We did this to replace Banjo at the request of Tonimontana since Banjo is basically completely out of service now.
Toni pulled up the stats on Hive and Edicted, Trumpikas and a few of us started talking about the Hive market cap.
A 10x in the price of Hive takes us to a $1.5B market cap. This is actually right around where the peak bull market was for HIVE at $3.41 and a ~1.25B market cap.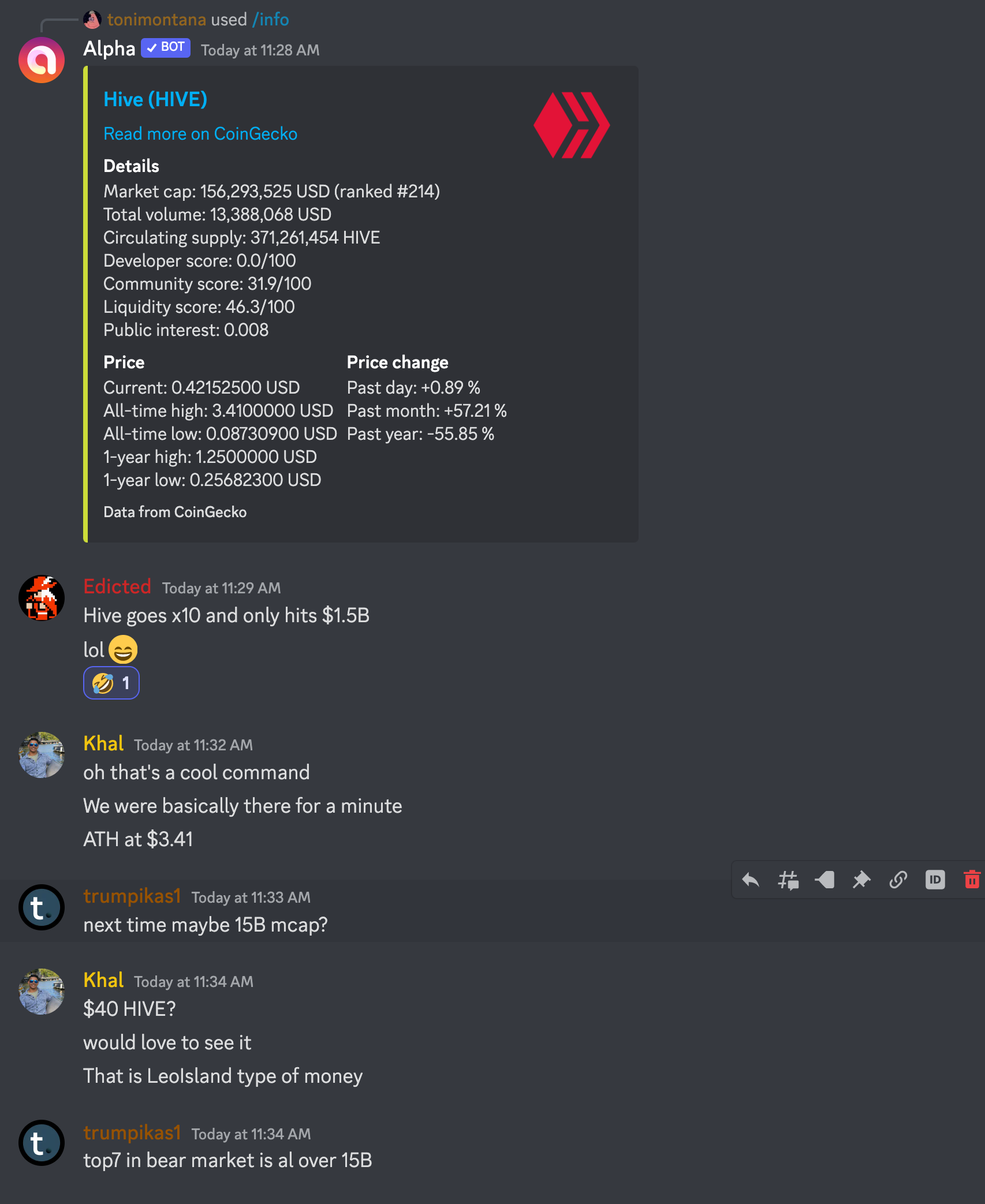 So this all begs the question.... is Hive really worth $1B+?
Comps
Comparisons are always a good way to evaluate things. Let's consider what a $1b market cap stock looks like: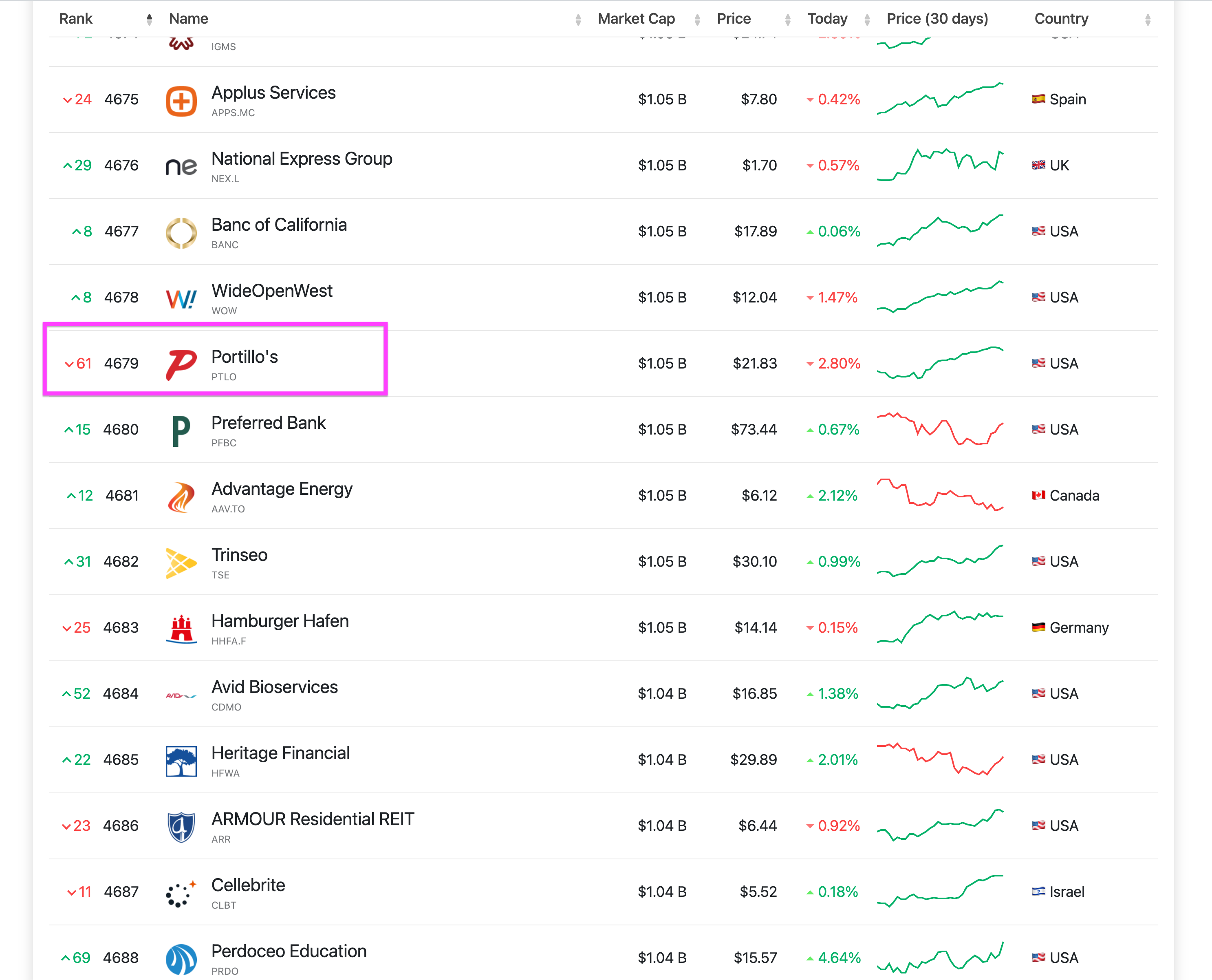 This list of publicly traded companies worth roughly $1B doesn't give a whole lot of insight - namely because I've never heard of them.
One that stands out is Portillo's. As someone who is originally from Chicago (where Portillo's was started), this hits home for me. I actually grew up just minutes from where the Portillo Family lived (up until they recently sold their house and moved elsewhere).
The company recently went public. It's valued at $1b. According to the ever-trusty Wiki entry, they have 75 locations and pulled in $517M in revenue last year.
From first-hand experience - I love Portillo's and so does everyone from my hometown. If you ever visit home, a stop at Portillo's is a virtual guarantee. Nothing beats that Italian beef + cheese fry combo.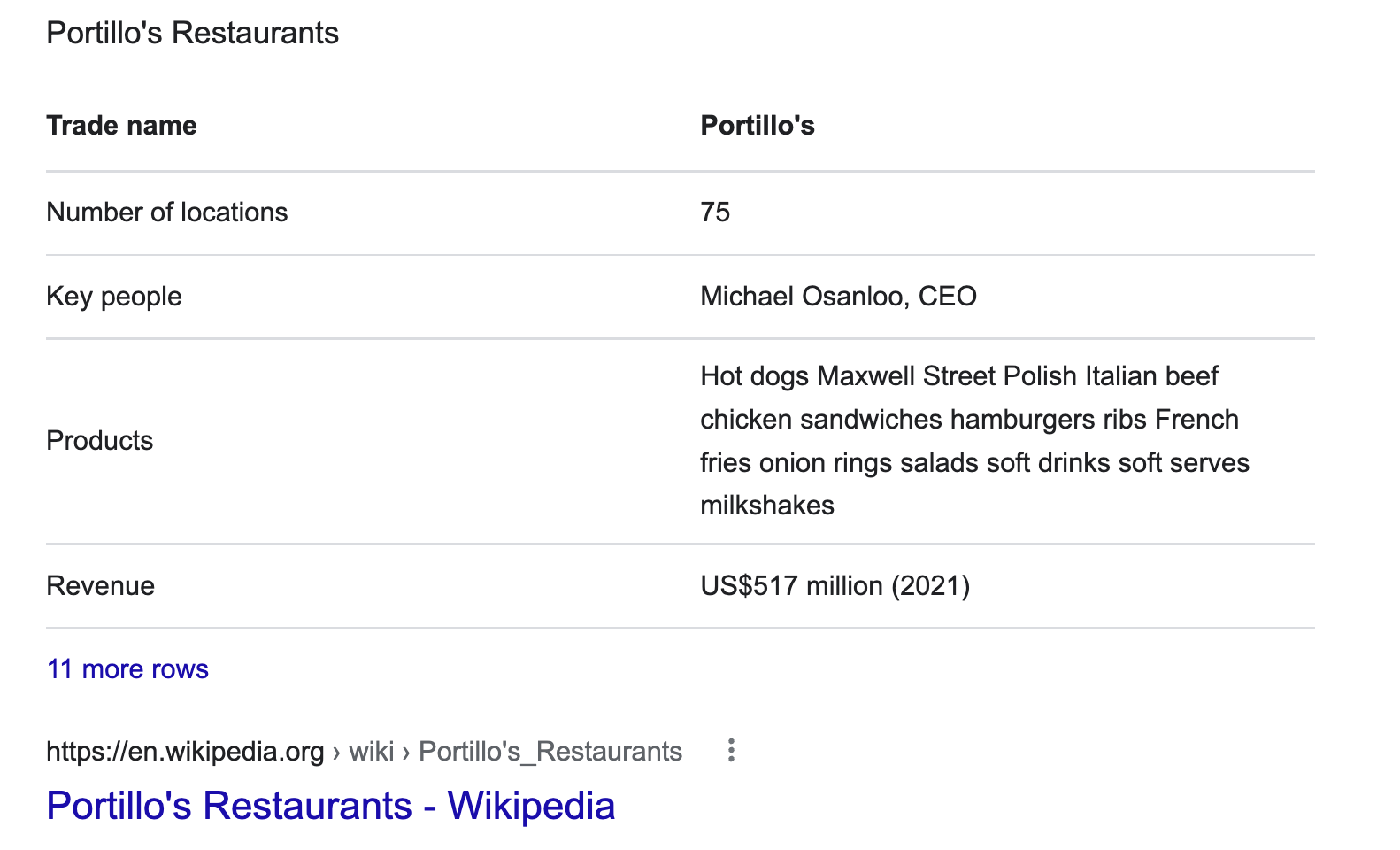 Is Hive's value comparable to a restaurant chain with 75 locations, an avid base of regular customers and $500m in revenue per year?
In the Crypto Industry
Diving into a comp that is far more relatable - this is a list of cryptos with a ~$1B market cap. We see some familiar names:
Aave
LUNA Classic
EOS
Axie Infinity
Tezos
Huobi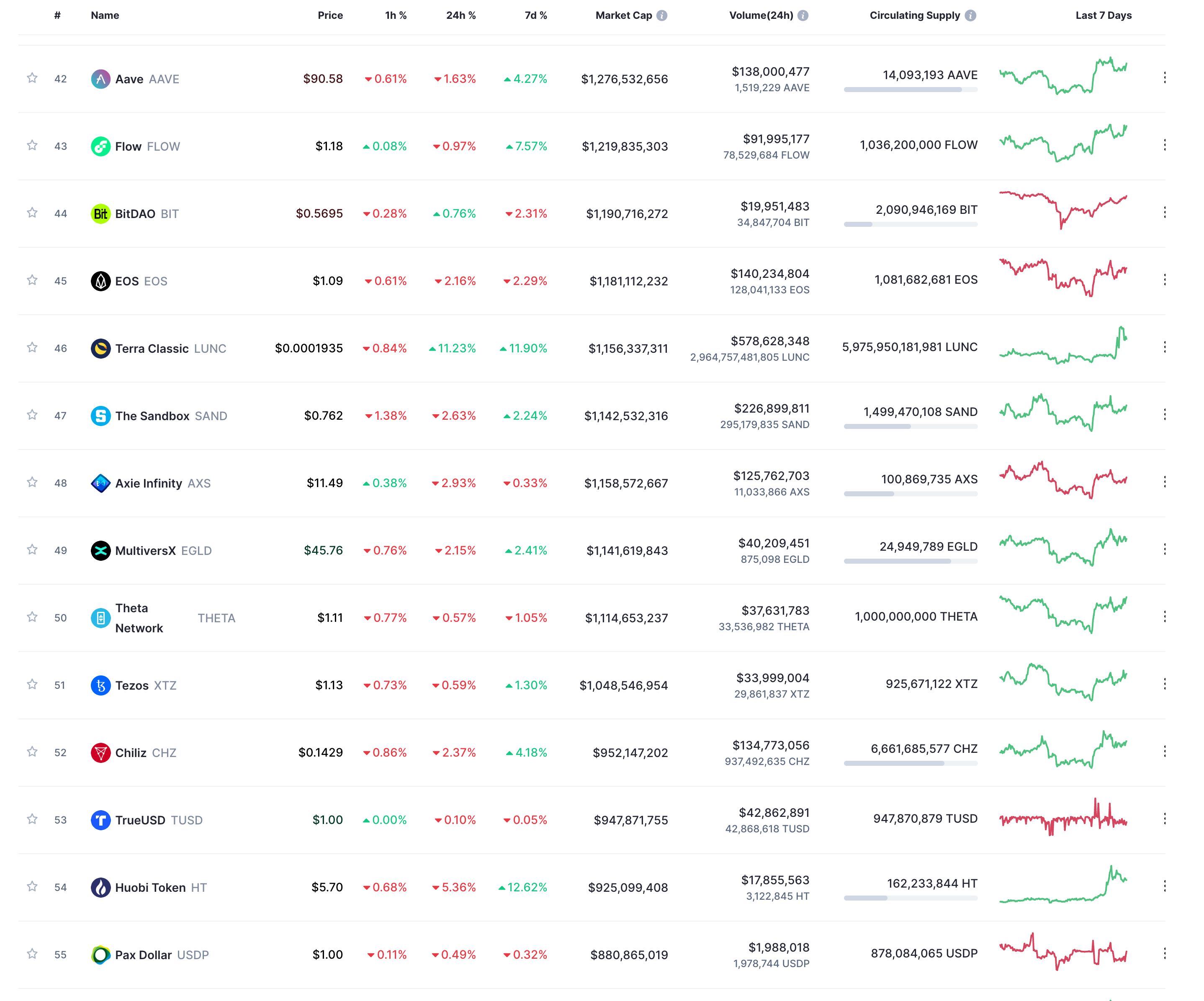 This list makes me feel a lot more like Hive is undervalued.
What exactly is going on at EOS - one of the favorite comps to Hive - that gives it a ~9-10x valuation above Hive?
We all know that there is a tightly controlled supply, a centralized corporation at the middle of it and an infamous founder who left Steem back in the day to create his 2,300th crypto token.
The valuation of EOS makes me feel a lot better about the potential valuation of Hive. We have a lot more going for us than something like EOS.
Aave is a worthy valuation in my opinion. They do billions of dollars in DeFi TXs, loans, etc. A great business model.
LUNA Classic? I think that one speaks for itself. It may have some legs as there were actually great tech projects being built on LUNA that may be able to revive themselves.
Axie is a bit small IMO to have this kinda market cap. Splinterlands has a lot more activity and they're a much smaller market cap, right? ($27M as I write this post).
Granted, that's getting out of my wheelhouse. I know next to nothing about Axie.
Conclusion: HIVE is Undervalued?
Is my conclusion that HIVE is undervalued? Layered against something like Portillo's and looking at Hive from a business perspective, I'm not sure that is the case. Hive has virtually no revenue.
Then again, Hive is not a business. It's a technology stack. Does the internet have revenue on its own or is its value derived from the use cases it facilitates?
In my opinion, this is where comparing Hive to other cryptos comes into play. When you look here, I would say that HIVE is horrendously undervalued. Possibly one of the best long-term technological bets you can make in the crypto space.
Hive is not perfect but Hive is far more valuable than the cryptos in this $1B category. When I look to what it offers vs. things like EOS, LUNC, Axie, etc. it makes me feel like I don't have enough Hive.

About LeoFinance
LeoFinance is a blockchain-based Web3 community that builds innovative applications on the Hive, BSC, ETH and Polygon blockchains. Our flagship application: LeoFinance.io allows users and creators to engage & share micro and long-form content on the blockchain while earning cryptocurrency rewards.
Our mission is to democratize financial knowledge and access with Web3.
Twitter: https://twitter.com/FinanceLeo
Discord: https://discord.gg/E4jePHe
Whitepaper: https://whitepaper.leofinance.io
Our Hive Applications
Join Web3: https://leofinance.io/
Microblog on Hive: https://leofinance.io/threads
LeoMobile (IOS): https://testflight.apple.com/join/cskYPK1a
LeoMobile (Android): https://play.google.com/store/apps/details?id=io.leofi.mobile
Delegate HIVE POWER: Earn 16% APR, Paid Daily. Currently @ 2.8M HP
Hivestats: https://hivestats.io
LeoDex: https://leodex.io
LeoFi: https://leofi.io
BSC HBD (bHBD): https://wleo.io/hbd-bsc/
BSC HIVE (bHIVE): https://wleo.io/hive-bsc/
Earn 50%+ APR on HIVE/HBD: https://cubdefi.com/farms
Web3 & DeFi
Web3 is about more than social media. It encompasses a personal revolution in financial awareness and data ownership. We've merged the two with our Social Apps and our DeFi Apps:
CubFinance (BSC): https://cubdefi.com
PolyCUB (Polygon): https://polycub.com
Multi-Token Bridge (Bridge HIVE, HBD, LEO): https://wleo.io
Posted Using LeoFinance Beta
---
---