(DE/EN) My first Hive Birthday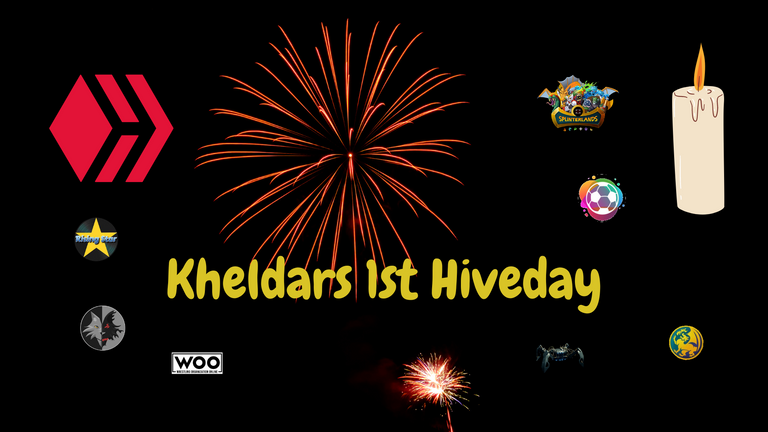 Zeit zu feiern
Vor genau einem Jahr habe ich auf der Suche nach einem Play2Earn Game Splinterlands und damit Hive entdeckt. Nun ist heute also mein erster Hive Geburtstag.
In dem Jahr durfte ich so viele tolle Menschen auf der Chain kennenlernen.
Von den meisten konnte ich einiges lernen. Mit anderen verbringe ich einfach viel Zeit auf Discord oder bei Splinterlands.
So oder so es war ein tolles Jahr und das gehört gefeiert.
Time to celebrate
Exactly one year ago I discovered Splinterlands while looking for a Play2Earn game and togerther with it Hive. So today is my first Hive birthday.
In that year I was able to meet so many great people on the Chain.
From most of them I could learn a lot. With others I just spend a lot of time on Discord or at Splinterlands.
Either way it was a great year and it should be celebrated.

Zeit danke zu sagen
Man sagt heute viel zu selten Danke.
Wenn ich alle Leute aufzählen würde, die mich auf der Chain weitergebracht haben, dann würde dieser Artikel heute sicherlich nicht mehr fertig werden.
Ich möchte aber dennoch ein paar herausheben.
Grundsätzlich bin ich allen @legendarydragons für ihre Kollegialität und den steten Austausch und Hilfe dankbar. Man muss ja nicht immer in allen Punkten der Weltanschauung einer Meinung sein, aber ohne die Dragons, wäre ich vermutlich nicht mehr am spielen.
Speziel danken möchte ich @vasupi der mich früh "endeckt" und erst zu den Legendary Dragon Eggs und dann zu den Legendary Raptors geholt hat und @simsahas von dem ich viel über Taktiken und gute Aufstellungen lernen darf.
Dann @muscara, die mir viel über Hive erklärt hat und nun seit längerer Zeit leider nicht mehr auffindbar ist. Ich werde nicht aufgeben und dich immer wieder anschreiben.
Dann gibt es natürlich @hamsterpoweriii, @wolfigangle, @famoushade1, @zephid83, @mario89, @radical777 und @ynwa.andree mit denen ich mir die Nächte im Muterra Discord Game um die Ohren gehauen habe und natürlich das @muterra team für das Ausrichten.
Dazu noch die Jungs von @archmage.app, die es mir ermöglichen meine Splinterlands Assets zu nutzen und dennoch Zeit für Familie und Arbeit zu haben 😂
Ich danke der @hiq.redaktion für ihre tolle Zeitschrift und dem, was Sie für die Chain tun sowie @satren für den monatlichen Hive Stammtisch, den ich die letzten Monate irgendwie geschwänzt habe. Ich gelobe Besserung.
Liebe Leute vielen Dank für dieses erste Jahr auf Hive.
Mögen noch viele folgen.
Euer
Kheldar 1982
Time to say thank you
It's far too rare to say thank you these days.
If I were to list all the people who have helped me get ahead on Chain, this article would certainly not get done today.
However, I would still like to highlight a few.
Basically, I am grateful to all @legendarydragons for their collegiality and constant exchange and help. You don't always have to agree on every point of the world view, but without the Dragons, I probably wouldn't be playing anymore.
Special thanks to @vasupi who "discovered" me early and brought me first to the Legendary Dragon Eggs and then to the Legendary Raptors and @simsahas who taught me a lot about tactics and good setups.
Then @muscara who explained a lot about Hive to me and now unfortunately can't be found for quite some time. I won't give up and will keep writing to you.
Then of course there is @hamsterpoweriii, @wolfigangle, @famoushade1, @zephid83, @mario89, @radical777 and @ynwa.andree with whom I spent the nights in the Muterra Discord Game and of course the @muterra team for hosting.
Plus the guys from @archmage.app who make it possible for me to use my Splinterlands assets and still have time for family and work 😂
Thank you @hiq.redaktion for your great magazine and what you do for Chain as well as @satren for the monthly Hive Stammtisch which I kinda skipped the last months. I vow to do better.
Dear all, thank you for this first year on Hive.
May many more follow.
Yours
Kheldar 1982
---
---