SPLINTERLANDS I: The best duelist one for one available Splinterlands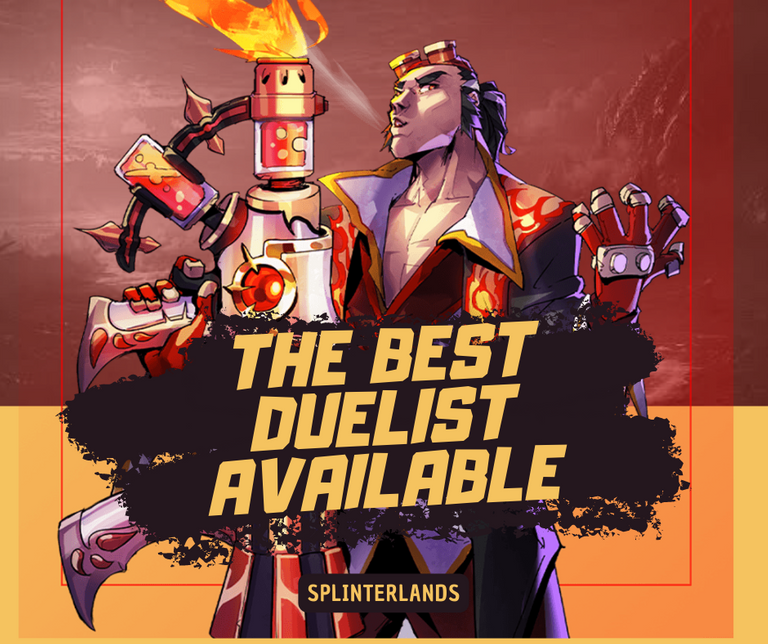 Can TINDERLOCK be considered the best duelist in Splinterlands after its recent release? I'm not just referring to its initial attributes as I aim at the content of Gold+ leagues in order to report all the maximum benefit of the monster card in question, in this case we have this great ranged shooter with an attack of (4) points l, (3) ) of speed in addition to acquiring a high amount of maximum health reaching the exact (11) points surpassing many second tanks that can reach the same amount of health but without this attack as a benefit, his skill set is amazing reaching to get status negatives reducing your opponent's magic attack with SILENCE and your advantage of being able to be faced in any position thanks to your CLOSE RANGE ability but what will make you the best duelist of the moment since this is a one-on-one battle of So it can happen in two ways:
As it has a high required mana cost (10), you can use it in low mana battles with summoners with a maximum (3) mana required for its use, or if you have the PRINCE JULIAN is the best choice.

Being the only one on the battlefield will activate his LAST STAND skill that will multiply his attributes by 1.5x always renting upwards reaching: attack (6), maximum health (17) and speed (5), in addition to that its ultimate DEATHBLOW ability that will only work on your opponent's last living monster, dealing 2x your card's current ATK, thus 12 ATK per turn, simply unmatched.
---
The second mode may not get 100% of the benefit of this monster as you lose its LAST STAND ability and this option is for battles with a higher amount of mana available since even with its great attributes its solitary use will give you sad messages of defeat, I recommend using it in the third position where it is not so close to our front line and not close to the last position, this prevents you from being the target of explosive abilities that affect your tank and/or your second monster and avoid sneak attacks in last position at the start of turns.

Here, using a summoner thinking only of benefiting that monster, that is, being a monster from a distance, the use of YODIN ZAKU must be chosen automatically so it is available in your deck, as a second option it has an advantageous amount of life max so your healing will be very efficient and we can get that using the dragon summoner BIZANTINE KITTY.
---

Its current market price is still relatively low, which is great news for those who want to invest to raise their level since:
Its regular version is $0.98 lowest selling price, $0.82 lowest buying price.

For level 7 (where you acquire your ultimate focused skill for this content) you would invest $72.25 buying them all at the minimum price.
---
Its gold-plated version is at $8.70 as the lowest selling price, $8.03 as the lowest buying price.

For level 7 (where you acquire your ultimate focused skill for this content) you would invest $191 buying them all at the minimum price.
---
My link Splinterlands: https://splinterlands.com/?ref=highmage
---
---