Battle Report featuring AGOR LONGTAIL- A Special "Dual Attack" Dragon Character
Dear friends, it has been a great weekend so far. Many things I am grateful for. I hope your weekend has been enjoyable too. This post happens to be one of my first battle reports after unlocking my summoner speelbook and it is about Dragon cards. below is the specification for the battle.
THEME: DRAGONS
Edition: ANY
Rarity: ANY
Element: DRAGON + ANY
ATTACK: ANY
ABILITIES: ANY
Dragon cards are special sets of cards in the Splinterlands battle game. Choosing a Dragon summoner would mean that you have to choose another splinter type to access those monsters. That means that with a dragon Summoner, you can battle using dragon monster units as well as fire monster units. For my battle report, I had A dragon summoner and a dragon monster.
---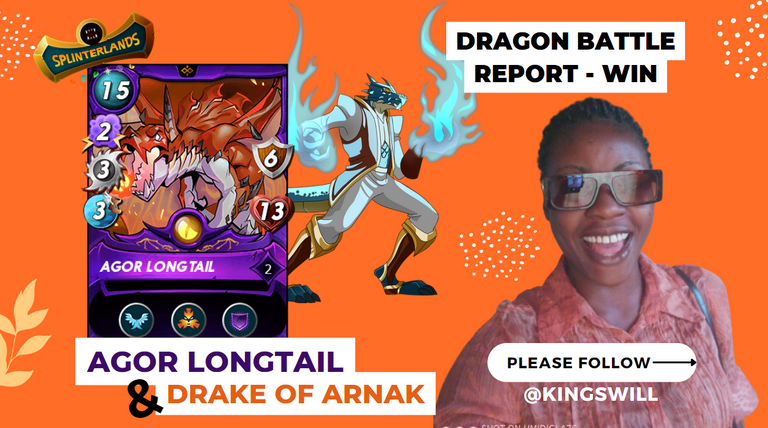 ---
DRAKE OF ARNAK was the summoner and AGOR LONGTAIL was the monster. I've used DRAKE of ARNAK before but this was my first experience with AGOR LONGTAIL summoner.
The Drake of Arnak is a medium-sized Dragon hybrid, highly intelligent and extremely rich, but cannot fly nor breathe fire. The card used for my battle was rated 4 manna and 40 Estimated power. The summoner card has the ability to add +1 armor to all friendly monsters.
---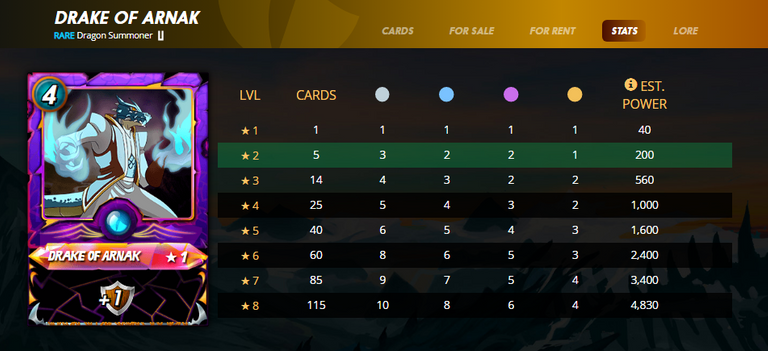 ---
AGOR LONGTAIL on the other hand is a Special "Dual Attack" dragon character. It's my first time ever seeing a splinterlands card with two attack - magic and melee and that means by default it would always attack twice. Her lore describes it as one of the largest red dragons ever to have lived.
AGOR LONGTAIL has three special abilities: (1) Flying (2) Taunt and (3) Void attack. All these three embeded in just one monster unity. The flying ability allows her to evade melee or ranged attacks from monsters who do not have the flying ability. The Taunt ability makes her to become the target of all monsters. The Void attack ability causes magic attack from enemy monsters to hit her armor before her health.
---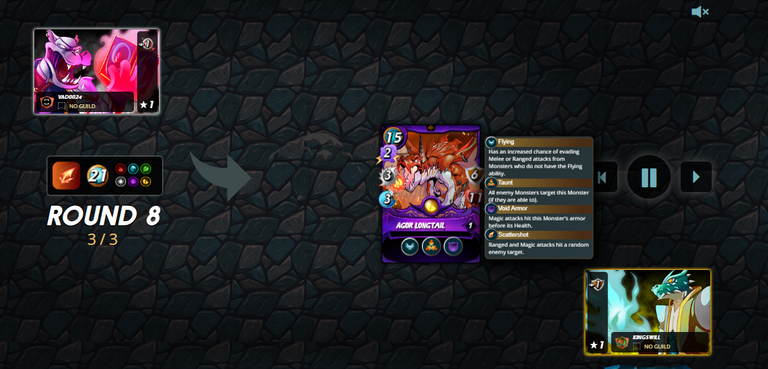 ---
The card I used for the battle was rated 15 manna. The magic attack was rated 2 and the melee attack rated 3. The monster's speed is 3, its armor is rated 6 while it has 11 health rating. Really a terrific feminine monster. This is the second time I am battling with a so powerful feminine character and it has been so inspiring.
---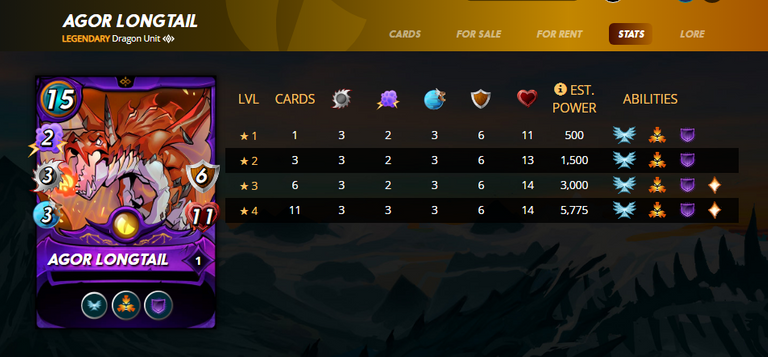 ---
I got some other dragon cards but were not used in the battle. They are shown below.
---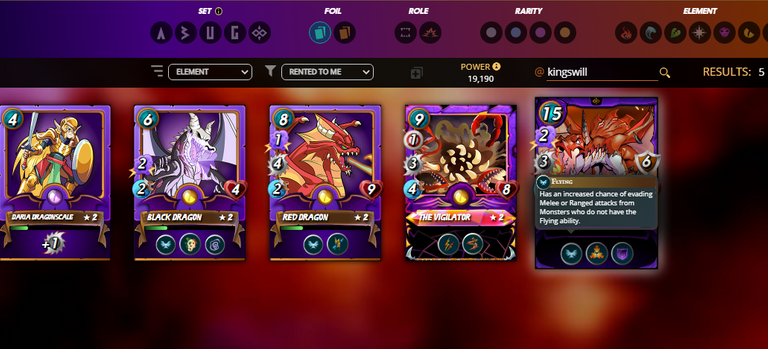 ---
After securing a power monster unit like AGOR LONGTAIL, the next thing I would pray for is having the battle manna cap high enough to accommodate the card. With 15 manna ratinf, you would always need a battle with 20+ manna cap.
My Battle Experience with DRAKE OF ARNAK summoner and AGOR LONGTAIL monster
Here is my battle link.
Below is the outlook of the battlefield before the combat began. I fielded Three monsters for the fight against Six monsters. I was not scared because I knew the strength of the cards I selected.
---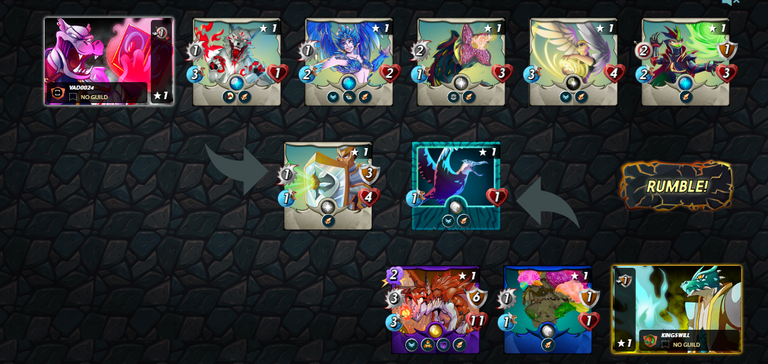 ---
My Battle Line-up
Summoner: DRAKE OF ARNAK
First Monster Unit: ALBATROSS (Abilities: Flying) just for defense
Second Monster Unit: HARDY STONEFISH (Abilities: None) just to complete manna cap,
Third Monster Unit: AGOR LONGTAIL - This was the focus of the battle.
Combat Rule: All Monsters have Scatteshot ability
Battle link: https://splinterlands.com/?p=battle&id=sl_19d90b9702bf2eef86ccbb9b12234a24
---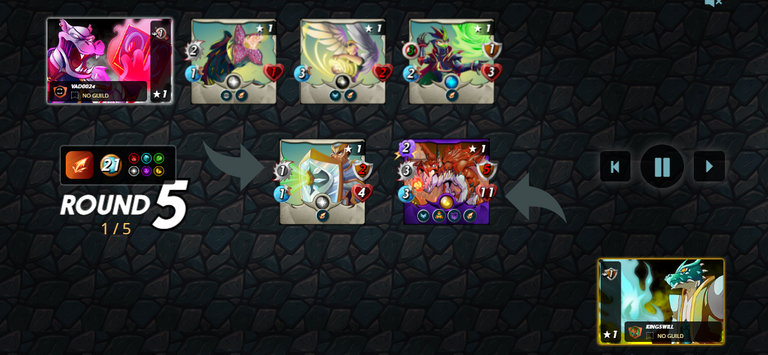 ---
The battle was very interesting. It lasted for 8 rounds. At round 5, two of my monster units were destroyed leaving AGOR LONGTAIL alone to battle against 4 enemy monster units.
At this point, it was good to know how strong AGOR LONGTAIL is in terms of attack and defense. The good armor rating was good. I am also happy that the enemy team did not have a magic attack monster. That made the battle easier to win.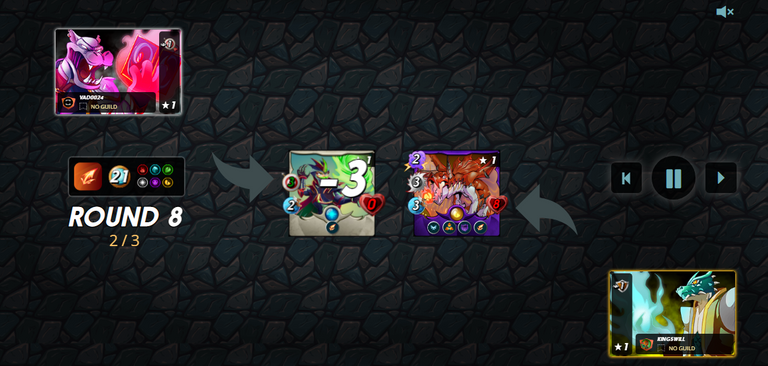 The battle continued and at round 8, AGOR LONGTAIL defeated the enemy's last monster. My AGOR LONGTAIL was still very healthy as if it was battling against nothing.
I won the battle with +23 rating points and that was making my journey to Bronze League II easier.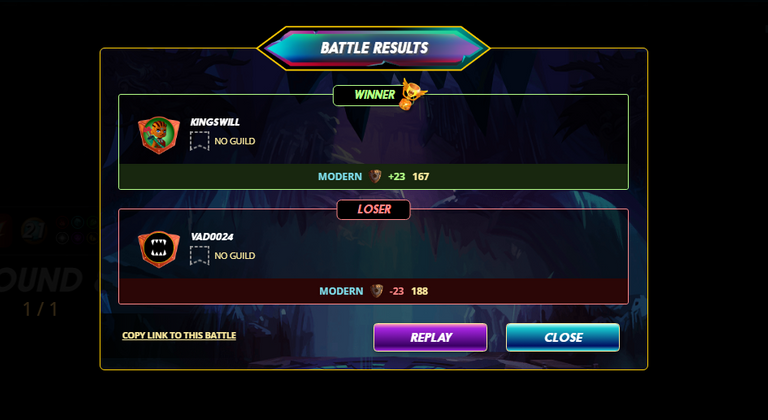 Overview of the Strategy
It was a very special battle for me. AGOR LONGTAIL performed exceptionally and finished strong.
That combination is worth using again. I would try to use AGOR LONGTAIL with another summoner to see how well it performs.
That battle is one of my best battles ever in splinterlands.
---
---
---
---
Thank you again to all the creators and developers on Hive. Thank you all my teachers here on Hive. Thank you for those who mark my scripts with their upvotes. I am happy to see that I am growing in understanding this environment, but more interesting is that I am paid to to learn on hive.
Thank you all, I love you.
I am @kingswill. Let's meet and greet.
---

---
---