Genesis League Sports Token (GLX): Are You Missing out on 159% APR?
Hello friends on Hive!
I hope your day day is going on smooth and you are hitting your daily goals for the week. I am happy for keeping in step with my investment goals for the week and nothing is as soothing as looking back to see how far I've grown from my initial point.
We all know that the Splinterlands ecosystem is growing big on daily basis and the Genesis League Sports arm is now a known force about to go wild in the GameFi space. I have not shared my growth with Genesis league sports investment for a while and today, I logging in my account to do some routine reward claiming and further staking of GLX and I notice what was remarkable.
---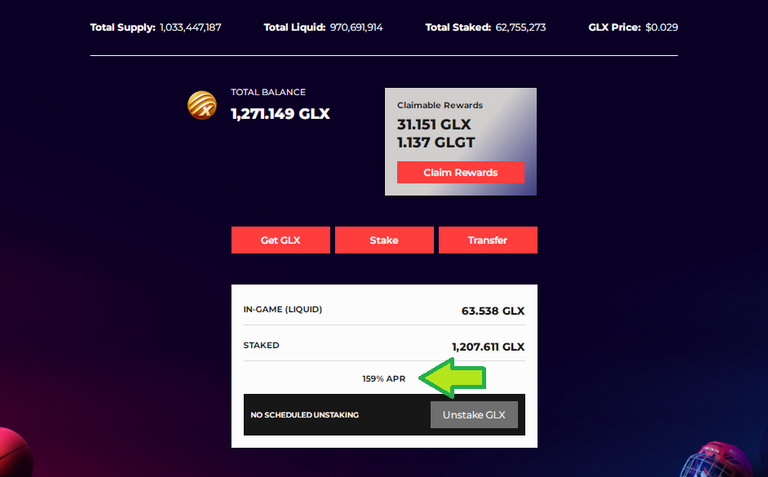 ---
The GLX Staking Reward APR is 159%
---
We all know we are in the crypto bear season. It's saddening to see $Hive, $HBD and Hive tokens keep going down with BTC in the last few days. I was personally happy when we were floating above $0.5 for Hive, but how soon we are heading back to the days of 30 Cents.
We do not cry over spilled milk, we look forward to how we can make the best out of the times that are seemingly hard. Despite the dipping Hive, It looks fair to pack more Hive engine tokens like GLX, SPS, LEO and the rest that have big potentials for growth, They are just getting more affordable by the day and some with amazing APRs.
Earning 159% on GLX staking simply means 13.2% monthly. The APR for staking GLX is still decently high after 5 months of the launch of the token and staking feature. I am happy to be growing my stake lately while the GLX token still remains cheap. Below are screenshots of my last week's GLX investment activities.
---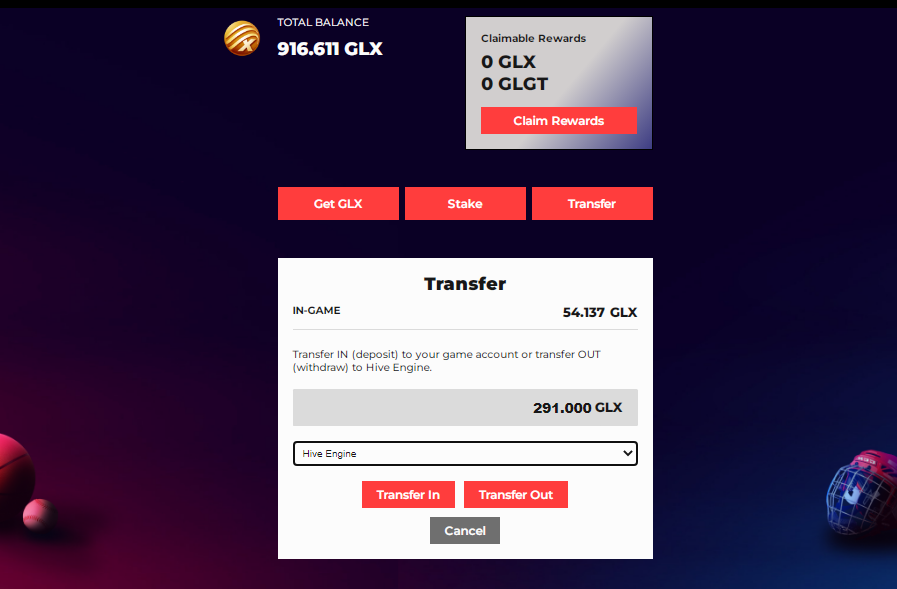 My Last week's GLX Balance
---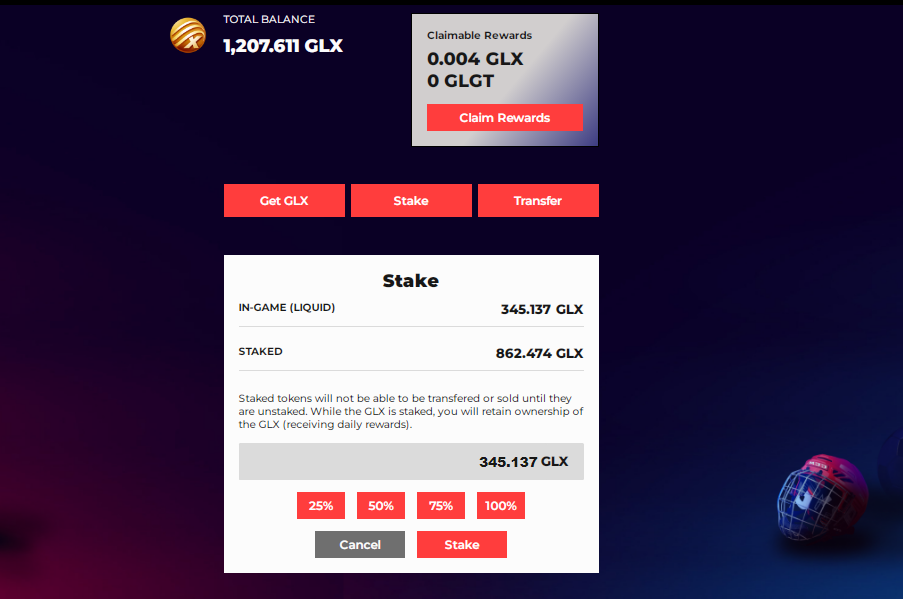 I Staked 345.137 GLX
---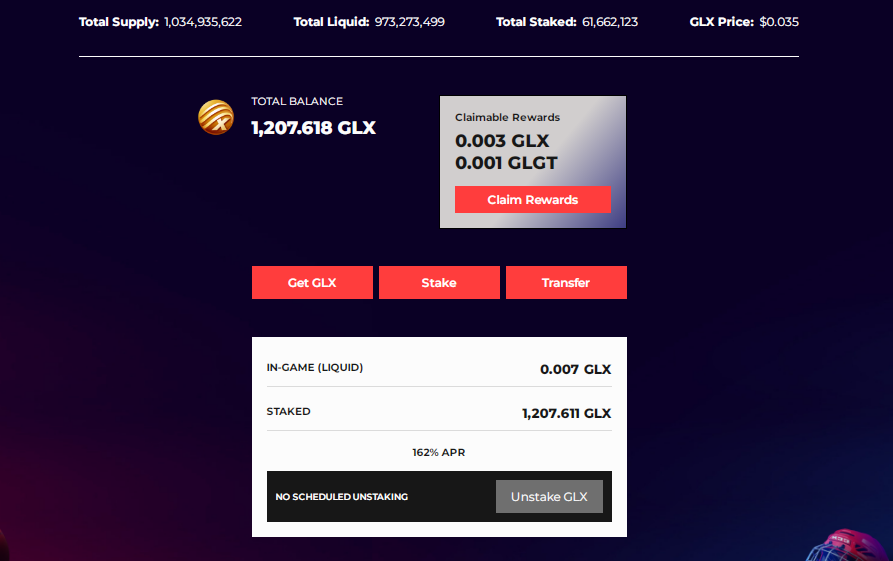 I closed the week at 1207 staked GLX
---
No going back at this point. In fact, it is time to double up efforts and gather more GLX for more staking.
---
Staking 94.8 GLX Today
---
I claimed about 31 GLX and added to 63.5 purchased from tribaldex. That Totalled 94.8 GLX. I have staked all 94.8 GLX. See link.
---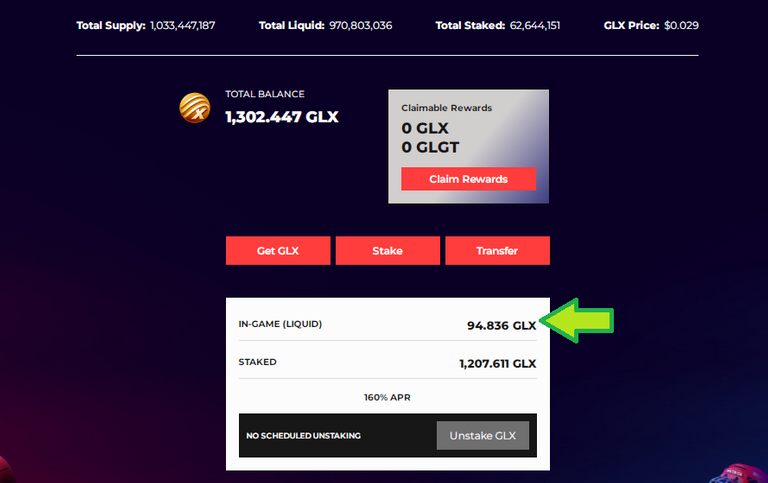 ---
For me, this is a big sacrifice for what I see becoming of GLX soon. The long term goal is to take my GLX staking proceeds to buy game packs for more engagement. With today's staking, my total GLX staked reaches 1,300. I am still a bit far from my 2023 goal which is 3,000 staked GLX.
---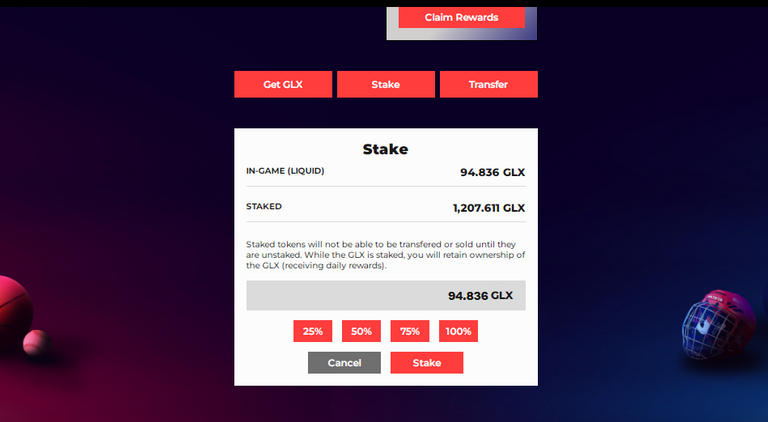 ---
Where do I go from here?
---
I keep on buying GLX, claiming my GLX staking rewards weekly and staking everything. The year's goal must be met and if I can do that before June ends, very cool.
---
Are You Missing out on 159% APR?
---
SO far, of all staking investment attempts I am making with crypto, I think GLX staking is the best so far with 159% APR. I started when the APR was about 500 and I'm still here.
---

---
I think investing in GLX should be an adventure every new investor on Hive should try out. It takes 4 weeks to unstake if it does not turn out well for you but so far, there are no regrets on my end.
If you are reading my post, you better not miss out on this big returns on staking your favourite gaming token.
---
---
---
---
Thank you again to all the creators and developers on Hive. Thank you all my teachers here on Hive. Thank you for those who mark my scripts with their upvotes. I am happy to see that I am growing in understanding this environment, but more interesting is that I am paid to to learn on hive.
Thank you all, I love you.
I am @kingswill. Let's meet and greet.
---

Posted Using LeoFinance Beta
---
---