My First DEC Burn - 1,000 Guild Power Received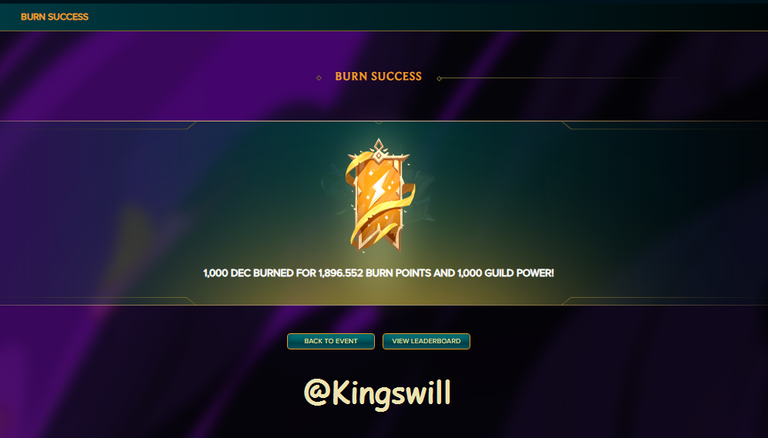 ---
I am happy to be participate in the events marking the 5th anniversary celebration of Splinterlands game. The game and the community was my first place to pitch favourably when I decided to be serious on engaging the Hive blockchain. With close to 10 months learning, playing and advancing in the game, I have earned a lot from ideas to money and that has become a base of crypto currency investment for me in the PlayToEarn gaming industry.
This year's celebration of the Splinterlands anniversary comes giant heap of prizes to players who burn DEC or DEC-B. For every DEC and DEC-B token burned, the player receives a bonus based on his rank. The player also receives Guild Power according to the amount of DEC/DEC-B burned. Guild Power are o be used for level your guild buildings in Splinterlands.
Guild Power is non-transferable. That is, it is a SoulBound balance to a user's account and can only be used to upgrade guild buildings. This is one aspect of the DEC/DEC-B burn that really caught my interest and I was glad to join.
---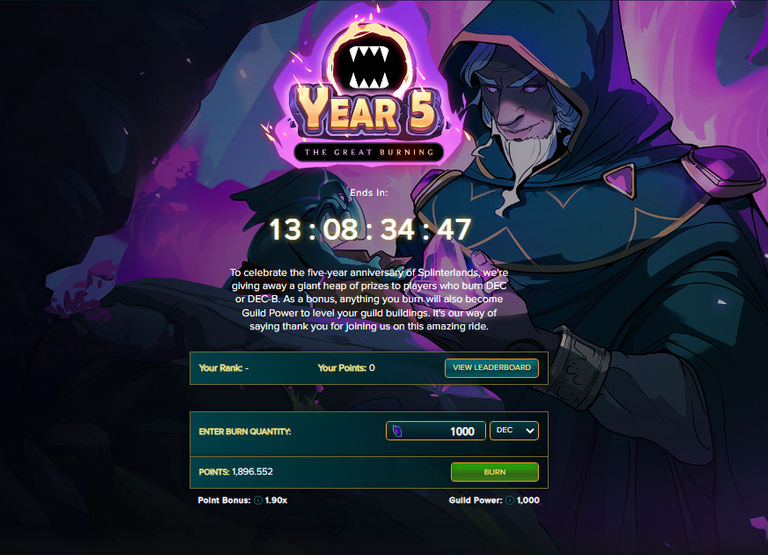 ---
BURN SUCCESS
1,000 DEC BURNED FOR 1,896.552 BURN POINTS AND 1,000 GUILD POWER!
---
I successfully burned 1,000 DEC today and that helps generate 1,000 Guild Power into my account. The burn gave me 1,896 burn points for the rewards that are allocated for this anniversary celebration. This is the first time in my entire hiving journey of burning an asset or money as you would say.
---
Your Rank:2,587
Your Points:1,896.552
---
I did not think that my little 1,000 DEC burned could get me anywhere countable especially as I see other players burn hundreds of millions of DEC and DEC-B. I am surprised to see that I am ranked 2,587. I do not know how many users in all are participating.
---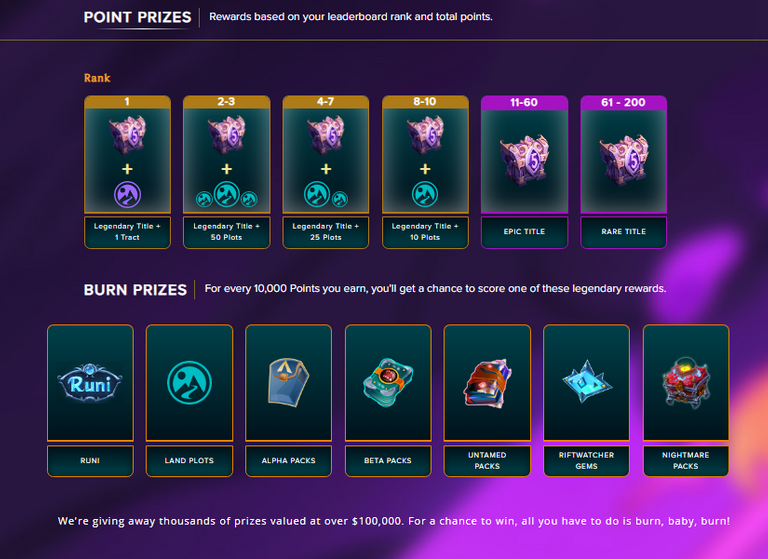 ---
I have been shown the prices I could likely get at the end of the exercise based on my rank and points. The event is ongoing and I hope to burn more DEC in the future to get myself higher in the rank. The prizes are very juicy and should not be missed.
My participation in this DEC burn exercise is my little effort to help improve the economy of DEC. Burning out more DEC gives DEC more chances of getting back to its pegged price of 1,000 DEC per dollar. If it goes over that board, it could help up the pricing of SPS too.
---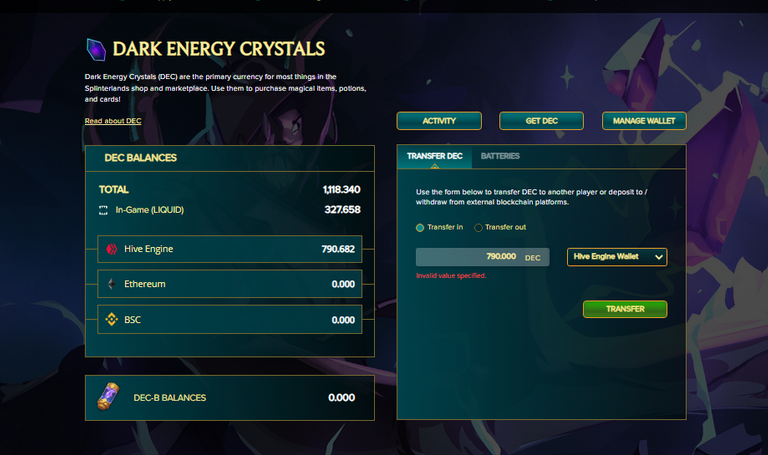 ---
Raising the funds for the DEC burn was a bit biting since I have not been active really in the last two months or so. I had some liquid DEC in my splinterlands wallet already and I had to swap some more SWAP.HIVE to DEC on tribaldex.
I had to sell some of my layer 2 tokens into HIVE. Some of these tokens are earned from curation (example, CENT, SPT), others as author rewards.
---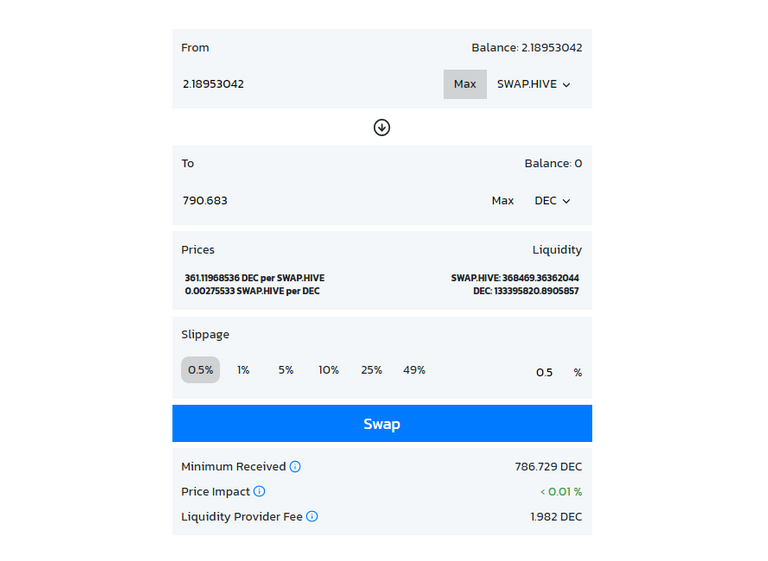 ---
Raising about 790 DEC through layer 2 tokens may look small but it was a big investment and sacrifice for me celebrating Splinterlands at 5 and in my little way supporting the future of the splinterlands ecosystem.
The total amount of DEC and DEC-B burned in this exercise is about 520 million. That is a big amount of DEC taken off the open market.
Getting Guild Power would make me engage an aspect of Splinterlands I have been ignoring, that is joining guild battles, may be because I didn't have much time to be contributing to the activities of the guild. Trying to rescheduling my time of engagement on Hive and I am happy about it.
Please wish me well as we wait for the next 14 days to the end of the burn event for prizes to be distributed. Though a small contribution, I hope luck comes my way to also earn some of the rewards.
You can also bur some DEC. Any mount is good and it adds value to the DEC token economy.
---
---
---
---
Thank you again to all the creators and developers on Hive. Thank you all my teachers here on Hive. Thank you for those who mark my scripts with their upvotes. I am happy to see that I am growing in understanding this environment, but more interesting is that I am paid to to learn on hive.
Thank you all, I love you.
I am @kingswill. Let's meet and greet.
---

Posted Using LeoFinance Alpha
---
---